Be honest: you've totally asked yourself before, "I wonder what that girl's carrying around in that gigantic purse?" when you see someone with a huge tote. RIGHT?! Well today I'm spilling the beans with you on what's inside MY biggest bag, the little tricks and treats I can't live without that make up my very own Mary Poppins bag.
Sidebar, we took these pictures at Active Culture and this strawberry shake was ah-mazing. Strawberry State of Mind-order it!!
This bag is one of my favorite gifts ever from Neil He gifted it to me three years ago and it seriously still looks almost brand new after all this time! It's amazing quality and a total Mary Poppins bag: put in all the things and still have room for more!
That said, my must-have purse items are pretty much universally applicable to any bag I carry, because I like big bags and I cannot lie!! Unless I'm on date night or out with girlfriends and don't need 7 diapers, kids snacks and a LOL doll at the ready #momlife!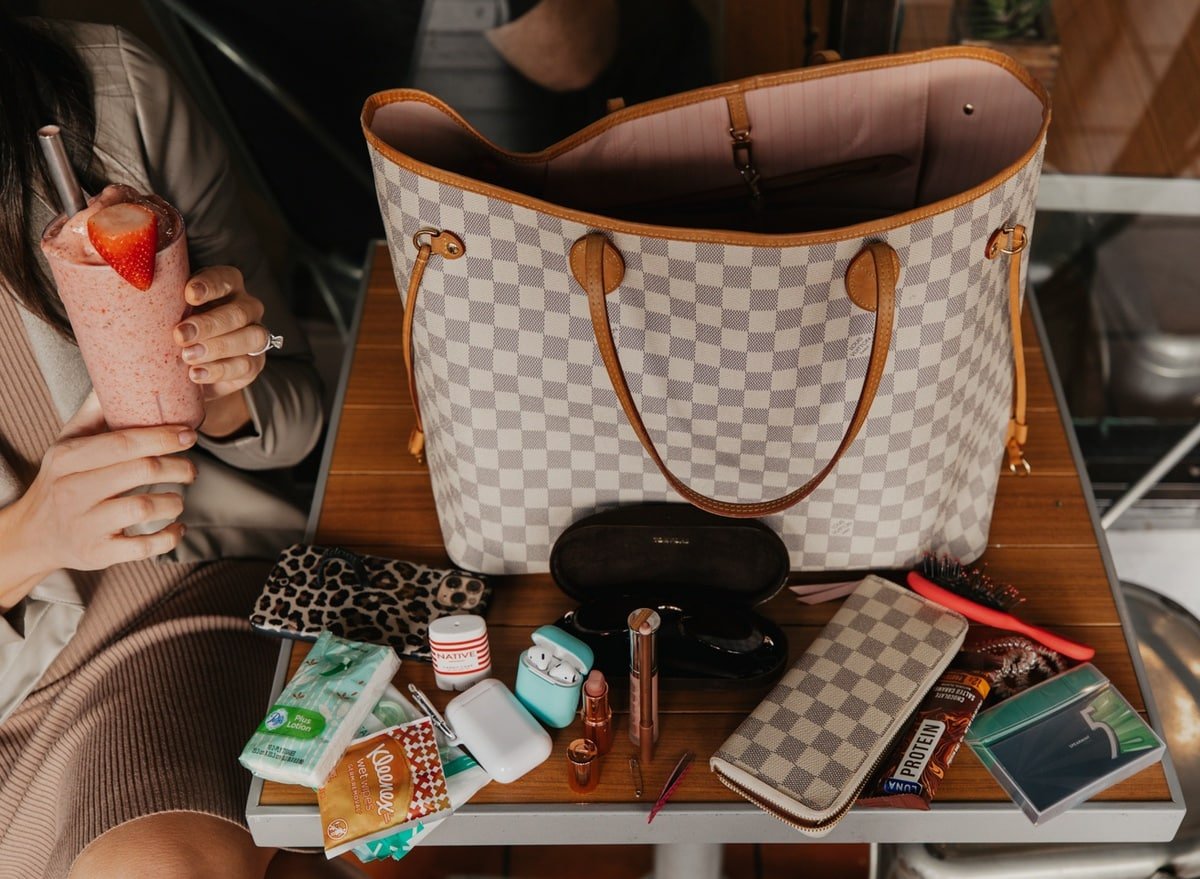 Felt organizer
This is maybe my best trick of all time. This felt organizer is a GAME CHANGER for any large tote bag. It's removable so you can go from a perfectly organized bag to a nice gigantic empty carrier in a snap!
I love that it gives me pockets and zippers and even a perfect laptop sleeve, all for $21.28 with the current 20% off discount! It fits a Louis Vuitton Neverfull GM perfectly, but I've also used it in other big tote bags interchangeably and it sure makes swapping out your "purse of the day" way easier when you can just take the tote organizer in and out!!
Tissues
Small tissue packets are a must, but these have lotion in them and it's a simple thing that makes such a difference! Especially in the dry winter months.
Safety pins and tweezers
Between wardrobe mishaps, that stray hair you didn't see until you got into your car and looked in the mirror, and having kids, you never know when you're going to need a safety pin or tweezers! I go crazy if I don't have these in my bag.
Protein Bars
Protein bars have saved me on more than one occasion during a mid-afternoon slump or a pregnancy emergency when I HAVE TO EAT OR ELSE.
Lipstick, Lip Liner, and Lip Gloss
Lippies are essential, otherwise, why am I even carrying a purse?? This Charlotte Tilbury lipstick and liner has been on repeat lately and is seriously so universally flattering it's like actual magic. AND I don't leave the house without Buxom gloss in White Russian aka the best gloss of all time.
Mini Deodorant
I for one am totally SOLD on all-natural deodorant and only use Native! I love having a mini with me to refresh throughout the day. You can find the minis on their website or sometimes (if you're lucky!) at Target.
Sanitizing Wipes
I'm a bit of a germ-freak (and not ashamed!), so I've gotten addicted to wiping things down with these sanitizing wipes. I can't tell you how many times this has put my mind at ease at a restaurant where YOU KNOW they're using the same watered down cloth over and over to quickly wipe off everyone's table, in an airplane or right when I walk into a hotel room because HI germy remote control – I see you!
Dental flossers
These little dental flossers are a life-saver after a business lunch where the spinach salad is overstaying its welcome in my front teeth!
Gum
These HUGE packs of gum are a favorite at our house. They last forever, and the plastic case keeps them all contained! I love that they're not falling apart halfway through its life (like the paper ones) and they actually close too!
Silicone Straw
I use this silicone straw way more than I even thought I would! Orange County only gives out paper straws now, which turn into total mush in my drink. My mom got me this reusable straw that folds up into a little purse-friendly container for all my drinking needs! Plus, it's totally eco-friendly!
Hair brush and hair ties
Between my three girls and I, we've got a LOT of hair. Buckets, really. So having a brush and hair ties is v v important! When we go out to eat, I tie everyone's hair back so that food doesn't get in it and make it a crunchy mess later.
Airpods
Airpods are also a must for me! If I have downtime waiting for an appointment or getting my nails done, I like to pop these in and listen to podcasts, church talks, or audiobooks! I also really love these silicone cases to easily differentiate between mine and Neil's Airpods.
Sunglasses
I always have a pair of sunglasses with me! Sunnies are a must. Do not pass go, do not collect $200, do not leave the house without sunglasses. This is a splurge pair, but I always look at this brand of glasses for a cheaper alternative to designer pairs!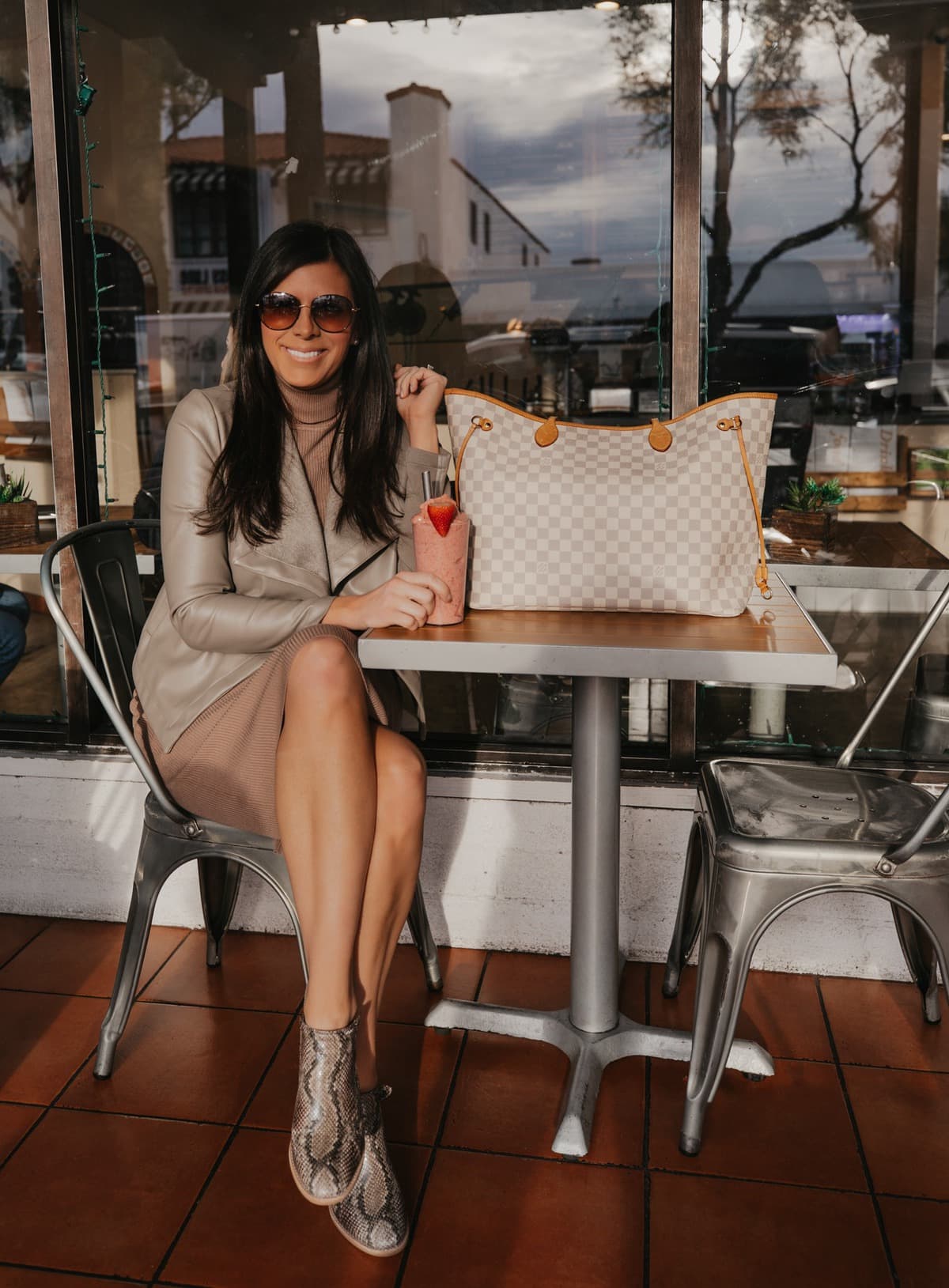 Felt organizer
Small tissue packets
Safety pin
Tweezers
Protein bars
Lipstick
Liner
Buxom gloss
Native Deodorant
Sanitizing wipes
Dental floss
Gum
Silicone straw
Hair brush
Hair ties
Airpods
Silicone cases
Sunglasses
It's in the bag.
As a busy mom, setting myself up for success seriously starts with what I have in my bag. Preparation is key!!
So now tell me, what's in YOUR bag?!