Vera Bradley is an iconic brand that began with a female friendship solving a problem almost 4 decades ago! Two friends decided they needed to change up the sea of black luggage at the airport and a brand was born. Everything they make is cleverly designed from the pockets and storage to straps and hidden compartments. Seriously, there's nothing better than a bag for women designed by women!
Vera Bradley is synonymous with quality, timeless style, and functionality. I was so excited to grab a couple of their travel bags to add to our luggage wardrobe. It's SO important to have soft duffels to travel with because they are just so much more versatile than structured bags. These are the perfect bags for a quick weekend getaway OR a functional carry on and I love gifting them as well! Keep reading for all my favorite packing tips when using these amazing Vera Bradley bags PLUS a killer Black Friday Deal!
The DEAL
From 11/18-11/28, all full-priced Vera Bradley items will be 30% off and sale items will be 50% off! That makes my Weekender only $91 (normally $130) and the Large Duffel only $77 (normally $110). This is an INCREDIBLE deal for super high-quality luggage that will last you forever. Good luggage is something I will always invest in because no one wants to have to repurchase baggage every year!
Weekender Bag
I chose a Vera Bradley Weekender bag plus a large duffel so that I could test them both out and let YOU know what works best for what kind of trip! This Weekender Travel Bag has over 1500 FIVE star reviews, touting pattern, roominess, practicality, style, and MORE. Not only is Vera Bradley amazing to travel with, it's immediately recognizable at airports, and the patterns are great to distinguish between kiddos. I'm really excited about the classic plaid pattern I selected! I chose a pattern that is great for a boy or girl, which is my new train of thought always for everything in life now that I have both genders to think about.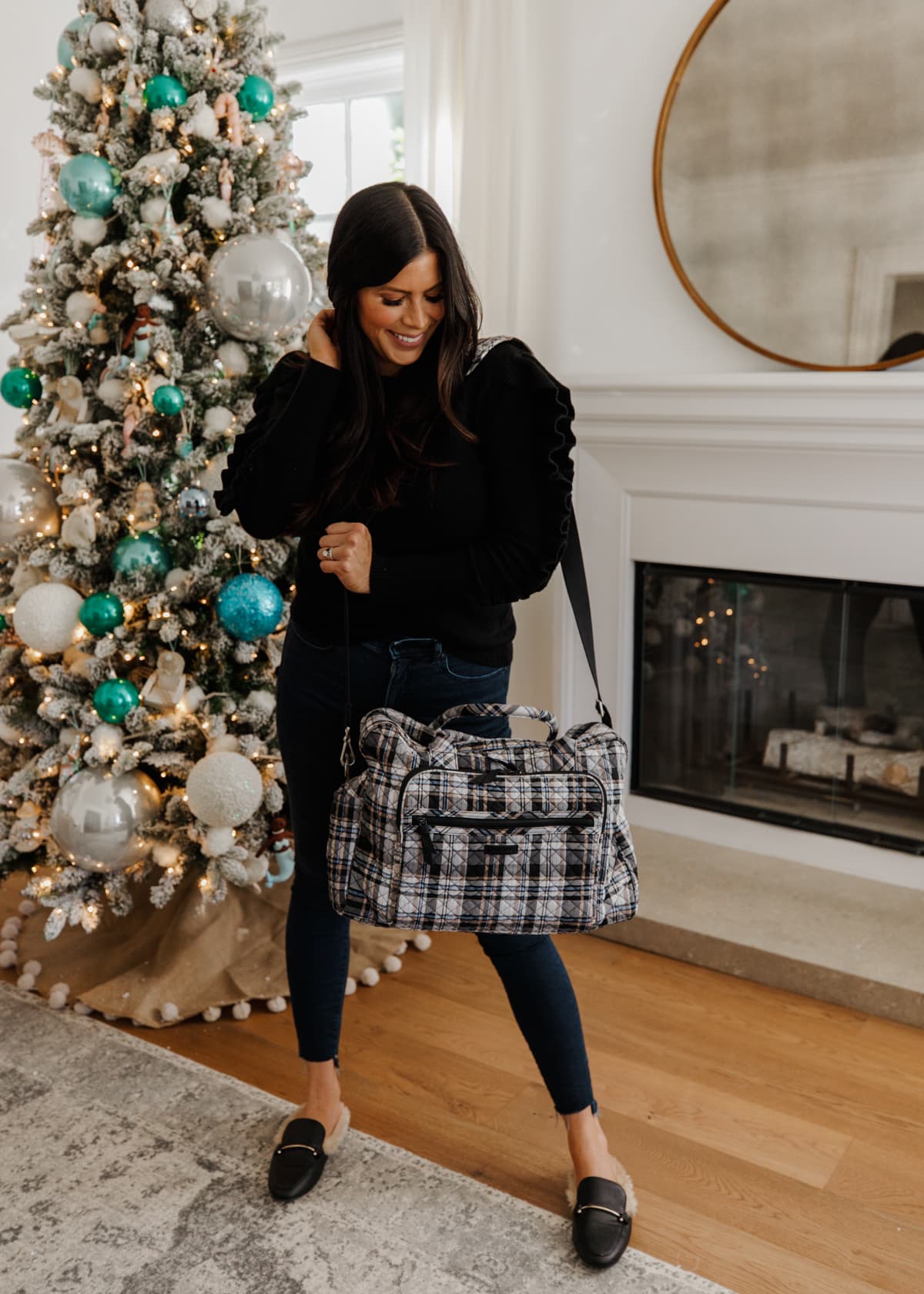 This bag is carry-on compliant and made with a trolley sleeve and more pockets than you'll know what to do with (3 on the exterior and 5 on the interior)! This cotton favorite is also 100% MACHINE WASHABLE (say whaaaaa?!) so if you're a germ freak like me, you can literally wash it after every trip if you want.
Large Travel Duffel
This duffel is wider and deeper than the Weekender but slightly shorter. It's perfect for a road trip! It feels SO roomy and would work really well with packing cubes. Three interior mesh pockets keep toiletries and socks in place, while four exterior pockets can hold books and snacks for the journey. And seriously because of the soft exterior, you can shove SO MUCH into this bag. Dare me to pack a week's worth of clothes in it. No problemo!
Packing Tips
I have traveled a lot, both before kids and after. Through the years I've developed a system for packing, and these Vera Bradley bags are the PERFECT vessel for all.the.things!
PACK SEPARATELY: When we go on a trip, I purposely like to pack each of my kids' things separately. Even if I could fit everything in one bag, it's just better to separate everything, especially if you have a wide variety of ages! That way you can easily access one bag and not have to dig through or wake up little ones searching for stuff. Keeping the bags separate just helps me stay organized! When traveling with a family of 6, organization is KEY. And I love that there are tons of Vera Bradley patterns to choose from so each member of the fam can have their own that they love and can keep track of.
ROLL OUTFITS: When packing, I like to roll each outfit individually, including pants, a top and undies. Rolling clothing items saves so much space, especially in a soft duffel. You can also use packing cubes to stay even more organized!
BUY IT THERE: Instead of packing bulky essentials, I like to buy diapers, wipes, and baby food when I get to my destination or ship them to where I'm going (unless you're going to Hawaii where everything is more expensive ha!) This stuff takes up so much space and buying it after the travel helps a ton. Just keep a couple diapers and a travel pack of wipes in the outside pockets of your VB bag for the traveling!
BRING EXTRAS: I always bring extra pairs of pjs for each kid. There are days that we are out and about for hours and everyone wants to come home and be comfy the rest of the day! I want to make sure my kids are comfy during travel hours as well, so pajamas always come in handy.
PACK NEUTRALS: When I pack for trips, I like to try to choose one color palette. For example, I'll pack mostly black/grey/white clothes or brown/tan clothes so that I only have to bring one or two pairs of shoes (and purse) that will go with every outfit! I do this for my kids too!
COORDINATE: While packing, I try to keep in mind if we are going to be doing something that will involve lots of picture taking. I know this sounds extra, but I will pack an outfit for each kid that coordinates so that it works in photos too! My kids love color so I try to keep in mind to pack something for each kid in a similar palette. We never have to worry about Neil because he's a neutrals-only kinda guy 😉
SQUISHABLE BAGS: Having bags that are soft like the Vera Bradley Weekender and duffel is SUPER helpful. When you're planning your car Tetris, squishable bags make all the difference in being able to pack more into less space! They're also great to put under kids' feet if the trunk runs out of room.
PACK EARLY: I always pack EARLY when I'm taking my kids on a trip. About 4 days in advance I start setting things aside, making sure I'm caught up on laundry, and making piles for everyone! This alleviates SO much stress when I'm able to plan in advance.
Travel in style!
We just barely made some fun little travel plans for the holidays, and you better believe THESE are the bags I'm bringing. On planes, trains or automobiles Vera Bradley bags keep me stylishly organized!