What if I told you that the holidays aren't over yet?! Yes, you can still put away the lights and tree, but don't put away your party pants because International shape tape Day IS A REAL THING and we need to celebrate!! tarte figured that since a shape tape concealer is sold every 12 seconds (yes, really), there might as well be a holiday that celebrates shape tape in all its forms with a KILLER DEAL that I know you're going to love! Keep reading for all my shape tape tips plus how I found my perfect match!
Shape Tape Crash Course
First things first, WHAT IS SHAPE TAPE? It's only the best, most popular full coverage (that can still be thinned out) concealer of all time. It's my ride or die, always have on hand, makeup artist favorite that gives me the look of getting 12 hours sleep when I only got 4!
shape tape consistently gets the BEST reviews because the formula really is unlike any other. It boasts amazing 18-hour coverage but doesn't crease or smudge throughout the day. It also smooths the appearance of fine lines AND includes both shea and mango butter to help with hydration and elasticity. Plus you know tarte is always formulated without parabens or mineral oil or any of the yucky stuff we don't want on our skin!
Since shape tape concealer was so outrageously popular, tarte created a couple sister products that you can use all together or separately for amazing results!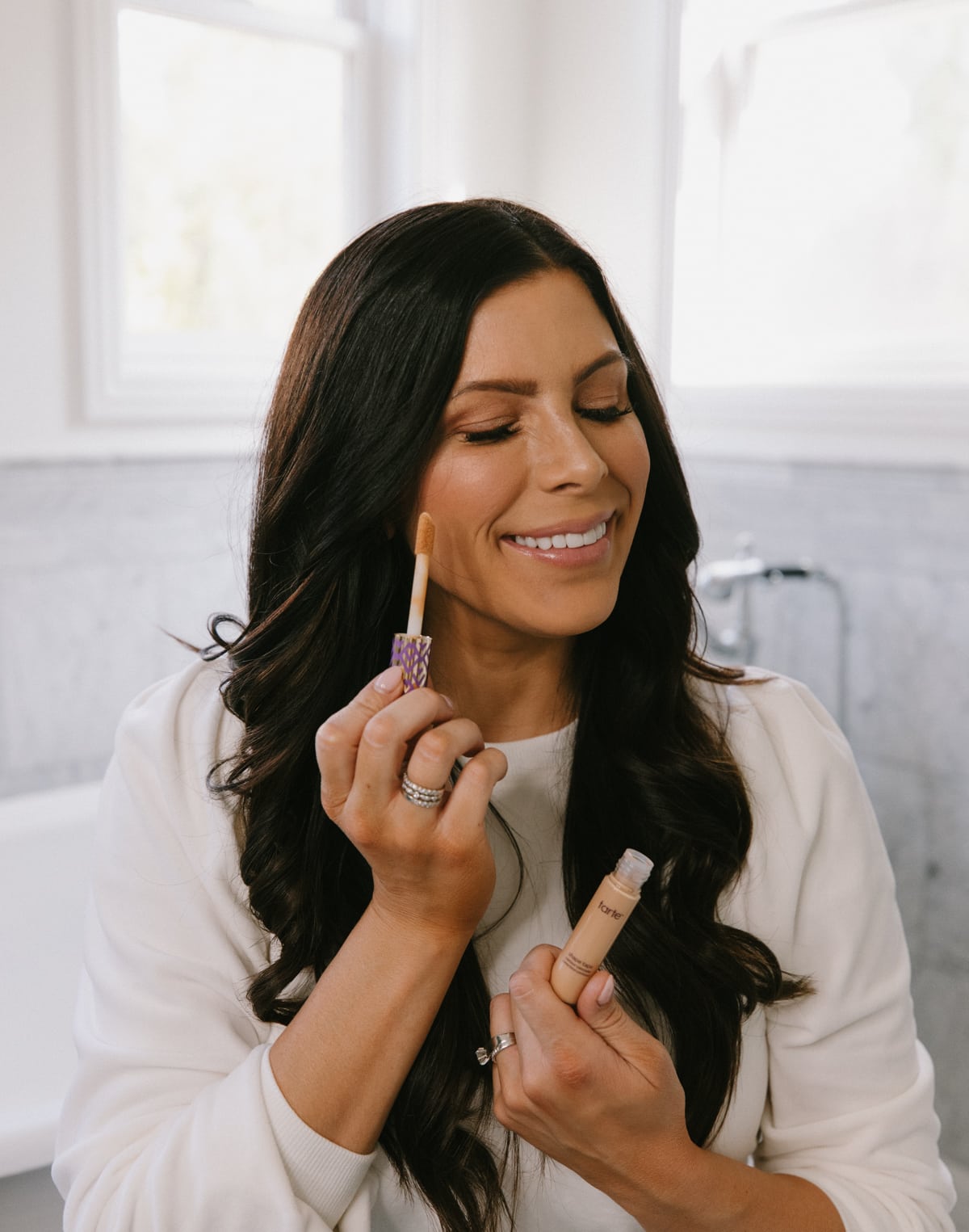 Create Your Own Bundle
Holidays are made for celebrating, and tarte totally got the memo! On January 12-13, you can create your own custom bundle with a shape tape trio plus a limited edition makeup bag guaranteed to give you that perfect coverage you're craving! My bundle includes: face tape foundation, the original shape tape concealer, and the shape tape glow wand for only $49! This is almost 50% off retail (you'd pay ALMOST $100 for all 3), and an amazing deal if you're in the market for foundation and concealer!
Glow Wand
The glow wand is like a highlighter meets concealer, but with the shape tape stamp of approval! It has diamond powder and porcelain flower in it to create a flawless, soft focus finish with a hint of illumination. Use this as a concealer or on the high points of your face (bridge of the nose, forehead, inner eyes, cheekbones) to highlight! My favorites are the colors "dream" (champagne glow) and "aglow" (rose glow). Both are suuuuper pretty and very brightening without being a disco ball!
Face Tape Foundation
When I first tried this Face Tape Foundation out I had high hopes that it would be as amazing as my beloved shape tape. I'm so happy to report it is absolutely everything you want it to be and MORE. The coverage is gorgeous and it 100% stays all day. It is a waterproof, sweat-proof, and transfer-proof full coverage foundation that doesn't feel like a full coverage foundation. Pair it with shape tape concealer and your skin will appear literally flawless!
Perfect Palette Bundle
If you want to try shape tape but don't need foundation, I love this second bundle option! You can also choose this beautiful eye and cheek palette, a shape tape concealer and the fan favorite maneater mascara for the same price of $49!
This palette was so easy to use! There was a simple tutorial on the box that I followed and was thrilled with how the look turned out. It comes with 6 super pigmented eyeshadow colors, a blush and highlighter that go together perfectly!!
How to choose?
Another bonus from tarte is that there are 35 (!!) shades to choose from in the shape tape line! Be sure to use the "find your perfect shade" helper because it really works! I was using a different color of shape tape foundation before I used this match-finder on their site and, lo and behold, their recommendation was WAY better than the one I chose for myself! What's so great is that the shades go across the board, so you can order the same colors in the shape tape concealer and foundation. Fool. Proof.
Tip: Order a shade or so LIGHTER in the glow wand. You can use this as a highlighter and brightener while using the other products for a perfect concealing job!
Celebrate good times, tarte on!
This shape tape holiday brings a whole new meaning to "bundle of joy!!" Depending on which you choose, these product combos are sure to give you a flawless complexion or a full face look in a snap. Can't wait for you to try it and be the newest number 1 shape tape fan!