Quick Version: Save 50% off TODAY only on my fave self tanner here!
When self-tanning is synonymous with a particular brand, you know it's gotta be GOOD! St. Tropez is the most widely known and acclaimed name in the game and for good reason. It's been around forever and reviews for its products are consistently amazing across the board at major beauty retailers. St. Tropez Self Tan Express Bronzing Mousse is no exception to their flawless reputation!
This product is a game-changer for at-home tanning and there's a HUGE deal on it right now! Keep reading for all the details.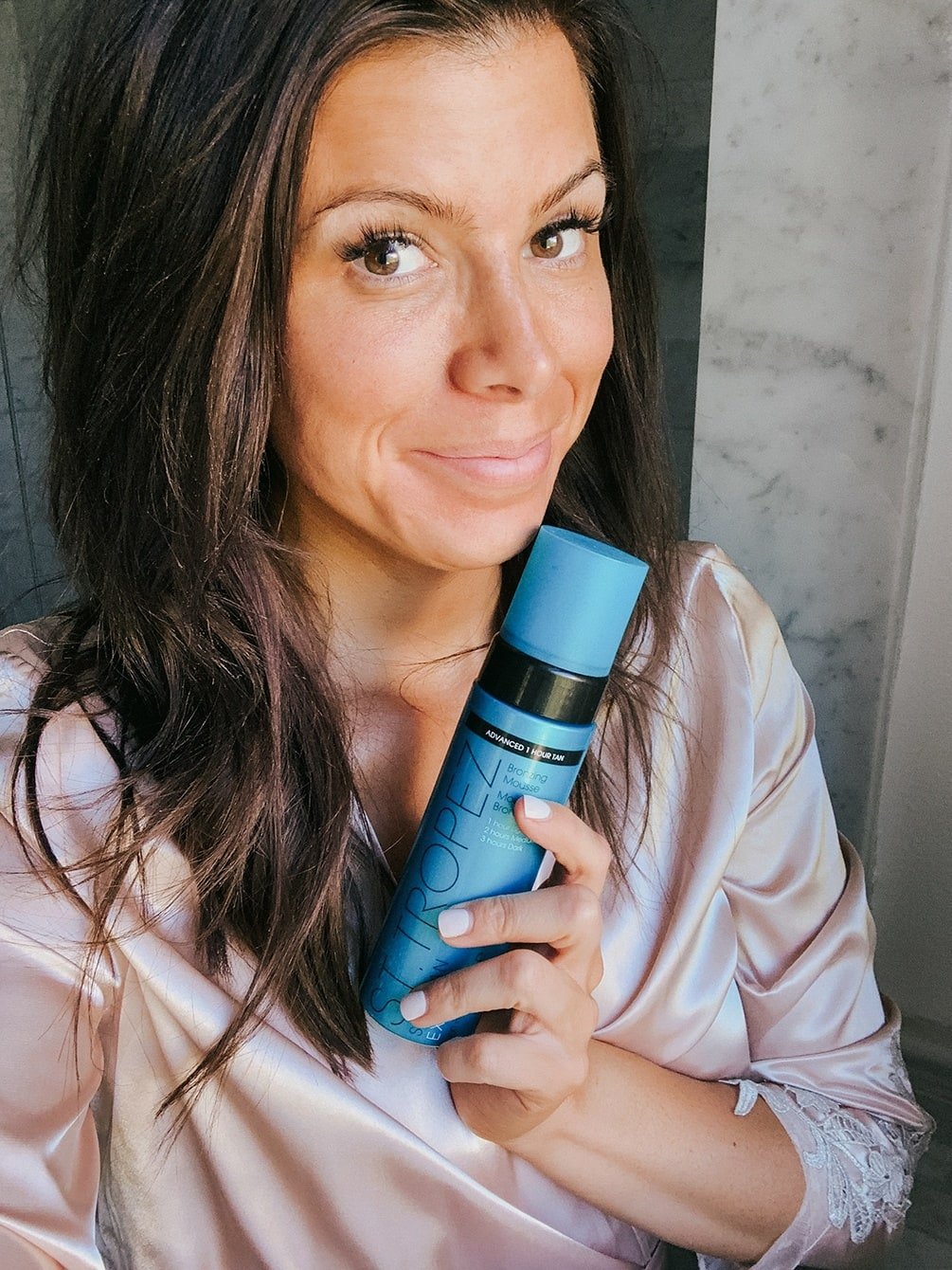 In a hurry? Shop the deal below!

Deal details!
Today only can get 50% off St. Tropez Self Tan Classic Bronzing Mousse for only $22 (reg. $44)!!
You can also get the St. Tropez Self-Tan Classic kit for 50% off! This kit comes with a Luxe Velvet tanning mitt and a travel sized bronzing mousse for only $10 (reg. 20)!! (So perfect for travel and touching up on the go!)
This is such an amazing deal, and a great way to keep your summer glow going strong into fall. Keep reading to find out all about St. Tropez and why I love it so much!
St. Tropez Self-Tan Express Bronzing Mousse
St. Tropez Express Bronzing Mousse is so user-friendly, you'll consider yourself a self-tanning expert in no time! Just exfoliate, apply the mousse with a tanning mitt, and hang out for two hours. After showering it off, the tan continues to develop for hours for a golden and natural-looking glow.
You'll want to just rinse off after two hours, not shower with soap since the tan continues to develop!!
ALSO I love that St. Tropez Bronzing Mousse DOES NOT dry my skin out. For a while there I was using this self tanner instead, but I noticed that it really was drying my skin out and since I already have dry skin, it would peel and look not awesome by the 4-6 day mark. This St. Tropez Mousse does NOT do that to me – it fades really gently and doesn't dry out my skin. HALLELUJAH.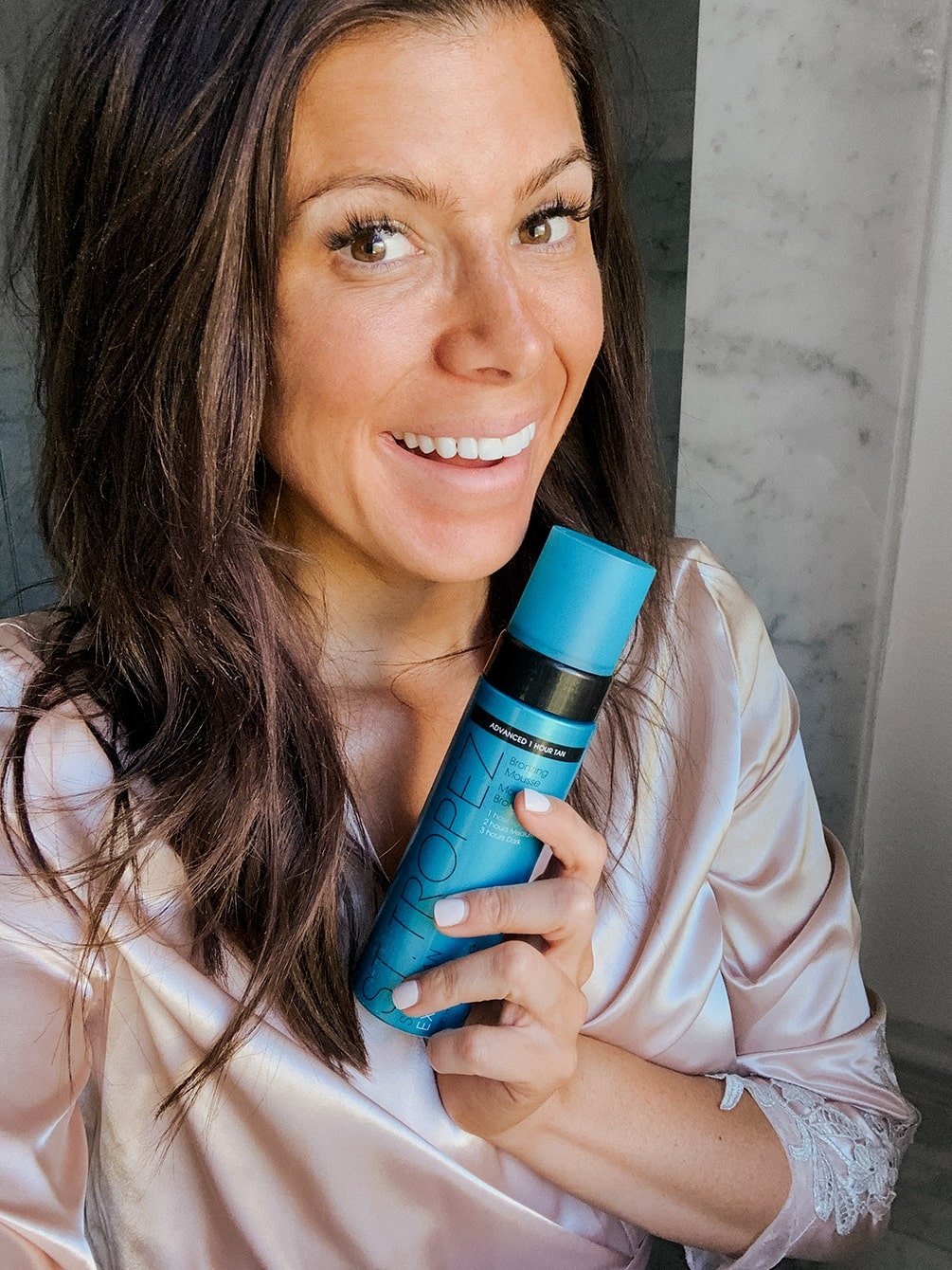 St. Tropez self tanner is PERFECT for anyone paranoid of getting self-tanner on their white sheets OR forgot to set a reminder to get a spray tan before a big event! Not only does it just take two hours, but there's NO funky smell or sign of orange to be seen!
Mine lasts me a solid 5-6 days of looking amazing before I exfoliate and start again! You can read about more of my favorite self tanners in high and low price ranges here.
St. Tropez FAQ's
Is St. Tropez self tanner safe to use while pregnant? Always consult with your doctor — but according to St. Tropez's website, yes!"The Cosmetic Toiletry and Perfumery Association (CTPA) confirm that spray tan and self-tanning products are safe to use during pregnancy and breastfeeding (lactating mothers may choose to avoid the breast area during the breast feeding stage)."
Is St. Tropez self tanner waterproof? As long as you leave it on for the full amount of time directed on the can — YES. Both of these bronzing mousses will leave you with a gorgeous tan that you can wear to the pool or lake or beach and feel confident in from sunrise to sundown! The Express tan lasts me 5-6 days.
Can you use St. Tropez self tanner on your face? While these St. Tropez self tanners are meant specifically for your body, you can totally put it on your face if you add a layer of moisturizer and serum before the bronzing mousse. However, I like to use these face self tanning drops because they're made specifically for the gentler skin in that area.
How to apply St. Tropez self tanner: Tanning mitts — ESSENTIAL to getting an even, beautiful, St. Tropez self tan! DO NOT use your hands, a towel from home, or gloves. The mitts are the only thing that'll truly distribute your tan evenly. And if you want to know the rest of my tried and true tanning regimen that gives me an even, lasting self tan every time, you can find it in this post!
The best tan year round – 50% OFF!
This is an incredible deal on my favorite St. Tropez bronzing mousse that I'd recommend over and over again! It's the perfect time to stock up if you love this as much as I do – and if you haven't tried it yet, but you really want to – buy it for a GREAT deal. I'm so excited about how many pennies you'll be saving on this amazing product.
Remember, today only you can get the St. Tropez Self-Tan Express Bronzing Mousse + Self-Tan Classic Kit for 50% off!!