Quick version: Get the cutest matching Christmas outfits for your family right now here for up to 70% OFF!
'Tis the season for a good matching moment with your family AND a really good sale! Gap Factory has been my family's go-to for the last ten years because their stuff is extremely affordable and they have all the things like kids clothes, pajamas, and (my personal favorite) matching Christmas outfits for the whole family! Right now they have a really good Early Black Friday Sale going on so it's the perfect time to take advantage and get in the spirit this holiday season.
In a hurry? Shop my picks below:
Sale details + an extra code!
Gap Factory always has the best, affordable prices for your wardrobe, and all the cutest clothes for the whole family – especially matching Christmas outfits! Right now's the perfect time to shop if you have Christmas cards or Christmas photos coming up because they're hosting their Early Black Friday Event! EVERYTHING is up to 70% off + an extra 10% off with code GFBLKFRI at checkout!
That's some CRAZY savings you don't want to miss out on!
Fam matching Christmas outfits!
I don't know about you, but I think it's so special and fun to have your family or kids match during the holidays for a family Christmas photo! I found these super cute flannel matching Christmas outfits from Gap Factory for my kids to wear and they're just perfect if you want to have a matching moment for your whole family, all the cousins, or just your kiddos. This idea is so fun for this time of year if you're planning on doing any holiday photos like Santa pictures, Christmas tree farm pictures, holiday cards, or if you're going to have any type of family gathering!
A couple years ago we had my sister, her husband, and their cute baby come down to spend Thanksgiving with us, and I got all my kids and her little boy matching Gap Christmas pajamas. We had all the kids put on their cute pjs after Thanksgiving dinner and we took the cutest family photo of them wearing these Christmas pajamas!
I think it's so fun dressing the kids up in matching Christmas outfits like this – it could even make one of the sweetest surprise gifts for the grandparents with some cute pictures of all their grandkids together in their cute Christmas outfits. There are lots of different, fun ways you can make wearing family Christmas outfits a special activity this season!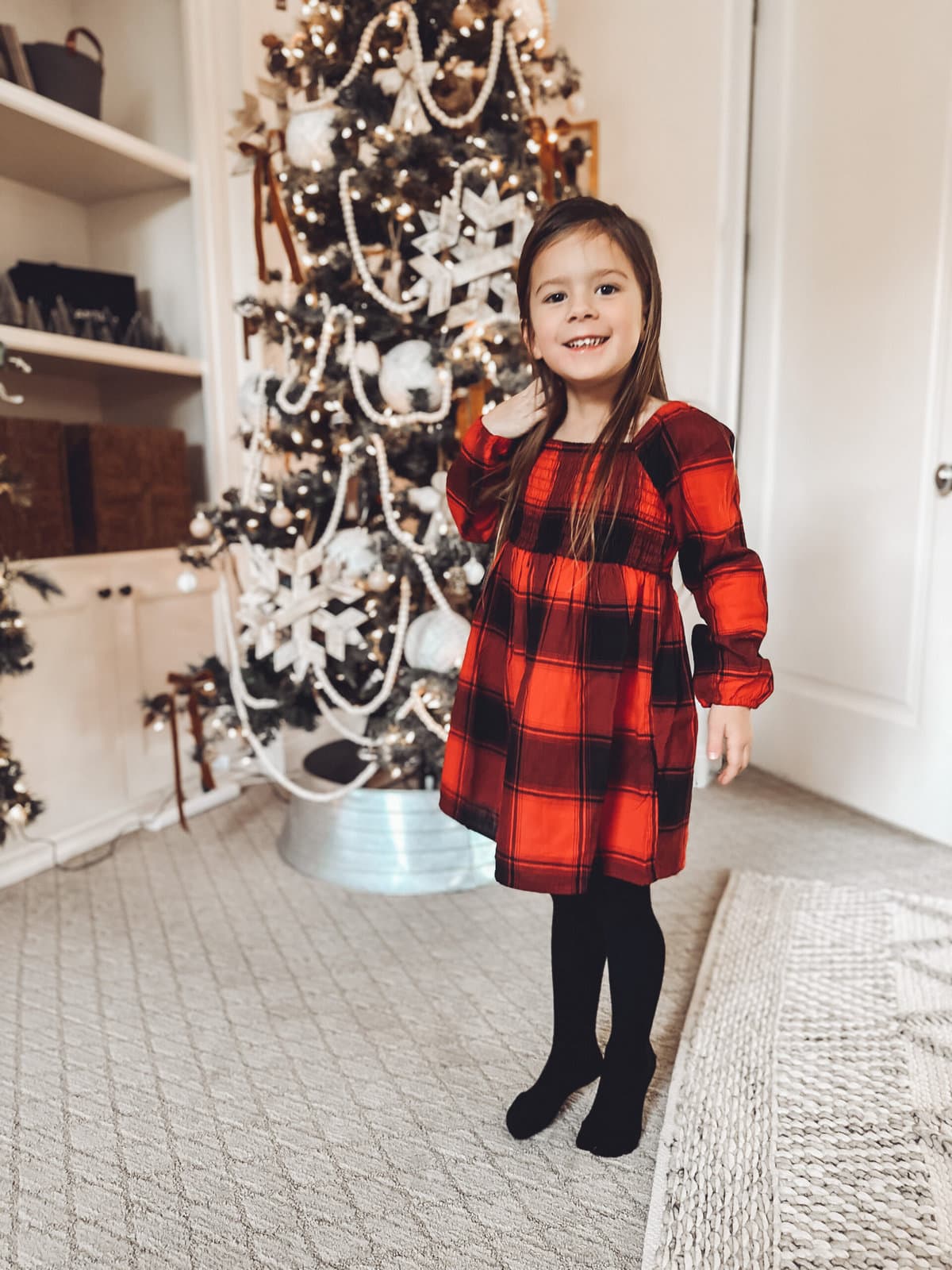 Practical + affordable
One of my #1 favorite things about Gap Factory is how affordable everything is, plus it's all SO cute! These matching Christmas outfits I got my kids all range from 50%-70% off right now with code GFBLKFRI. Amazing!
Everything's very practical and I love that you can wear it to layer and stay cozy in the freezing temperatures throughout the winter season. Their clothes all fit very true to size, and let's just say I'm a loyal, committed Gap fan!
P.S. They have so many other cute seasonal things, too, like family Christmas pajamas that go great with the Christmas theme, but they're not so Christmas-y that you won't be able to wear them through the rest of the winter. I love getting family pajamas from Gap, and their pajama sets for my newborns!
Shop my Christmas Gap favorites + matching Christmas outfits!
The very best time to shop Gap Factory for every member of your family is when they do a true site-wide discount off of everything which is what their Early Black Friday Sale right now is!! There are so many cute things for the whole family to wear during this Christmas season, so it's the perfect time to have a good family matching Christmas moment. I've rounded up all of my favorites that I can't wait to dress my own kids in this season! Happy shopping!
Matching jammies for the whole fam!
More cute favorites!