Happy Thursday you guys!! If you're a Nordstrom lover like I am, you're going to love this surprise. Right now you can earn 10 points on the dollar if you're a Nordstrom Cardholder, or 5 points on the dollar if you're a Nordy Club member – now through March 29!!
PLUS, Nordstrom is having the Spring Sale today that is FULL of insane steals – most are up to 40% off and I'm flipping out over some of the selections we found.
We've done ALL the hard work for you, picking out the very cutest sale stuff and showing you my most fave top-rated items that I'm pretty dang sure you'll be obsessed with too.
SPANX Faux Leather Leggings
Every time I wear these leggings I got from Nordstrom I get SO MANY questions about them! The faux leather look is so much fun and these are great to dress up or down. I loved creating this casual look by pairing them with a tunic and loafers, but you could dress it up by doing heels and a statement necklace and be ready for a night out.
These Spanx leggings are actually a coated athletic legging, so they're way more comfortable than you might think, and they have a control top that makes everything feel all smooth and sucked in. They're AMAZING and I swear they make my legs look 1 size smaller when I wear them. These were my fave right after I had Millie and even though I wore them a bazillion times last year, they still look amazing, even after countless washes.
Havaianas Flip Flops
I've had my pair of black Havaianas for FIVE YEARS and they still look and act brand new. They are crazy comfy even from the first wear, no break-in necessary. My favorite part is they wash all the sand off like butter and they are completely waterproof for walking on rocky beaches or down a hot beach or around a splish splashy pool.
Seriously they're one of my absolute summer essentials and I promise you will love them too! They are 100% worth a tiny bit more of an investment over cheaper flip flops.
MZ Wallace Tote
This MZ Wallace tote is my ultimate EVERYTHING bag. It weighs basically nothing so you can throw whatever you want in it without bulking up. This is a bag you see out on the streets of the very nicest and MOST hip cities! MZ Wallace bags are the greatest bags to travel with because they take up ZERO space in your suitcase. It's roomy enough to carry all the things, but cool enough to carry just a few things. Such a good piece to pick up during Nordstrom 10x points.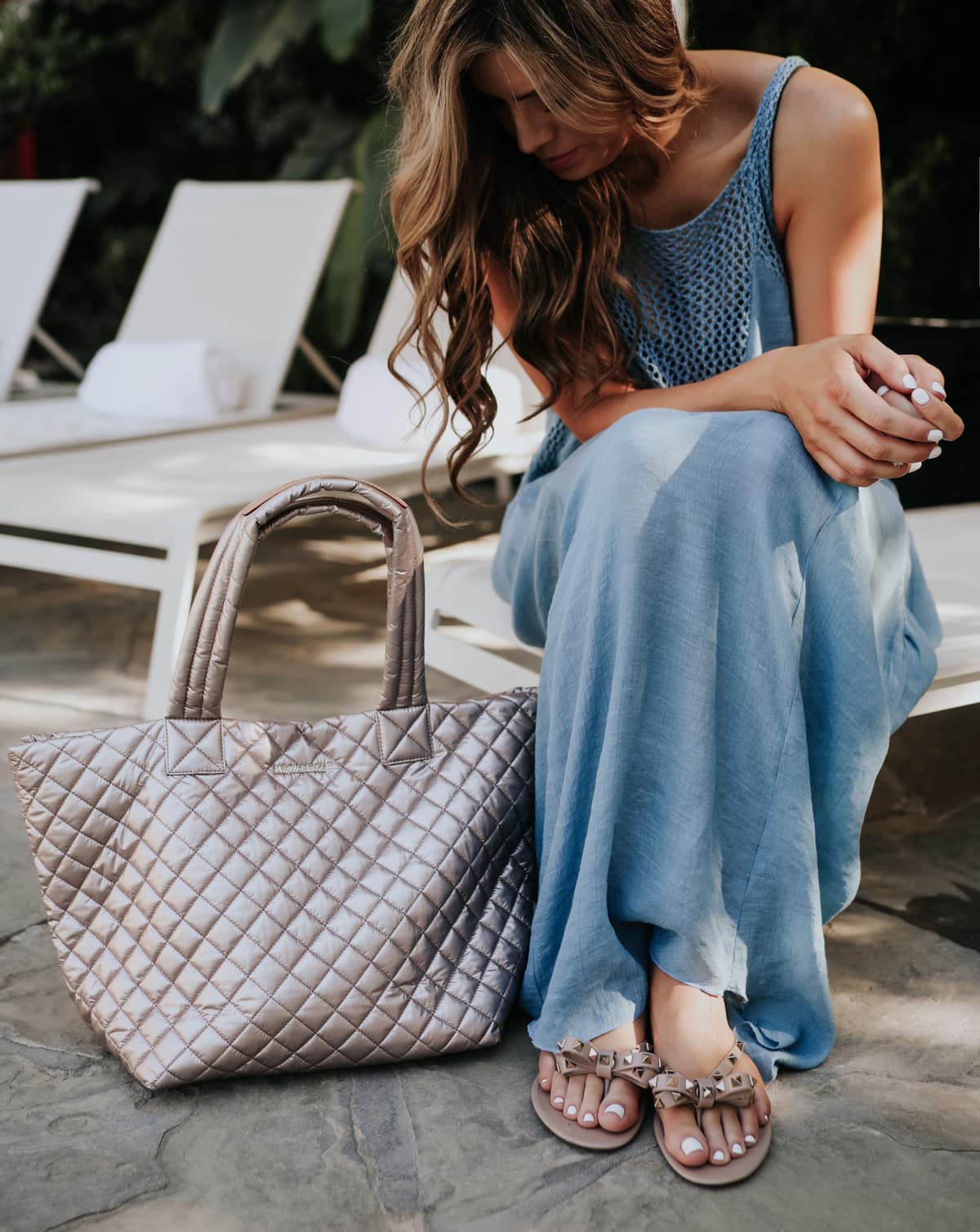 Adidas Superstars
Adidas Superstars are actually THAT comfortable-the rumors are true!! They are a super reliable sneaker that always, always look cute, but never ever sacrifices comfort. These sneakers are a New York Fashion Week favorite. They are classic. They are iconic. And you can literally wear them with ANYTHING. They do run a bit large, so you'll want to size down a 1/2 size when ordering.
These shoes are 30% off right now during the Nordstrom Spring Sale, making them only $56 (reg $80)!
White crochet one piece swimsuit
This gorgeous crochet one-piece swimsuit is super highly rated and is the perfect pick for summer. I love the contrast of a bright white suit and a bronze summer skin!
My girlfriend told me she has FOURTEEN suits by this brand because they are just her favorite! They hold their shape wear after wear, are super soft, the colors stay bright and vibrant, and they are basically just amazing.
You can get this one-piece for $70.80 (reg $118), making it 40% off right now!
Black skinnies
These Good American skinny jeans have quickly become my go-to pair (well, when not pregnant ha!). When we had to take Anabelle to the hospital for an appendectomy back in September I wore these jeans and ended up in them for over 24 hours. You guys, I didn't even realize I was wearing jeans because they are THAT COMFY! Who can even sleep in jeans? This girl, wearing THESE JEANS.
These black jeans are $104.30 right now, which is a 30% savings from $149!
V-Neck Tee
This tee has been featured in about a half a billion of my blog posts because I love it so much.
It's absolutely a closet staple for me, and you can get this tee for $13.65(orig. $19.50) with a 30% savings right now!!
A well-rounded tote
Circle bags are a super hot trend right now! This cute little circle tote was featured on the blog last summer and you're definitely going to see a lot more of it this coming summer!
It's super fun, roomy enough for all your essentials and it's on sale for only $41.96 (reg $69.95)! That's 40% off and such a steal!
Zella
This brand is hands down one of my FAVORITES for activewear and loungewear, especially the infamous live in leggings! You can hit the gym in these, or throw on a long sweater and boots with them, or tie a button-down around your waist with a v-neck on top and sandals on the bottom. BAM. Wardrobe staple goodness.
The best part? These insanely high-rated leggings are only $44.25 (reg $59) right now! You'll most likely see them a few dollars less during the Nordstrom Anniversary Sale, but if you don't want to wait until JULY to get them at that price, this is the next best price you'll see until then – TRUST me.
Top-rated Nordstrom favorites
​Shop the very cutest top-rated and sale items below from Nordstrom, and remember you'll get 10 points on the dollar if you're a Nordstrom Cardholder, or 5 points on the dollar if you're a Nordy Club member – now through March 29. Happy self-quarantine shopping!
Top-rated favorites
Top-rated SALE favorites