I've been SO impressed by our Airfryer this past year! Honestly, I kinda thought Air Fryers were pointless before trying one. Like, do I really need ANOTHER appliance that takes up space in the kitchen? One word: YES! This thing reheats, crunchifies, melts, bakes and (duh) air fries! It's pretty much amazing and we don't want to cook without it anymore! Keep reading for all the details!
Ninja Air Fryer Deal Details
This top-rated 4 qt Ninja Air Fryer that can retail for up to $149.99 is on sale right now for only $99! That's 33% off retail, and one of the lowest prices we've seen! Keep reading to find out why it's SO great.
Sometimes our hottest deals sell out REALLY fast, so if you want to be in the know and find out FIRST, you can join our bestie group text! And don't worry, I'll only send you the VERY hottest deals that have the highest sell out risk – PROMISE. To join the list, text DEALS to 949-506-2558
Why the Ninja Air Fryer?
I decided to try this particular Ninja Air Fryer because it is so highly rated on Consumer Reports as well as on basically every website it is sold on. And now I canNOT get over how much I love it. It seriously has so many uses! You can heat up frozen food, reheat leftovers, or just crunch up your take out in it and it makes the food so.much.better. I even used it to make 10 minute cauliflower gnocchi here!
Seriously, once you get yours (and the next time you have a leftover slice of pizza you need to reheat), pop it in your Ninja Air Fryer at 325 for 4 minutes and you'll get a perfectly toasty (NOT soggy) crust underneath, and gooey melted cheese on top, and you'll never be tempted again to use your microwave to heat up that leftover slice of pizza.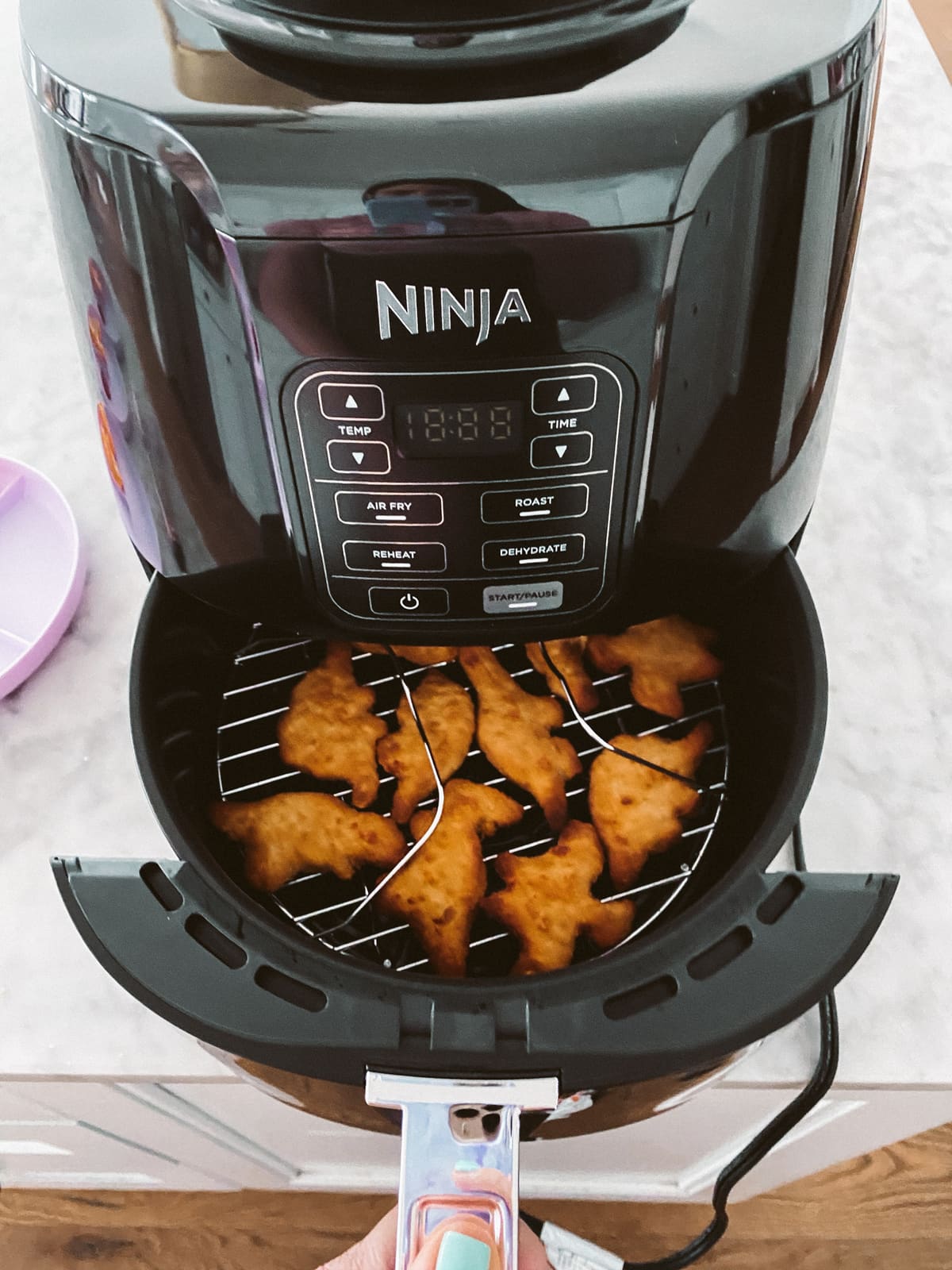 The whole idea behind the Air Fryer technology is to make food that "tastes" fried. But it just uses hot air for a healthy alternative that still packs a crunch! It saves time, calories, and lives. JK, but heating up nuggets in it *might* just make you your kid's hero!
Dinner, but make it crispy!
I love this appliance all months of the year, but I love it in the summertime especially because you don't have to heat up your whole kitchen for a meal, and everything tastes better with some texture! WIN! If you've been thinking about getting an Air Fryer, you won't regret it!