Have you ever wondered if you are a victim of your own routine? Like, are your beauty habits working for you or against you?! Over my years of trying products and blogging, I have come across so many things that have helped me get the max benefit for the least effort! Or, have taught me how to make the most of certain products or services. Hint: a little effort goes a long way!! Keep reading for my TOP beauty hacks!
NAILS
I have been a LONG TIME nail salon junkie. But trying to make that appointment every 2 weeks and then have my hands totally useless for an hour is hard!! I actually get a lot of mom guilt taking that time away from my family AND not even being able to work while doing it. Enter: my nail salon alternative.
Red Aspen
I love that I can do Red Aspen press-on nails at home and it literally only takes 10 minutes with NO mess! These nails can literally last JUST as long as a regular 2 week manicure, but they don't have to! I've left a set of Red Aspen nails on for over 2 weeks and only changed them out because I wanted something new. I love that I don't have to stay committed to a color or pattern for 2 weeks. Gel and dip nails are SO hard on your nails but you can literally wear these nails for a day, 3 days or 3 weeks or more without any damage. The best part? They are only $13-$15!! Such a good beauty hack.
SKIN
Hair Removal
Got some peach fuzz (and, ahem, a 'stache) and can't make it to your aesthetician? OR does waxing make you break out? BEHOLD, two hacks that will give you the smoothest skin that will make your makeup go on like a dream!
Dermaflash
The Dermaflash was one of my favorite beauty discoveries of 2020 (silver linings AMIRIGHT)! This product allows you to do an at-home dermaplane and gives your skin the smoothness of a baby's bottom! I usually only do this every 10 days or so because the results LAST that long!! This product is a few steps up from a woman's facial razor because it actually stimulates collagen and elastic production. It also clears up built up dead skin and debris so that your skincare can penetrate more effectively!
Facial Razor
If you're not wanting to spend the money or want something you can literally throw in your purse, the tinkle razor is an amazing alternative to the Dermaflash! It doesn't take off as much dead skin, but it'll easily remove all your facial hair with a few swipes.
Refrigerated Skincare
This is one of my favorite beauty hacks! Did you know that refrigerating your skincare can extend its shelf life? This is especially great if you're a product junkie that uses several products from the same category! But it's also a super soothing way to decreases redness, swelling/puffiness and improve circulation. While this might be one of those little luxury items, your skin will thank you for it! Plus, how convenient is it to have all your stuff in a little fridge on the counter?! Be sure to store a Diet Coke in there as well for maximum effectiveness 😉
Makeup Erasers
MakeUp Eraser Towels are the easiest way to wash your face–with only water!! The warmer the water, the better in this case. And for stubborn waterproof makeup, simply hold the wet towel against your eyes for 5 seconds to start emulsifying the makeup! It works by utilizing millions of tiny fibers to "suction" the makeup, dirt and oil from your pores. Like. Magic!
Did you know that ONE MakeUp Eraser Towel is equal to 3600 makeup wipes?! It's way less waste and better for the environment since they're washable and reusable. Plus the MakeUp Eraser is ultra-soft and chemical free. They are antibacterial and dermatologist tested and are even amazing for lash extension longevity.
MAKEUP
Mascara Tips
Mascara seems pretty straight forward, right? Like swipe on and go! But wait..there's more!! To make sure you're maximizing your product (and every last lash), be sure you're starting at the very root of your lashes and wiggling the wand from root to tips. This will ensure even coverage which makes subsequent layers less clumpy as well!
And while you're at it, don't even think about pumping your wand into the mascara tube. This will NOT give you more product on the wand. Instead, swipe around the inside of the tube to collect more product. Mascara feeling a little dry? Add a few drops of saline (contact solution) to the tube to add longevity to your mascara.
False Lashes
If you want to have a 3 minute weekly solution instead of a 1-hour appointment lash extension appointment every few weeks, this is my FAVORITE solution by far of everything I tried!
For the cost of ONE lash fill, you can get the starter kit for these DIY lash extensions and they can be re-used if you just use rubbing alcohol to clean them in between uses! They stay on for 7-10 days and look JUST like my lash extensions did.
These at-home lash extensions are SO EASY to put on. Truly. After Covid shut my lash girl down, I tried tons of solutions, including magnetic lashes. I struggled to some degree with getting the hang of ALL the magnetic lashes I tried, but these at-home lash extensions were crazy easy to apply. I got them on in about 3 minutes and they last 7-10 days!! They look so pretty, so natural, but you can also double up with some of their add-ons and make them look fuller like volume lashes too!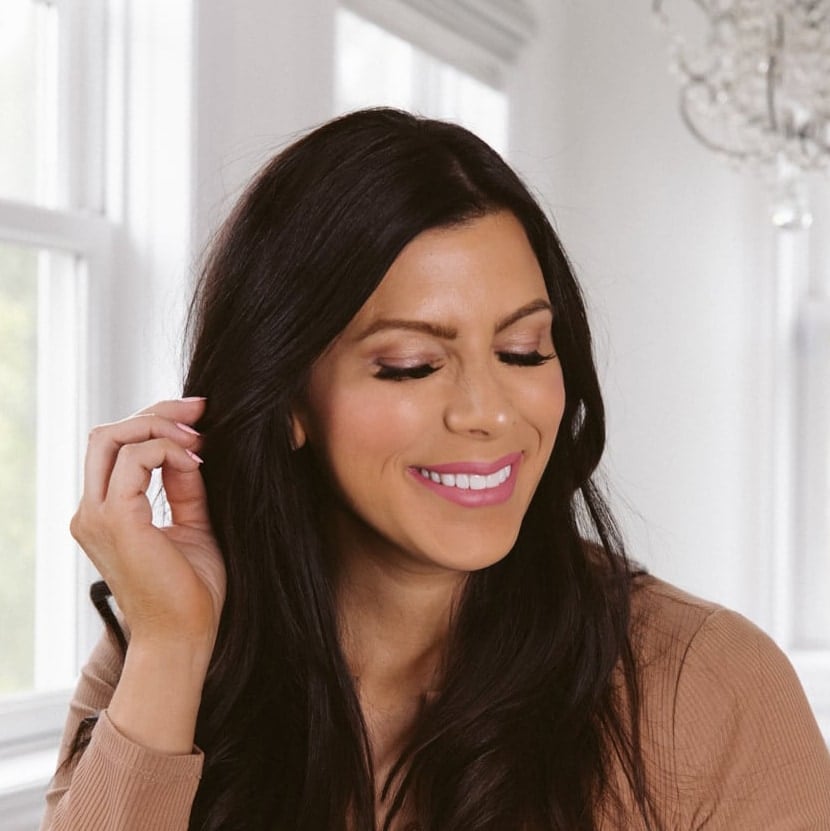 BODY
Exfoliating
Think microfiber cloths are just for cleaning? THINK AGAIN! This household staple is one of the easiest and best ways to exfoliate before self-tanner or spray tan. Simply use the cloths on dry skin to remove leftover fake tan and dead skin cells. Did you know that if your skin is freshly exfoliated your tan will last MUCH longer?! Otherwise, your tan will just stick to the dead skin cells and sloth off much faster!
HAIR
Washing
HOW you wash your hair matters! When talking to a male hair stylist a few years ago, he gave me some amazing tips for effectively shampooing. To start, when washing your hair, just put the shampoo on the top of your head and really massage it in. This is where lots of product build-up is, so you want to make sure you're really getting your scalp. Once you've done that, just let the shampoo run down the rest of your hair with the shower. You don't need to focus on your ends, shampoo is actually for your scalp and roots and the runoff is enough for the rest of your hair!
Dry Shampoo
Utilizing dry shampoo is my favorite way to extend the time in between washes. Can I get three days? Four? What about a week?! Here's the step by step way to get the most out of dry shampoo.
STEP ONE: LAYERS
To use dry shampoo, you'll want to take your hair in layers, start at the top of your head, and work all the way down to the nape of your neck, adding a little dry shampoo to each layer, JUST at the root.
STEP TWO: SHAKE IT OUT
Then take a brush like this one and brush it through your hair to make sure it's evenly distributed, OR you can just massage and shake through your roots to make sure it's all spread out.
STEP THREE: REPEAT
You have to do this EVERY DAY of the week that you're trying to get your hair to last between washes. PRO TIP: I love to put dry shampoo in my hair at night before I go to bed. When I wake up in the morning it's somehow totally evenly distributed all over the roots of my hair and usually, I can't see any residue at that point. Pretty awesome!
STEP FOUR: PULL IT UP
If you work out, try to keep your hair UP and out of the way of getting sweaty. If your hair does get sweaty at all, go home and use the dryer on "cool shot" to dry up any sweat before you use dry shampoo to cleanse.
Brushing
When you brush your hair, it's important to remember to brush from the roots to the tips. The scalp is where nourishing oils are produced, so by brushing from the scalp all the way down you are providing your ends with much needed moisture!
That said, you don't want to OVERstimulate oil glands, so don't feel like you need to brush your hair all day every day. Once in the morning and once at night is enough to keep it tangle free and enjoy the benefits of the scalp stimulation.
Beauty hacking, not lacking
In addition to smarter upkeep and more effective utilization of products, beauty hacks are a great way to save TIME and MONEY! I love not being married to a service that requires bi-monthly upkeep, plus being innovative with what I have on hand is kind of my favorite. Now tell me, what's YOUR favorite beauty hack?!