Hairs the thing, maintaining your mane can be hard work! The blow drying, the curling, the dry shampoo. Sometimes it requires a lot of time and a lot of product to have a good hair day-especially if you also have super fine hair that is prone to tangles! This is one of the most common hair problems I used to hear girlfriends complain about and then I ended up with a daughter with this hair!
Today we're gonna dish all our BEST SECRETS for taming that tangly hair.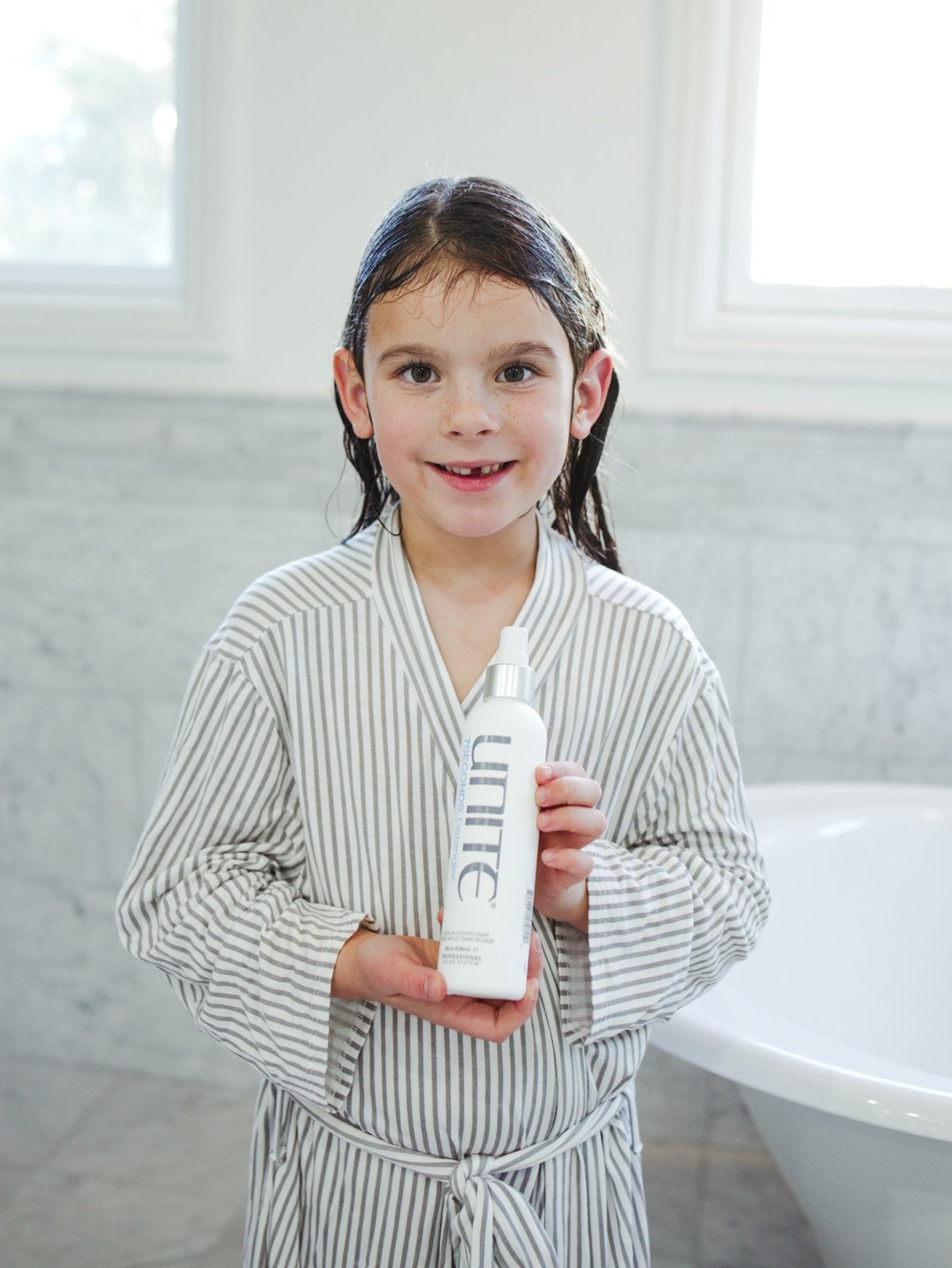 I don't know where Ani came from with her tangly hair, but it is next level! She has such long, beautiful hair, but it is so prone to tangles and we have had some legit battles involving real tears (hers and mine. HA!) over it. After lots and lots and LOTS of trial and error we've found a few tried and true detangling products that have dramatically helped and are totally worth your pennies!
Good conditioner is KEY
Washing her hair with this Mega Sleek Shampoo and Conditioner was a game changer-especially the conditioner!! But if you're looking for an even less expensive drugstore option, Garnier Fructis Sleek & Shine is a pretty good option and crazy cheap.
2021 update: our newest fave that's also insanely affordable is this L'Oreal Elvive Dream Lengths conditioner! I can tell a HUGE difference when Ani conditioners her hair with this; it brushes out about 10x faster. And it's $3.97 here!!
Do not skip detangler
A detangler is an absolute MUST. Do not pass go, do not collect $200, nothing happens without detangler and a Wet brush (the BEST detangling brush in existence!)
There are a few detanglers that we've tried and love. The Kristin Ess Weightless leave-in conditioner smells great, works great and it's super affordable at just $10! It's a 10 is another amazing option and a cult favorite with thousands and thousands of perfect reviews. UNITE Hair 7 Seconds is the holy grail option. It is the most expensive of the three, but it truly works the best and I find I don't have to use as much product to get the desired result.
2021 update: this all-in-one detangler and heat protectant actually gives you 25 total benefits, but I'm BLOWN AWAY (ha) at the detangling power of this magical spray. It fights tangles more powerfully than I think any of these products above and it's by FAR my current top choice. It's not the cheapest, but also not the most expensive either, so I love that!
TIP: Pulling the hair and spraying detangler on the underside of the hair and dividing the hair in half and spraying detangler on the middle layer makes a MASSIVE difference!
TIP: Don't wash fine, tangle-prone hair everyday. Part of the reason for us is to AVOID lice. Did you know lice love super clean hair? Gross! We haven't gotten it in our house yet … KNOCK ON WOOD. Literally. Knocking on all the wood around me right now hahaha. Anyway…
Dry Conditioner
On our off days we use dry conditioner. Did you know dry conditioner was a thing? Because it totally is and it's the bomb! We have three favorites.
2021 update: This Pantene Dry Conditioner Mist is a new favorite of ours! We tried 3 new brands recently and this was our favorite! It smells the best and works SUPER well, and its only $6.97. Cheapest favorite of ours for sure.
The Kristin Ess Reviving dry conditioner is another favorite of ours, although I haven't been able to find it in stock close by so you might have to order online! It smells great and works really well. Instantly softens and smooths like magic and is just $14.
The spendiest option is Living Proof No-Frizz Instant De-Frizzer and it's worth the splurge! It was even an Allure Best of Beauty Award Winner last year. It tames frizz and tangles and makes hair soft, smooth and shiny! If Anabelle's hair is suuuuuper tangly, this is the most powerful stuff.
TIP: Don't use dry conditioner or detangler above the ear line. Just use product from the ears down to keep the top from getting greasy.
Tried, true, and tearless hair faves
All these products have made hair time with Ani manageable and not a miserable fight and that is a major Mom WIN! These are our tried and true favorites for tangly hair! Do you have any we missed?