The Cyber Monday beauty deals are killer this year! A lot of these items are only on sale a couple of times a year, so NOW is the time to take advantage if you see anything you love. This is the ideal time to stock up on tried and true favorites or take something new for a spin!
In a hurry? Go straight to the deals below!
Sometimes our hottest deals sell out REALLY fast, so if you want to be in the know and find out FIRST, you can join our bestie group text! And don't worry, I'll only send you the VERY hottest deals that have the highest sell out risk – PROMISE. To join the list, text DEALS to 949-506-2558
Top beauty picks on sale!
Below are all my top favorite Cyber Monday beauty deals from across the internet, including brands like tarte cosmetics, Urban Decay, Dyson, and MORE! Plus take a look below at where you can easily find all the best beauty deals from your favorite retailers in just one click!
Laura Mercier Setting Powder
My verrrry favorite setting powder I've ever used and still love to this very day is the Laura Mercier translucent honey! I love this powder because it's not just white, so it doesn't cast a white hue all over my makeup.
It has a little bit of warmth to it, but it won't change the color of your foundation. I feel like it just blends everything perfectly! I use this to set my concealer (40% off with code CYBER) and just overall when I'm finished applying my makeup.
Tip: If you're wanting to wear a full face of makeup, but will be wearing a mask, my suggestion would be to first, set your makeup with the Translucent Honey powder and then FOR SURE use this setting spray! It's a miracle potion.
The Laura Mercier Translucent powder is 15% off today for Cyber Monday!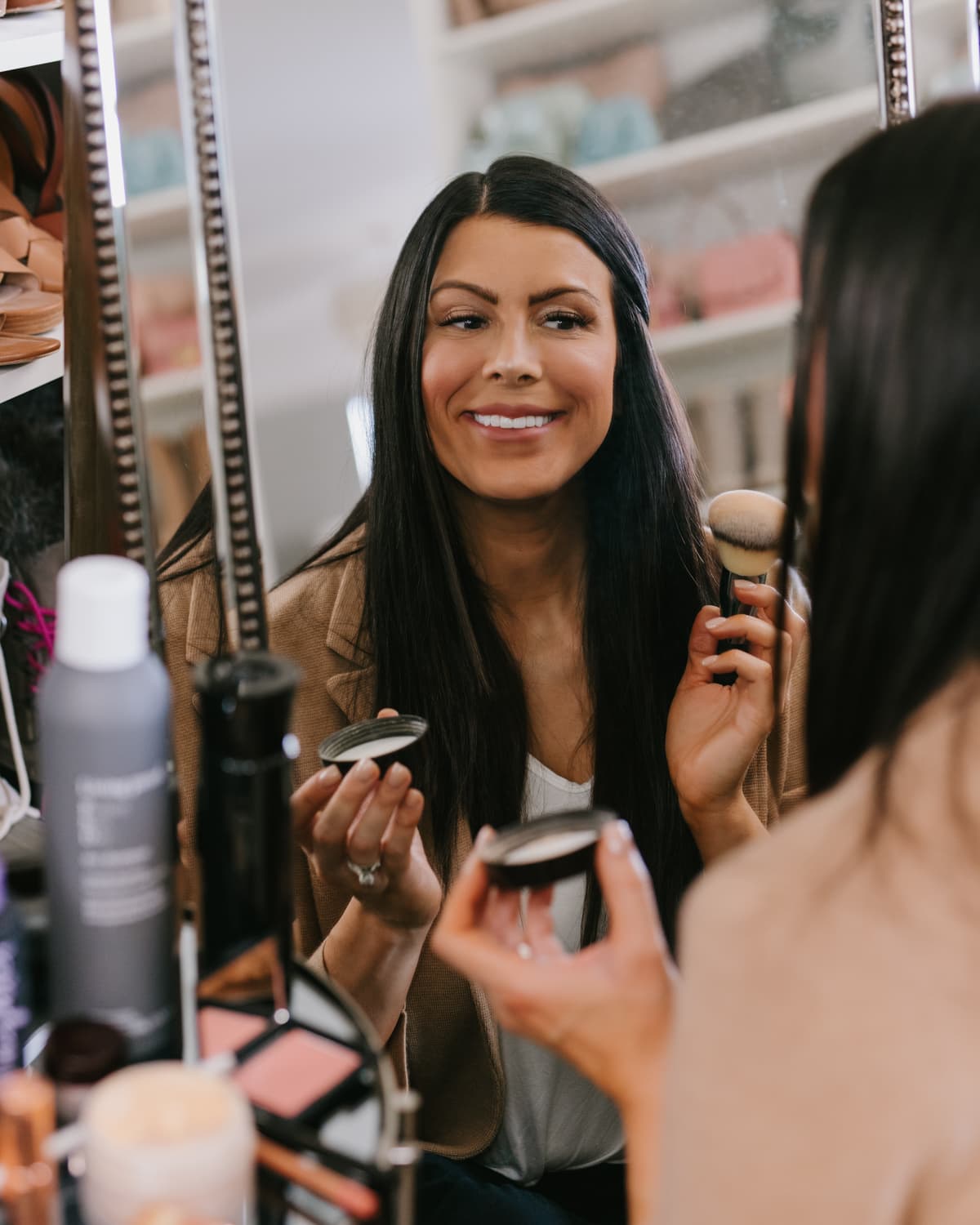 Olaplex
I'm SO excited to see our fave Olaplex hair care products ON SALE for 15% off here! This stuff is pure magic and a HOT item this year. Anytime it goes on sale, it sells out within a few hours.
One of our very most favorite, tried and true hair brands is Olaplex. The secret sauce is actually the Olaplex Bond Perfector & the Intensive Bond Hair Treatment (not just the shampoo and conditioner, although those are AMAZING, too!). The Bond Perfector especially is a LIFE-CHANGER for damaged or color-treated hair.
Slipsilk Pillowcase
Absolutely OBSESSED with this silk pillowcase. It's so good for your skin. It's so good for your hair. It's totally amazing. It helps prevent bedhead and wrinkles. It's gentle on eyelash extensions, and actually makes your hair last longer if you're trying to go days in between washing.
I love that you can buy it in a King or Queen, depending upon what size pillows your house is rocking, and it comes in NINE different colors. 15% off right now for Cyber Monday!!
Dermaflash
So excited to see this Dermaflash Luxe Anti-Aging Exfoliation Device on sale for 30% OFF today for Cyber Monday! That makes it only $139.30 (reg $199)!
You know my love for the PMD runs deep. But I realized I was doing a bit of a dance between using that and using a women's facial razor to get rid of my peach fuzz! When I tried the Dermaflash, I realized it was the answer to my tool-juggling! It gives an amaaaaazing exfoliation while removing peach fuzz (and my woman 'stache), all in one fell swoop! No wonder it was named Best Skin Care Device for Allure Magazine in 2018!
This thing is my BFF and it would make an amazing gift, too! Trust me when I say you will NOT be disappointed.
Revlon One-Step Volumizer Hair Dryer
This One-Step Hair Dryer and Volumizer has completely REVOLUTIONIZED the way I do my hair. I'm a huge fan. I think that everyone should have it. I'm in good company too because there are OVER 250,000 perfect reviews!
Right now you can get this Revlon hair dryer for only $22.28 (reg $59.99)!
PMD Clean Pro
If you're looking for something to cleanse your face, I LOVE the PMD Clean Pro, and you can get it for 30% off at just $125.30 (reg $179)!! The amazing thing about the PMD Clean Pro is that it's made with medical-grade silicone and with over 7,000 vibrations per minute, it lifts, firms and tones as you clean!
The PMD Clean Pro uses SonicGlow and ActiveWarmth technologies to break down all the oil and dirt in your pores giving you the ultimate CLEAN skin at the end of the day! You can also use the backside for a facial massage as you apply serums and moisturizers. And it only requires one AA battery and there are no brush head replacements ever!
Benefit Cosmetics Brow Set
Ah I'm so excited to see this deal on some of my FAVE brow products! Right now you can get the following from Benefit Cosmetics for just $34 (retail $65)!!
Precisely, My Brow Pencil Ultra Fine Shape & Define
Gimme Brow+ Volumizing Eyebrow Gel
Brow Setter Shaping & Setting Gel Mini
Shaping Stencils
Deals this good on Benefit Cosmetics eyebrow products don't come around often, so stock up and do it quick, because colors are selling out fast!
tarte Shape Tape
The best concealer ever, tarte Shape Tape is ONLY $17.40 (reg $29) with code CYBER at checkout! That's 40% off! So if you have trouble spending over $20 for concealer, today is your day!!
tarte Shape Tape Concealer has taken over (and changed) the concealer game! Celebs and makeup artists alike keep it in their makeup arsenal at all times. It really has the best coverage, is so long-lasting, and is totally versatile. My favorite way to use it is under my eyes; it definitely erases all evidence of my late-night Netflix binges!
I also love using it on little blemishes or areas with redness (hello under my nose!). Try tapping it on a trouble area and leaving it unblended for a few minutes. When you buff it in with a blending sponge, your blemishes will literally disappear and stay away all day! This concealer is seriously a game-changer and for ONLY $17? It's a no-brainer!
tarte Glow Wand
I loooooooove the Shape Tape Glow Wand! You can get it right now for 40% off with code CYBER for ONLY $16.20 (reg $27)!!
The glow wand is concealer, too, but with a glow! And a little more lightweight. It's just the perfect amount of glow to make you look like you're beaming and fresh faced, without also looking like a disco ball. I'm beyond obsessed! It instantly helps brighten, smooth & give the skin a firmer, more lifted look, and I love that it won't flake or crease throughout the day.
To use, apply the Glow Wand Concealer onto any blemishes or imperfections and blend using the sponge end. If you're using it for dark circles, simply put the concealer under your eyes and blend! SO easy and it seriously works wonders.
tarte Face Tape Foundation
This foundation is remarkable. If you love the cult fave Shape Tape, you will LOVE Face Tape! It's a beautiful, full coverage foundation, and I was seriously blown away by how it looked on my skin. It's officially my favorite tarte foundation! Plus, it includes everyone's favorite ingredient, hyaluronic acid, and antioxidants to protect your skin all day.
I use it in the color Medium Neutral, but this would also be a great time to pick up a winter shade and a summer shade. It has almost 2500 amazing reviews, so the results are in: this foundation is a winner!
Normally it retails for $39, but during this tarte Cyber Monday beauty deal, you'll get the Face Tape for 40% off with code CYBER at checkout for only $23.40!
tarte Creaseless Concealer
If creases are a major concern for you, THIS is your concealer. And guess what? It's ONLY $15.60 (reg $26) with code CYBER!!
It is a little bit thicker and a little tackier than the shape tape. This tarte concealer 100% lives up to the hype of being totally creaseless and virtually eliminates those pesky under-eye circles and redness. It's super hydrating and leaves the area feeling very moisturized and looking dewy. I LOVE how it brightens up my under-eye area, lasts ALL DAY, and truly doesn't crease.
I use the color Medium Neutral and I love applying it with a dense concealer brush for an airbrushed effect! Definitely worth adding to your cart!
Lash Paint Mascara
I was so excited to try this mascara because it has 1400+ RAVE reviews. I love an ultra black, clump-free mascara and this one delivers! Because I wear lash extensions, I usually only wear mascara on my bottom lashes so I want a lot of impact and something to coat every. lash!!
People are saying this is the "mascara must-have" and "the best mascara ever," and who am I to disagree?!
If you need a new mascara, add this one to your Cyber Monday beauty cart, you won't be disappointed. Especially because it's ONLY $13.80 with code CYBER (reg $23)!
Urban Decay Eyeshadow Palettes
If you've been dying to score an Urban Decay Naked palette, now is the time!! This Naked Cherry eyeshadow palette is 50% off today, making it only $24.50 (reg $49)! But that's not all! You can grab this Naked Heat eyeshadow palette while you're at it for 50% off as well for $27 (reg $54), OR get the Naked Honey palette here for 50% off at just $24.50 (reg $49)!
Fenty Lip Gloss
These Fenty mini glosses are TOPS. Rihanna knows her lip products, friends! I am SO picky about lip gloss, and these check all the boxes for me. Pretty shine, no stickiness, soft texture, and LASTS!! I love this as a gift because the 4 pack is ONLY $28.50 right now for Cyber Monday (retail $38), so you can keep all the colors together or split them up if you have multiple gifts to give!
Foreo Luna
I've used the Foreo Luna Mini 2 and it's super comparable to the PMD clean. I honestly think it's such a great option for your daily skincare regimen. Using medical-grade silicone to scrub your face and facilitate that double cleanse is always a good idea.
Get the Luna 2 right now for $83.30 (reg $119) at 30% off during these Cyber Monday beauty deals!
Best DIY lash extensions (my #1 choice!)
If you don't want to have to put magnetic lashes on daily (ME!) and you're used to the convenience of lash extensions, or you just want to have a 3 minute weekly solution instead of a 1-hour appointment every few weeks, this is my FAVORITE solution by far of everything I tried!
For the cost of ONE lash fill, you can get the starter kit for these DIY lash extensions and they can be re-used if you just use rubbing alcohol to clean them in between uses! They stay on for 7-10 days and look JUST like my lash extensions did. Today you can get 20% OFF SITEWIDE with code CYBERMONDAY21, including the Lashify Control kit making it only $116! (Orig. $145)
L'Oreal Paris Lash Paradise Mascara
I have been asked multiple times on social media what my favorite drugstore mascara is and HANDS DOWN it is this one by L'Oreal!! It's a total dupe the Too Faced mascara and it is amazing! Apparently Beyonce's makeup artist is obsessed with it too so…#goodcompany? Get this mascara in a 2-pack right here for 24% OFF at just $15.27 (reg $19.98)!!
Estee Lauder Double Wear Foundation
Estée Lauder's Double Wear matches my skin flawlessly! I cannot even say enough good things about this foundation. It really does last 24 hours and gives you the BEST, prettiest coverage without looking thick or cakey at all. I wish I would've known about it sooner! You can get it here for 15% off making it $36.55! (Orig. $43)
Dyson Hair Dryer
Get $60 off the Dyson Supersonic Hair Dryer today!!! We've been looking for this deal and we're SO happy we found it! There are SO many reasons to love this powerhouse of a hair dryer – here are just a few: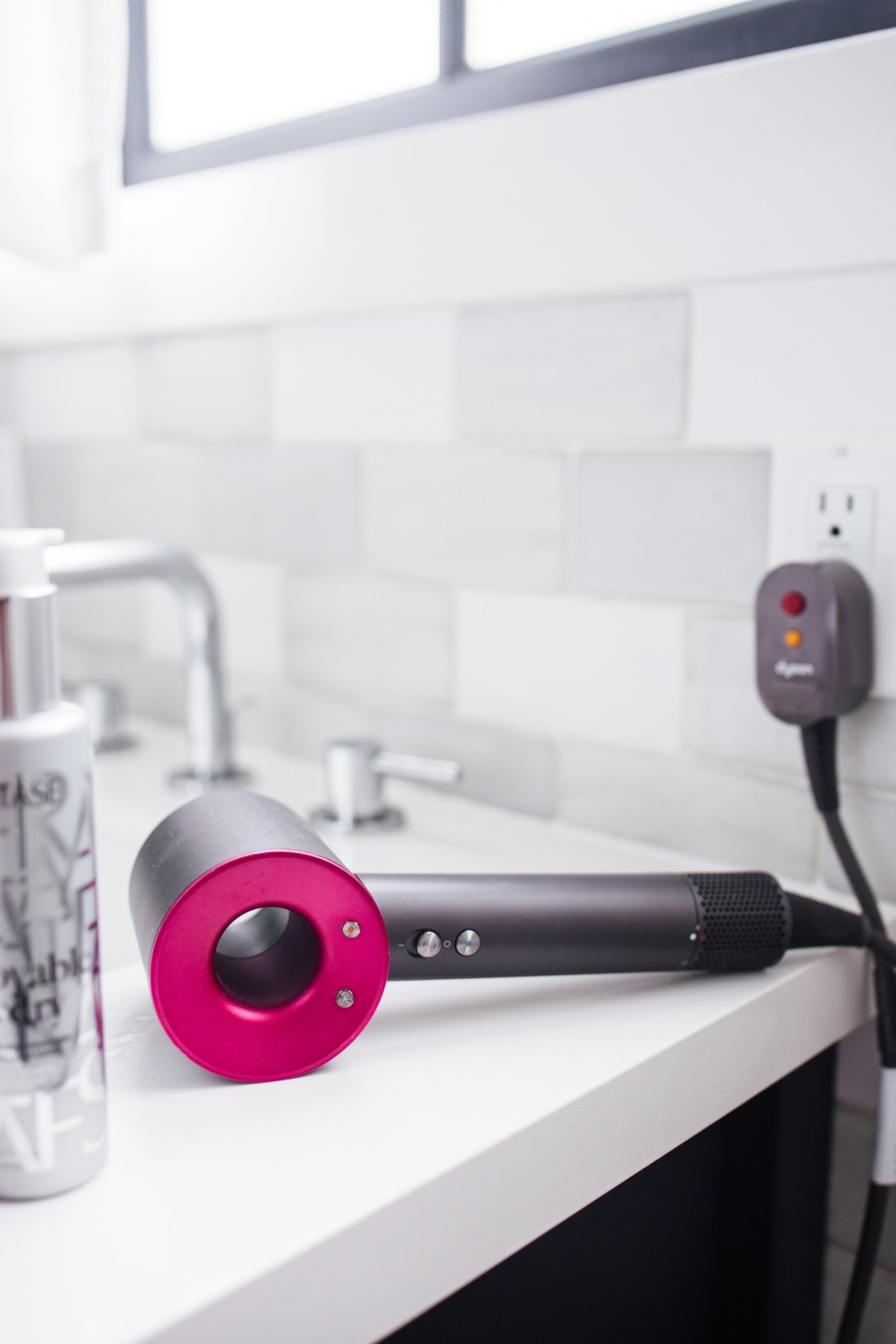 Cuts drying time in half
I talked about my obsession with this Dyson Supersonic Hair Dryer in this post a while back and I'm still just as in love. It really did cut my dry time IN HALF. All the attachments are magnetic (amazing right?!) and stay cool so you can swap them out mid-drying.
Crazy powerful
The Dyson Supersonic Hair Dryer is hands down the MOST powerful blow dryer I've ever used in my life, and I've tried a TON of high-end dryers out of desperation to find something that will dry my hair faster and more efficiently.
I have thick, long hair that I swear takes me HOURS to dry. Every time I go to the DryBar, I always hear "Wow! Your hair takes a long time to dry!" Mind you, that's with ZERO extensions and I'm definitely grateful for that but it's just so crazy how much my hair LOVES to retain water.
The Dyson has become a GAME CHANGER for that reason because it literally has cut the time in HALF to dry! (Can I get a hallelujah?!)
Gentle
Another plus about the Dyson hair dryer is how gentle it is with my hair. Sometimes in the past using other blow dryers, I've noticed my hair getting damaged from the extreme heat. But, nope! Not with the Dyson! It uses a minimal amount of heat while still giving a VERY powerful and quick blow dry.
It's great for ALL hair types and produces amazing results with increased shine and minimized frizz! It's seriously a-ma-zing. Your hair will LOVE you, and you'll love it right back!
Dyson Corrale Multi-Styler Cordless Hair Straightener
I wish I could put neon lights on this title! This is going to be gone QUICK. The Dyson Corrale is the VERY BEST HAIR STRAIGHTENER I've ever used. Period. Hands Down. Currently only $374.97 – an extremely rare, possibly never before seen price on this Dyson. That's over $125 OFF!
Dyson AirWrap
I finally gave the Dyson AirWrap a try a while ago and was BLOWN AWAY (ha!) at how magical this little device was. It has 7 attachments that will straighten, round brush dry, or curl your hair. It does take a minute to figure out the curling process, but once I did, I was ELATED by how smooth the process was! It really does smooth out your hair while curling each section and gives you crazy good volume as it curls.
The Dyson AirWrap is so good and such a great combo tool for drying, curling, waving, or smoothing your hair! It dries AND styles all in one shot, so it's a MAJOR time-saver. It's super quick and super easy and you will LOVE it.
Get it for 27% off for only $399.99 (reg $549.99)!
Frigidaire Mini Retro Fridge
Having a beauty fridge is such a fun little treat! If there is someone on your holiday list that loves all things beauty and skincare, this makes an AMAZING gift. This fridge is a perfect size and has been exactly what I needed (and wanted)! Is it a NEED? Not really. But am I using it every day and so happy I have it? 100%! This one is so affordable at only $33.99 today with code CYBER15! Regularly $39.99.
Anastasia Beverly Hills Sugar Glow Kit
This highlight palette has been a go-to fave for a few years now too, and I just keep using it and it keeps on lasting me forever!! I use butterscotch on the tip of my nose and stardust on the tops of my cheeks. It's 50% OFF today making it only $20, reg. $40!
Pureology Hydrate
If you LOVE Pureology (who doesn't?) but less-than-love the price, NOW is the time to buy! You most likely won't see a better deal on this shampoo ($21.35, reg. $30.50) & conditioner ($22.75, reg. $32.50) in the near future! I RARELY see deals on Pureology and it's something I get asked about all the time. If you've been sitting on your hands waiting, now's the time to ADD TO CART!
Don't miss out!
Don't miss these amazing Cyber Monday beauty deals!! They make the most perfect gifts, and the best treat yo'self gifts too! These are all HOT items, so there's a good chance they will sell out pretty quick. So add to cart and get ready to stalk your mailman, HA!