Quick Version: Find all of our favorite Black Friday beauty deals below!
The Black Friday beauty deals are killer this year! A lot of these items are only on sale a couple of times a year, so NOW'S the time to take advantage if you see anything you love. This is the ideal time to stock up on tried and true favorites or take something new for a spin!
In a hurry? Go straight to the deals below!
Top beauty deals!
Below are all my top favorite Black Friday beauty deals from across the internet, including brands like tarte cosmetics, Urban Decay, Dyson, and MORE! Plus take a look below at where you can easily find all the best beauty deals from your favorite retailers in just one click!
IT Cosmetics CC cream & Superhero eye bundle – HOT Black Friday beauty deal!
This stuff is a CULT FAVE of soooo many beauty bloggers and beauty professionals. IN FACT, when I was at QVC a while ago, their professional makeup artist used this exact stuff on me.
She picked it over the bottles and bottles of every brand of full coverage foundation I know and love (and some I haven't even tried) and when she pulled it out to use it on me, I was like "oohh I love that stuff," and she goes "I KNOW isn't it the best?!" It really is the best CC cream I've ever used. Period.
Not only does this set come with the CC Cream and brush #7, it also comes with the VERY popular Superhero mascara and eyeshadow stick! This is definitely a bundle worth buying if you love IT Cosmetics as much as I do. Get it for only $59.82! (a $155 value if purchased separately.)
If you are just interested in the CC Cream and brush you can get that duo here for only $46!
If you ONLY need new mascara, this Superhero mascara is one of my top 3 favorite department store mascaras ever! Get it over half off here for Black Friday making it only $12! (reg $26)
Beachwaver curling iron – HOT Black Friday beuaty deal!
I personally LOVE the Beachwaver curling iron because it curls my hair in literally HALF the time a regular curling iron takes, but it lasts twice as long.
My curls last for DAYS and I think it's because the barrel is winding my hair up so close to the heat that it does a super good job of curling it. And my hair does NOT hold curl easily. So this curling iron really has been a game changer!!
Right now for Black Friday you can get the Beachwaver S1 curling iron for only $44.10 with code MINTARROWWAVE at checkout + free shipping!! (Reg. $149)
INSANE! That's a 70% off beauty deal on this amazing hair tool.
Best DIY lash extensions (my #1 choice!)
If you don't want to have to put magnetic lashes on daily (ME!) and you're used to the convenience of lash extensions, or you just want to have a 3 minute weekly solution instead of a 1-hour appointment every few weeks, this is my FAVORITE solution by far of everything I tried!
For the cost of ONE lash fill, you can get the starter kit for these DIY lash extensions and they can be re-used if you just use rubbing alcohol to clean them in between uses! They stay on for 7-10 days and look JUST like my lash extensions did. Today you can get 15% OFF SITEWIDE with code BF15, including the Lashify Control kit making it only $123.25! (Orig. $145)
St. Tropez
When self-tanning is synonymous with a particular brand, you know it's gotta be GOOD! St. Tropez is the most widely known and acclaimed name in the game and for good reason. It's been around forever and reviews for its products are consistently amazing across the board at major beauty retailers. St. Tropez Self Tan Express Bronzing Mousse is no exception to their flawless reputation!
St. Tropez Express Advanced Bronzing Mousse is so user-friendly, you'll consider yourself a self-tanning expert in no time! Just exfoliate, apply the mousse with a tanning mitt (on sale for only $4.50) and hang out for two hours. After showering it off, the tan continues to develop for hours for a golden and natural-looking glow. You'll want to just rinse off after two hours, not shower with soap since the tan continues to develop!!
Right now for Black Friday you can take 40% off select St. Tropez products including the Tropez Self Tan Express Bronzing Mousse HERE!
Makeup brushes + Sponges
Ladies are always in need of a new makeup sponge, so this is your sign to shop this gift that's just $5.35 right now! They give a smooth, finished look without absorbing all the product.If you're looking for some makeup brushes, this is SUCH an affordable, basic makeup brush set with extremely high reviews!! (It also includes a sponge, too!) Don't miss this deal – 18% OFF during Black Friday!
Babe Lash
I've tried so many different lash serums over the years including the big players like Grande Lash and RevitaLash, and I really haven't liked ANY of them until I tried Babe Lash.
Babe Lash is THE ONLY lash serum that has 1) really worked with making my lashes get longer and 2) had absolutely ZERO nasty side effects!!!
Right now you can get the essential lash serum for only $33.22 with code MINTARROW at checkout (reg. $49) – 32% off!
Bio Ionic Curling Iron
This curling iron isn't cheap BUT it's also basically NEVER on sale, and it's one of the best I've ever owned. If you have long hair, listen up because you don't want to miss this. This curling iron has a LONG barrel, so it's quicker and easier to curl all of your hair in a short amount of time! Also the cool tip end is super convenient, and it has multiple heat settings. This is the exact curling iron that my hairstylist uses and I've had it and loved it for a couple years now.
Let me repeat: it NEVER goes on sale. Except it IS on sale right now for Black Friday! Get it for $40 off and only $99! (Reg. $140)
ALSO – best hairspray ever? Not just according to me, but 300+ other reviewers who agree! ALSO on sale.
Most unique lip velvet product EVER
No one's done this as good as Shine's LipVelvet in Miracle! Ahhh I'm in love. The color is so pretty; it has a mauve to it with a tiny touch of purple that makes a beautiful pink and I love it more than words can express!
This product is unlike ANY I've tried in the beauty industry and the name totally helps – miracle is one of my favorite words! I paired it with their lip liner in the shade lovely and these are another recommendation I'd totally make for a young girl getting started in makeup.
Right now when you use code BF22 at checkout you can get this LipVelvet for only $14.25! (Reg. $18.99) That's 25% off!
Hair Waver
A recent hair tool favorite and a total blast from the past is this hair waver! It's super simple to use and gives such a fun look. Hold it on your hair for a short amount of time for loose, beachy waves or hold it longer for the full wave look! At ONLY $29.96 (Reg $39.99), it's a total risk-free purchase.
Benefit Cosmetics Brow Set
Ah I'm so excited to see this deal on some of my FAVE brow products! Right now you can get the following from Benefit Cosmetics for just $34 ($60 value)!!
Goof Proof Brow Pencil
Precisely, My Brow Pencil
Gimme Brow+ Volumizing Eyebrow Gel
Deals this good on Benefit Cosmetics eyebrow products don't come around often, so stock up and do it quick, because colors are selling out fast!
Philips toothbrush – HOT Black Friday beauty deal!
Right now, you can get $80 off the Philips Sonicare ProtectiveClean 6500 Electric Toothbrush. That's just $89.96 (reg $169.96) in the white, pink, navy, and black. This is a CRAZY good deal!! There's a good chance it'll sell out before the end of the day, so act fast! Trust me, once you get used to brushing with these, you'll never want to use a plain old toothbrush again.
Note: I have the DiamondClean, but this one still has AMAZING reviews!!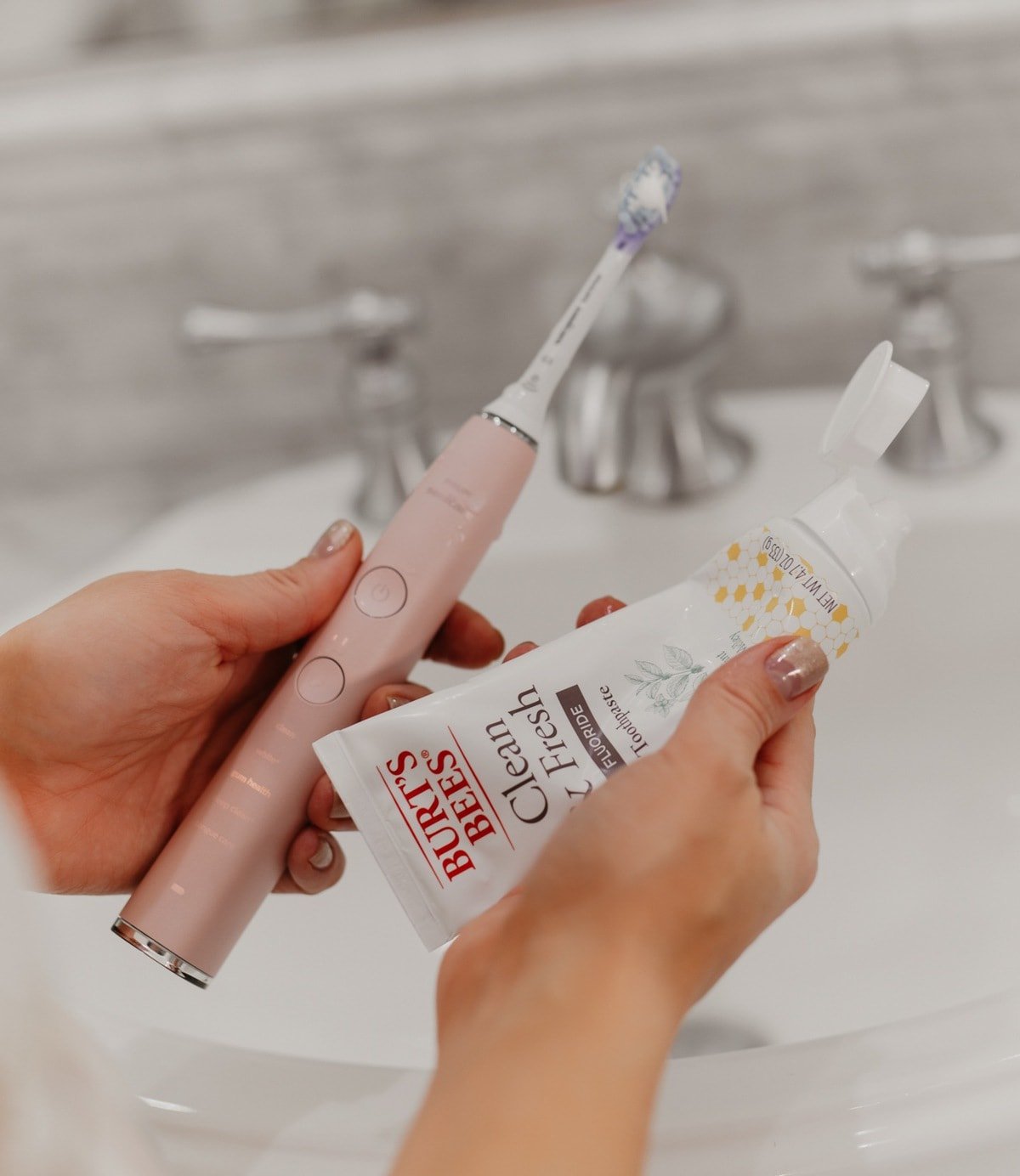 tarte Shape Tape – HOT Black Friday beauty deal!
The best concealer ever, tarte Shape Tape is ONLY $21.70 (reg. $31) with code CYBERSZN at checkout! That's 30% off! So if you have trouble spending over $25 for concealer, today's your day!!
tarte Shape Tape Concealer has taken over (and changed) the concealer game! Celebs and makeup artists alike keep it in their makeup arsenal at all times. It really has the best coverage, is so long-lasting, and is totally versatile. My favorite way to use it is under my eyes; it definitely erases all evidence of my late-night Netflix binges!
I also love using it on little blemishes or areas with redness (hello under my nose!). Try tapping it on a trouble area and leaving it unblended for a few minutes. When you buff it in with a blending sponge, your blemishes will literally disappear and stay away all day! This concealer is seriously a game-changer and for ONLY $21? It's a no-brainer!
tarte Glow Wand
I loooooooove the Shape Tape Glow Wand! You can get it right now for 30% off with code CYBERSZN for ONLY $20.30 (reg. $29)!!
The glow wand is concealer, too, but with a glow! And a little more lightweight. It's just the perfect amount of glow to make you look like you're beaming and fresh faced, without also looking like a disco ball. I'm beyond obsessed! It instantly helps brighten, smooth & give the skin a firmer, more lifted look, and I love that it won't flake or crease throughout the day.
To use, apply the Glow Wand Concealer onto any blemishes or imperfections and blend using the sponge end. If you're using it for dark circles, simply put the concealer under your eyes and blend! SO easy and it seriously works wonders.
Amazonian Clay Foundation
If you're in the market for a CC cream feel with killer coverage, look no further! The Amazonian Clay Full Coverage Foundation is so lightweight but totally full coverage. It has over 7100 AMAZING reviews, and includes tarte's famous Amazonian Clay technology.
But what even is that? It's nature's ingredient for a longer, truer wear in makeup. This ensures a better color match and all-day wear! I've been loving using this as a daytime (it has SPF 15!) alternative to a heavier foundation. I love how it feels and wears, especially in warmer weather.
Get it during their Black Friday sale for only $25.20 with code CYBERSZN at checkout! (Reg. $36)
tarte Creaseless Concealer
If creases are a major concern for you, THIS is your concealer. And guess what? It's ONLY $18.90 (reg $27) with code CYBERSZN!!
It is a little bit thicker and a little tackier than the shape tape. This tarte concealer 100% lives up to the hype of being totally creaseless and virtually eliminates those pesky under-eye circles and redness. It's super hydrating and leaves the area feeling very moisturized and looking dewy. I LOVE how it brightens up my under-eye area, lasts ALL DAY, and truly doesn't crease.
I use the color Medium Neutral and I love applying it with a dense concealer brush for an airbrushed effect! Definitely worth adding to your cart!
PMD Clean Pro
If you're looking for something to cleanse your face, I LOVE the PMD Clean Pro, and you can get it for 30% off at just $125.30 (reg. $179)!! The amazing thing about the PMD Clean Pro is that it's made with medical-grade silicone and with over 7,000 vibrations per minute, it lifts, firms and tones as you clean!
The PMD Clean Pro uses SonicGlow and ActiveWarmth technologies to break down all the oil and dirt in your pores giving you the ultimate CLEAN skin at the end of the day! You can also use the backside for a facial massage as you apply serums and moisturizers. And it only requires one AA battery and there are no brush head replacements ever!
Foreo Luna
I've used the Foreo Luna Mini 2 and it's super comparable to the PMD clean. I honestly think it's such a great option for your daily skincare regimen. Using medical-grade silicone to scrub your face and facilitate that double cleanse is always a good idea.
Get the Luna 2 right now for $83.40 (reg $139) at 40% off during these Black Friday beauty deals!
L'Oreal Paris Lash Paradise Mascara
I have been asked multiple times on social media what my favorite drugstore mascara is and HANDS DOWN it is this one by L'Oreal!! It's a total dupe the Too Faced mascara and it's amazing! Apparently Beyonce's makeup artist is obsessed with it too so…#goodcompany? Get this mascara in a 2-pack right here for 34% OFF at just $16.97 (reg. $25.98)!!
Estee Lauder Double Wear Foundation
Estée Lauder's Double Wear matches my skin flawlessly! I cannot even say enough good things about this foundation. It really does last 24 hours and gives you the BEST, prettiest coverage without looking thick or cakey at all. I wish I would've known about it sooner! You can get it here for 20% off making it $38.40! (Orig. $48)
Dyson Corrale Multi-Styler Cordless Hair Straightener – HOT Black Friday beauty deal!
I wish I could put neon lights on this title! This is going to be gone QUICK. The Dyson Corrale is the VERY BEST HAIR STRAIGHTENER I've ever used. Period. Hands Down. Currently only $279.99 – an extremely rare, possibly never before seen price on this Dyson. That's over HALF OFF! (Reg. $499)
Frigidaire Mini Retro Fridge
Having a beauty fridge is such a fun little treat! If there is someone on your holiday list that loves all things beauty and skincare, this makes an AMAZING gift. This fridge is a perfect size and has been exactly what I needed (and wanted)! Is it a NEED? Not really. But am I using it every day and so happy I have it? 100%! This one is so affordable at only $24.99 today for Black Friday! Regularly $37.49.
Anastasia Beverly Hills Sugar Glow Kit – HOT Black Friday beauty deal!
This highlight palette has been a go-to fave for a few years now too, and I just keep using it and it keeps on lasting me forever!! I use butterscotch on the tip of my nose and stardust on the tops of my cheeks. It's 50% OFF today making it only $20, reg. $40!
Urban Decay Eyeshadow Palettes – HOT Black Friday beauty deal!
If you've been dying to score an Urban Decay Naked palette, now is the time!! This Naked Heat eyeshadow palette is 50% off for $27 (reg. $54) OR get the Naked Honey palette here for 50% off at just $24.50 (reg. $49)!
Pureology Hydrate – HOT Black Friday beauty deal!
If you LOVE Pureology (who doesn't?) but less-than-love the price, NOW'S the time to buy! You most likely won't see a better deal on this shampoo ($24.50, reg. $35) & conditioner ($24.50, reg. $35) in the near future! I RARELY see deals on Pureology and it's something I get asked about all the time. If you've been sitting on your hands waiting, now's the time to ADD TO CART!
Braun Electric Razor
Right now, you can get the Braun Electric Shaver Series 9 9330s (the best men's electric shaver) on sale for $189.94 (Reg. $232.43) saving you $42 on this killer razor and I KNOW the man in your life will thank you.
Neil has used a million different shavers and these Braun shavers are hands down his very VERY favorite. And I love them because they're the only shavers that don't leave a million little tiny hairs all over the bathroom sink.
Don't miss out!
Don't miss these amazing Black Friday beauty deals!! They make the most perfect gifts, and the best treat yo'self gifts too! These are all HOT items, so there's a good chance they will sell out pretty quick. So add to cart and get ready to stalk your mailman, HA!