Cyber Monday is killing it when it comes to beauty deals – and some are even BETTER than they were on Black Friday! A lot of these items are only on sale a couple of times a year, so NOW is the time to take advantage! This is the ideal time to stock up on tried and true favorites or take something new for a spin.
Top beauty picks on sale!
Below are all my top Cyber Monday beauty picks from across the internet, including brands like tarte Cosmetics, Urban Decay, IT Cosmetics, and MORE! Plus take a look below at where you can easily find all the best beauty deals from your favorite retailers in just one click!
Dermaflash
So excited to see this Dermaflash Luxe Anti-Aging Exfoliation Device on sale for 30% OFF today for Cyber Monday! That makes it only $139.30 (reg $199)!
You guys know my love for the PMD runs deep. But I realized I was doing a bit of a dance between using that and using a women's facial razor to get rid of my peach fuzz! When I tried the Dermaflash, I realized it was the answer to my tool-juggling! It gives an amaaaaazing exfoliation while removing peach fuzz (and my woman 'stache), all in one fell swoop! No wonder it was named Best Skin Care Device for Allure Magazine in 2018!
This thing is my new BFF and it would make an amazing gift, too! Trust me when I say you will NOT be disappointed.
Revlon One-Step Volumizer Hair Dryer
This One-Step Hair Dryer and Volumizer has completely REVOLUTIONIZED the way I do my hair. I'm a huge fan. I think that everyone should have it. I'm in good company too because there are OVER 100,000 perfect reviews! Ready to find out why?
Right now you can get this Revlon hair dryer for only $39.99 (reg $59.99) + an additional $10 off at checkout!
Makeup Erasers
These Makeup Erasers have been a game-changer for me! These are antibacterial and dermatologist tested and amazing for lash extension longevity. This would make the perfect gift for a teen, a stocking, your bff, any beauty lover! Get them on sale for 50% off here!!
Urban Decay All Nighter
The All Nighter setting spray is the professional makeup artist's setting spray of choice, so it's a no brainer for us to follow suit! It really is like a hairspray for your makeup. It has temperature control technology that keeps your makeup in place, like magic, for 16 hours. And for only $42 ($66 value!), you get TWO 4 oz setting sprays! This is one of my favorite things to stock up on when it's on sale. Your makeup will thank you.
PMD Clean Pro
If you're looking for something to cleanse your face, I LOVE the PMD Clean Pro, and you can get it for 30% off at just $125.30 (reg $179)!! The amazing thing about the PMD Clean Pro is that it's made with medical-grade silicone and with over 7,000 vibrations per minute, it lifts, firms and tones as you clean!
The PMD Clean Pro uses SonicGlow and ActiveWarmth technologies to break down all the oil and dirt in your pores giving you the ultimate CLEAN skin at the end of the day! You can also use the backside for a facial massage as you apply serums and moisturizers. And it only requires one AA battery and there are no brush head replacements ever!
Benefit Cosmetics Brow Set
Ah I'm so excited to see this deal on some of my FAVE brow products! Right now you can get the following from Benefit Cosmetics for just $20 (retail $65)!!
Precisely, My Brow Pencil Ultra Fine Shape & Define
Gimme Brow+ Volumizing Eyebrow Gel
Brow Setter Shaping & Setting Gel Mini
Shaping Stencils
Deals this good on Benefit Cosmetics eyebrow products don't come around often, so stock up and do it quick, because colors are selling out fast!
tarte Shape Tape
The best concealer ever, tarte Shape Tape is ONLY $16.20 (reg $27) with code OMG at checkout! That's 40% off! So if you have trouble spending over $20 for concealer, today is your day!!
tarte Shape Tape Concealer has taken over (and changed) the concealer game! Celebs and makeup artists alike keep it in their makeup arsenal at all times. It really has the best coverage, is so long-lasting, and is totally versatile. My favorite way to use it is under my eyes; it definitely erases all evidence of my late-night Netflix binges!
I also love using it on little blemishes or areas with redness (hello under my nose!). Try tapping it on a trouble area and leaving it unblended for a few minutes. When you buff it in with a blending sponge, your blemishes will literally disappear and stay away all day! This concealer is seriously a game-changer and for ONLY $16? It's a no-brainer!
tarte Glow Wand
I loooooooove the Shape Tape Glow Wand! You can get it right now for 40% off with code OMG for ONLY $15 (reg $25)!!
The glow wand is concealer too, but with a glow! And a little more lightweight. It's just the perfect amount of glow to make you look like you're beaming and fresh faced, without also looking like a disco ball. I'm beyond obsessed! It instantly helps brighten, smooth & give the skin a firmer, more lifted look, and I love that it won't flake or crease throughout the day.
To use, apply the Glow Wand Concealer onto any blemishes or imperfections and blend using the sponge end. If you're using it for dark circles, simply put the concealer under your eyes and blend! SO easy and it seriously works wonders.
tarte Face Tape Foundation
This foundation is remarkable. If you love the cult fave Shape Tape, you will LOVE Face Tape! It's a beautiful, full coverage foundation, and I was seriously blown away by how it looked on my skin. It's officially my favorite tarte foundation! Plus, it includes everyone's favorite ingredient, hyaluronic acid, and antioxidants to protect your skin all day.
I use it in the color Medium Neutral, but this would also be a great time to pick up a winter shade and a summer shade. It has almost 2500 amazing reviews, so the results are in: this foundation is a winner!
Normally it retails for $39, but during this tarte Cyber Monday beauty deal, you'll get the Face Tape for 40% off with code OMG at checkout for only $23.40!
tarte Creaseless Concealer
If creases are a major concern for you, THIS is your concealer. And guess what? It's ONLY $15 (reg $26)!!
It is a little bit thicker and a little tackier than the shape tape. This tarte concealer 100% lives up to the hype of being totally creaseless and virtually eliminates those pesky under-eye circles and redness. It's super hydrating and leaves the area feeling very moisturized and looking dewy. I LOVE how it brightens up my under-eye area, lasts ALL DAY, and truly doesn't crease.
I use the color Medium Neutral and I love applying it with a dense concealer brush for an airbrushed effect! Definitely worth adding to your cart!
Lash Paint Mascara
I was so excited to try this mascara because it has 1400+ RAVE reviews. I love an ultra black, clump-free mascara and this one delivers! Because I wear lash extensions, I usually only wear mascara on my bottom lashes so I want a lot of impact and something to coat
every.lash!!
People are saying this is the "mascara must-have" and "the best mascara ever," and who am I to disagree?!
If you need a new mascara, add this one to your Cyber Monday beauty cart, you won't be disappointed. Especially because it's ONLY $10 (reg $23)!
Urban Decay All-Nighter Concealer
Truly one of THE BEST concealers I've ever used. It's waterproof and lasts all day long! Depending on how tan I am, I wear either light warm or medium-light warm. Get this gem at just $14.50 (reg $29) and you will save yourself 50%! How's that for a Cyber Monday beauty deal?
Urban Decay Eyeshadow Palettes
If you've been dying to score an Urban Decay Naked palette, now is the time!! This Naked Cherry eyeshadow palette is 50% off today, making it only $24.50 (reg $49)! But that's not all! You can grab this Naked Heat eyeshadow palette while you're at it for 50% off too for $27 (reg $54), OR get the Naked Honey palette here for 49% off at just $24.99 (reg $49)!
Fenty Lip Gloss
These Fenty mini glosses are TOPS. Rihanna knows her lip products, friends! I am SO picky about lip gloss, and these check all the boxes for me. Pretty shine, no stickiness, soft texture, and LASTS!! I love this as a gift because the 4 pack is ONLY $25.50 right now for Cyber Monday (retail $46), so you can keep all the colors together or split them up if you have multiple gifts to give!
IT Cosmetics CC+ Cream with SPF 50+ Value Set
The CC+ Cream is my VERY favorite IT Cosmetics product. I've been using it for years! It's won tons of awards (including Allure magazine Reader's Choice Award) and is a cult favorite of makeup artists and consumers alike. From 2016-2019, no other CC cream in America has been sold in the same volume. Plus it was developed by plastic surgeons and dermatologists, so it's literally makeup and skincare all in one! If you're in a hurry, you don't need to stress about SPF, a primer, or moisturizer because this ALREADY HAS IT ALL!
I'm so excited because you can get this CC+ Cream in a set right now during Cyber Monday for only $27.50 (retail $64.50)!! Here's what's included in the set:
CC+ Cream with SPF 50+ (1.8 oz)
Miracle Water Micellar Cleanser (0.29 oz)
Secret Sauce Anti-Aging Moisturizer (0.23 oz)
Your Skin But Better Makeup Primer+ (0.17 oz)
Bye Bye Under Eye Brightening Eye Cream (0.17 oz)
Foreo Luna
I've used the Foreo Luna Mini 2 and it's super comparable to the PMD clean. I honestly think it's such a great option for your daily skincare regimen. Using medical-grade silicone to scrub your face and facilitate that double cleanse is always a good idea.
Get the Luna 2 right now for $71.40 (reg $119) at 40% off during these Cyber Monday beauty deals!
Drybar deals
Maintaining your mane can be hard work! The blow drying, the curling, the dry shampoo. Sometimes it requires a lot of time and a million products to have a good hair day! ENTER: Drybar products! We found this Big Buttercup Bundle for ONLY $199 (retail $326) that includes the Detox Dry Shampoo, Hot Toddy Heat Protectant, Jump Start Quick Dry Blowout Serum, hair clips, a paddle brush, and the Buttercup Blow Dryer!
OR you can get this Mix & Mingle Interchangeable Styling Iron Kit for $199 (retail $287) that includes the Triple Sec 3-in-1 Texturizing Finishing Spray, Hot Toddy Heat Protectant Mist, Detox Dry Shampoo Original Scent, Money Maker Flexible Hold Hairspray, a detangling brush, and hair clips!
Matrix Brass Off Shampoo & Conditioner
If you're any degree of blonde, you know all about purple shampoo and the real life struggle to find a really good one. Matrix Total Brass Off is AWESOME if you have blonde in your hair, it's just a really gentle way to maintain the perfect blonde. Get the Brass Off Shampoo and the Brass Off Conditioner on sale today for $8.40 each (reg $14)!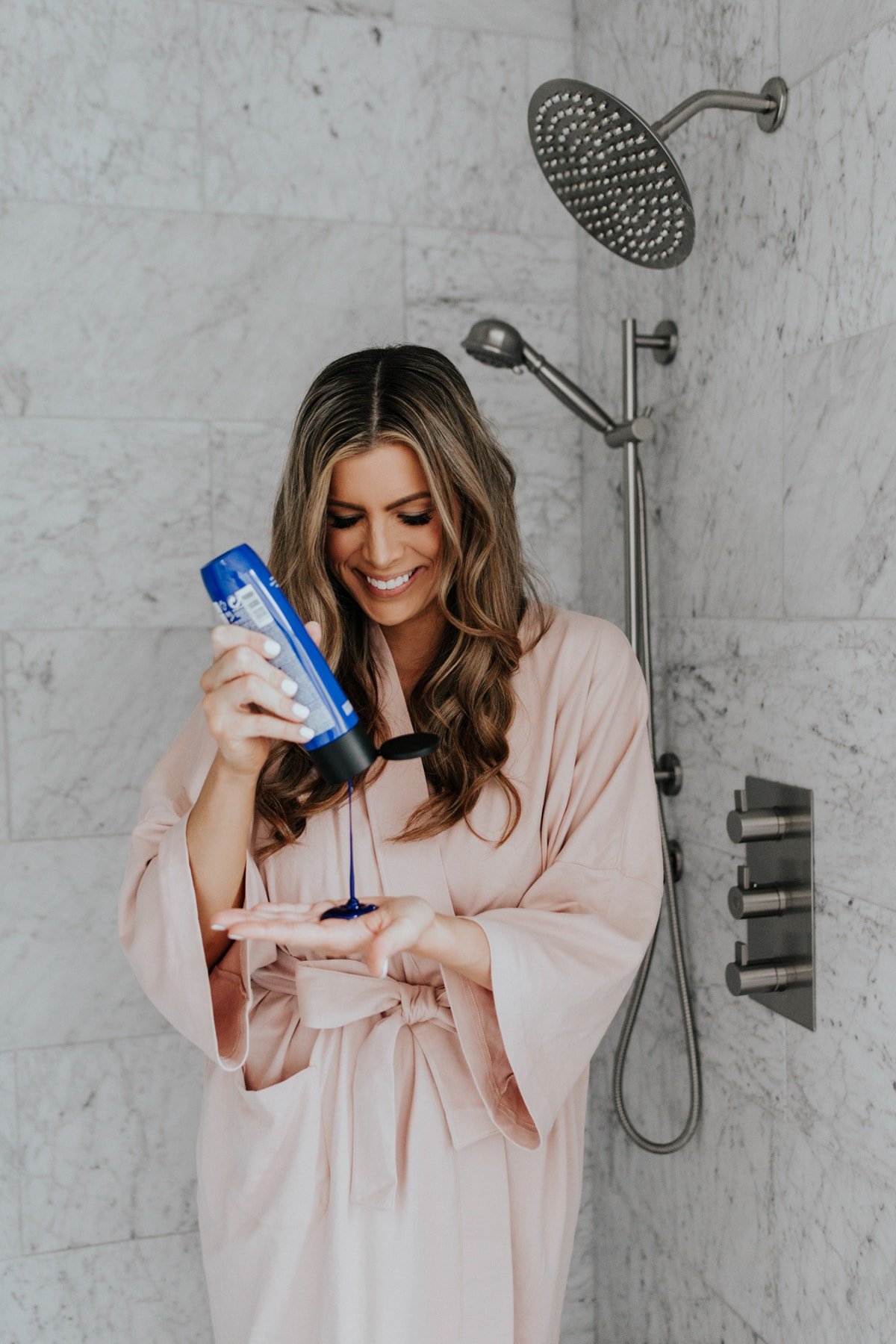 Best DIY lash extensions (my #1 choice!)
If you don't want to have to put magnetic lashes on daily (ME!) and you're used to the convenience of lash extensions, but you can't get into your regular lash extension salon because of Covid-19. Or even if they have opened back up near you, but you want to be cautious, or you just want to have a 3 minute weekly solution instead of a 1-hour appointment every few weeks, this is my FAVORITE solution by far of everything I tried!
For the cost of ONE lash fill, you can get the starter kit for these DIY lash extensions and they can be re-used if you just use rubbing alcohol to clean them in between uses! They stay on for 7-10 days and look JUST like my lash extensions did.
L'Oreal Paris Lash Paradise Mascara
I have been asked multiple times on social media what my favorite drugstore mascara is and HANDS DOWN it is this one by L'Oreal!! It's a total dupe the Too Faced mascara and it is amazing! Apparently Beyonce's makeup artist is obsessed with it too so…#goodcompany? Get this mascara in a 2-pack right here for 40% OFF at just $12 (reg $19.98)!!
Don't miss out!
Don't miss these amazing Cyber Monday beauty deals!! They make the most perfect gifts, and the best treat yo'self gifts too! These are all HOT items, so there's a good chance they will sell out pretty quick. So add to cart and get ready to stalk your mailman, HA!
More 2020 Cyber deals!