Quick version: these are the BEST toy deals of Cyber Monday!!!
It's Cyber Monday, the Olympics of online shopping, and we found some SUPER good deals today on KIDS TOYS! I know all you Santas are going to want to stock up for Christmas!!! We did all the hard work for you and found THE BEST toy deals this year for Cyber Monday.
In a hurry? Go straight to the deals below!
Squishmallows
SQUISHMALLOWS – have you heard of these? It's all my kids are talking about, and they're on sale for a crazy good deal for Cyber Monday! If you have a child in your home between the ages of oh I don't know, 4 and 14, they're probably obsessed, and they're probably going to ask Santa for one of these.
This cute pig squishmallow is on sale for 45% off today and ONLY $14.39 ($25.99)! You can also grab this unicorn one for 26% off at just $28.79 (reg $38.99)!
Walkie Talkies
This pair of cute walkie talkies is such a great gift for kids to use with their siblings or friends! They're small and lightweight and on sale for 20% off + an additional 5% off with the coupon!
Up & Down Roller Coaster
Bring the amusement park home! This ride-on roller coaster is every toddler's dream and will be used for hours and hours, day after day. This has thousands of amazing reviews! We are getting this for Harry for Christmas this year, after seeing it at a friend's house over the summer. Both Millie and Harry were absolutely obsessed with it! $20 off right now!
KidKraft Kitchen
Our Kidkraft Kitchen is always one of the most popular toys in the playroom! Hours and hours of imaginative play start with this adorable little kitchen and there's an amazing deal on the white version and the pink version today! The white kitchen is normally $122.57 and today it's on sale for only $83.37! The pink kitchen is also only $104.59 today as well with the extra coupon.
Add this set of handprinted food (seriously such good quality!) for an AMAZING gift your little one will love, for 35% off!
Another toy that gets tons of play is this set of wooden puzzles! I love the pastel colors and how much it actually teaches my kids! Isn't it funny when you realize your kids know the ABCs and you didn't even know? Thank you, educational puzzles! This set is on sale for just $16.79!
These are definitely some of the best toy deals of Cyber Monday. Don't miss out!
Playhouse
So once upon a time, a dad in this house took his little girls to Costco, "just for the essentials." He came back with all the things on my list: eggs, bread, milk, you know. And then casually showed up with a playhouse, too! Ha. He blamed it on the girls, but I'm pretty sure he was even more excited about it. The next thing I knew we had a playhouse assembled in our playroom upstairs. I kind of felt like it wasn't quite right for the space but didn't know what else to do with it because our girls LOVED it!
In this post we shared how we went from a dark brown playhouse, to a modern white playhouse my kids LOVE! Here is the exact version we have ($335 OFF today!!). You could keep your playhouse as is or change it up later like we did. This playhouse still gets played with every day of the year, by all four of our kids. Don't miss out on one of the best toy deals of Cyber Monday!
T-Ball set
This t-ball set was one of Harry's favorite gifts for his 2nd birthday! It's UNDER $12, has over 18,000 near perfect reviews, and will be used for at least 2-3 more years.
Little People Nativity
This is a favorite of all of our kids and it sells out every year! This ten-figure Nativity set plays music, can be passed down for years, and is the perfect way to start introducing the story of Jesus's birth to your little ones. Regularly $39.99, get it for only $29.99 today!!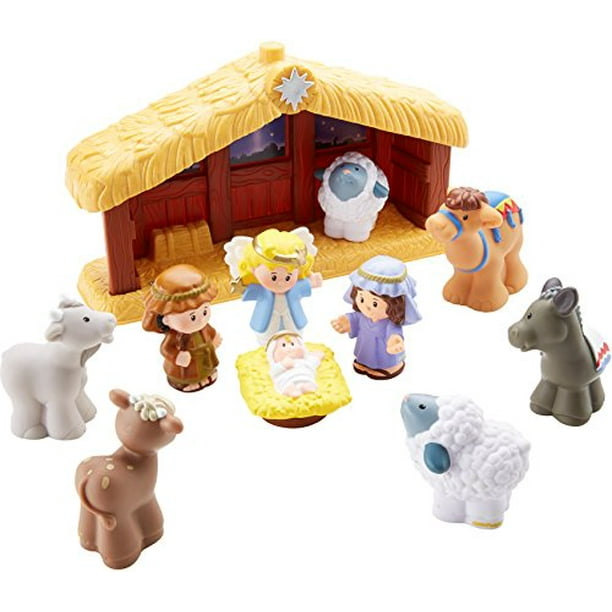 Magformers
These toys are a little bit of an investment normally, but they seriously are one of the toy sets that get the very most use in our home and they're 40% off today!! I love how accomplished my kids feel every time they play with them. The morning I took this photo Ani kept making things and running over to me to say "LOOK MOM!!"
More reasons to love Magformers:
They're super durable
They're gender neutral
They're easy to clean up
You can build upon your set in the future
They entertain really little ones to older kids (see both my girls playing below!)
They're lightweight and travel easily
If you lose one piece, it doesn't mess up the whole thing

If your kids are more fans of true magnatiles, you can also get this Frozen-esque set for 39% off today – so cute!!
Don't miss the BEST toy deals
We also found you these amazing toy deals on some of the most popular toy brands, like V-Tech, Barbie, Fortnite, Playskool and more! Find exactly what you're looking for below:
Get up to 47% off Hasbro games here.
Get up to 47% off building sets including LEGO products.
Get up to 63% off Mattel, Fisher-Price, and Thomas & Friends here.
Get up to 30% off Kid Trax ride-ons here.
Find all of Amazon's Cyber Monday toy deals here.
Find all of Walmart's Cyber Monday toy deals here.
Find all of Target's Cyber Monday toy deals here.

There are soooooo many good toy deals, but we've rounded up the very best ones that are all SUPER good Cyber Monday prices below.
Christmas shopping for the littles: DONE.
Cyber Monday Toy Deals
Cyber Monday Game Deals