We SCOURED the internet today and rounded up the very best deals of Cyber Monday on some of my most favorite (and most used!) small home appliance and kitchen items. You're going to want to act fast because at these crazy good prices things might disappear quick!
Pebble Ice Maker
You can get our favorite pebble ice maker for $379.99-that's $119 off the original price of $500!!! I'm absolutely, completely, totally OBSESSED and in love with this nugget ice maker! Its a bit of an investment yes, but ALL of the other built-in models nugget ice makers that I've ever looked into buying were literally thousands of dollars, not in the hundreds.
Our nugget ice maker is not only MY favorite but Neil's and both girls and neighbors and friends who drop by for a cup of nugget ice. Best purchase ever!!! I blogged about it in my last kitchen reveal, a gift guide and my third trimester pregnancy favorites.
I love that this pebble ice maker can just be plugged into the wall ANYWHERE and doesn't have to be hooked up to a water line – we just pour bottled water into the bottom and it produces the most perfect, chewy, heavenly pebble ice you could imagine. It's SO perfect!
All Clad Stainless Steel Cookware
If you've been reading my blog for any amount of time, you probably already know JUST how in love I am with All-Clad stainless steel pots and pans. They've been a fan fave of Mint Arrow Besties for years now! They're favored and most frequently used by celebrity chefs more than any other pot or pan brand, and the brand I own the most pots and pans of than any other. They're not easy to find on super sale but today you can get them for $699.99 (reg $879.99!) in a 10-piece set with code CYBER at checkout!
If you want to save even more pennies and you're willing to settle for a few less pots and pans you can get a 7-piece set for 40% off and just $289.99 (reg $499.99) + free shipping— This is a BETTER deal than Black Friday!!
Roomba Robot Vacuum
I love and use my Roomba like CRAZY! This is a great gift for a family with dogs or small babies who crawl around on the floor or an older person or people who hate vacuuming-really anyone!! Such a useful little household helper! You can get this best-selling Roomba for $269 (normally $460!!!) here! Or try the WiFi connected Roomba for $399.99 (normally $649.99!)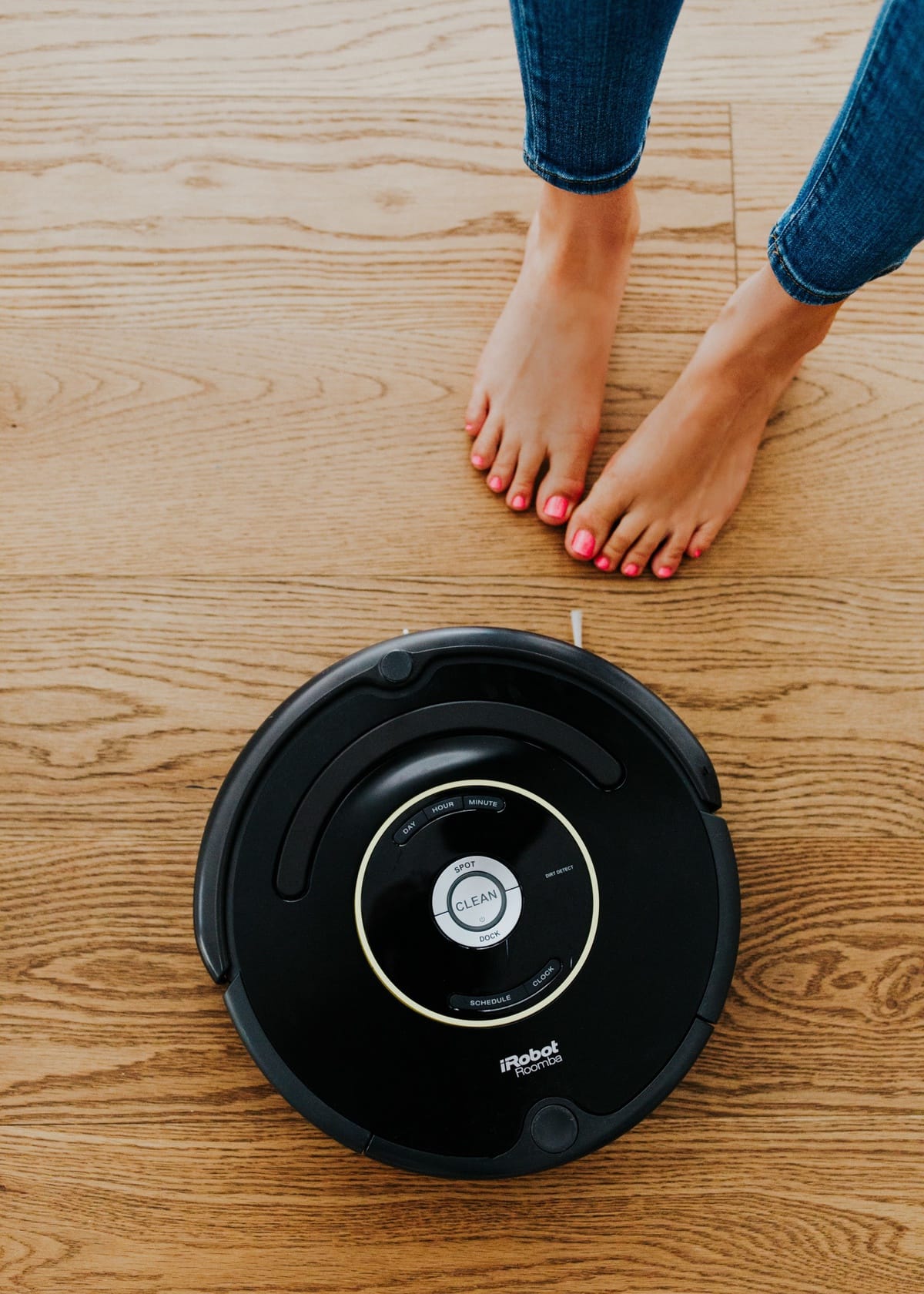 Nutri Ninja Blender
I've been MEGA obsessed with this little baby blender since I started eating clean at the beginning of January. With all the protein shakes that we make in this house now, the Ninja is the key to ease. I LOVE that I can measure out the ingredients right on the side of this jar and I love that the top and bottom are dishwashers safe and small enough to actually throw into my dishwasher without taking up like 1/3 of the entire dishwasher like some of the other huge blenders I've used in the past!
This one is small but mighty and if you're looking for a lower cost blender, this one will knock your socks off at just $59.99 (reg $99.99) plus the Prime shipping we all love!
The Pro version of this bomb.com little blender is also on sale. Add it to your cart for just $79.99 (Orig $99.99).
Dyson Vacuum
We have the Dyson Ball Animal 2 and LOVE IT!! I actually enjoy vacuuming ever since I got my Dyson. My mom has had two (one for her house, one for our cabin) and she's a die-hard fan as well.
On Black Friday you can score the vacuum we love BRAND NEW for $299.99 (reg $499.99). That's 40% off and it ships FREE! If you're in the market for a slightly lighter version of the same vacuum there's also a smoking hot deal on the Slim Ball Animal for $249.99 (reg $350).
Instant Pot
Black Friday Instant Pot deal coming in HOT!! This deal is so good it may not last the day! Today you can get the 8 qt 7-in-1 Instant Pot for 54% OFF at only $64.99 (reg $139.95)! CRAZY. If you're looking for a smaller size, you can get the 6 qt 7-in-1 Instant Pot for only $49 (reg $99.95)!
These are SUCH GOOD DEALS and the 8 qt is the perfect size for all of that holiday food prep that is coming up! It's a great and EASY way to make yummy meals and this deal is CRAZY!
The Instant Pot is a pressure cooker so you can make crockpot type dishes but in a fraction of the time! Think an 8 hour slow cooker recipe in 35 minutes instead! Chicken breasts from frozen to perfection in 12 minutes. I use my Instant Pot seriously at least 3x a week! It also works as a rice cooker, steamer, you can make soup or sauté meats. This thing does it ALL!
Kitchen Aid Stand Mixer
The very BEST and least expensive deal on the KitchenAid Stand Mixer is here from Kohl's for $199.99 plus $60 Kohl's Cash.
If you'd rather buy it from Amazon (Prime shipping, baby!) you can get it here for the same price $199.99 (40% off!), but minus the Kohl's Cash
If you've been waiting for a deal on the Kitchen Aid Pro we found a deal on that too! I've had mine for YEARS and it's held up like a champ. If you like to bake bread or do a ton of cooking this mixer is totally worth the extra pennies.
You can get the KitchenAid Pro 600 here for $329.99 (regularly $625). That's 47% off-that's almost HALF OFF! That's a savings of $295 + it ships for FREE!
Wüsthof Gourmet Traveler's Knife Set
This Wüsthof Knife Set comes with 7 different items and is only $99 (reg $246)!! This razor-sharp set is an INSANE deal for chef quality knives and kitchen tools! These tools are so good they even come with a limited lifetime warranty!
Blendtec Classic 575 Blender
Grab this Blendtec Classic 575 Blender for $219.99 (reg $333)! That's $113 OFF! Blendtec blenders are the best in the biz, and if you ever make smoothies or soups (or anything blended) you NEED this blender!
BREVILLE Electric Toaster Oven
This BREVILLE the Compact Countertop Electric Toaster Oven is on sale for $100 off at $129.95 (reg $229.95)! This incredible toaster oven has almost 2,000 AMAZING reviews and has EIGHT cooking functions! Take that, microwave!
Don't Wait!
Some of these Cyber Monday home deals are so good that they may not last all day! If you've had your eye on any of these home favorites I recommend adding them to your cart before they disappear!!