Quick version: an easy shopping guide to the best Cyber Monday HOME deals!
We SCOURED the Internet today and rounded up the very best Cyber Monday home deals on some of my most favorite (and most used!) items I use on the daily. You're going to want to act fast because at these crazy good prices things might disappear quick!
In a hurry? Skip straight to the deals below!
What if ONLY the deals YOU wanted to see were in your inbox before anyone else?! If you want to be in the know and find out the hottest deals tailored just for you, you can join our subscription email here! It's simple, you tell us the deals you want to see and we'll make sure you see them first! 
Fellow Stagg Electric Gooseneck Kettle
This pretty Fellow Stagg EKG Electric Gooseneck Kettle is on sale for $33 off today! This is a staple for warm drinks, especially in the winter time and it would be the perfect gift too!
If it's out of your price range, we found two SUPER similar looking ones for just under $60! Grab this one that has amazing reviews for 15% off, or this one for 25% off + an additional 10% off at checkout, just don't forget to check the coupon box!
Prettiest Slow Cooker – HOT Cyber Monday home deal!
Walmart sells this beautiful slow cooker and because we have a big family with soon to be seven of us, I ended up getting the 8 quart size! This is one of the more affordable slow cookers out there – it's only $35 today! A lot of times an 8 quart slow cooker is over $100, so this is a huge steal!
This beautiful slow cooker is on sale in blue for only $35! (reg. $49.96)
You can also get the matching air fryer here on sale in 6 colors for only $69! (reg $89)
The Cutest Dinnerware
These stoneware dishes are a Walmart best seller and for good reason! Right now this set's only $46 – normally a set like this would cost closer to $100!
It comes with 12 pieces, and everything's dishwasher/microwave safe. So when you're in a rush after dinner, just throw these in the dishwasher and call it a day! And of course I love that they're super cute, too. I'll use these all year round!
Nakano Knives
We've tried a ton of knives, including all the very top brand names out there that I used to recommend. But now, if anyone hands me a knife to use while I'm helping to chop something up, I hand it right back to them and say, "no thanks, I want a Nakano Knife!" They're just the best!
They're Japanese made, they slice paper thin if you need them to, and they come crazy sharp (and stay that way). Did you know it's actually safer to use a super sharp knife than a dull one? Dull knives take more force to use, and if you end up cutting yourself that's double the force you would've been using with a sharp knife.
Nakano Knives are literally the best knives I've ever used, period. I'm obsessed with them and I think these would be a GREAT gift!
This Cyber Monday home deal means you can get up to 40% off Nakano Knives right now plus an extra 30% off when you use code MINT at checkout! (psssst….even better deal than it was on Black Friday!)
Jenny Lind Bed Lookalikes – HOT Cyber Monday home deal!
If you love the designer Jenny Lind beds like me, but you don't love the price tag, you're going to LOVE this find! I was thrilled when I saw this super cute version for a fraction of the price. The frame comes in white, gold, or black. This was one of the ideas for the girls room I was SO excited to see come together all while staying in budget! Plus, you can get these adorable beds on sale right now for only $184!! (reg $300) That's $116 OFF!!
The Best Pillow
We bought this Purple pillow recently and love it. It's definitely more on the cushy side, so if you are looking for something a little softer, then this is the pillow for you! On sale right now for 25% off at $134.25! (Reg. $179)
Bissell Little Green Carpet Cleaner – HOT Cyber Monday home deal!
Okay, this little cleaner deserves an award! Stains/dirt/everyday wear is kind of inevitable eventually on your carpet + furniture, especially if you have kids or pets. This cleaner is VERY easy to use, and it's super easy to put away after, too. It also truly is portable and light to carry around! The suction is really good, and it dries super fast.
SO excited that you can get this carpet/upholstery cleaner for only $89 today – it's regularly $123.59! That's 28% OFF.
Digital Alarm Clock – HOT Cyber Monday home deal!
I like to have a small alarm clock in my guest rooms. I found this one that's slim, low profile, and very clean looking! Just nice to have a clock for guests to glance at or set an alarm. It has USB ports, too! Plus, it's on sale for Cyber Monday today! Get it for only $19.95 (reg $32.98) – 40% off!
Clear Containers
Something that's helped our pantry stay organized are the clear containers pictured here. I LOVE storing our dry goods in these. I can see exactly how much of each item we have left before I need to buy more, and I feel like we actually EAT the things in the pantry when we can see them… not to mention it just looks pretty!
These sealed-top containers look just like the ones I was using in this space before and they're such a good price – like INSANELY less expensive than the ones I originally bought a few years back. So I'm super excited that they fit in seamlessly with what I already had going on and that this pack is less than a single container I previously bought! Get this 8 piece set for only $30 for Cyber Monday!! This is an INSANE deal – the OXO brand is $67 for the same set, just to give you an idea of how amazing this price really is.
Allswell Towels
We absolutely LOVE Allswell for their amazingly comfy mattresses so I'm going to try these towels too, and they're on super sale for only $6 each, with perfect ratings!
Vegetable Chopper
My brother got me this veggie chopper for my birthday a while back and every time I show it I get a million DMs about it! It's absolutely amazing and I'm totally obsessed with it. It's weirdly satisfying to be able to chop things INSTANTLY and it's UNDER $30 (reg $39.99)!
Dash Slicer
Owning a nice slicer is completely LIFE CHANGING when it comes to cooking! This DASH Safe Slice Slicer has sky-high reviews, with over 30 different slicing presets – how amazing is that?!
I especially love how this one comes with a SAFETY feature – the other mandoline I've tried makes me kind of terrified I'm gonna lose my finger every time I get it out!
Reviewers said it was fast, uniform, and easy to set up and clean up, so it sounded like a huge win to me. I'm so happy I got it and I know you will be, too! Plus, you can get it for 30% off, making it only $34.97 (reg. $50!).
Ninja Nutri-Blender
The Ninja Nutri blender is small, but MIGHTY. If you're looking for a multi-functional blender for a great price, this one will knock your socks off! This thing breaks down WHOLE fruits and vegetables and also comes with a 16 or 20 oz cup to blend right into!
I've been mega obsessed with this little baby Ninja blender since I started eating clean again after having Harry. With all the protein shakes that we make in this house now, the Ninja is the key to ease! (Healthy eating aside – this blender is perfect for blending up a little Disney Dole Whip!)
I LOVE that the top and bottom are dishwasher safe and small enough to actually throw into my dishwasher without taking up like 1/3 of the entire dishwasher unlike our huge Blendtec jar. It works super duper well and the consistency is amazing! And for $20 off? It's basically a no-brainer!
The Dyson vacuum dupe
This dupe vacuum is seriously SO SIMILAR (and in some ways better!) than this very popular cordless Dyson vacuum. And it's a fraction of the price! The cordless Dyson vacuum rings up at $349, while the Dyson dupe you can get today is about 80% OFF what you would pay for the actual Dyson. Here are some other comparisons so you can really see just how amazing this dupe is!
Dyson: 40 mins runtime
Dupe: 40 mins runtime
Dyson: washable HEPA filter system
Dupe: washable HEPA filter system
Dyson: requires 3.5 hours charge before use
Dupe: requires 4 hours to fully charge
Dyson: hold button down to vacuum
Dupe: on/off button (does not need to be held down)
In researching this totally amazing and under-the-radar vacuum on a few other sites, I discovered that it's earned thousands and thousands of really amazing, super positive four and five-star reviews. People really love this vacuum and after giving it a whirl, we LOVE IT, too! Only $89 today (reg. $149)
Belgian Waffle Maker
My girls absolutely LOVE when we make waffles on the weekends, so I totally think this is such a fun "all-in-one" family gift idea! Everyone benefits from the waffle maker.
We've had ours for 13 years and we still aren't even close to being sick of waffles, ha! Make them straight from the box, or from scratch – either way, it's such a fun breakfast (or dinner) that'll ALWAYS be so good!
Our favorite waffle recipe is from my mom – it's mouthwatering. I think it'd be so cute to attach this recipe to this gift to add a thoughtful touch.Grab this waffle maker today for 20% off!
Kids Sewing Machine
We're definitely going to be buying this sewing machine for Ani this year – she's dying to learn to sew and I asked my friend Emily (@em_dunnigan on IG) who taught both my girls sewing lessons last summer, and this was the one she suggested! You can get it on sale here for only $76 (reg. $100). The best deal we've found on this by far!
Pretty Headboard
This is a REALLY pretty headboard with AMAZING reviews and it's a super good deal in 3 colors and 3 sizes!! Get it as low as $198 for the queen size in black! (Reg. $220)
Faux Fur Throw Pillow
This is an amazing deal on this faux fur throw pillow!! All perfect reviews and you cannot beat $5. Perfect to add to any room for a cozy feel.
Ruggable Rug
This is a SUPER good deal on a ruggable rug – the washable rugs that have broken the internet. I've been dying to try one! Get them on sale for as low as $79.20 for the smaller size and $279.20 for the largest size! (Reg. $99-$349)
Ninja Air Fryer – HOT Cyber Monday home deal!
I decided to try this particular Ninja Air Fryer because it's so highly rated on Consumer Reports as well as on basically every website it's sold on. And now I canNOT get over how much I love it.
It seriously has so many uses! You can heat up frozen food, reheat leftovers, or just crunch up your take out in it and it makes the food so.much.better. I even used it to make 10 minute cauliflower gnocchi here!
This top-rated 5.5-qt Ninja Air Fryer XL that retails for $159.99 is on sale right now for ONLY $98.99! That's $61 off retail!
If you are looking for a smaller 4 qt version you can get this one here for only $49.99 (reg. $59.99)
Pebble Ice Maker – HOT Cyber Monday home deal!
Today only (or whenever this deal sells out), you can get our favorite pebble ice maker for 25% OFF!
This is an INCREDIBLE deal, and one that TONS of people are searching for, so if you've been wanting to pull the trigger on pebble ice NOW is the time!
I love that this pebble ice maker can just be plugged into the wall ANYWHERE and doesn't have to be hooked up to a water line – we just pour bottled water into the bottom and it produces the most perfect, chewy, heavenly pebble ice you could imagine.
If you've got a party coming up, or if you're hosting Christmas at your house… or if you have an office or a butler's pantry (where we store ours), or a big pantry where you can hide it perfectly the whole year… Really, for whatever situation you're in, it's SO perfect!
All Clad Stainless Steel Cookware – HOT Cyber Monday home deal!
If you've been reading my blog for any amount of time, you probably already know JUST how in love I am with All-Clad stainless steel pots and pans. They've been a fan fave of Mint Arrow Besties for years now!
They're favored and most frequently used by celebrity chefs more than any other pot or pan brand, and the brand I own the most pots and pans of than any other. They're not easy to find on super sale but today you can get them for $439.99 (reg. $839.99) in a 7-piece set! Don't forget to use the code CYBER for the full discount!
Redmond Retro stainless toaster
We used this cute little toaster at our airbnb we stayed at back in July and LOVED it! It's super cute and worked just like our designer Smeg toaster back at home. Today during these Cyber Monday home deals it's on sale in so many cute colors all under $40!!
Roomba Robot Vacuum – HOT Cyber Monday home deal!
I love and use my Roomba like CRAZY! This is a great gift for a family with dogs or small babies who crawl around on the floor or an older person or people who hate vacuuming – really anyone!! Such a useful little household helper. You can get this best-selling Roomba for $288 (normally $529!!!) here! Or, if you're not ready to splurge, you can try this less expensive option for only $99! (Orig. $249)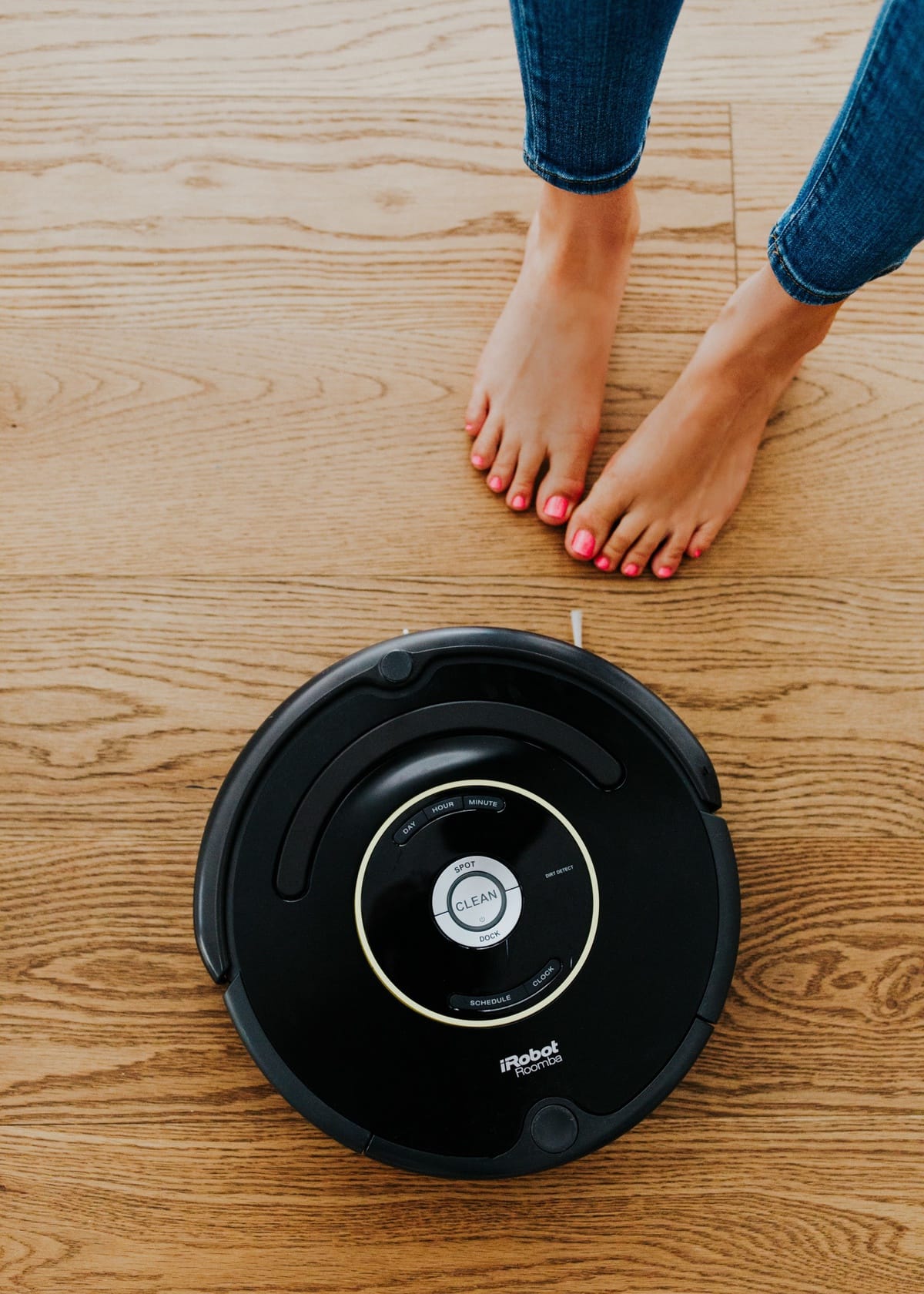 The Always Pan AND Perfect Pot – HOT Cyber Monday home deal!
The Always Pan typically retails for $145, but today you can add one to your kitchen or buy it as a gift for just $95. That's its LOWEST PRICE EVER – a savings of $50!! So if you're thinking about buying, today's seriously the day!
And even better, the Perfect Pot is ALSO on sale for its LOWEST PRICE EVER at just $115. That's also a savings of $50!!
You can read more about how these two products replace 16 pieces of cookware, and how amazing they are here!
Blendtec Classic 575 Blender – HOT Cyber Monday home deal!
SO excited because for Cyber Monday, you can get a brand new Blendtec Classic 575 blender on sale for only $381.53 (reg $510)! That's 25% off! I've had my Blendtec blender for 9+ years and have used it hundreds and hundreds of times and it still works like it did the day I took it out of the box.
Beddy's bedding
Why do we love Beddy's? Beddy's beds are the most genius bedding sets of all time EVER because they combine your sheets and your comforter into ONE, and they do it with a zipper that makes it easy enough for a 2 year old to make their bed. If they can zip, they can make their bed! Today for Cyber Monday you save 25% off site-wide + free shipping AND a free gift. Use code CYBER2022 at checkout!
Sparkling Water Maker
Today you can get this Sparkling Water Maker for $62.99 (reg $89.99)! If you're a sparkling water fan, this will save you SO much money in the long run – all you do is add water, and voila! Bubbly goodness WHENEVER you want it. So excited that this is on sale!
California Fresh Home
I just started using California Fresh Home after hearing my friend Betsy from Beddy's rave about them and honestly my house has NEVER smelled better!!! I also love that I can set it and forget it and my house just always smells amazing! Seriously whenever people walk into my house now they always say something like "wow your house smells so good! What is that?"
And I have a code just for you! Take 20% off site-wide with code MINTARROW
Instant Pot 6qt pressure cooker – HOT Cyber Monday home deal!
I'm so excited to share this deal with you because it's about something I'm OBSESSED with, my Instant Pot! I use mine about 3 times a week and it's been saving my life. If you don't have one yet, you need one and today is the perfect day because we found a KILLER deal for you!! This 6qt bundle is on sale for 38% off making it only $79.95!! (Orig. $129.99)
Dyson V11 – HOT Cyber Monday home deal!
The V11 is like the Bentleys of vacuums, and we're telling you right now it's worth EVERY penny. And it's the perfect time to invest!
Today you can get the Dyson V11 Torque Drive Cordless Vacuum with Grab & Go Dock for only $569.96!! ($280 OFF – $849.98 if purchased separately)! You won't find a better deal than this anywhere!
Show-stopper mirror – HOT Cyber Monday home deal!
I'd wanted this mirror for YEARS and finally took the plunge during Anthro's Black Friday sale a couple years ago and I'm SO happy I did.
It's the prettiest statement piece right when you walk into our house, but it's beautiful in the smaller sizes, too, and would look so cute on top of a mantle or a dresser or on a gallery wall.
We have the large mirror and it's only $1,118 (reg $1,598) with the 30% off discount right now! That's almost a $500 savings! Note: Make sure you add this to your cart to see the discount.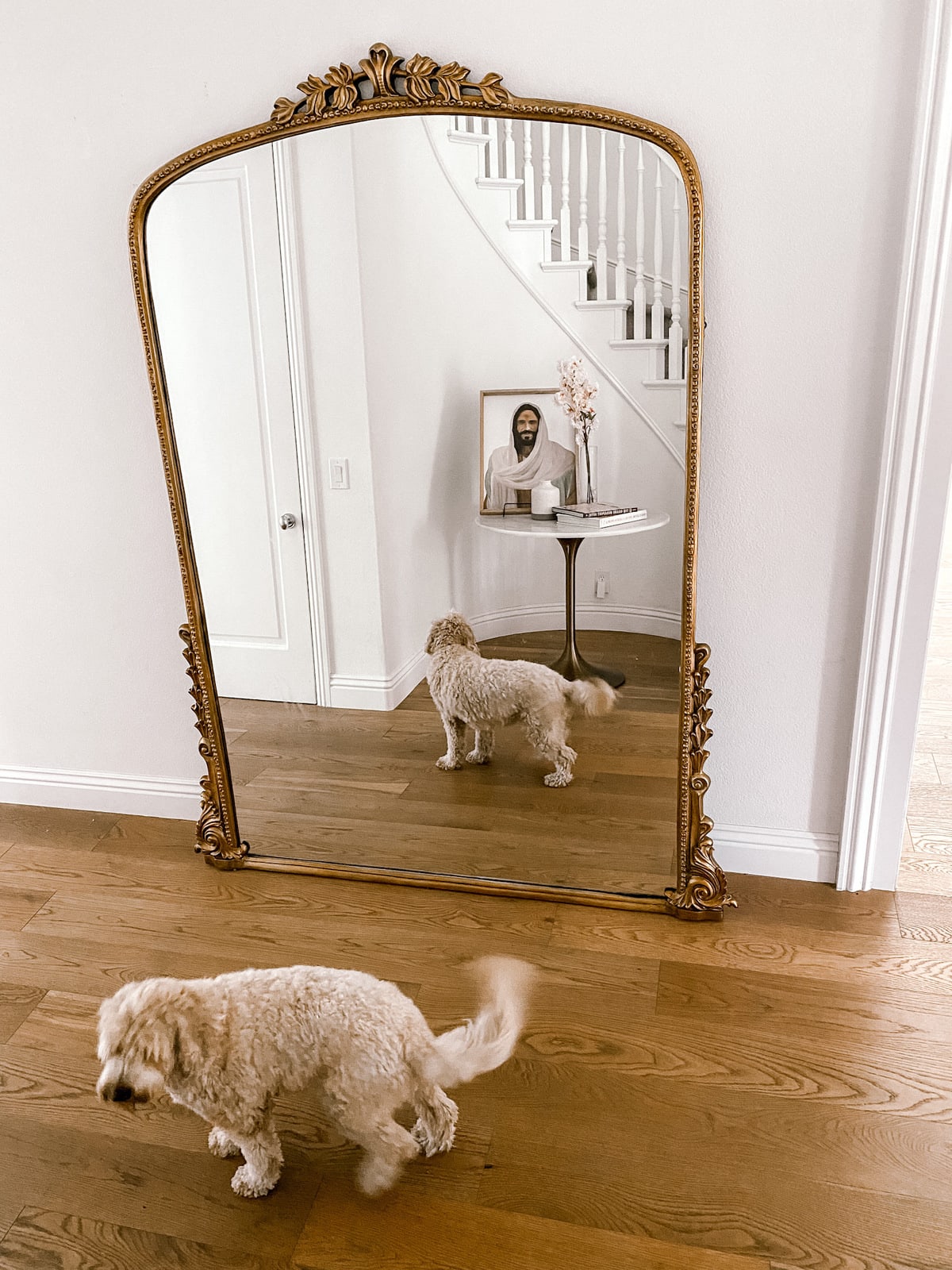 Glam home office chair
Here are some furniture Cyber Monday home deals! If you're looking for a way to dress up your office space THIS is it!! I love everything about this chair! It comes in 2 beautiful colors and is on sale for 50% off today which makes it only $119.99. (Orig. $239.99). And this couch that's a really similar style and blue color is 20% off, too!
Nest thermostat
We have these thermostats in our house and I am OBSESSED!! The newer options are even cuter (hello gold!!) and I love how easy they are to operate, AND how I can change them from my phone. Comes in handy when we leave town and I forget to turn the AC or heat off, or if I'm lying in bed and need to turn the AC to 68 without Neil noticing.
You can get this Google Nest Thermostat for 31% OFF today for only $89.99 (reg. $129.99!).
Don't Wait!
Some of these Cyber Monday home deals are so good that they may not last all day! If you've had your eye on any of these home favorites I recommend adding them to your cart before they disappear!!