We SCOURED the Internet today and rounded up the very best Cyber Monday home deals on some of my most favorite (and most used!) items I use on the daily. You're going to want to act fast because at these crazy good prices things might disappear quick!
In a hurry? Skip straight to the deals below!
Sometimes our hottest deals sell out REALLY fast, so if you want to be in the know and find out FIRST, you can join our bestie group text! And don't worry, I'll only send you the VERY hottest deals that have the highest sell out risk – PROMISE. To join the list, text DEALS to 949-506-2558
Pebble Ice Maker
Today only (or whenever this deal sells out), you can get our favorite pebble ice maker for $408 – the best price EVER! (Orig. $529)
This is an INCREDIBLE deal, and one that TONS of people are searching for, so if you've been wanting to pull the trigger on pebble ice NOW is the time!
I love that this pebble ice maker can just be plugged into the wall ANYWHERE and doesn't have to be hooked up to a water line – we just pour bottled water into the bottom and it produces the most perfect, chewy, heavenly pebble ice you could imagine.
If you've got a party coming up, or if you're hosting Christmas at your house… or if you have an office or a butler's pantry (where we store ours), or a big pantry where you can hide it perfectly the whole year… Really, for whatever situation you're in, it's SO perfect!
All Clad Stainless Steel Cookware
If you've been reading my blog for any amount of time, you probably already know JUST how in love I am with All-Clad stainless steel pots and pans. They've been a fan fave of Mint Arrow Besties for years now!
They're favored and most frequently used by celebrity chefs more than any other pot or pan brand, and the brand I own the most pots and pans of than any other. They're not easy to find on super sale but today you can get them for $499.99 (reg. $839.99) in a 7-piece set, with code CYBER! That's 40% OFF.
Redmond Retro stainless toaster
We used this cute little toaster at our airbnb we stayed at back in July and LOVED it! It's super cute and worked just like our designer Smeg toaster back at home. Today during these Cyber Monday home deals it's on sale in so many cute colors all under $40!!
Roomba Robot Vacuum
I love and use my Roomba like CRAZY! This is a great gift for a family with dogs or small babies who crawl around on the floor or an older person or people who hate vacuuming – really anyone!! Such a useful little household helper. You can get this best-selling Roomba for $349 (normally $599!!!) here! Or, if you're not ready to splurge, you can try this less expensive option for only $99! (Orig. $149)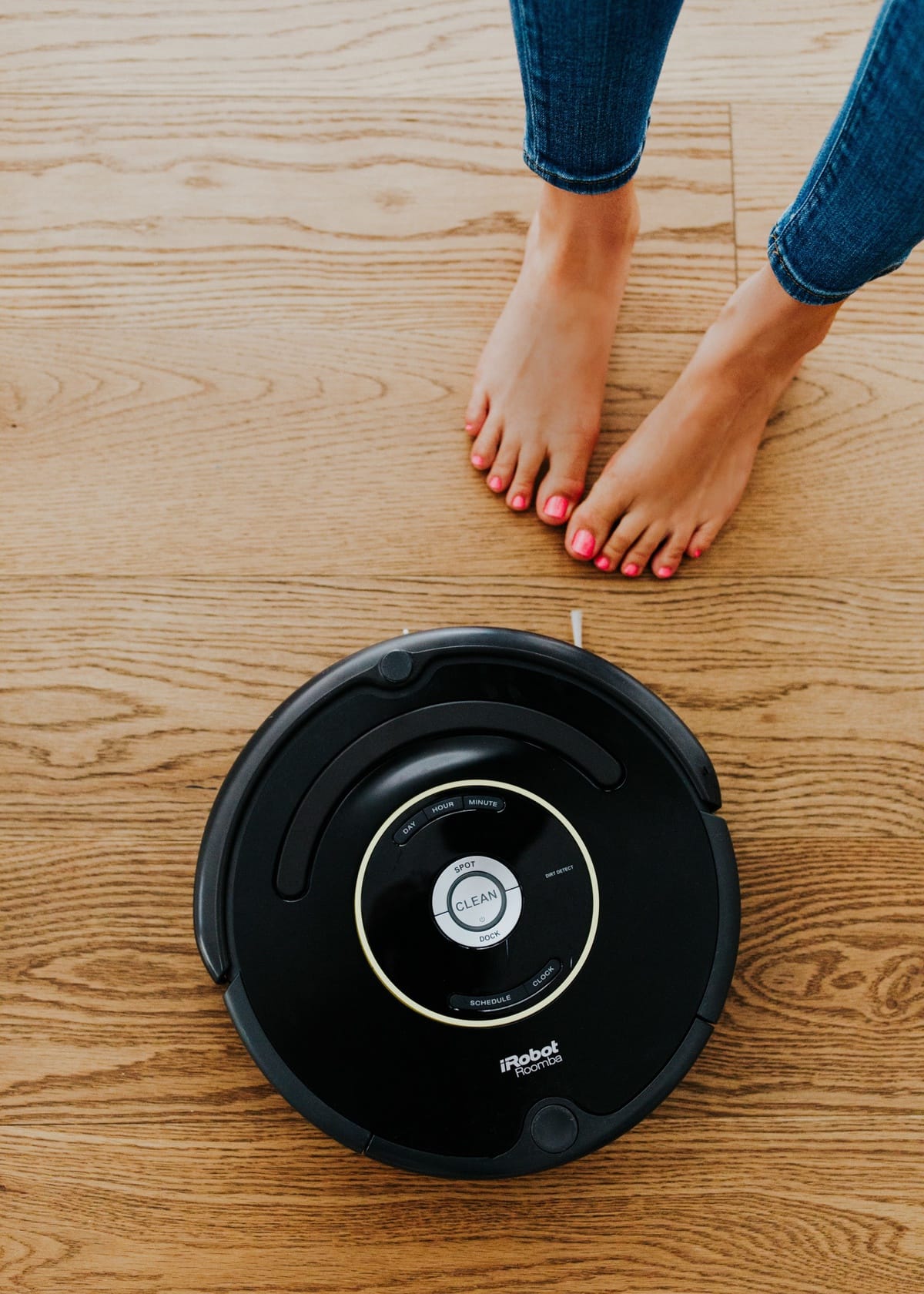 The Always Pan AND Perfect Pot
The Always Pan typically retails for $145, but today you can add one to your kitchen or buy it as a gift for just $99. That's its LOWEST PRICE EVER – a savings of $46!! So if you're thinking about buying, today's seriously the day!
And even better, the Perfect Pot is ALSO on sale for its LOWEST PRICE EVER at just $125. That's a savings of $40!!
You can read more about how these two products replace 16 pieces of cookware, and how amazing they are here!
Blendtec Classic 575 Blender
SO excited because TODAY ONLY, you can get a brand new Blendtec Classic 575 blender on sale for only $378.81 (reg $510)! That's 26% off! I've had my Blendtec blender for 9+ years and have used it hundreds and hundreds of times and it still works like it did the day I took it out of the box.
Beddy's bedding
Why do we love Beddy's? Beddy's beds are the most genius bedding sets of all time EVER because they combine your sheets and your comforter into ONE, and they do it with a zipper that makes it easy enough for a 2 year old to make their bed. If they can zip, they can make their bed! Today for Cyber Monday you can use code CYBER21 for 25% off sitewide!!
Sparkling Water Maker
Today you can get this Sparkling Water Maker for $54.99 (reg $79.99)! If you're a sparkling water fan, this will save you SO much money in the long run – all you do is add water, and voila! Bubbly goodness WHENEVER you want it. So excited that this is on sale!
California Fresh Home
I just started using California Fresh Home after hearing my friend Betsy from Beddy's rave about them and honestly my house has NEVER smelled better!!! I also love that I can set it and forget it and my house just always smells amazing! Seriously whenever people walk into my house now they always say something like "wow your house smells so good! What is that?"
And I have a code just for you! Take $100 of their gift set with code MINT100 or 20% off sitewide with code MINT20!
Instant Pot 6qt pressure cooker
I'm so excited to share this deal with you because it's about something I'm OBSESSED with, my Instant Pot! I use mine about 3 times a week and it's been saving my life. If you don't have one yet, you need one and today is the perfect day because we found a KILLER deal for you!! This 6qt bundle is on sale for over 50% off making it only $59.99!! (Orig. $129.99)
Dyson V11
The V11 is like the Bentleys of vacuums, and we're telling you right now it's worth EVERY penny. And it's the perfect time to invest!
Today you can get the Dyson V11 Torque Drive Cordless Vacuum with Grab & Go Dock for only $519.98!! ($330 OFF – $849.98 if purchased separately)! You won't find a better deal than this anywhere!
Show-stopper mirror
I'd wanted this mirror for YEARS and finally took the plunge during Anthro's Black Friday sale a couple years ago and I'm SO happy I did.
It's the prettiest statement piece right when you walk into our house, but it's beautiful in the smaller sizes, too, and would look so cute on top of a mantle or a dresser or on a gallery wall.
We have the large mirror and it's only $1,118 (reg $1,598) with the 30% off discount right now! That's almost a $500 savings!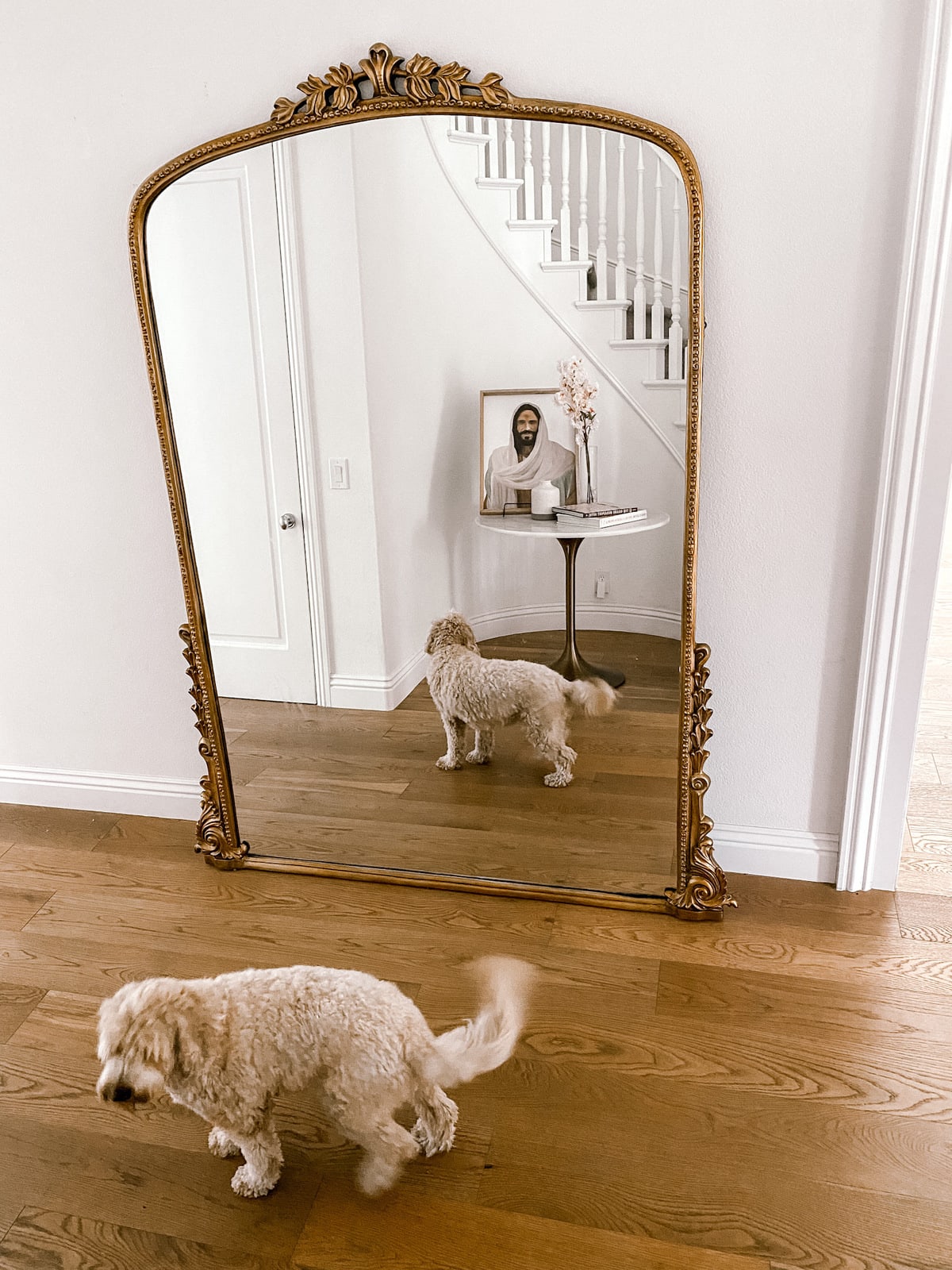 Glam home office chair
Here are some furniture Cyber Monday home deals! If you're looking for a way to dress up your office space THIS is it!! I love everything about this chair! It comes in 3 beautiful colors and is on sale for 30% off today which makes it only $167.99. (Orig. $239.99). And this couch that's a really similar style and blue color is also 30% off, too!
Bowflex exercise equipment
Exercise equipment is a GREAT gift idea, and it's also a really good time to invest in this equipment NOW for yourself if you plan to start some fitness goals at the beginning of 2022. Bowflex is up to 46% off right now which is SUCH a great sale! We have their weights and Neil LOVES them.
Nest thermostat
We have these thermostats in our house and I am OBSESSED!! The newer options are even cuter (hello gold!!) and I love how easy they are to operate, AND how I can change them from my phone. Comes in handy when we leave town and I forget to turn the AC or heat off, or if I'm lying in bed and need to turn the AC to 68 without Neil noticing.
You can get this Google Nest Thermostat for 24% OFF today for only $99 (reg. $129.99!).
Don't Wait!
Some of these Cyber Monday home deals are so good that they may not last all day! If you've had your eye on any of these home favorites I recommend adding them to your cart before they disappear!!