School is out. Summer is here. And everybody at our house is in need of a wardrobe refresh for the season! But wrangling the girls and Neil and heading to the mall to shop for clothes isn't exactly the easiest thing, and if you know YOU KNOW ha. Stitch Fix to the rescue!!
In less than 10 minutes flat you can give your ENTIRE family a little wardrobe update without ever even leaving the house! And if you've used Stitch Fix in the past, it will literally take you less than 2 minutes to order up a new fix since all your profile preferences will be ready to go. Plus there's a Stitch Fix Summer Sweepstakes happening and your family could win $10,000 toward a family vacation!!
What is Stitch Fix?
Stitch Fix is a super duper easy personal shopping service that works off of a style profile that YOU fill out. In the Style Quiz you answer questions about your sizes, how you like things to fit, likes, dislikes, the type of fix you're looking for, places you shop, and your budget. Armed with this information a stylist is ready to start picking items just for you! It's seriously so easy. You pay $20 to have your fix put together by a stylist, but that $20 goes towards anything you decide to keep!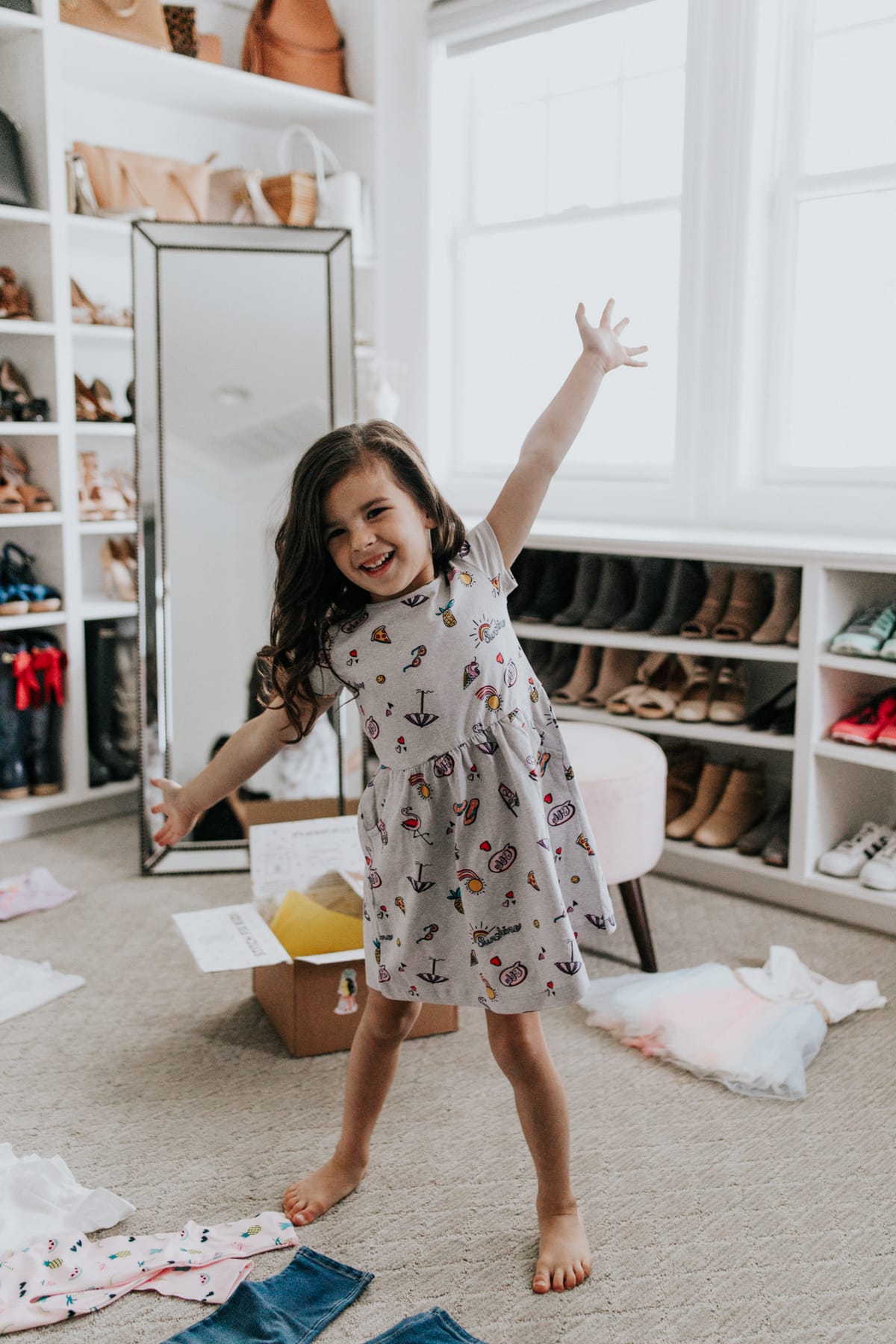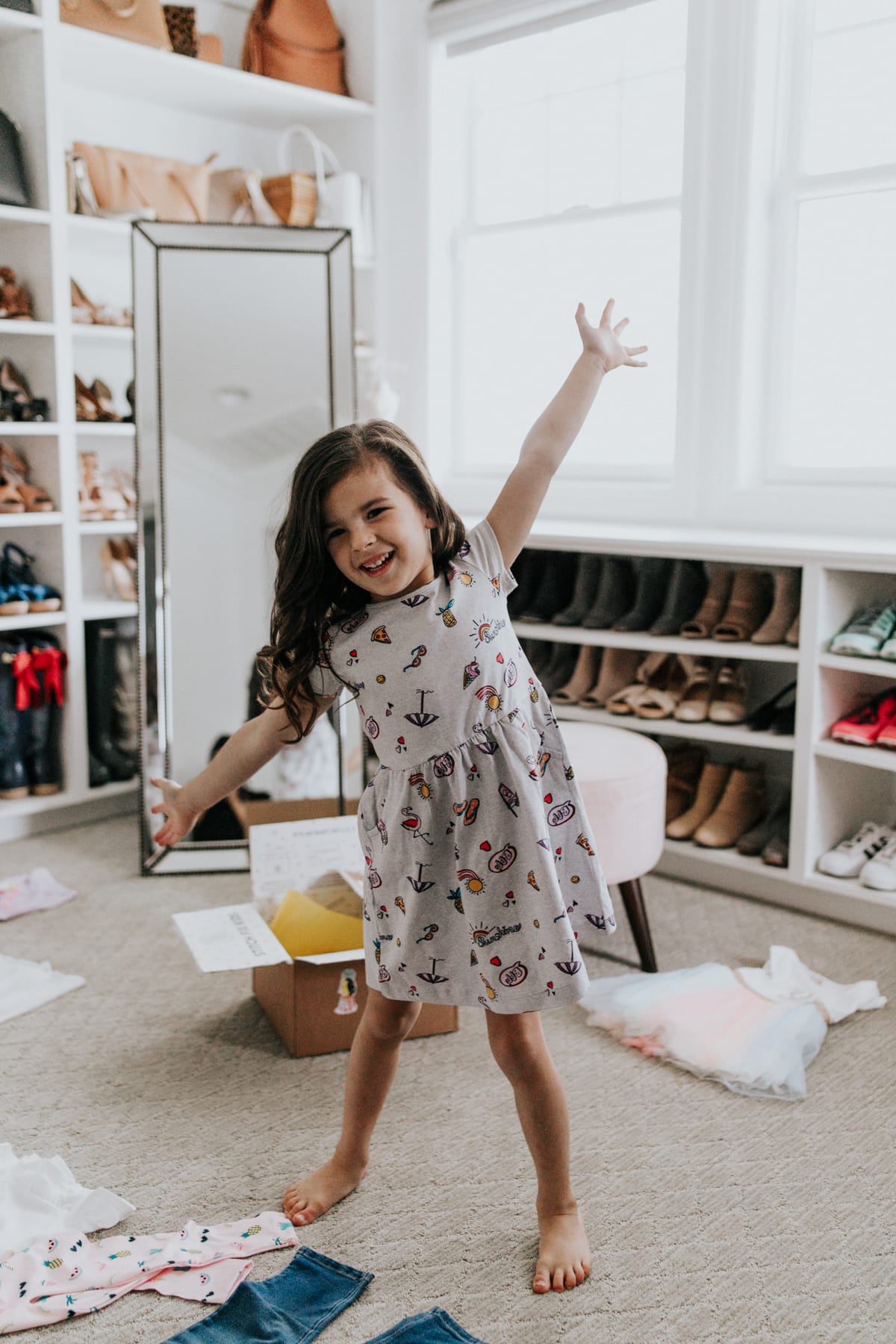 Why Stitch Fix?
Stitch Fix does fixes for the ENTIRE family so if you're into convenience, cute clothes, not shopping, and FREE shipping this might be for you! Kid's sizes start at 2T and go up to 14. Men's sizes come in taller and shorter sizes AND up to 3X. Women's options include, petite, plus, and maternity sizing! You can even opt to have your entire fix dedicated to occasion clothing if you've got a wedding or special event to attend. Stitch Fix has honestly thought of everything and everyone!
The more you use Stitch Fix the better it gets! Once your stylist starts to see what you keep, what you send back, and the feedback you provide, they're able to continually refine what they choose and perfect your fixes!
You decide how often you want a Fix. It is not a subscription service so you don't have to get a box every month. You can get a Fix every few weeks, once a month, each season, or on-demand-it's 100% up to you!
The Girls
My girls have grown a TON since our last Fix in January. They have outgrown a lot of the clothes we bought at the beginning of the school year and with the weather warming up, winter clothes are obviously out! I love being able include my girls' love of unicorns, graphic tees, and super girly things in their style profiles, because the stylists totally NAILED IT!
The girls were BEYOND thrilled opening their boxes!! It would have taken me for-EVER to find things this perfect for both of them. Instead, it took me no time.
Neil's Fix
Because Neil doesn't share my passionate love of shopping, we don't get out nearly enough to keep his closet fresh! Stitch Fix is a great option for dudes like Neil that don't like shopping, but do like new clothes and looking good. (Translation: MOST dudes. Ha!)
He was super stoked about these red shorts that came in his box, because they were like the short version of these red pants he bought himself in the winter.
He also might not look super excited, but this wave shirt has been on repeat since his box arrived! (Seriously he wore it the next day.)
Neil's always looking for more collared shirts and he had a secret love for red pants this past fall so we were laughing about how the stylist must have read his mind by choosing the red shorts! In case you can't tell from the picture below, he LOVED them.
My Fix
This box was all about the dresses for me. Dresses are a year-round wardrobe staple for me. This year I've been going to the temple every week and we take our family to church on Sundays so that's A LOT of dresses. In the summertime I'm constantly looking for new dresses to wear for something nicer like date night or an outdoor wedding or baby shower too!
I looooooooved that they included a Gal Meets Glam dress in my box!!
This Madewell dress was so cute too. It's light and flowy and completely perfect for summer.
A couple of the pieces they sent were super cute but didn't fit just right. But I LOVE that Stitch Fix includes prepaid postage and even the bag to stick your stuff in that you don't absolutely love and send it back with ZERO hassle. That's my kind of return.
The Secret Sauce
I swear Stitch Fix can read our minds!! They sent us the most perfect boxes of stuff based on our profiles and it's such a convenient, effortless wardrobe refresh! This is the third time I've used Stitch Fix and I'm always impressed at just how on-point their selections are.
Like I mentioned above, if anything in your fix doesn't fit your lifestyle or you just don't love, sending them back is way easy and free with a pre-paid envelope. You literally just pop it in the bag and send it back! But..if you end up loving every. single. thing in your fix and want to buy it all, you get a 25% discount. That's an AWESOME deal!
The Sweepstakes
Schedule a Kids Fix by July 13th and you'll be entered to win $10,000 towards a family vacation and $1000 in Stitch Fix credit! Ummmmm…WOW! 12 other winners will win $250 in Stitch Fix credit and 24 other winners will win $25 in Stitch Fix credit. Yes, please!
The Stitch Fix Summer Sweepstakes ends 7/13/19 at 11:59PM ET so schedule your Kids Fix by July 13th to be entered to win!
If simplifying and saving money is your jam I seriously think you should give Stitch Fix a try! I think you'll be thrilled with the quality of clothing and the service you're getting at such a good price point. And you'll be entered in the Stitch Fix Summer Sweepstakes and could have the chance to create the best family vacation EVER this summer! Schedule your Kids Fix by July 13th and tag me in Instastories if you try it out so I can see all the amazing things Stitch Fix sends your way!!