Fall is here and I am totally torn between saying 'really?' or 'finally!' What I do know is that pumpkin spice is life, and that dressing for fall in a warmer climate, like I do in Southern California, can be super challenging. No matter what weather Mother Nature is serving up where you live, you are guaranteed to find plenty of transitional and layering pieces you'll love at Nordstrom. Today I am sharing all my very BEST styling tips for dressing for fall.
Tip #1: Layer, layer, layer
In California it can for sure feel like you need two outfits a day because it's fall in the morning, but feels like summer again by mid-afternoon. Oftentimes you need to change back into outfit #1 when the evening rolls around because it's chilly again. I'm just a normal girl, not Beyonce, and all these wardrobe changes are exhausting, so instead…we layer. Layering with a fall color palette can help give you all the fall feels even if you're not in weather conducive to chunky knit sweaters and over the knee boots.
The perfect fall top
This top is one of my very favorite, go-to wardrobe staple button-downs. It is a top you can wear literally anytime: spring, summer, fall, pregnant, postpartum, all of the above. Versatile, lightweight, and a highly-rated bestseller. Even though it's a short-sleeved top, the spiced chestnut color feels very fall-esque.
Neutral cardigan
You can never go wrong with a black cardigan. You'll want one that us ultra soft and super comfy. When we're talking about layering, you want to invest in layers you can wear over and over and over again. Expect this cozy layer to be on repeat all season long. I tried on many, many options before deciding on this one-it's super lux, soft feeling. I'm so sad because this one is sold out, but here's a similar option that has the cutest balloon sleeve detailing.
Keep your layers simple and neutral so that they mix well with other pieces.
Tip #2 Cropped jeans + booties = magic
Jeans
Don't pack away those cropped jeans just yet! I absolutely love cropped ankle-length jeans at this time of year to showcase a cute bootie or statement shoe. My very favorite black jeans are not cropped, so I rolled them to achieve the same effect. Black is such an essential wash year-round, but I really love it in the fall.
Booties
I tried on every single pair of tan heeled booties in Nordstrom and these booties were the clear winner by a mile. They are a 9/10 for comfort, like not quite running shoes comfortable, but they're really comfortable. If the comfort factor isn't a big enough selling point, they're also super super pretty. The silhouette of the shoe makes your leg look elongated and slim which is always a win. And the color is like caramel apple magic.
Don't let the dust on the toes of these scare you, it was just very dusty where we took these pics! 🙂
Tip #3 Put a hat on it
Everything just feels more fall-ish with a felt hat. Amiright? A hat instantly takes any outfit from zero to sixty. There is just something so effortlessly chic about a felt hat. I have not been able to stop wearing or declaring my love for this hat since LAST YEAR! Brixton is probably my favorite women's hat brand because they come in SIZES. This is a total game-changer.
I was able to get this hat in a medium and avoid the dreaded hat hair! It also means I can more comfortably wear a hat for hours and hours because it fits MY head.
Hats are my #1 magic trick on bad hair days or days when I just don't feel like doing my hair. This one is comfortable and beautiful and looks like a million bucks without breaking the bank. Say hello to YOUR new Nordstrom fall favorite!
Tip #4 Get you a bag that can do both
The key to fall dressing is versatility, so you want a bag that is just as versatile. You never know when you might need to be hands free at the pumpkin patch! This one can be carried like a traditional handbag, slung over a shoulder or worn as a crossbody. It is the type of piece worth investing in because you will get so much use out of it.
This bag looks like it was inspired by some designer bags that we all know, but SURPRISE it's Rebecca Minkoff so it's about a quarter of the price. High quality, real leather, and the most gorgeous clasp feature. Currently this exact bag is sold out but we've linked a super similar option from Nordstrom for you!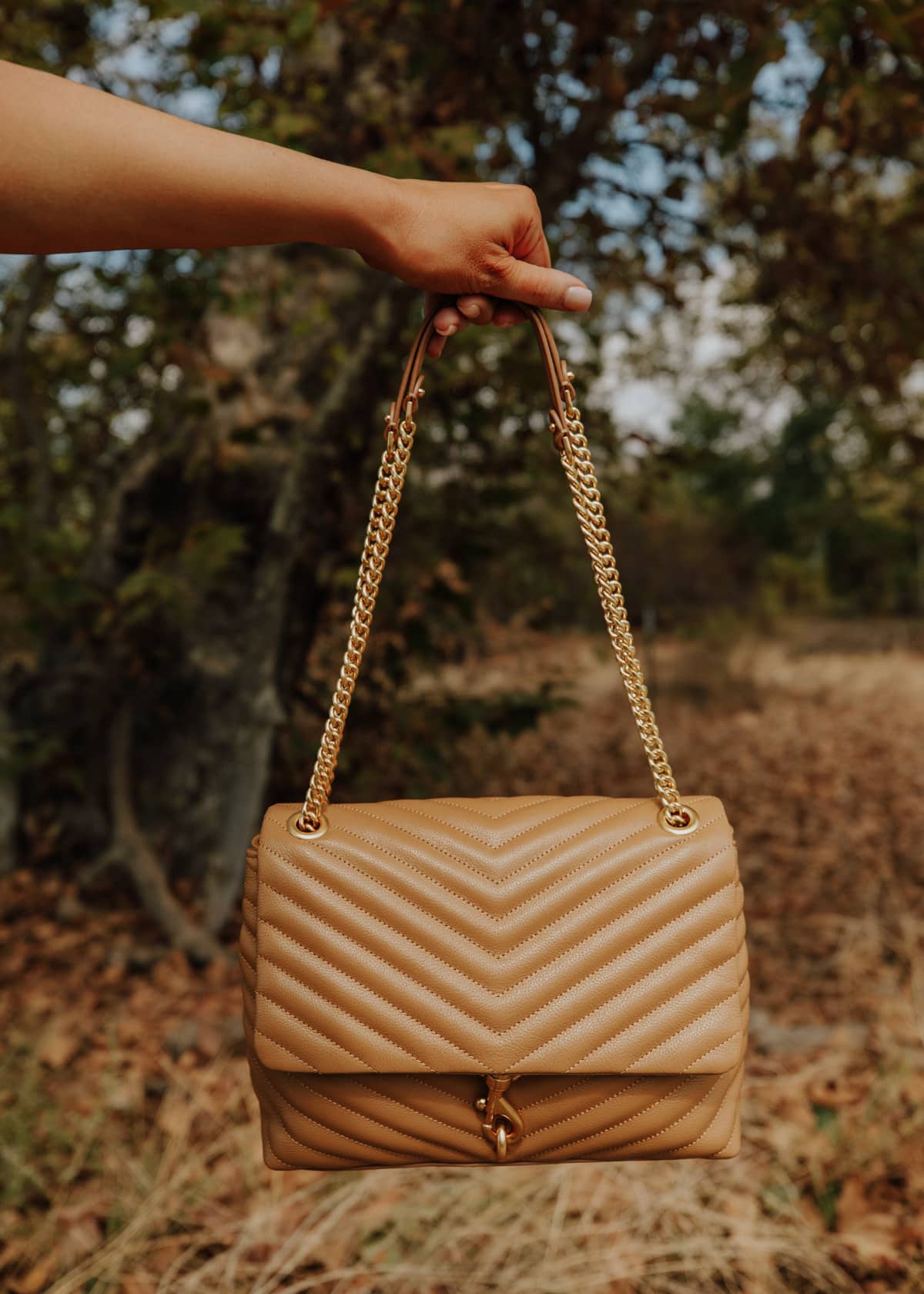 Before you slide into my DMs
Every single time I wear this lipstick shade I get so many DMs, not only asking what shade of lipstick I'm wearing but also WHY ARE YOUR TEETH SO WHITE?! Haha. The real secret is here, but ALSO anytime I wear this lipstick, people compliment me on my white teeth because this lipstick makes your teeth LOOK whiter too!
So before you even have to ask me, I'll just tell you! This is Nordstrom's #1 selling lipstick!! It literally looks good on everyone. So universally flattering — it's like the Sisterhood of the Traveling Pants, but LIPSTICK.
Nordstrom Love
I love to buy anything and everything I possibly can from Nordstrom because they truly have the very best customer service on earth, plus FREE shipping, FREE returns, AND curbside pickup. Their selection is totally unmatched too. Would you believe there are currently over 8000 items in Women's New Arrivals?
More Nordstrom fall favorites
Every single one of these pieces is so classic yet so versatile that you are sure to be rocking them all season long. We rounded up even more Nordstrom fall favorites right now that I am super loving and think you will too. Mix, match, and accessorize until you find YOUR perfect Nordstrom fall outfit.