Even with May Gray and June Gloom it's pretty much always sandal season in Southern California! Growing up in Utah this was not the case so being able to break out all the cute sandals meant summer was FINALLY here! Three cheers for summer and sandals all day, every day! Today we've got a roundup of the EIGHT sandals that you'll love for Summer 2019!
Barely There Sandals
Barely there sandals are totally having a moment right now and I am completely here for it! Plus they're neon pink and to quote Paris Hilton circa 2005 "That's hot." (see more of Summer 2019's hottest trends here) These cute sandals are super flattering, pair with anything and are totally pedi ready at all times! These ultra-slender neon slides are pretty comfortable (8 out of 10) and super, SUPER cute (10 out of 10!) and a totally fun complement to any summer look!
A Favorite Flip Flop
I've had my pair of black Havaianas for FOUR YEARS and they still look and act brand new! They're crazy comfy from the very first wear. Absolutely no break-in necessary with these babies! My favorite feature of these flip flops is that the sand washes right off like butter. That sparks some serious summer joy! Plus they're completely waterproof making them the perfect flip flop for the beach and the pool! (see more beach vacation essentials here)
Something Sparkly
Elevate your sandal game with something embellished. Rockstud flip flops are a splurge sandal for sure, but I love them SO much and they will last for YEARS!! These are not a beach sandal, but they're a super cute sandal with shorts, dresses, skinnies and pool side! I think these stunning flip flops are worth the splurge and with over 500 perfect reviews I'm not the only one who thinks so!
If you're dying for something shimmery, but want a more wallet friendly option look no further than these stunning pearl slides. I had been wanting these strappy slide sandals since LAST summer so I was thrilled when I found out Nordstrom was bringing them back! At UNDER $70 they're not only super cute, but super affordable too!!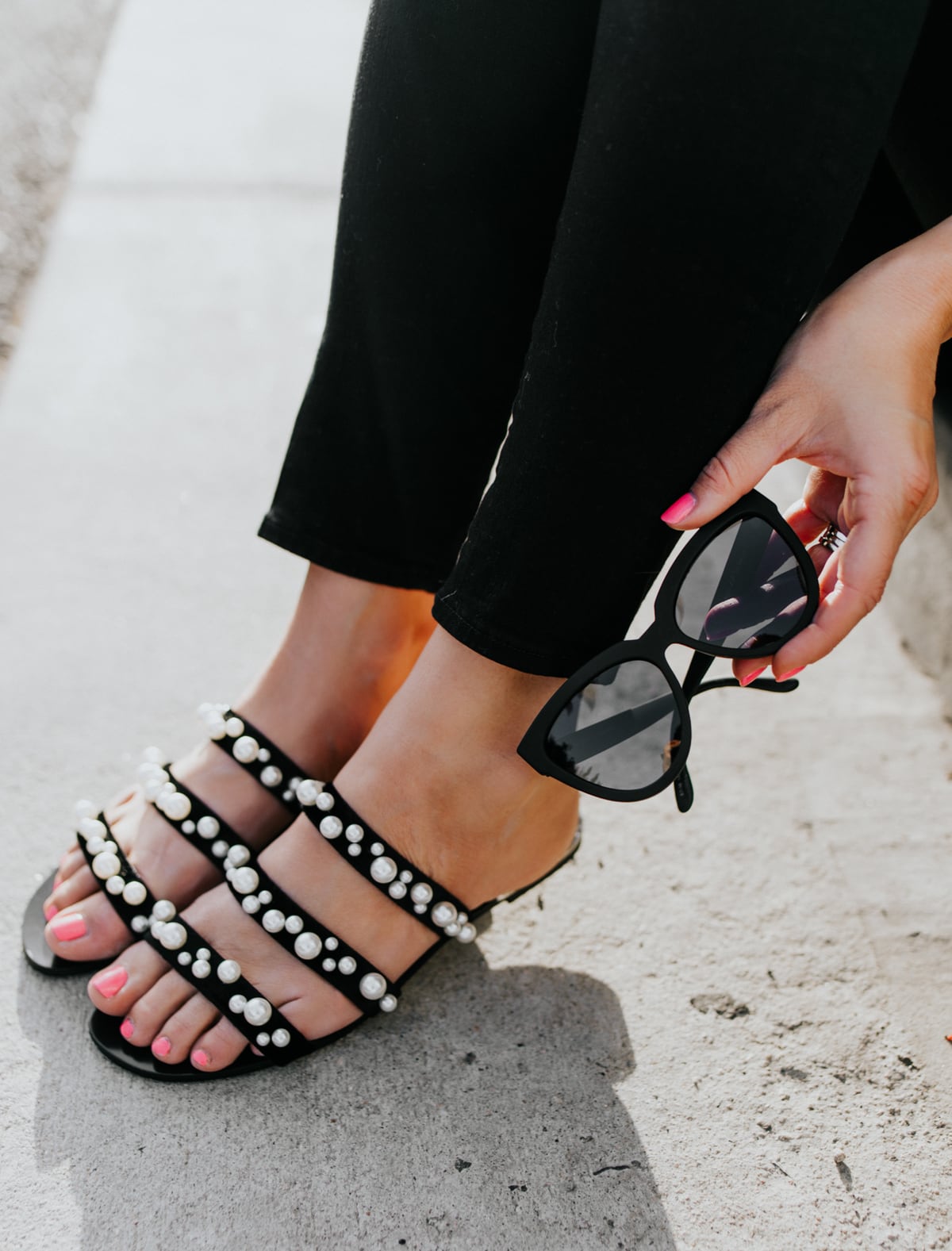 A Forever Classic
For YEARS I've been touting these Tory Burch Miller sandals as my favorite flip flop of all time EVER and it's still 100% TRUE!! I take them on every single trip, because they're so SO comfortable but just a little bit fancier then your average flip flop. When I say comfortable, I mean comfortable-I wore these all over Europe a few years ago and had zero issues! (Looking for some swimsuits to pair with your sandals? See a round up of high quality, highly rated options here)`
A Sweet Slide
I love these insanely affordable slides SO much that I bought them in TWO colors! I'm a major fangirl of absolutely anything with a bow on it so these $50 cuties were a total no brainer! You can't beat the ease of a good slide in the summertime! I love being able to slip them on and off to go run errands or down at the beach! They're so darling with skinny jeans, but remember when I wore them in this poolside post in the other color? Heart eyes for days!
A Wear Everywhere Wedge
These platform wedges have already made two blog appearances and it's only June! They are going to be on HEAVY rotation this summer, because they go with literally everything!!! Can you think of a more perfect summer shoe? They're bananas comfortable, uber flattering and well under $100! Plus they come in SEVEN cute colors and have almost 700 perfect reviews! Yes, please!! (See more UNDER $100 summer favorites here)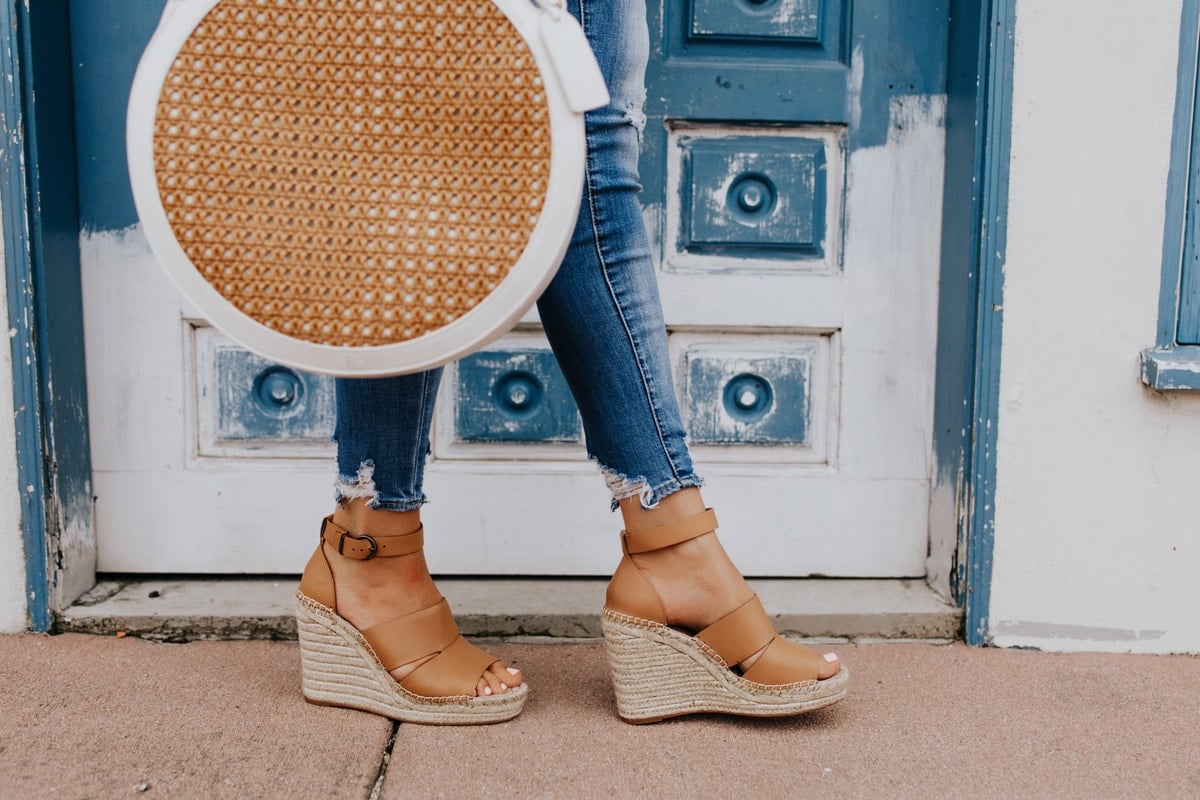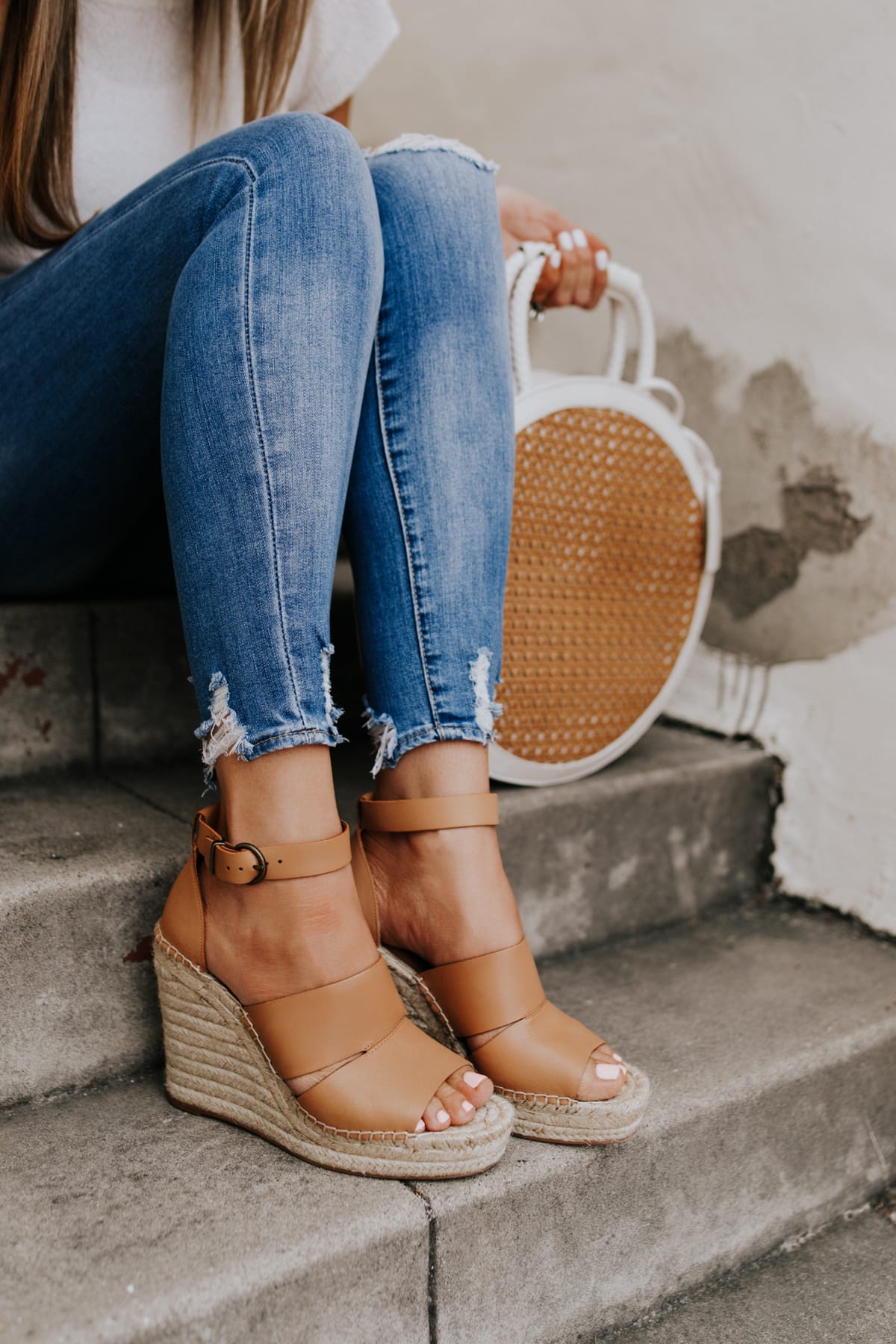 A Neutral Thong
Maybe you call it a t-strap or a sling back, but whatever you call it, it's a total summer staple! I have owned the high-end version of these Sam Edelman sandals in TONS of colors over the years, because I love them so freaking much! They UNDER $100, have almost 1000 perfect reviews, and are currently available EIGHT fun colors for summer!
If you're looking for an even more budget friendly option these Circus by Sam Edelman sandals are a variation of the super popular high-end version. They're super super cute with skinnies, shorts and dresses (see how I styled them with THE pajama dress of summer here) and they're comfy as can be! They're also on sale for $20-doesn't get much more affordable than that!
Something White Hot
These white Greece slides are an amazing dupe of the Hermes Oran and I am completely OBSESSED with them and the under $60 price point! So. Much. Yes. Love cutouts on these cute sandals and that they can easily be dressed up or down AND the yummy, stretchy leather is comfy as can be from the very first wear! Note: if you have a wider foot, you might not love these or find them to be quite as comfortable.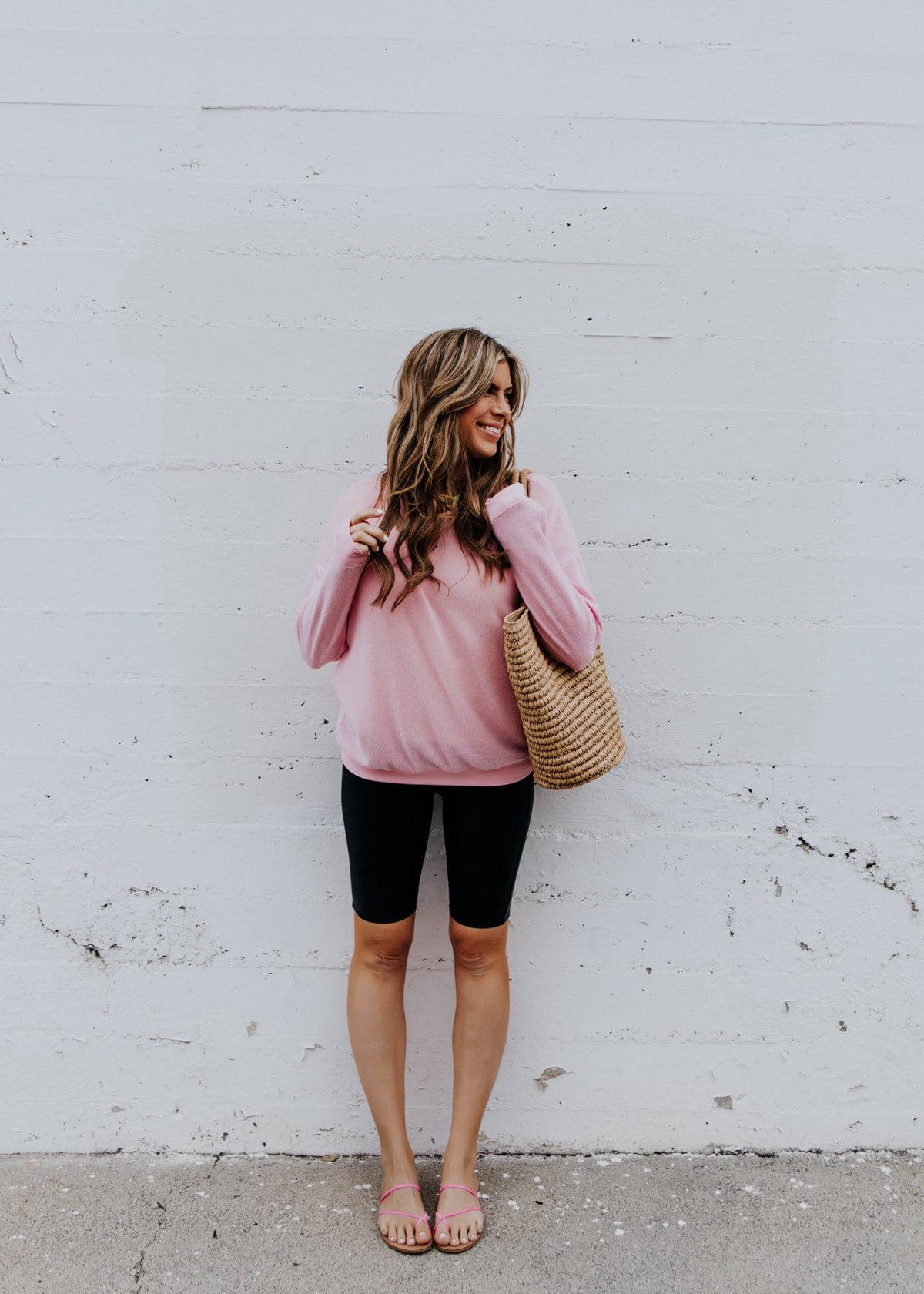 Sweet sweet summertime
What sandals are you totally crushing on this summer? Let me know if you add any of THESE cute sandals to your Summer 2019 collection!