Nordstrom is still KILLING us with all the amazing deals!! We rounded up our faves from the Nordstrom Cyber Sale when it went live early on Wednesday, but it includes way too much good stuff to only feature once! There are over 23,000 items in the Women's section alone!!
I personally picked through every. single. one of those items and rounded up ALL the very HIGHEST rated items that I LOVE and recommend, perfect for gifting or gifting yourself!!
Plus there's a way to get even MORE savings by getting money BACK if you shop today! Keep reading to find out how.
Cyber Monday Sale Details
Nordstrom has an awesome promotion going where you can get CASH BACK in the form of a promotional card:
If you spend a minimum of $125 you will receive $25 cash-back
If you spend a minimum of $250 you will receive $50 cash-back
If you spend a minimum of $400 you will receive $100 cash-back
As if I haven't already made your day with that AMAZING deal, Nordstrom's Cyber Monday Sale is ON NOW and you can get up to 50% off!! This is an awesome way to do your holiday and seasonal shopping because you can stock up that reward cash. Score!
PLUS, if you apply now to become a Nordy Club Member, you can get $60 bonus note now-Dec 6!
But that's not all! If you buy online today and select to pick up in store, you'll get an email with a $10 Promo Card to spend December 18, 2019–January 26!
I've got a few suggestions below for Winter wardrobe staples that you can grab during this SUPER GOOD Nordstrom Cyber Monday deal!
LongLine Blend Cardigan
LONGLINE CARDIGAN. This cardi is long enough to cover your bum and lightweight enough to layer with for traveling! With 200 perfect reviews you know you're gonna love this too! It was originally $69 but now it's marked down to $34.49, that's half off!!
Stud Earrings
STUD EARRINGS. Kendra Scott makes the most beautiful high-quality jewelry and these studs are HALF OFF at $32 for the prettiest sparkle!
Ab-Solution Zip-Pocket Skinny Pants
ZIP POCKET SKINNY PANTS. If you've been around for even a few months on this blog, you know my absolute LOVE and obsession for these jeans! They're super stretchy and have an elastic waistband but power mesh panels to mold and hold your thighs and booty. SO COMFY but also crazy flattering. Size down 2 sizes (yes you read that right!!). During the Nordstrom Cyber Sale they're insanely affordable at $40.80 today (40% off)! Sizes are starting to run low though, so shop fast if you want to snag a pair!
Leather Satchel
KATE SPADE SATCHEL. I have a serious love for this Kate Spade satchel! I've had it for almost 2 years now but it's still one of my most heavily used bags. TONS of cute colors and 40% off today!!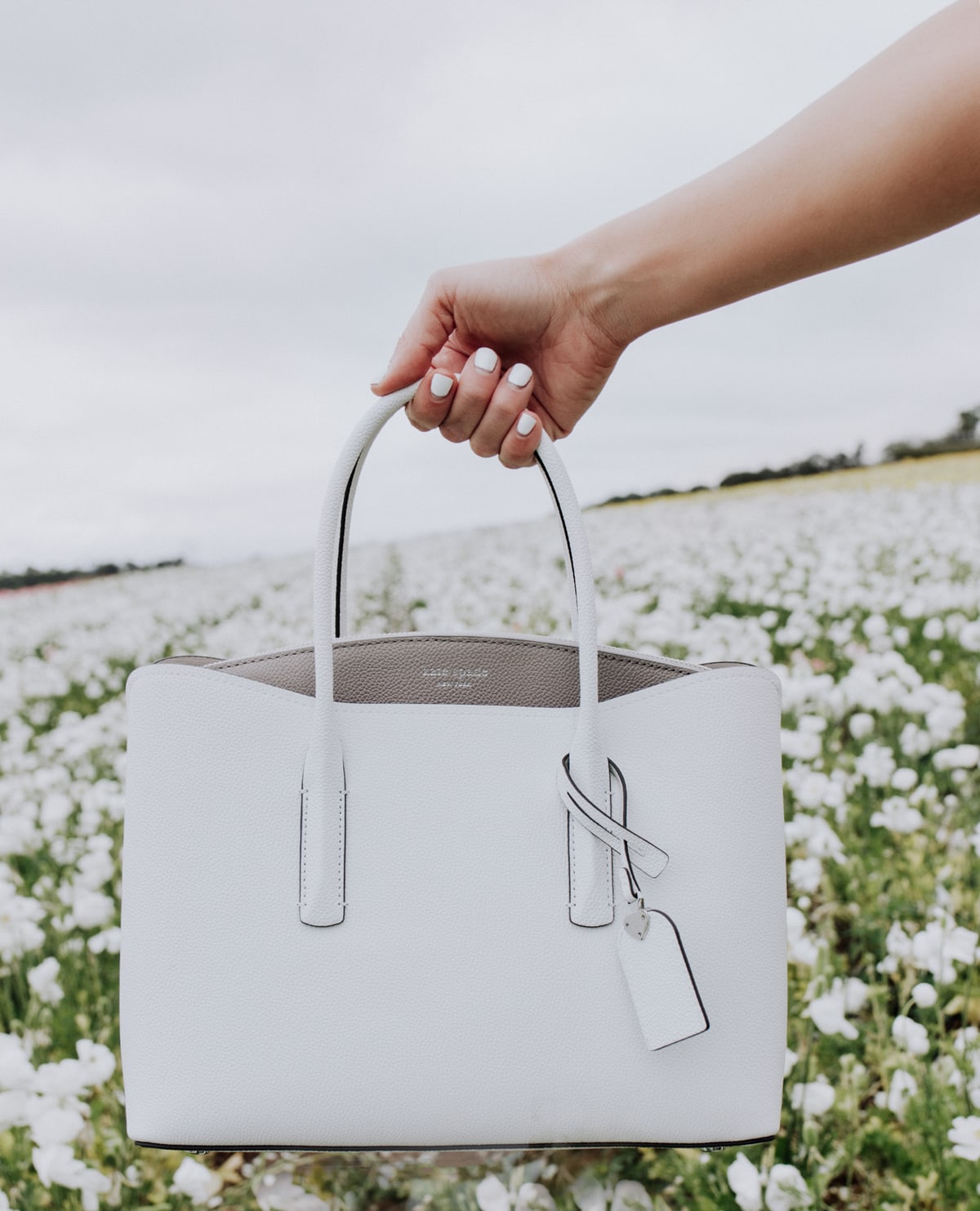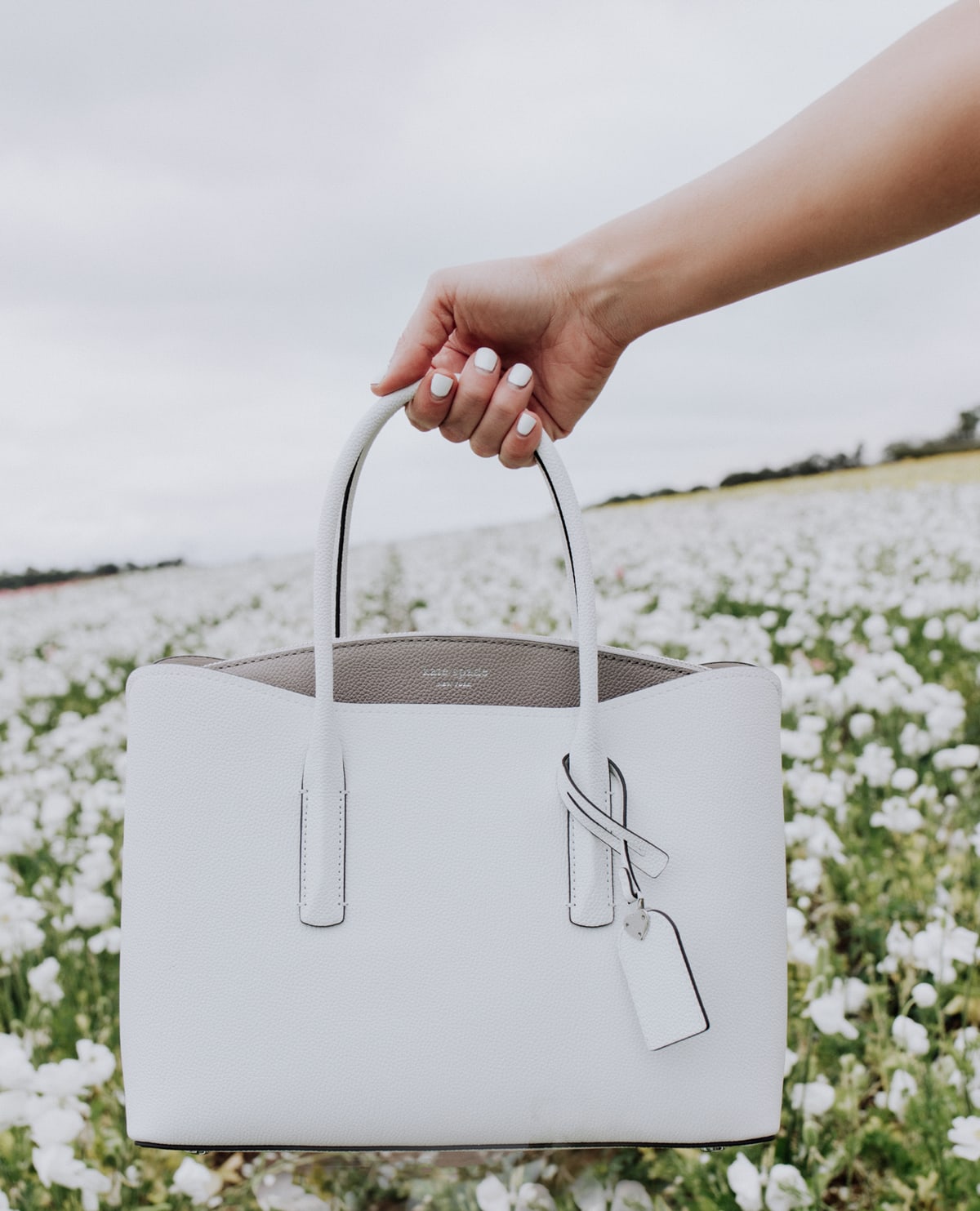 Hazel Pointy Toe Pump
HAZEL POINTY TOE PUMP. Did you know Sam Edelman pumps are designed with extra padding to make you feel like you're wearing running shoes instead of heels? TRUE STORY. These are so comfy I can wear them for HOURS standing up and not even notice my feet getting tired. I love that they're 60% off in the prettiest neutral off-white that drops the price from $140 down to $55.98!
High Waist Ankle Skinny Jeans
HIGH WAIST ANKLE SKINNY JEANS. Some of my very most fave jeans ever and one of the highest-rated pairs on Nordstrom's site with over 300 perfect 5-star reviews! These are comfy, slimming and have just enough stretch to flatter and fit like a glove. Regularly almost $200 but 40% off for Cyber Monday at $113.40!
BLANKNYC JACKET
FAUX SUEDE DRAPE FRONT JACKET. I have a serious love for my BLANKNYC jackets and this one is a sizzling deal at 50% off which drops the already affordable price down to $38.98! If I were getting this I'd go for the pink – I've never regretted buying a pink jacket, but the snakeskin and navy are both really perfect neutrals too!
Packable Waterproof Rain Boot
PACKABLE RAINBOOT. These packable rain boots are a MUST if you're traveling somewhere rainy or even snowy soon. They fold over easily to squish into your suitcase and take up far less room than traditional Hunters, but work just as beautifully keeping your toes warm and dry. 33% off at just UNDER $100 (regularly $150).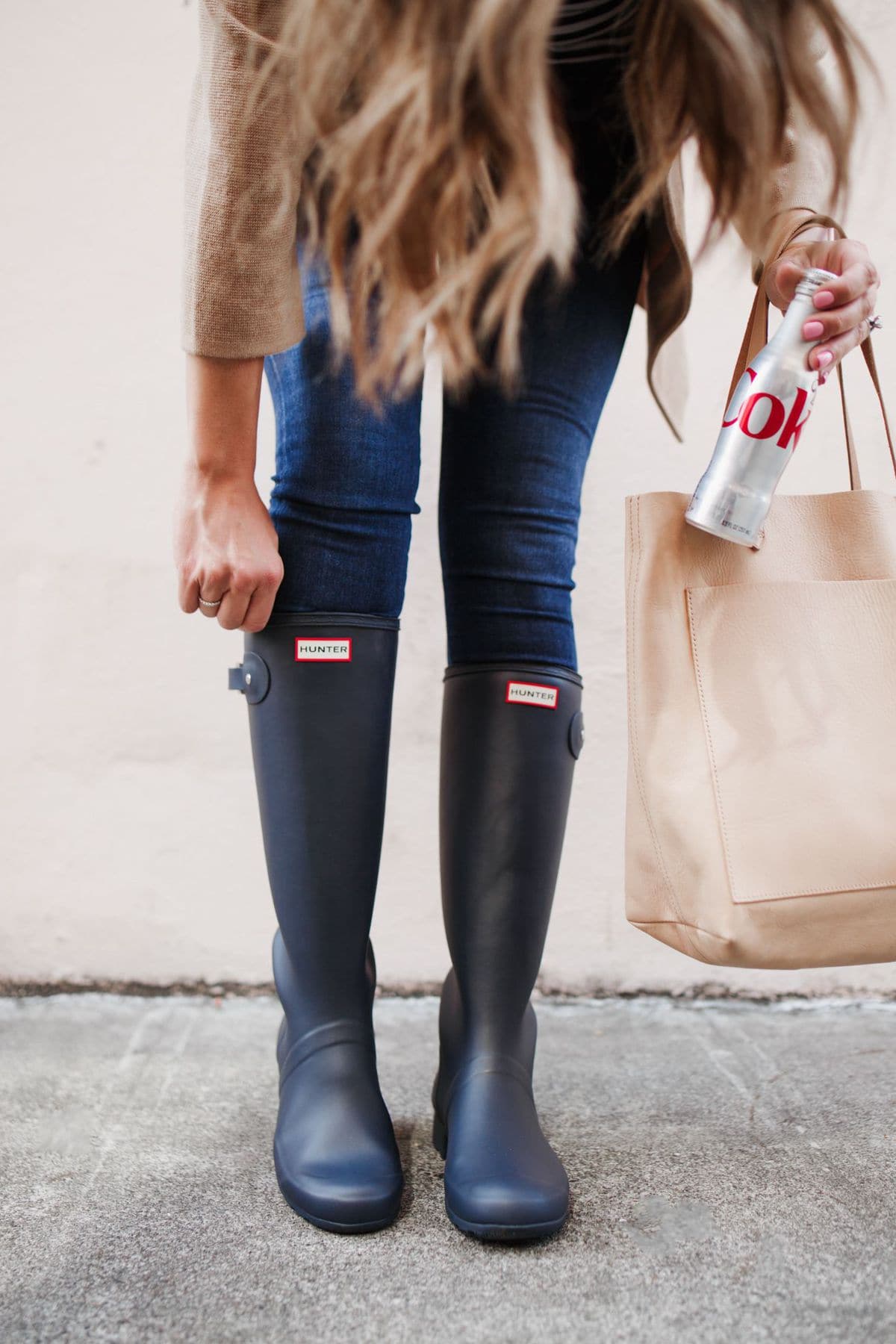 Barefoot Dreams Cozy Throw
BAREFOOT DREAMS THROW. This INSANELY cozy Barefoot Dreams throw that I snuggled up to on our flight to NY a few weeks ago is on mega sale for 30% off its normal price! Although this isn't technically a women's item, it's just so good that I had to throw it in and it makes the perfect gift!
Tory Burch Miller Flip Flop
MILLER FLIP FLOP. Probably my all-time favorite sandal for women! It's SUPER hard to find a deal on these, but they are 33% off for Cyber Monday and UNDER $200, so I expect them to disappear FAST!!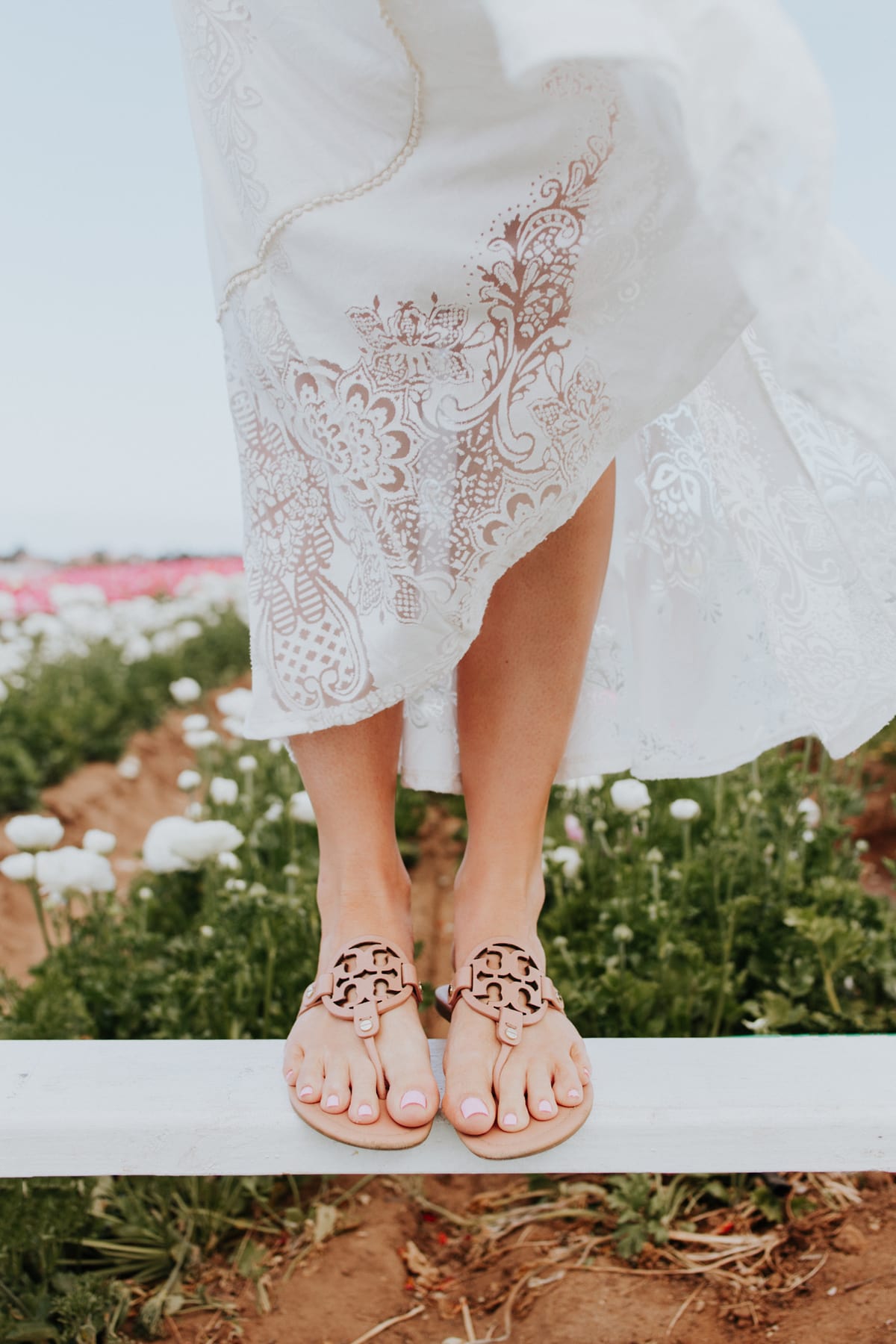 Ugg Slippers
UGG SLIPPERS. Ugg slippers are like heaven on earth for your feet, especially in the winter time! These are a super sweet deal at 25% off + the pom is just so cute!
Leather Boot
RAG & BONE BOOTIES. I've had these booties for years and they still look brand new! Definitely more of a splurge, but at 40% off you're also saving some serious cash. Mine ran true to size!
Leather Leggings
SPANX LEGGINGS. SO MUCH LOVE for these magical (yes, I said magical) Spanx faux leather leggings. These babies will suck you in and I swear on my life they make your legs look 1 size smaller! They're the perfect wardrobe staple to pair with all your winter sweaters and boots. ON SALE here (in limited sizes) and here (in ALL sizes and colors) for 20% off at $78.40 (normally $100).
UGG BOOTIES
UGG BOOTIES. Uggs are a MUST for me in the winter, even in California when it gets chilly at night and ESPECIALLY when I travel to cold places. These shortie boots with the bow on the back are 25% off right now so usually, they'd be over $200 but you can get them right now for $154.90!
Saltwater Waterproof Rain Boot
SPERRY RAIN BOOT. My sister and I were talking all last week about just how amazing these waterproof rain boots are! They're almost like an Ugg got with a Hunter and made a little comfy waterproof baby! The over 60 perfect reviews speak for themselves and they're on sale for Cyber Monday at $79.90 (reg $120!).
Barefoot Dreams Hooded Cardigan
BAREFOOT DREAMS CARDIGAN. Currently writing this post IN my barefoot dreams cardigan! There's a reason this cardigan has earned over 1,000 RAVE reviews and it's the one thing my mom and I both ALWAYS travel with, because it's like a publicly acceptable way of wearing a blanket everywhere. This exact cardigan is sold out, but there are SO many other Barefoot Dreams Cardi's to choose from here!
Softly Structured Knit Tunic
KNIT TUNIC. This tunic has been on repeat for more than a year now and I'm so excited it's on mega sale for Cyber Monday!! Normally priced at almost $150, today you can grab it just under $100 at 30% off.
More Top-Rated Cyber Monday Nordstrom Favorites
Shop all my Top-Rated Nordstrom Women's FAVES from the Nordstrom Cyber Sale Extravaganza! So so so much good stuff and all up to 50% off!!