Everyone is stepping it UP in the Black Friday game this year it seems, and Nordstrom isn't about to get left in the dust! We've got a SUPER good deal for you guys on getting Nordstrom cash-back on your purchases today!
Sale Details
Nordstrom has an awesome promotion going where you can get CASH BACK in the form of a promotional card:
If you spend a minimum of $125 you will receive $25 cash-back
If you spend a minimum of $250 you will receive $50 cash-back
If you spend a minimum of $400 you will receive $100 cash-back
As if I haven't already made your day with that AMAZING deal, Nordstrom's Cyber Sale is ON NOW and you can get up to 50% off!! This is an awesome way to do your holiday and seasonal shopping because you can stock up that reward cash. Score!
PLUS, if you apply now to become a Nordy Club Member, you can get $60 bonus note now-Dec 6!
I've got a few suggestions below for Winter wardrobe staples that you can grab during this SUPER GOOD Nordstrom Black Friday deal!
Tie-Dye Midi Skirt
I'm head over heels for this warm-toned take on a style I already love! It's the perfect piece to take me effortlessly into the colder months. I sized up one size in this skirt for the perfect fit and length! Get it right now during the sale for only $26!!! That's a no-brainer!
Did I mention this skirt is also crazy comfortable, like pajamas-status comfortable?! It's also totally the type of skirt that you could pair with some Converse or Superstars for a more casual look.
Cowgirl Chic Boots
A good cowboy boot brings out the cowgirl in everyone! This classic boot will never go out of style, but the crocodile texture is very NOW! What totally pushes these boots over the edge is the embellished heel detailing. I am legit obsessed with those studs! They are seriously even cuter in person. They are USUALLY a bit of a splurge, but right now you can grab them for 60% OFF in 3 different colors during this sale!! Seriously such a great deal on boots you'll absolutely be wearing for years to come!
Cozy Knit Tunic
I love a good tunic in the winter. It's an easy way to feel put together and it's so simple to dress up or down! The cowl neck and slouchy silhouette just make this one feel so cozy. It's like getting a hug all day long! This color is just so pretty too. Perfect for November and December! Get it right now during Nordstrom's sale for 30% off in 5 colors!
Sam Edelman Petty Boots
These minimalist Sam Edelman Petty Boots are such a versatile staple. The low, stacked heel makes them easy to walk everywhere in, and of course, the color is chic and will carry you from season to season. Love! Right now you can grab these for 40% off!
DL 1961 Jeans
These DL 1961 Jeans are sculpting magic! Seriously, they take your curves to the next level and just make you feel like a million bucks. This wash is one of my favorites, too. It's just that classic true blue that denim should be! 30% off and pure magic!
The Ultimate Blazer
It's tweed. It's wool. And it's a blazer. That's three yeses from this girl! I picked out this blazer because I love that it is tweed, but a very classic looking tweed that will stay in style for YEARS. The fit is true to size and absolutely incredible. I fell in love with it the second I put it on! This exact blazer is low in stock, but here's another option for 50% off that is SO good!
Weather loving leather boot
I have only purchased one other pair of tall boots this season and they're suede, so I was on the hunt for something more weather friendly. These super highly-rated, knee-high leather boots are the ideal find! I love that I can put a weather protectant on these beauties and wear them without fear. Bring on the rain and the snow! Knee-high or OTK boots + leggings are kind of my unofficial winter uniform.
Cutout Sandal
These Vince Camuto sandals were my favorite shoe this summer! They are ridiculously comfortable and I was so excited that I could rock them right away, even in the hot summer temps. I love the transitional style of this sandal-bootie; it will take you straight into fall! It comes in three neutrals and although I chose the gray tone, I honestly would have been so happy with any of the hues. The laser-cut detail is so on trend and the block heel makes them perfect for walking around or standing in all day! These shoes are on sale for 50% off.
Packable Waterproof Rain Boot
You can ALWAYS count on Hunter boots in cooler weather. This is a shoe that handles rain and snow and all kinds of icky weather with ease and style. Plus they're super comfortable. Basically they're kind of the perfect cold weather shoe. Luckily, it's basically impossible to have too many pairs of Hunters, because they just got a jet-setting upgrade and you're going to want these in your life.
If you already own a pair of Hunter's you know the struggle of trying to pack them for a trip, because they take up SO much space! It was always a game of travel Tetris trying to figure out what you could put inside them and around them to recoup some of the packable space. No more, my friends. These Hunter boots are made to be packable. Which means we're totally MFEO? (Made for each other. Remember that from Sleepless in Seattle? Impossible to resist a good Sleepless reference…ha!). These boots are made of a lighter, more flexible rubber that's meant to be rolled away for superior packability. Game changer.
And RIGHT NOW these packable Hunter boots are ON SALE 33% off during this Nordstrom Black Friday sale!!! Hunter boots are typically always excluded from promotions and discount codes so this is a HUGE deal!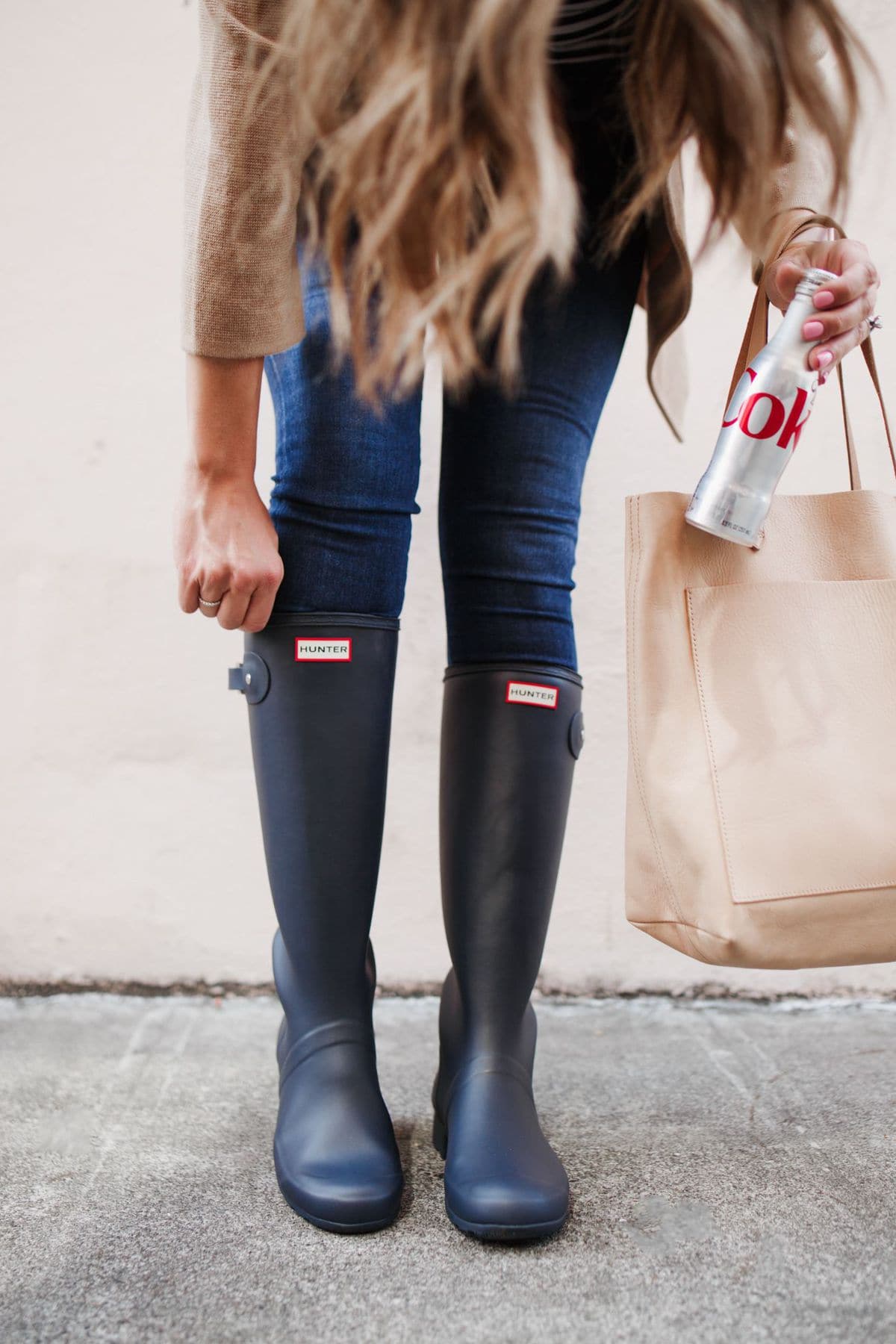 Spanx Leggings
Every time I wear these leggings I get SO MANY questions about them! The faux leather look is so much fun and these LITERALLY make you look ONE SIZE SMALLER.
I love pairing them with a tunic and loafers, but you could dress it up by doing heels and a statement necklace and be ready for a night out. These are actually a coated athletic legging, so they're way more comfortable than you might think, and they have a control top that makes everything feel all smooth and sucked in. They're amazing and 20% off!
The coziest cardi
I can wear this thing literally ANYWHERE! This is a cardigan I absolutely LIVE in year-round. They're totally amazing and they last forever. If you don't already own one NOW is the very BEST time to get a deal on one. This sweater is currently on sale for $86.98 (reg $116) and it comes in 12 colors!
Kate Spade Margaux Satchel
I had been wanting a bag like this for EVER and this Kate Spade satchel is all that and a bag of chips-which would totally fit in this bag by the way! It's the perfect size bag that fits all the essentials without being ginormous! Get it right now for 40% off during the Nordstrom Black Friday sale!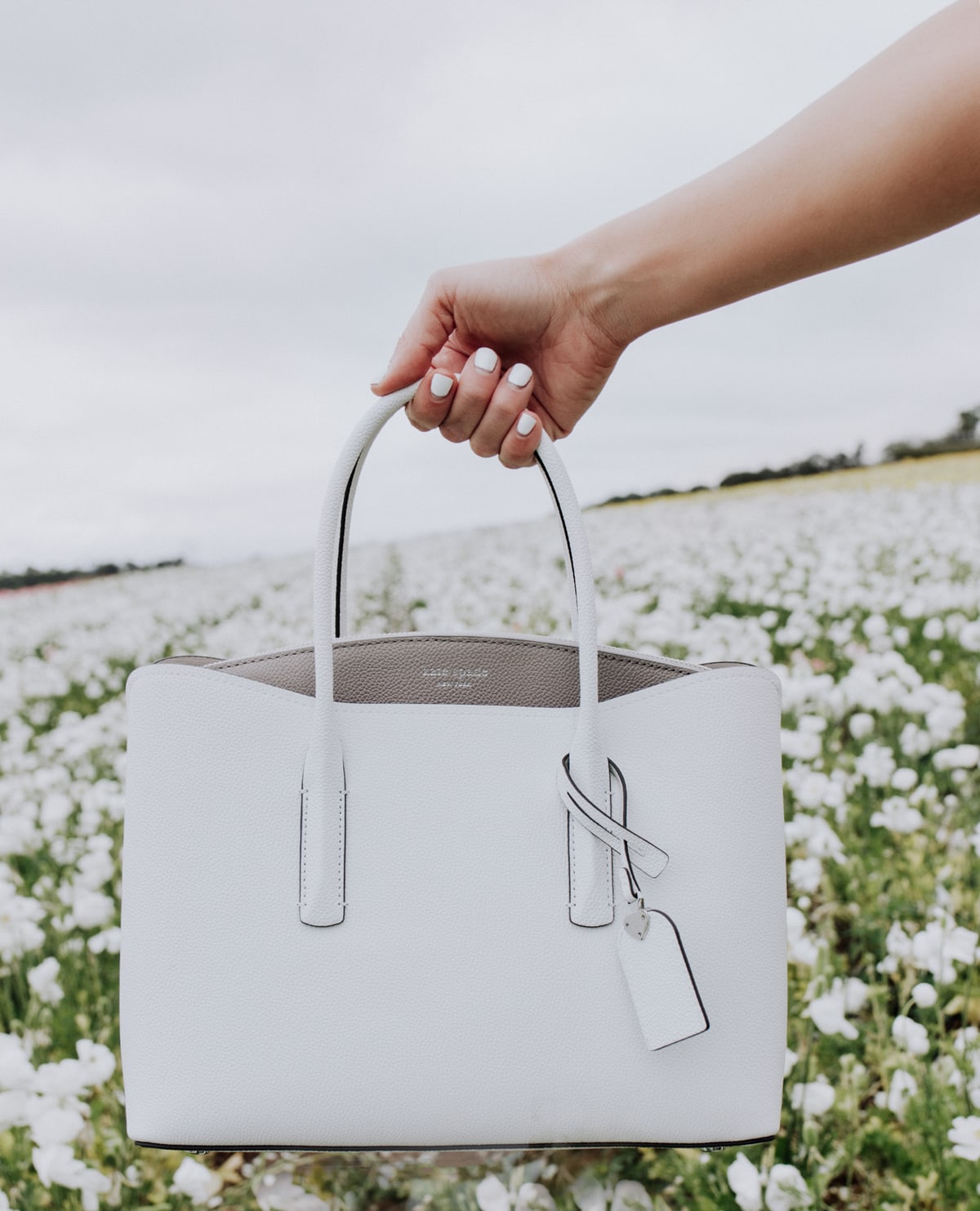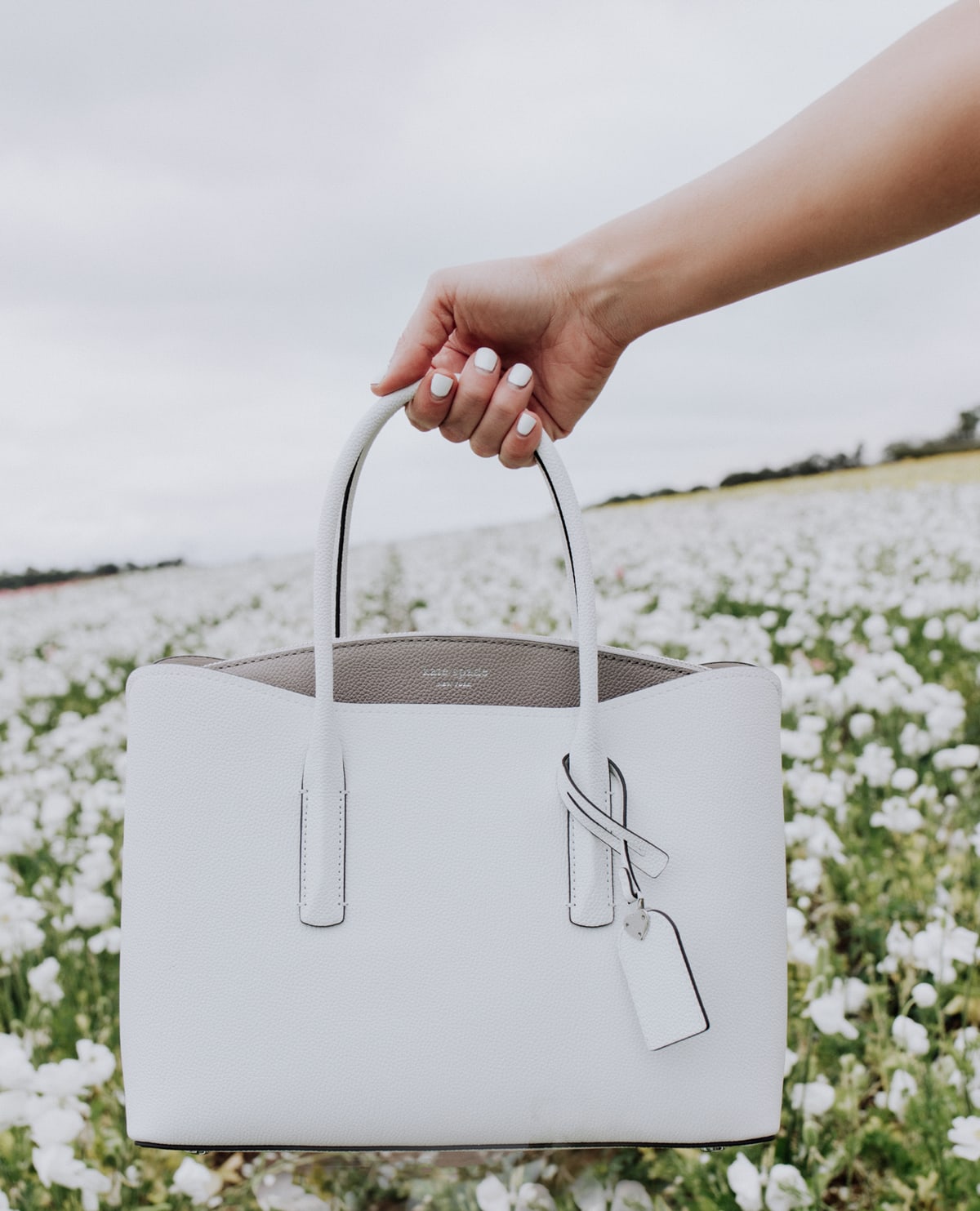 White V-Neck Tee
This tee has been featured in about a half a billion of my blog posts, because I love it so much. It's absolutely a closet staple for me and for less than $14 it's at the perfect stock up price!!
Tie-Dye Midi Skirt 40% off
Cowgirl Chic Boots 60% off
Cozy Knit Tunic 30% off
Sam Edelman Western Boots 60% off
Sam Edelman Petty Boots 40% off
DL 1961 Jeans 30% off
Tweed Blazer (low in stock), similar 50% off
Knee-High Boot (sold out in black), different colors 20% off
Cutout Sandal 50% off
Packable Hunter Boots 33% off
Spanx Leggings 20% off
Barefoot Dreams Cardigan 25% off
White Kate Spade Satchel, other colors 40% off
White V-Neck Tee 30% off
Photos by Arielle Levy
Don't miss out on this Nordstrom Black Friday deal
There are so many good options at Nordy's, but these are favorites I've had and worn in my closet forever and will continue to reach for again and again.
I hope this gives you a good start on your Nordstrom BLACK FRIDAY & CYBER MONDAY browsing! Don't forget about the cash-back offer too!!