It's been a hot minute since we found you a killer Kate Spade deal – but today, we found even more than that. This morning we found an entire SUPER TOP SECRET Kate Spade sale going on, as well as an incredible discount code!! A lot of these prices are WAY better than even Black Friday specials, so if you're thinking ahead to your Christmas shopping list – today is THE. day. to. buy! Keep reading for all the details, plus our favorite picks from the sale.
In a hurry? Go straight to my picks below!
Sometimes our hottest deals sell out REALLY fast, so if you want to be in the know and find out FIRST, you can join our bestie group text! And don't worry, I'll only send you the VERY hottest deals that have the highest sell out risk – PROMISE. To join the list, text DEALS to 949-506-2558
Deal details
Right now, there are TWO different ways you can score on your favorite Kate Spade styles:
TODAY ONLY you can get up to 75% off EVERYTHING at the super secret SURPRISE sale here!!!
If you can't find what you're looking for at the Surprise Sale, you can shop HERE to get 30% off all full-price items with the code HOOTHOOT at checkout!
There's a high chance that a lot of the good stuff will sell out quick, so I definitely wouldn't wait too long to add to cart!
Margaux Satchel
I talked about this bag in an Anthro post a while ago. I'd been wanting a bag like this for EVER and this satchel is all that and a bag of chips – which would totally fit in this bag by the way! It's the perfect size bag that fits all the essentials without being ginormous.
This satchel is currently not available in white, but it's available in three other gorgeous colors for 58% OFF making it only $149 (reg. $358)!!! That means you're saving $209. This bag has NEVER EVER been priced this low, I'm freaking out about it and I hope it doesn't sell out too quickly!
You can also grab this medium-sized satchel in peach for 60% off if you are looking for a smaller size!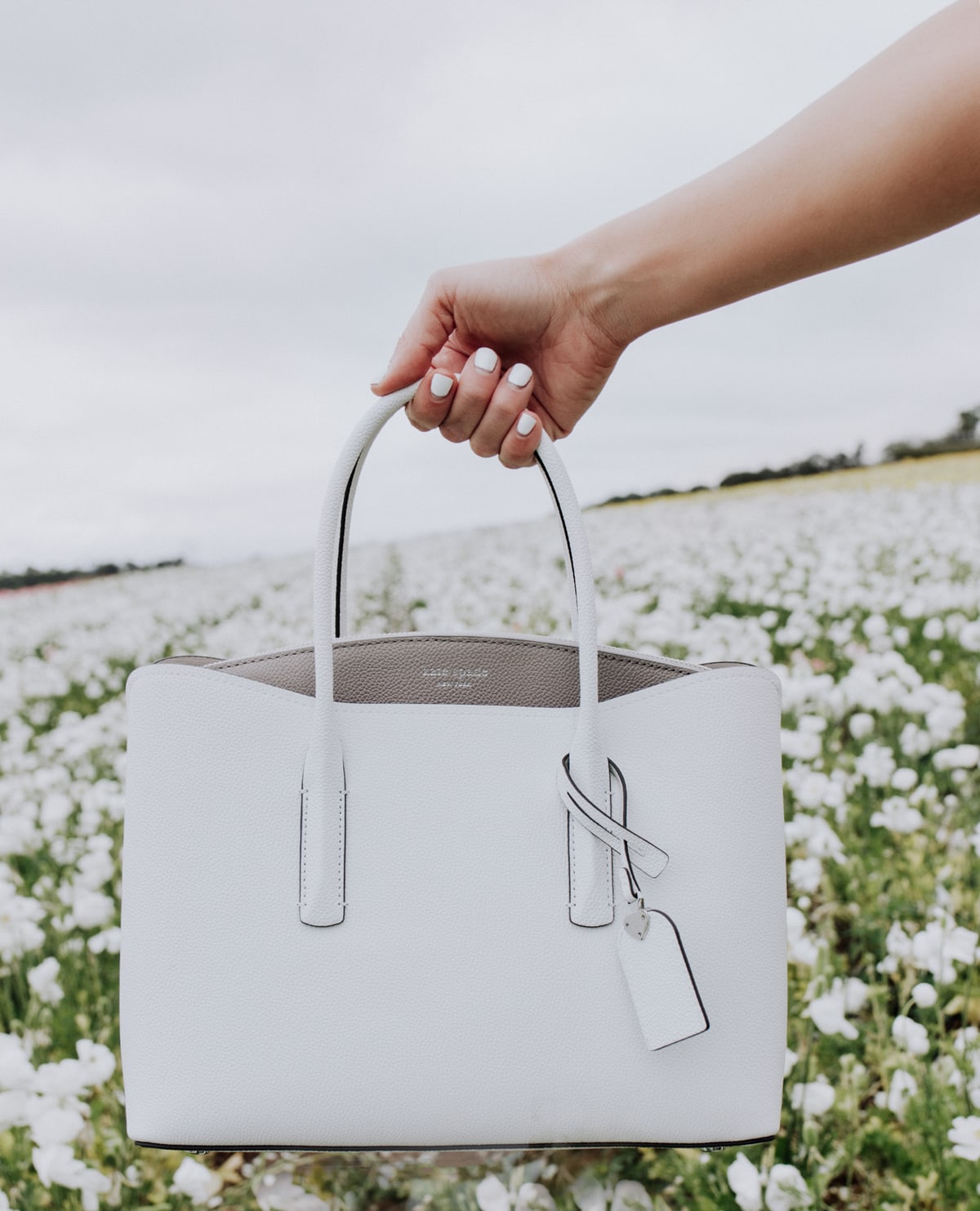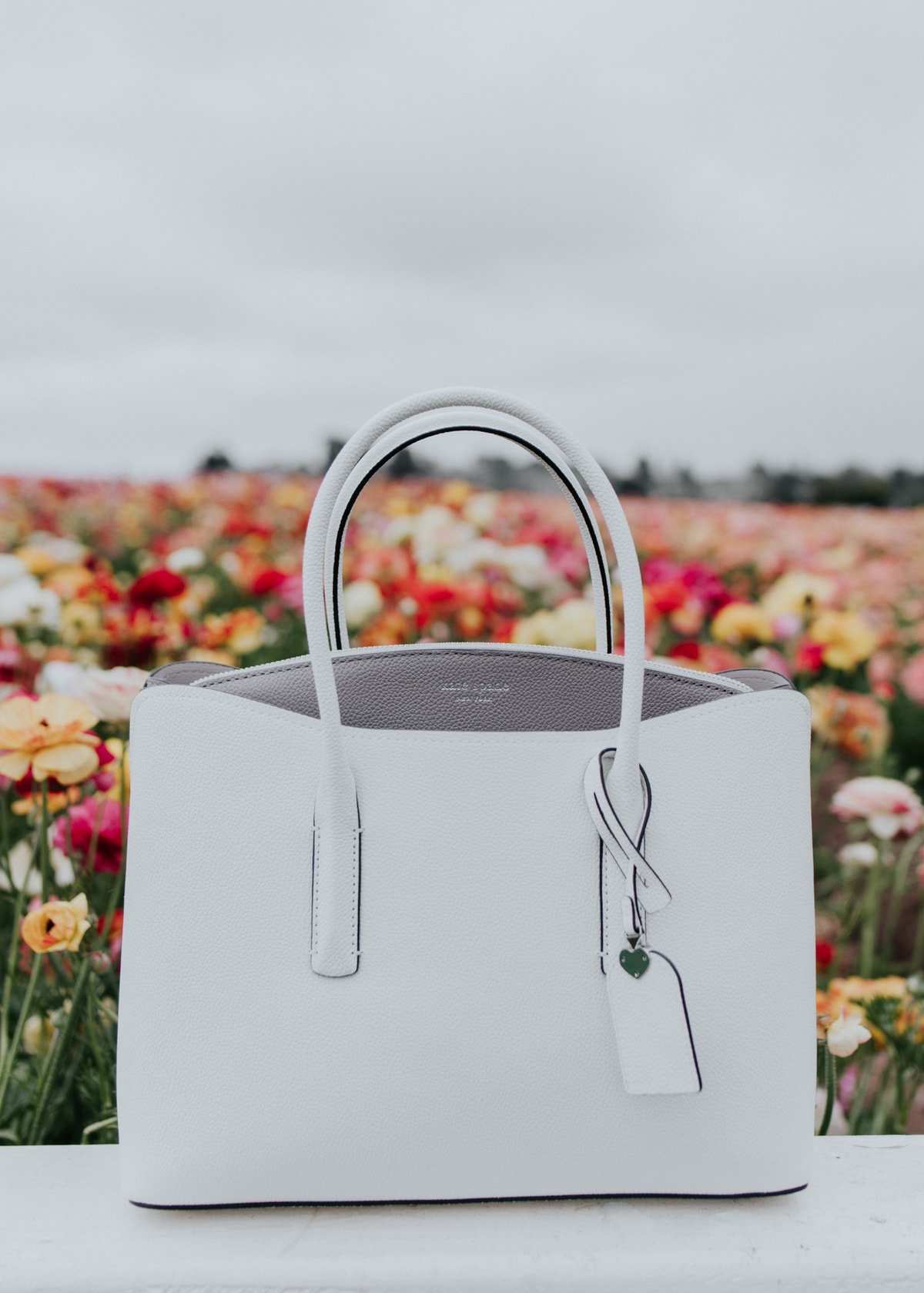 Why Kate Spade bags are so great
Kate Spade bags are worth every single penny for multiple reasons. This particular bag is made of refined grain leather, and the quality is amazing. It will not only "hold up" for years and years — but it will actually stay luxurious and beautiful!
If you're thinking of gifting a Kate Spade bag (again, Christmas will be here before you know it!), it'll be a gift that someone will be able to love and use for a long, long time.
How to care for your Kate Spade bag
If you're worried about taking care of your bag, or wondering if it can get wet, check out what I found on their website!
"The leather used in the design of Kate Spade handbags is specially chosen from the finest tanneries in Italy and Asia. Most of our leathers have been treated and are water and scratch resistant. Should your handbag become wet, wipe gently dry with a soft cloth. For regular cleaning, a damp cloth and mild leather cream may be applied."
Are Kate Spade bags still in style?
These bags are TIMELESS. Their look is classic, minimalist, and chic — something that will never go out of style! If you're wanting to treat yourself to a high-end purse that you know you'll be able to wear for years, Kate Spade is IT.
Especially when they're up to 75% off!
Let's talk returns
If you're shopping the Surprise Sale, your purchase is final sale.
But, if you're buying a full-priced item here and using the code HOOTHOOT at checkout for 30% off, your purchase is eligible for Kate Spade's amazing return policy!
If you live in the United States or Canada, Kate Spade returns are FREE with the prepaid return label attached to your packing slip. So there's no risk when buying! Full price merchandise is returnable within 30 days. And get this — even items you used the HOOTHOOT discount code on are able to be returned, as long as you complete the return within 14 days of your purchase!
Sale FAVES
If you're looking for a way to treat yo self (or your mama, sister, friend, etc.!) for WAY less than full price, see all our FAVES from these Kate Spade sales below. Remember, you can get up to 75% off TODAY ONLY by shopping the super secret Surprise Sale here, and you can get 30% off full-priced items using the code HOOTHOOT at checkout here!
Surprise Sale TODAY ONLY (up to 75% off)
30% off with code HOOTHOOT