Today we have a HUGE surprise in store for you!!! In honor of the re-release and update to my popular Best Baby Registry List Ever, I've teamed up with some of my very favorite baby brands to majorly spoil one lucky parent. Enter below or click here, and keep reading to see why I love these brands and am so excited to be giving away something with each of them!!
Giveaway Details & Timeline
Giveaway runs Monday, February 15th at 10 am PST – Monday, March 1st at 10 am PST
Open to U.S. residents only
All entries are through ViralSweep
By entering your email you are agreeing to subscribe to all participating brands newsletters
SNOO bassinet
The SNOO bassinet from Happiest Baby is practically like having a mother's helper around the clock in your house…FOR REAL! It's a smart sleeper that actually responds to your baby's fussing and movement. So if it senses them tossing and turning or crying out, it will respond with increased rocking and white noise to soothe them! It comes with tracking capabilities on your phone, including how long their longest stretch of sleep is by the day. You can also set it to a more gentle mode if you have a preemie baby, and a weaning mode when you're ready to wean them and move them to the crib.
It comes with swaddles that attach to the bed and keep baby on their back, so it claims to be the safest bassinet on the market. AND let's talk about how beautiful it is! The minimalist and chic design of the Snoo looks good in every nursery.
This bassinet retails for $1,495 and I'm SO excited to include this in our giveaway!!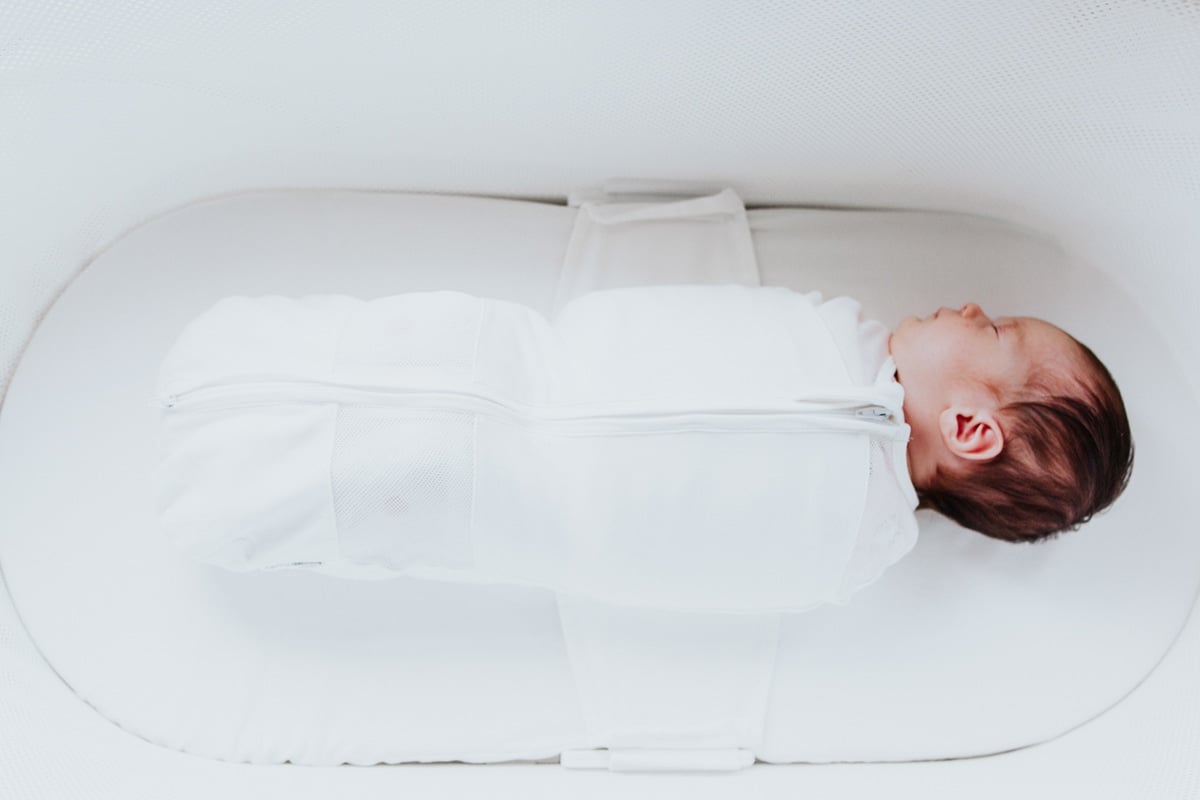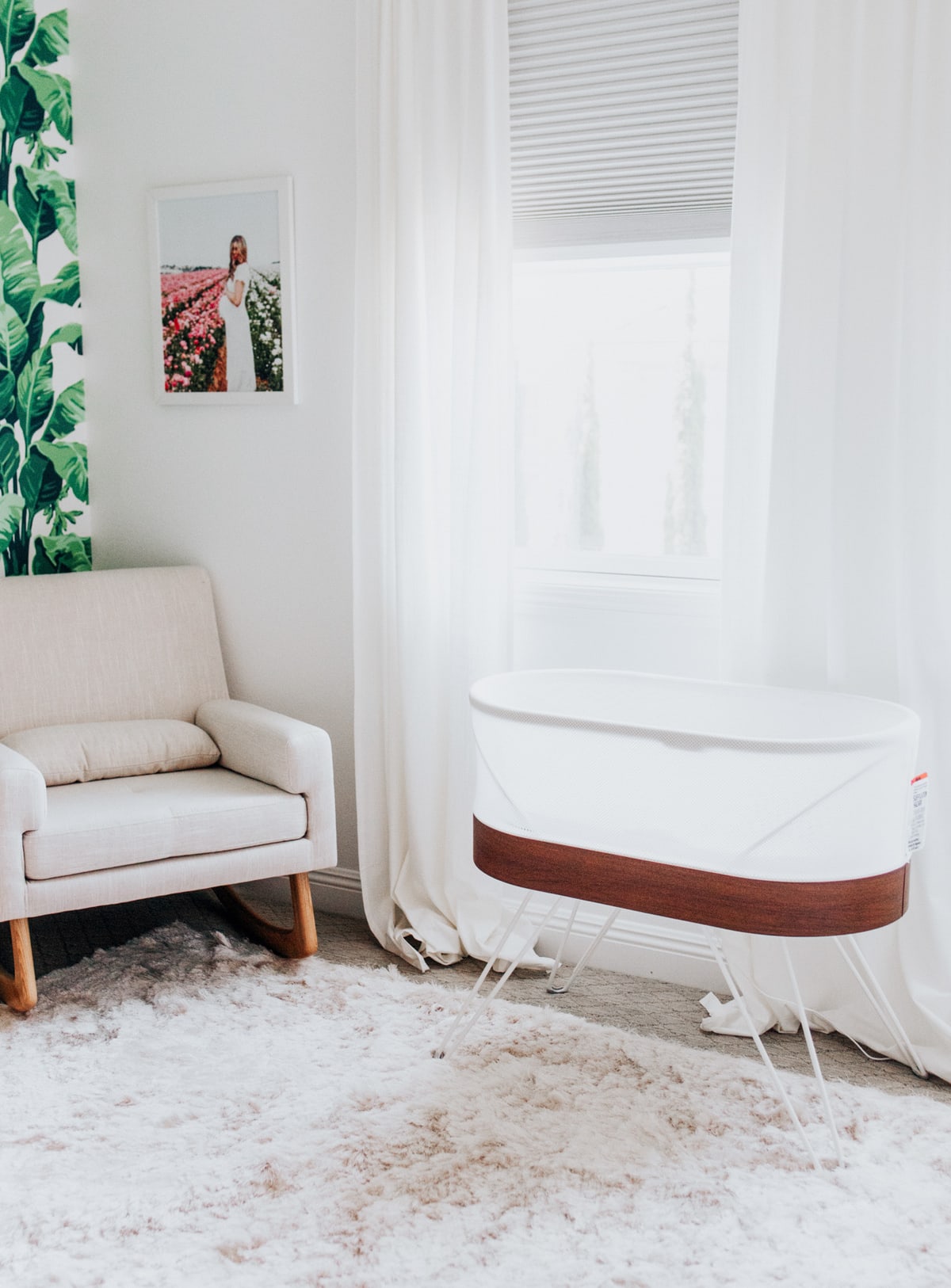 The Baby Cubby
The Baby Cubby is known for being the very cutest and most chic place to shop for your baby if you live in my home state (Utah!) and they also offer online shopping too! We're actually headed to Utah the last week of February so if you make sure to follow me @mintarrow on Instagram, I'll take you on a little virtual tour when we visit their store.
The Baby Cubby has generously agreed to give away this HUGE splurge – the UPPAbaby VISTA V2/MESA Travel System ($1300 value)! This is their VERY favorite travel system, and it's probably our MOST used double stroller. The undercarriage basket is AMAZING, it glides like a dream, it can go from a single to a double stroller with a million different configurations, it comes with a bassinet, and although I've never owned the Mesa personally, I've heard nothing but RAVE reviews from everyone who has.
Copper Pearl
Copper Pearl is where I found the perfect little sloth changing table cover for Harry's nursery, and they carry SO many cute bibs and car seat/nursing covers and hats and burp cloths and all kinds of adorable little things for your new babe! Someone's going to have a darling setup on their hands when they win a $350 credit to outfit their nursery and their baby in Copper Pearl!
DockATot
Dockatot is for sure one of my top 3 favorite new things we've gotten for our last two babes!! I am telling you – this thing is incredible! We use it for everything from lounging to tummy time to a safe place to let baby lay under the shade on beach trips and I MAJORLY underestimated how much I would love it. It's the perfect place for my babies to snuggle up and I loved it during recovery from my c-section because I could set my babies right next to me. We've brought it from room to room in the house and even to the beach! It also creates the perfect "safe zone" when older siblings are playing or wanting to snuggle on the bed. I also love that it's lightweight enough that I can move it around the house.
We used our Grand as an easy little trundle-type bed for Lyla to sleep next to Anabelle's bed before we moved them in together permanently into a shared bedroom. That was her go-to sleep spot for the weekends when they had "sleepovers" and now Millie loves to use it for lounging and naps too!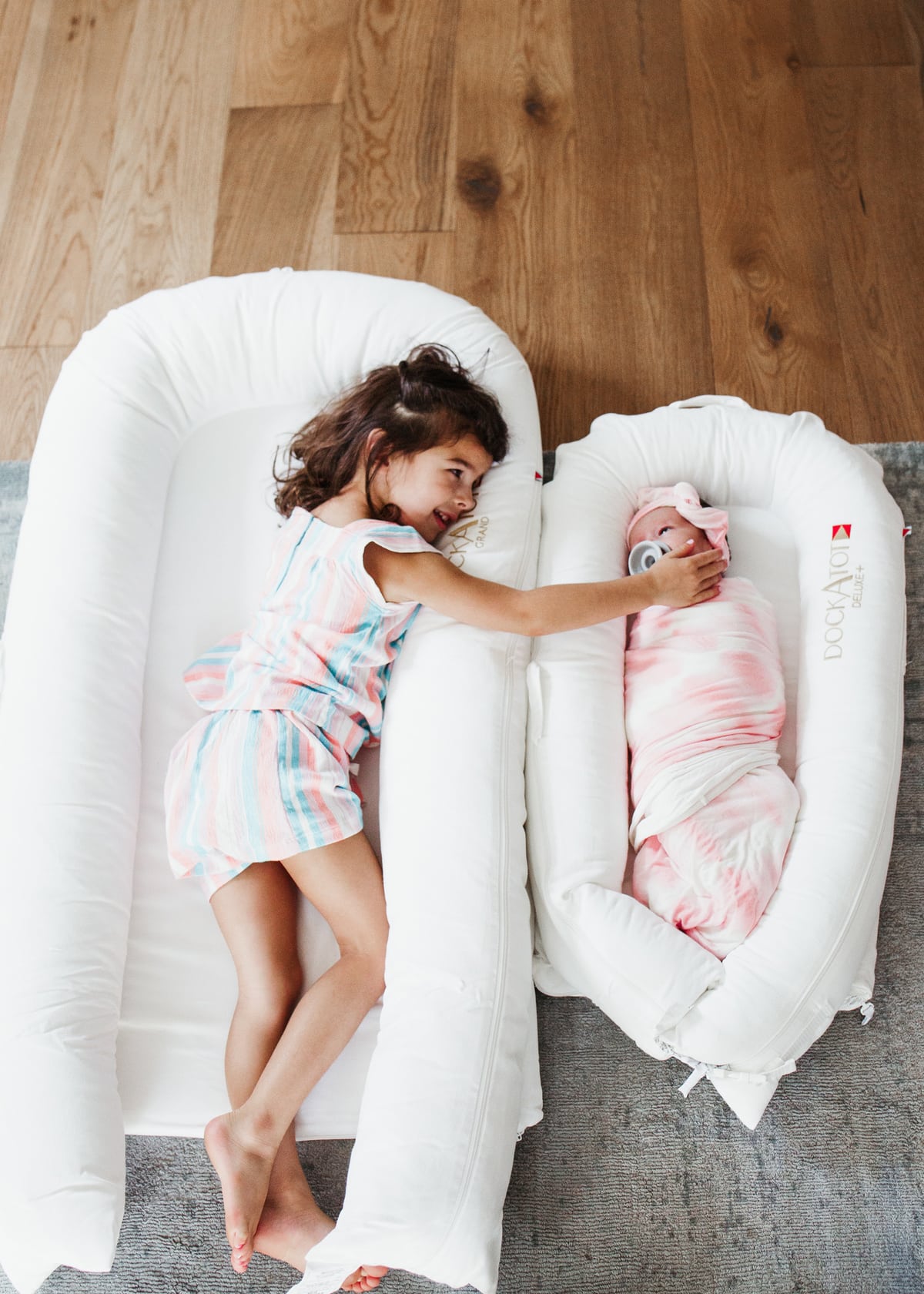 Freshly Picked
Ohhhhh Freshly Picked! They're so nostalgic and sweet to me, my babies' FP moccs. Every one of my babes have learned to walk in their moccasins, including Anabelle who wore one of Susan's first pairs that she actually hand-sewed herself and brought to an auction where she was raising money for a man with little kids who had just been in a snowboarding accident. Yeah, she's that kind of person!
Their moccasins are SO beautifully made, and now they make the very nicest kids shoes too!
I also am a MAJOR fan of her perfectly-crafted diaper bags that are huge enough to hold my laptop but light enough to carry with all the gear I needed when both my babies were in diapers and not break my back! She crowd-tested her bags with MOMS who gave her all the feedback on where to put an insulated pocket and where we needed zippers and why the top handle was so important and how to perfectly construct the long shoulder strap AND the backpack straps that can all be adjusted and hidden to meet your exact needs and it's honestly the bag we use the very most now.
Saranoni
Saranoni is one of my VERY, very favorite things to gift to people I love. I've given them to my mom, my OBGYN (who I love so much!), to dear friends when they've had babies, to friends who are grieving, to my brothers for Christmas, to my in-laws, the list goes on and on. They have THE VERY BEST luxury blankets I have ever tried – and trust me when I say I've tried them allllllllll.
They have the best baby boy and neutral patterns that I was SO excited to finally get to use when I had Harry! One of my newborn photoshoot tricks is to put my babies in plain white onesies but then swaddle them in a darling patterned blanket. It makes for perfect newborn photos without the stress of choosing outfits!
Millie has become completely attached to her Saranoni blanket and luckily we have two so I can sneak one into the wash while she snuggles the other! Their receiving blankets are PERFECT for tucking into an infant car seat, but you'll fall in love with how soft they are and want one yourself too – trust me! If you don't win the giveaway, you can use my code MINTARROW to get 15% off!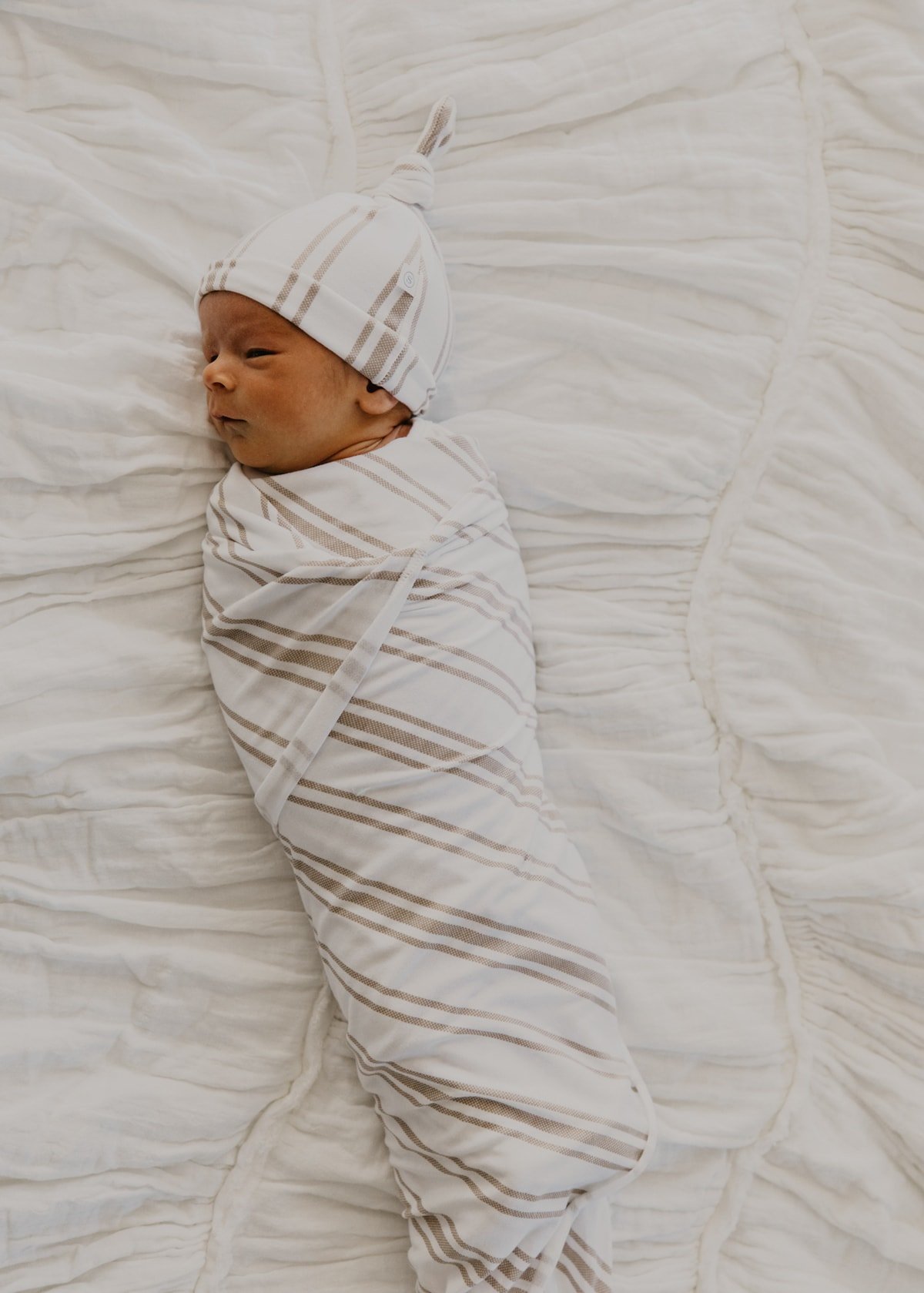 Solly Baby
Solly Baby wraps are the most premium, made in the USA, highest quality baby wraps that keep your little ones close and safe while you're able to do things so many new moms struggle to find time and free hands for – like putting on makeup or making themselves a sandwich!
It's been on my best baby registry list ever since its original draft, long before I even owned one myself, that's how badly I wanted one!
I wore my solly wrap like crazy with 3 of my 4 babies (I just didn't own one with Anabelle because they weren't a thing yet!) and I'm already super-duper loving my Loop Carrier with Harry. I used it in this recent reel I made at a cute little farm close by on a Saturday, but I've also used it to wear Harry around the house lately while I'm making dinner and he wants to be held.
This is another GO-TO baby shower gift for me that I've given to many close friends and relatives and I can't wait to empower a new parent to wrap their baby in their own Solly wrap too.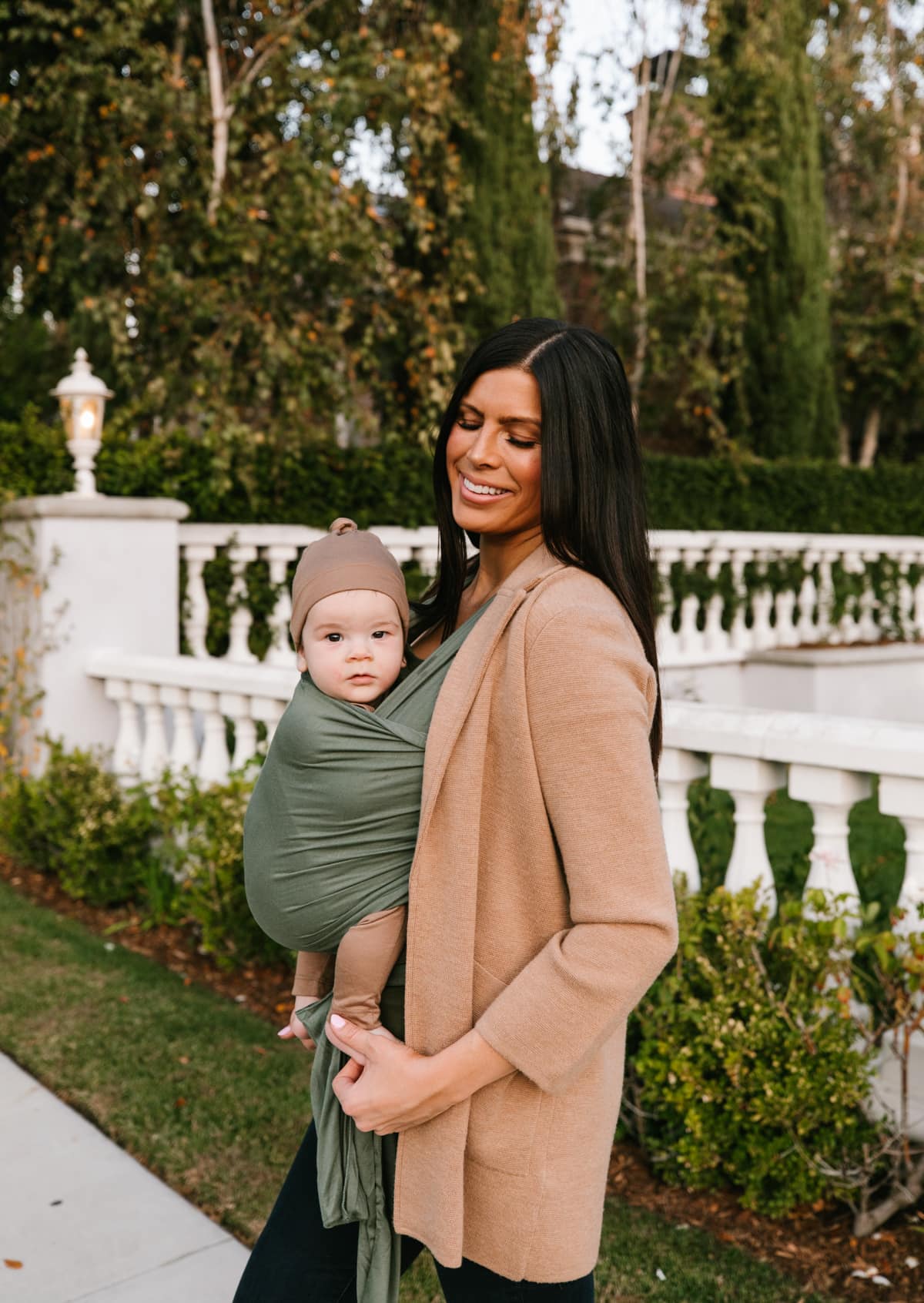 Top Knots
I mean could you just die?! I don't know if these even need an explanation they're SO DANG CUTE. The top knot was the best thing that happened to me when I had the baby with the WORST hair loss of all 3 of my babes haha. Poor Millie had a pretty bad bald spot from sleeping on her back after just a few weeks, but her Top Knots kept her looking so cute! They were probably my very favorite accessory of hers and maybe the only thing I was bummed about not being able to use when we had a boy. $350 shop credit is up for grabs in this giveaway and I couldn't be more excited about it!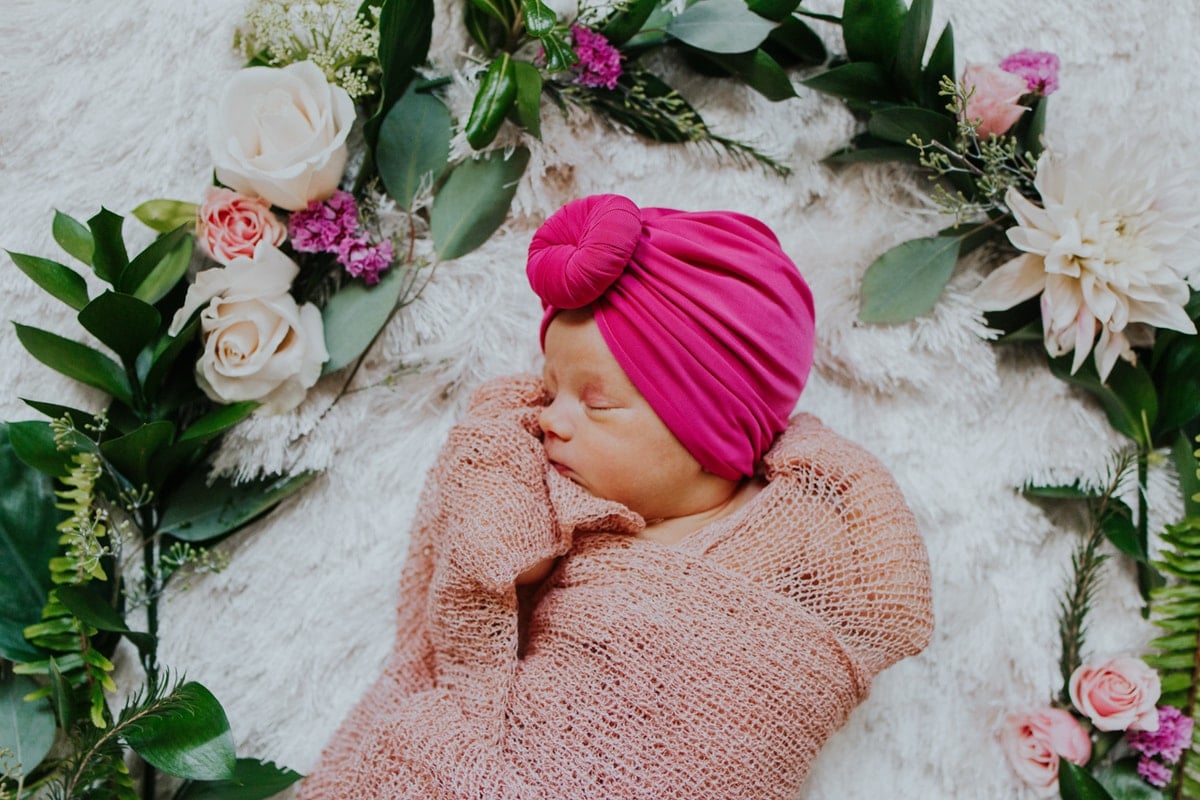 Tubby Todd
If you've ever read my best baby registry list ever, you know we swear by Tubby Todd. Their soaps and lotions are the only thing that keep my baby's skin soft and free of eczema, and their all over ointment is straight-up magic sauce!!! I don't know what's in it, but I swear it will clear up any weird skin issues your baby has OVERNIGHT. Cradle cap? Eczema? Weird inexplicable rash? BYE! It's gone in about a day when I use the all over ointment. It's also magical for my own super dry cracked heels or knuckles if I travel to dry spots in the winter (I'm looking at you, Utah.). They're giving away a $350 credit to their store. Soap for a year anyone?!!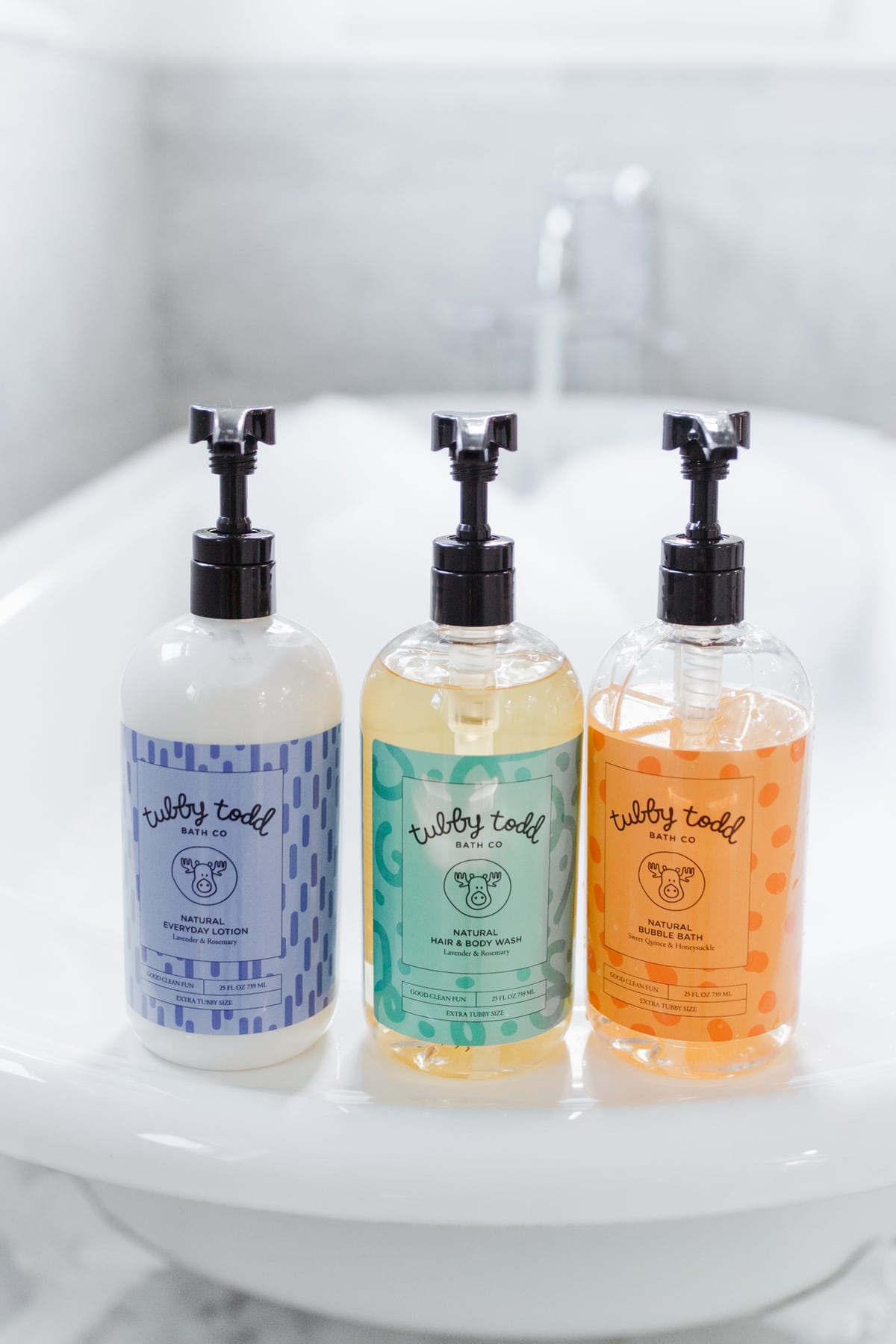 Good luck!!!
Okay now that you know why we love all of these brands, are you ready to enter?!? Good luck and I'll be praying (sincerely!) that someone who really will appreciate this will win. Enter above or click here to enter!
Lots of love,
Corrine