You guys today there are SO MANY GOOD BABY DEALS that I knew we had to post about today to make sure any of you expecting mamas or parents with kids who need bigger car seats or boosters or an amazing travel stroller or an affordable diaper bag could snatch up these deals while they're still hot!
Right now you can get REALLY good deals on britax car seats here, like the Britax Frontier Clicktight pictured above. We LOVE this booster because it still has a 5-point harness (hard to find) but since our Ani is so TALL but still kind of rambunctious as a 4 year old, we needed something that would both fit her and keep her contained.
We also LOVE the Britax Boulevard Clicktight! The side impact protection makes it a safer car seat, and it's nice and padded for those times when you're hoping your kiddo will fall asleep on a long ride! We've bought cheaper car seats with very thin padding and it does make a difference with how easily our kids fall asleep in the car.
Both of these car seats are magically easy to install. You literally push one button to pop the bottom open, buckle the seatbelt in, and pop the bottom back down and you have a 3 second installation that's safer and easier than a majority of other car seats. If you get in an accident, the seatbelt clenches down (just like it would on an adult in a car!) and the car seat becomes part of the car. Pretty awesome.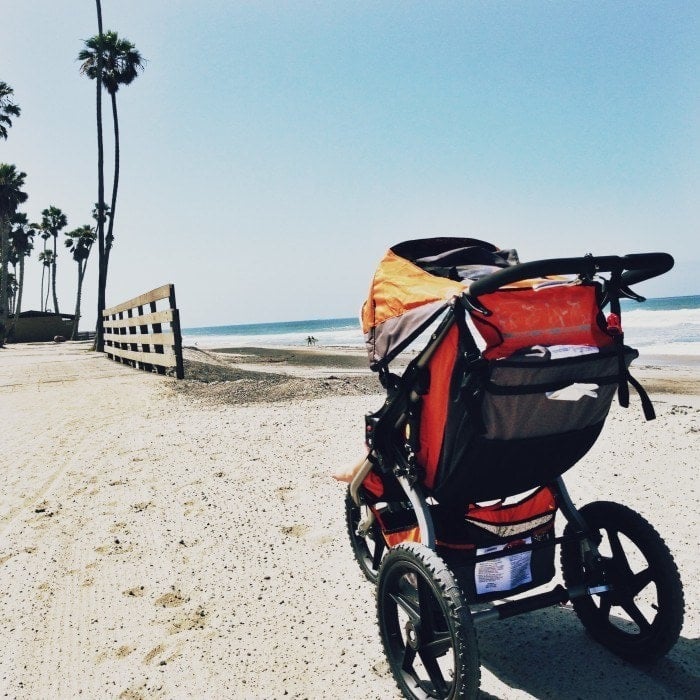 I know several readers have asked me recently about deals on BOB strollers, so I'm excited to share this one! Right now you can get $50 off brand new BOB strollers here!
This is the stroller we swear by for running and for any rough terrain. This is the only stroller I'll take down to the beach, because any of my other strollers get stuck in the sand! It's super durable and has great suspension and a really nice big sun shade for the baby.
The picture above is an older BOB, but the newer BOB stroller on sale here has an even bigger undercarriage basket, fully upright seating, an adjustable handlebar, and a nicer brake than older versions. I've seen it in person and it's SUPER nice!!!
Looking for an affordable diaper bag? This cute City Faux Leather Diaper Backpack is on sale 75% off at $37.49! Such a steal, and such a cute bag!!!
And finally, for maybe my favorite baby deal currently, you can get an AMAZING deal right now on the City Lite stroller!!! I often get asked what my favorite umbrella stroller is and you guys, THIS IS IT! This little stroller is like the lightest weight little baby sister to the City Select stroller that I love so much.
The City Lite Stroller has a one-hand quick fold, only weighs 16 lbs, has a large sunshade with two peekaboo windows, and has all-wheel suspension. I LOVE this stroller for traveling. It's so easy to pop open or closed to jump on or off public transit, or at Disneyland, at the bottom of an airline ramp right before you board a plane, and it takes up almost zero space in the back of a car. I'm obsessed!
And right now you can get the City Lite in red or the City Lite in tan for $99! That's $80 off the original price of $179.99. Several years ago when Target had a slew of these that they marked down to $100, people went CRAZY trying to get one at their nearby Target and I watched baby boards that I belonged to erupt in frenzies of people trying to contact each other about where they had seen more in stock at various Target locations so yes, this is an insanely good deal.
To see ALL our baby favorites and must-haves, go to my best baby registry list ever.