Summer is coming and I want to spend as much time as possible enjoying all the sunshine and amazing weather and less time in my closet trying to figure out what to wear! Standing in front of a closet full of clothes and thinking, "I HAVE NOTHING TO WEAR!" is kind of the worst, right?! That's why I'm all about closet staples and tried and true favorites. These pieces are my very favorite summer clothes for women this year (and I've added a few accessories, too!)
My hope is that these items will help you combat those "nothing to wear" moments! Throw these items together, feel super cute, and get out the door in a flash!
#1: Tee Dress
This Carissa Tee Dress totally exceeded my expectations!! I wasn't sure if I would like it but gosh, I LOVE IT! Like I hope people don't notice how much I repeat it, kind of love. Maybe I buy it in another color, kind of love. When it came to picking out summer clothes for women this year, I knew I wanted this dress to be on the top of my list!
It's got magical gathering just under the bust line that's super flattering but doesn't feel like maternity. Although you totally could wear this with a bump!
It's long enough even for my 5'10" body but you could easily have the bottom hemmed too if that's too long!
I followed the suggestion to order 1 size down and I'm so glad I did! It runs slightly big. Not like gigantic but just enough that you'll be glad you went down 1 from your normal size. It's sold-out in the soft blue color I'm wearing, BUT the faded peach, solitary star, and black colors are all calling my name! Considering how much I'll be reaching for this dress this summer, having it in a few more colors is necessity!
Also – peep my bracelets! They're my new favorite, and NOT just because they're soundproof (read: they don't jingle), weatherproof, weigh nothing … but they also have "serenity" written on each of them so I've gotten in the habit of saying the serenity prayer each time I put them on, and as I'm taking them off at night. For sure one of the best habits, I've picked up in a while.
The crossbody weaved bag I'm wearing here is so cute and perfect for the "grab and go" function I'm typically looking for when I have a quick errand to run WITHOUT kids! I just need something to fit my phone, wallet, keys, and a lippy and this one does that perfectly. But if you want to go up just a tad in size, this one gets great reviews and is just a little bigger!
Save Option
This T-Shirt Dress from Target doesn't have the same amount of detailing, but I'm totally loving the simple and lightweight style for this summer. This dress looks super comfy, and for only $20, you can get it in multiple colors to wear all throughout the season!
#2: Jump(er) into Summer!
New favorite romper
This super lightweight romper is soooo pretty and feminine. The lace cutout details paired with the ruffle bottom legs are super pretty, but it's extremely lightweight so you can layer up or cool off and wear it from spring right on into summer.
I also love that it looks kind of like a dress, but functions like pants. Oh and that drawstring waist is helpful to not feel like you're wearing a total mumu (which hey – not against that look!) but it helps give you a bit of a figure.
I also love the little buttons, too.
This romper runs TTS. It also comes in a super pretty muted olive color that YES, I'm absolutely tempted to wear too.
More Go-To Summer Romper Options
If you see your size in stock for either of these rompers, RUN!!! There's a reason this Homecoming Jumper is a top-rated item at Free People right now. It looks oh so flattering and loose and lightweight for those oh so hot summer days! I would totally wear this with my Honey of California tee underneath for added modesty. It comes in three of the most beautiful summer colors, so if you don't see your size available in one of the color options, you might be in luck to JUMP on it in another color option! For only $78, sign me up for this staple that I know I would wear all summer long.
This modest jumper is EVERYTHING. I can totally see why this piece is named "My Go To Jumper" because this is for sure a "go-to" closet essential! Something really important to me when I was looking for my favorite summer clothes for women this year. Especially when we're talking mom life, throwing on a quick jumper like this on a busy morning is truly one of the most satisfying things.
I love when I can look like I put in a lot of effort, without putting in any effort at all! If you have kids, you probably relate. The peachy cream color is SO pretty, and such a perfect color for the sunshine months ahead!
#3: Floral Maxi
The tiered hem and cuffed sleeves on this dress are so flirty and feminine! My favorite feature is that it's double-lined! The dress has a little bit of a lower neckline and I think the lower v-neck of the dress looks so pretty layered over the higher v-neck of the liner. (The nude liner is detachable if you feel like you don't need it.)
This is such a great summer closet staple for church, date night, or for a beach vacation. (Boardwalk strolls in this? Yes, please!)
#4: Greece Sandals
Been wearing these designer-inspired Greece Sandals for a couple summers now and I AM OBSESSED! I also just tried out a slightly less expensive sister style that I think is even MORE comfortable! They do run slightly narrow so go up 1/2 size if you're in between sizes.
#5: MZ Wallace Tote
This is my ultimate EVERYTHING bag! It HAD to be included in my "summer clothes for women" guide because I use it almost every day during the summer months especially. It squishes into the smallest corner of your suitcase and pops out looking perfect, it wipes clean, and it has removable zipper pockets on the inside. This bag is the perfect summer closet staple because it can go to the beach, to the gym, and I've seen it in the hippest places from New York to LA.
It's definitely on the pricey side, and although I really think it's worth the investment, I found a super similar but more affordable version here!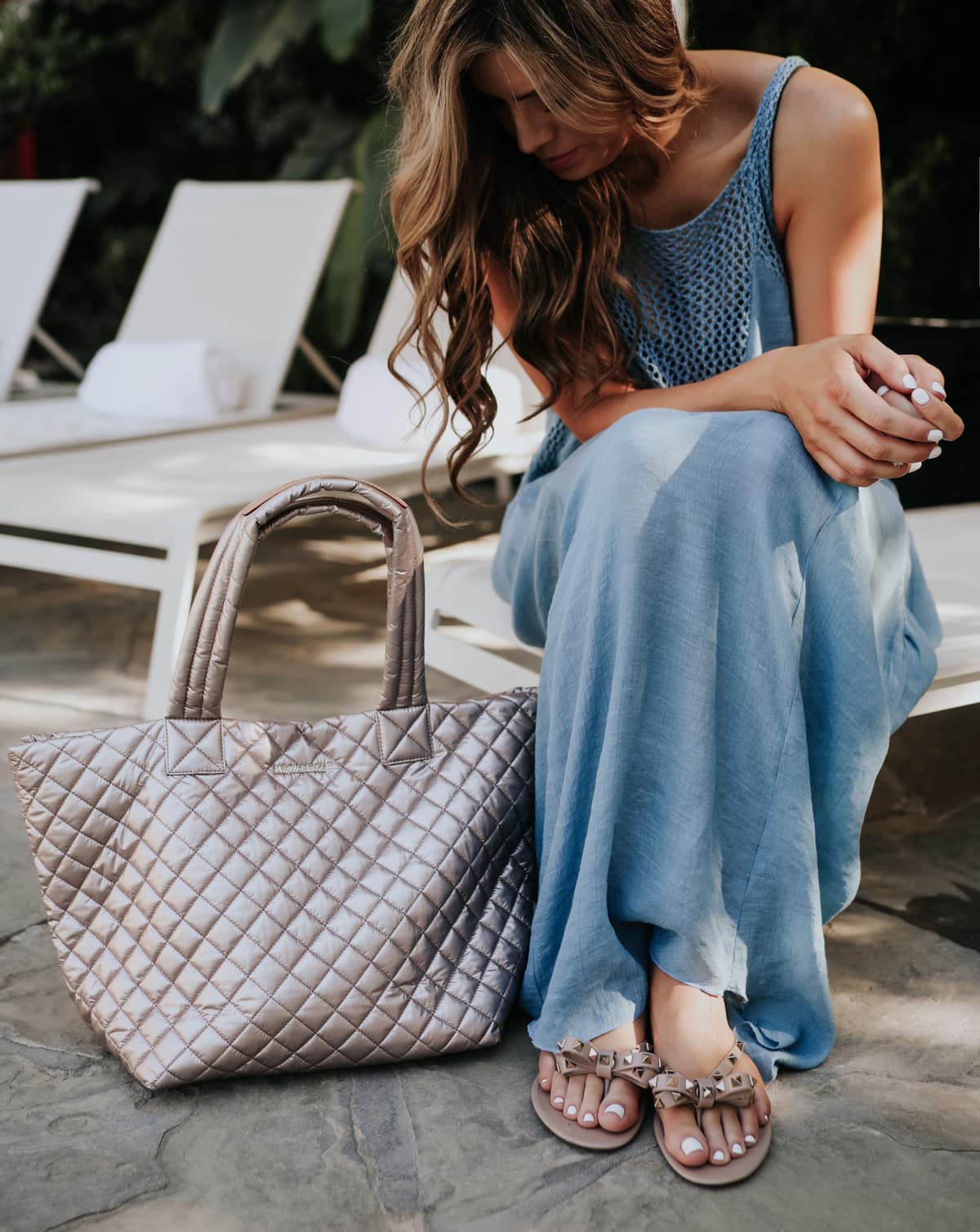 #6: Faux wrap one piece Amazon swimsuit
If we're talking summer clothes for women, we have to talk SWIMSUITS, right?! I already owned this swimsuit in a creamsicle color scheme and wore it to DEATH the past two summers!! I decided to grab it in this super cute navy, pink, and white color block and it once again did not disappoint! I love the fit, the colors, the side tie, and that it's just a little different than any other swimsuit I've ever tried. This suit is a perfect 10/10 for me, and it's only $32.99.
#7: Ray-ban Aviator Sunglasses
Ray Ban sunglasses: I really, really love these sunnies because they're so lightweight, and you can wear them all day without getting a headache. These are one of my favorite summer closet staples, because you can wear them with your dressiest outfits or running errands in yoga pants and a tee! If you want to save a little, here's a super similar option.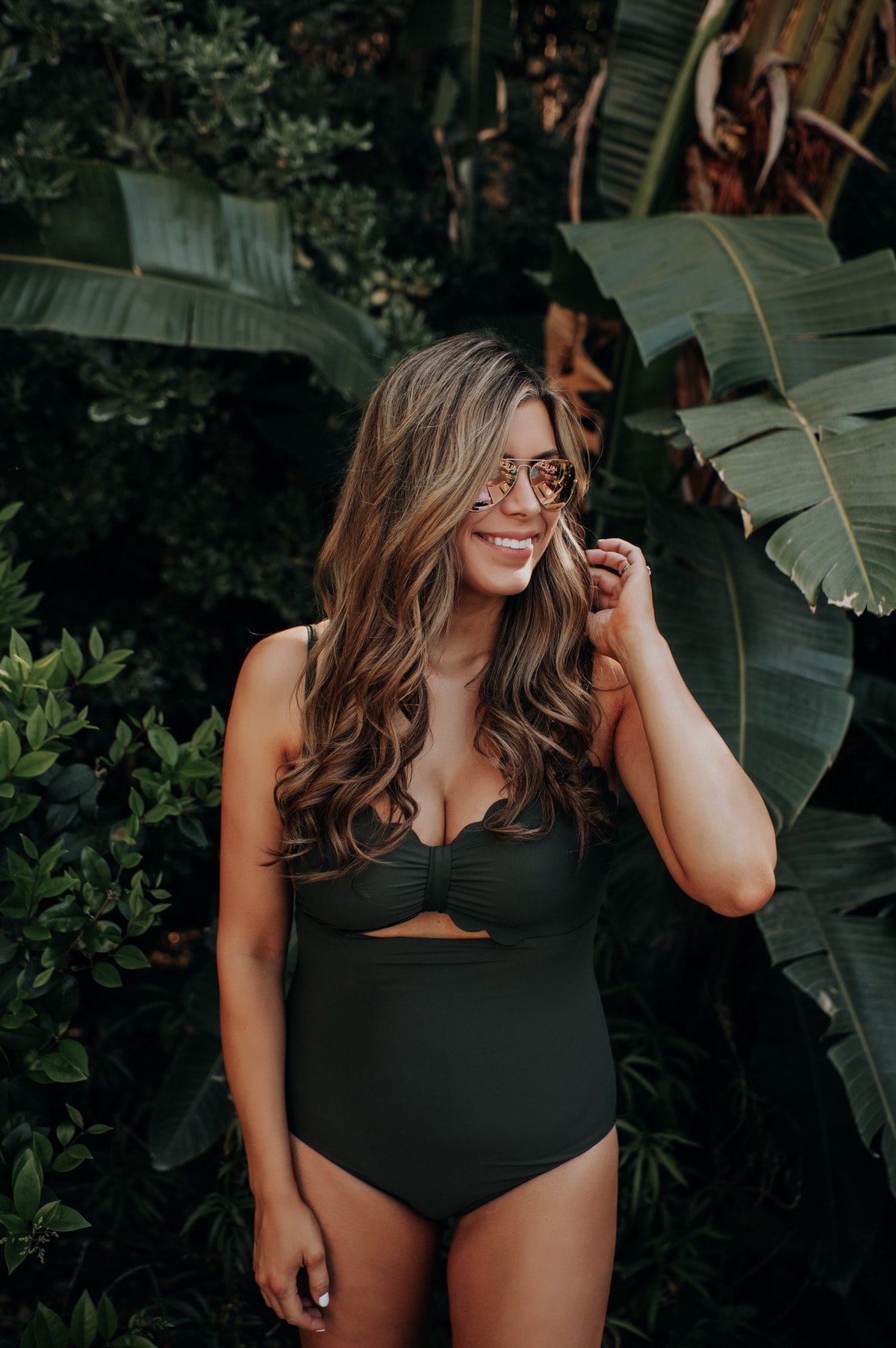 #8: Biker Shorts
Splurge Options
The Spanx version is a long-time favorite because they are way more slimming, but they will cost you a few more pennies. The Zella version is also amazing and a little more affordable and a little more comfortable for all-day wear. You really can't go wrong with either!
I also recently tried this Lululemon version of biker shorts and oh. MY. gosh. They take the cake for perfection. Thin enough for even the sweatiest conditions (I'm looking at you, FLORIDA 100 degrees 100% humidity!!) but still enough coverage to not look naked, just feel naked (HA). They're worth every penny all day long. BONUS: they're high rise, but long enough for my 5'10" legs in this length, or you can go shorter if your legs aren't as long!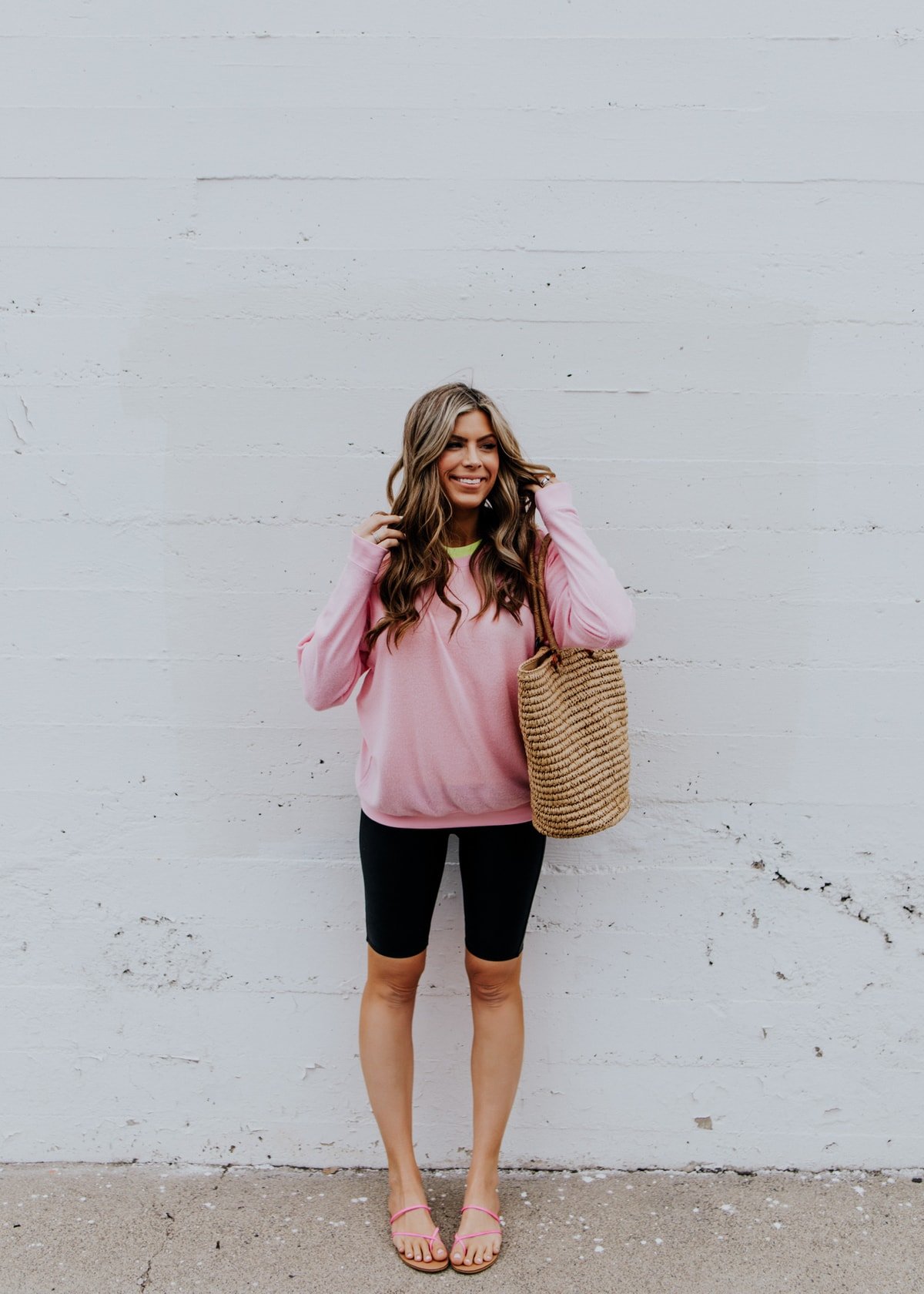 Original Post Here
Pink Pullover sold out, similar
Neon Tee sold out, similar
Bike Shorts
Neon Pink Strappy Sandals sold out, similar
Nude Straw Tote sold out, similar
Photos by Arielle Levy
Save Option
These black biker shorts have super high reviews and are just over $20! Such a great save option, and since they're so affordable you might be able to get more than one pair to spread the wear in between washes. In the summer I know all I want is to be comfy and cool, so the more biker shorts the better!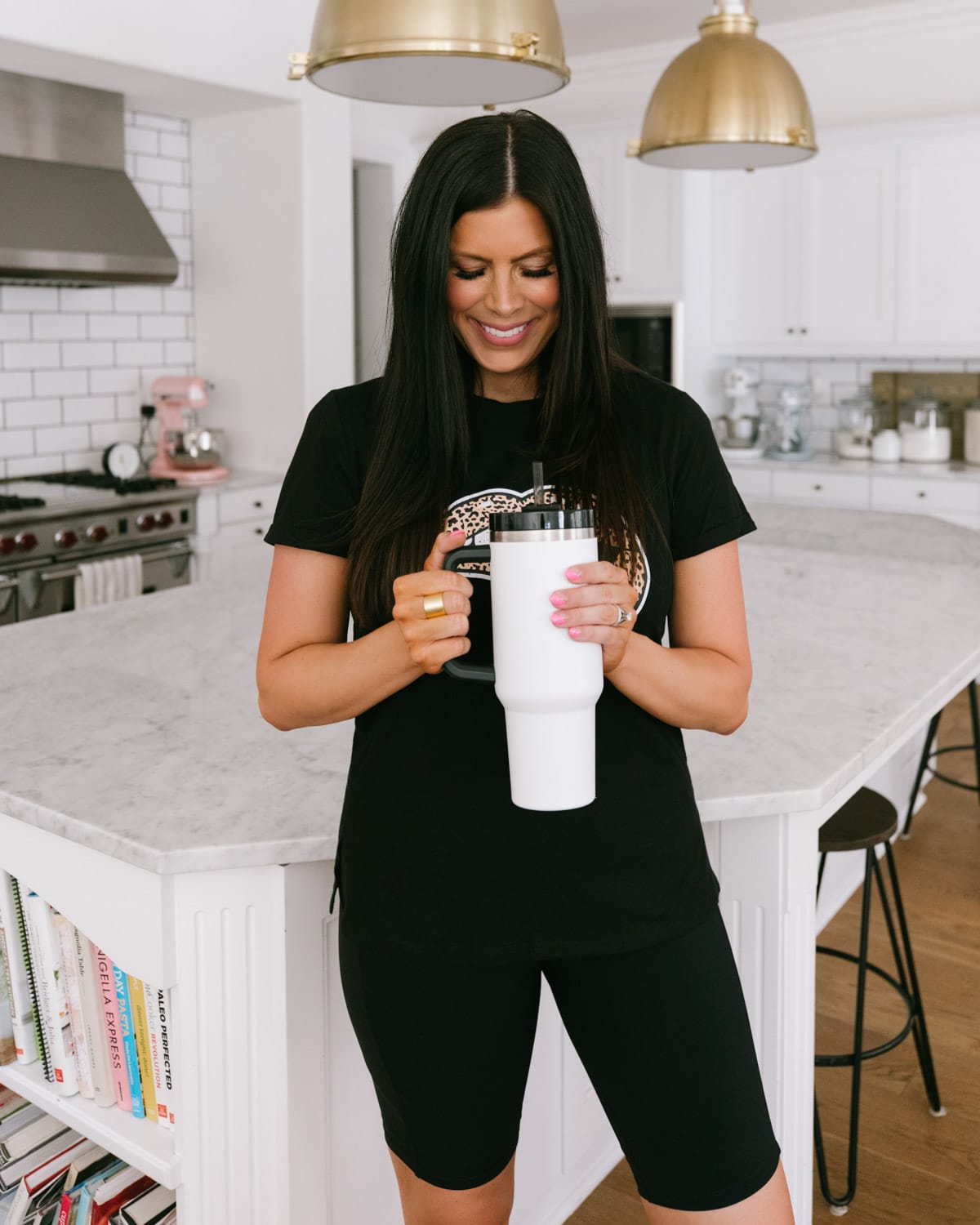 #9: Sleeveless cover-up
I grabbed this sleeveless knit dress to throw on as a cover up on my way to and from the pool a while back and it worked like a charm. I love how lightweight and buttery soft the fabric is and it comes in so many color options, you might as well grab a couple!
When I wore this dress in Palm Springs, I kept telling my friends, "you have to feel how soft this dress is" and each time they responded with an "OOOOOHHH" because seriously, it really is RIDICULOUSLY soft. And did I mention it's only $10? And did I mention it comes in a bajillion colors? And did I tell you IT HAS POCKETS?!
Bring on summer
All of these items are my very favorite, top-pick, summer clothes for women this year. I'm so excited for you to add them to your 2021 sunshine-month line up! Let me know which one is your absolute fave in the comments below. (I honestly don't know if I can pick a favorite – I love them ALL!)