Some of the most loved items in my closet are from Free People. Their flowy, boho vibe is SO my jam and they just make really, really gorgeous dresses.
Free People dresses are some of my very favorite dresses of all time ever! I always really enjoy getting on their website and filling my cart with all the prettiest maxi dresses and midi dresses. Every single time I place an order I pick two or three and promise myself I'll return whatever I don't like. But without fail I end up falling in love with ALL of them!
Cream Midi
This cream midi dress is a total dream! It currently comes in SEVEN colors and good luck deciding because they're all gorgeous! Like all Free People dresses, it's comfortable and breezy and so so beautiful. All the heart eyes for the allover embroidery and cutout details. This dress is semi-sheer and unlined, so I just layered it with my most favorite slip ever and problem solved!
Floral Maxi
You may have caught a sneak peek of this floral maxi in this post, but now you get to see it in all its flowy glory! The tiered hem and cuffed sleeves are so flirty and feminine! My favorite feature of this dress is that it's double lined! The dress has a little bit of a lower neckline and I think the lower v-neck of the dress looks so pretty layered over the higher v-neck of the liner. (The nude liner is detachable if you feel like you don't need it) The longer sleeve is perfect for fall and pre-fall because the fabric is super light and airy!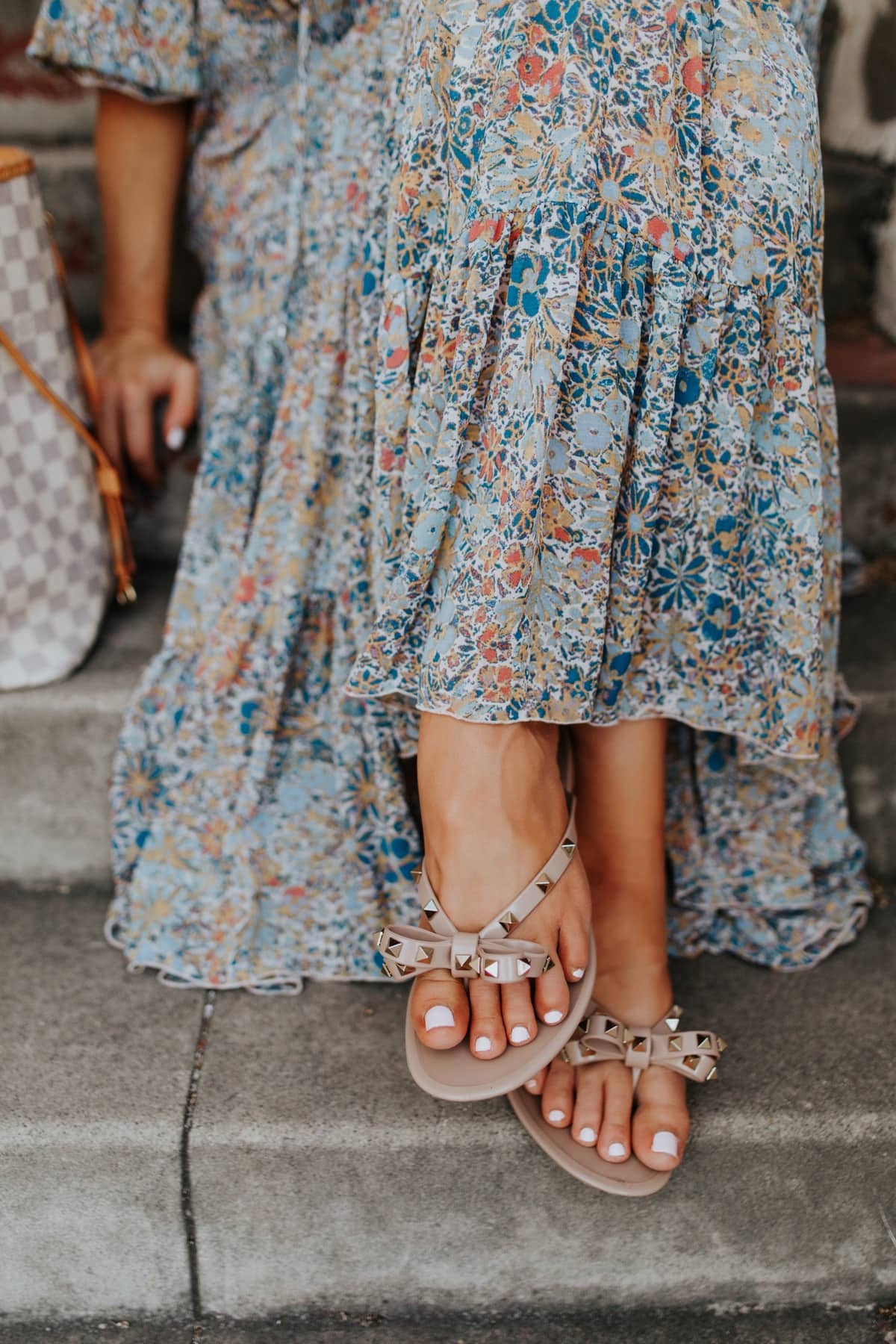 T-Shirt Dress
I am so OBSESSED with this dress that I've purchased in a few different colors over the years! It is the most lightweight paper thin maxi that is ideal for sweltering hot summer weather. It's loose and flattering and well UNDER $100! Totally the type of dress that can be dressed up or down, worn with sneakers or sandals, loose or belted. Perfect for a trip, because it would take up almost ZERO space in your suitcase! It's super comfortable and would be great layered with a light cardi or kimono for fall!
My mom and I both own this and LOVE IT and get asked constantly when we wear it where it's from! Now you can too 😉
The Free People Fit
If you know Free People, you KNOW that their dresses always run big. So I always size down one size for the perfect fit. I sized down 1 size in all of these dresses!
Free People Forever
Free People dresses are guaranteed to be very flowy, very flattering and very forgiving. Their dresses are some of my very favorite dresses to wear postpartum, because they look beautiful and make you feel beautiful! I wore Free People dresses for Millie and Lyla's newborn photos!
Cream Midi Dress
Floral Maxi Dress
T-shirt Dress
Studded Sandals
Photos by Arielle Levy
These dresses are a total closet staple for me and Free People's online selection is INSANE! There are currently almost 500 dresses on their website! We rounded up ALL our favorites for you to add to your cart right now! Bonus: Free People offers FREE SHIPPING on all orders over $100!