Beauty lovers get excited, because I'm telling you about some UNBELIEVABLE deals on some amazing beauty products today during this Sephora sale! We're talking up to HALF OFF some of my tried and true favorites! Keep reading to find out how you can snag these deals.
Deal details
This Labor Day weekend during Sephora's sale, you can get up to 50% off makeup, skincare and haircare favorites!! Are you screaming yet?? I'm telling you ALL about my picks from the sale below.
Makeup Eraser
These Makeup Eraser cloths have been a game-changer for me! These are antibacterial and dermatologist tested and are even amazing for lash extension longevity. You can get the Original Makeup Eraser makeup remover cloth for 50% off during this Sephora sale, making it ONLY $10!!
Urban Decay Setting Spray
I LOVE and swear by this Urban Decay All Nighter Setting Spray! It's what I used on my IGTV tutorial here and I've been using it for YEARS. It does such a good job ensuring your makeup will stay all day!
It's super affordable at just $19 (reg $33) during the sale!
FOREO LUNA play plus
This FOREO LUNA play plus cleansing brush works wonders for cleaning the dirt, oil, and makeup residue from your skin! It has EIGHT customizable intensities and gives you 400 uses between battery changes! I also love that it's super travel-friendly and it helps with fine lines and wrinkles, uneven skin, and dullness.
On sale for $37 (reg $49) at Sephora in five different colors!!
PMD Clean
Another option to cleanse your face (and a little bit more of a splurge) is the PMD Clean! The amazing thing about the PMD Clean is that it's made with medical-grade silicone and with over 7,000 vibrations per minute, it lifts, firms and tones as you clean!
The PMD Clean uses SonicGlow and ActiveWarmth technologies to break down all the oil and dirt in your pores giving you the ultimate CLEAN skin at the end of the day! You can also use the backside for a facial massage as you apply serums and moisturizers. And it only requires one AA battery and there are no brush head replacements ever!!
At just $74 (reg $99), this PMD Clean is a steal!
DermaFlash
This little DermaFlash device removes dead skin cells AND peach fuzz at.the.same.time. It's all the things we need for our face, right in one device, swathed in the cutest lilac hue. Any and all skincare will penetrate WAY better after pores and hair are cleaned off our faces, and I love how user friendly this is!
It's a similar idea to my tried and true PMD, with the hair removing power of my beloved Tinkle! Two birds, one stone. You can take a look at this post for all the answers to your questions, plus even more reasons why I LOVE this device.
A $199 value for only $160 right now during this Sephora sale!! (Make sure you only use this once a week!)
HUM Nutrition
HUM Nutrition has a very high reputation for just being completely amazing! Their supplements and gummies are all-natural, sustainably sourced, non-GMO and free of soy, gluten, artificial colors and preservatives. Plus they just taste really, really good! A lot of vitamins and supplements can be hard to take, because they taste weird. I love everything from HUM that I've tried so far! If you get on their website, you can take a quick 3-minute quiz to create your nutrition profile and get recommendations from a nutritionist personalized to your needs. So cool, right?
You can get the Collagen Love Skin Firming Supplement and the TurnTime Turmeric Supplement for $30 (reg $40) each, and get the Red Carpet Skin and Hair health and Wing Man Liver Detox and Dark Circle Supplement for only $19 (reg $25) each.
Drybar Curling Iron
What can I say about Drybar curling irons that I haven't said a bazillion times before? The adjustable temperature. The genius square panel so it won't roll off your counter. The cool touch end. Turns off automatically. Just trust me.
Plus, it's ONLY $109 (reg $145) right now! Definitely add this to your cart during this Sephora sale!!
IT Cosmetics Brow Power
This universal brow pencil from IT Cosmetics is a great alternative to my favorite Anastasia Brow Wiz! I love that the color can work for anyone and that it is buildable! It's super creamy so you have to use a light hand with it, but it's so easy to apply and gives great color pay off!
Get this brow pencil for only $14.50 (reg $24) right now!!
Bye Bye Pores blush
I've used this IT Cosmetics blush in the past and always come back for more! It gives that sweet cheek flush you get from cooler weather (but I get to fake it because it's still super warm here!) and blends beautifully with my contour/highlighter.
Grab this Bye Bye Pores blush for only $15.50 (reg $26) at Sephora right now!
Glow All Night beautyblender Set
This Glow All Night Flawless Face beautyblender set at Sephora is PERFECT! AND right now it's on sale for only $25 during this Sephora sale!! This set includes an original beautyblender for initial foundation application, a setting mist to hydrate and refresh skin, and a dual-sided powder puff to help bake and touch-up makeup.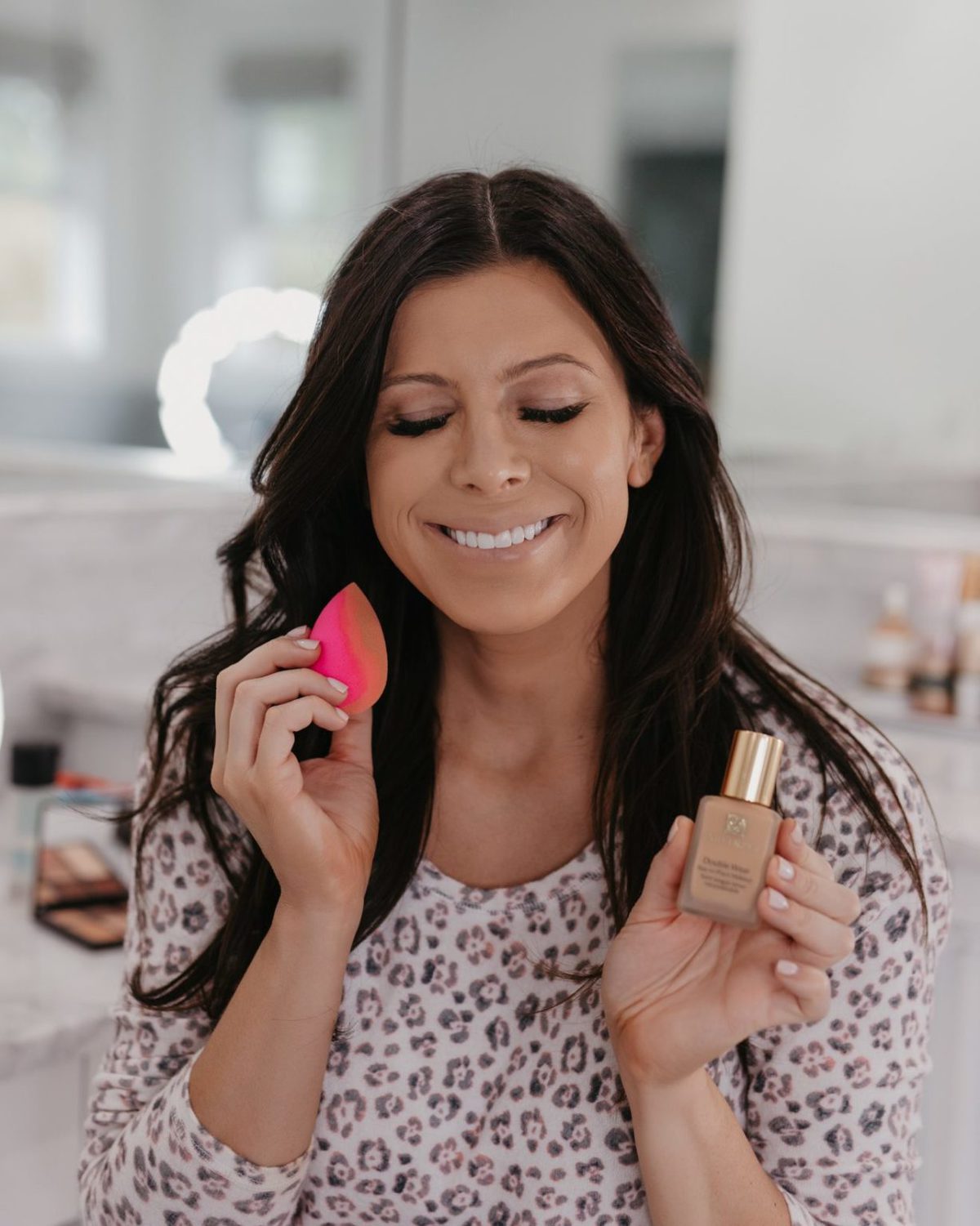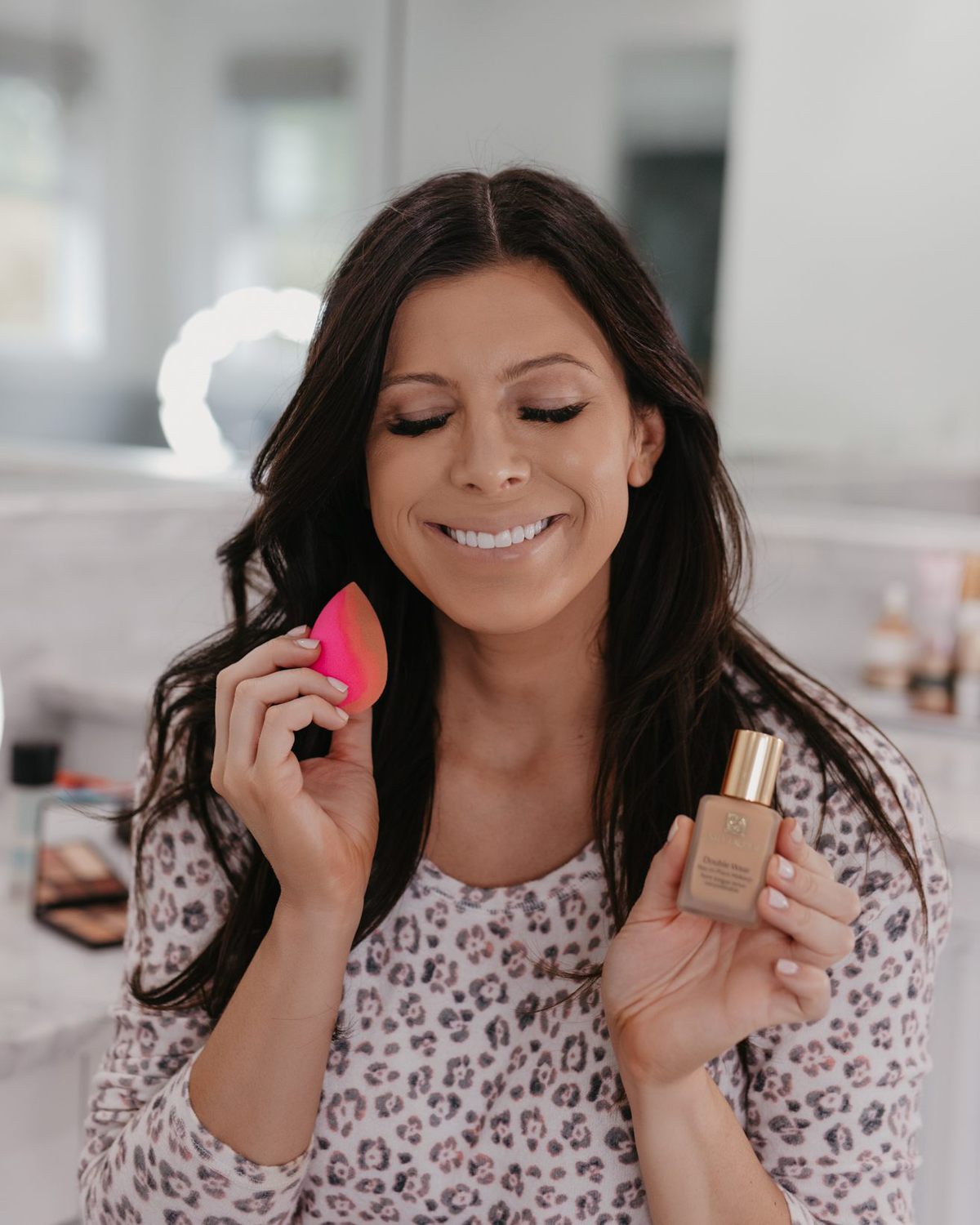 Bonus: PMD Personal Microderm
This already sold out during Sephora's sale, but it IS on sale for a killer deal here and totally worth mentioning!!
The PMD Personal Microderm Pro allows you to do at-home microdermabrasion treatments that take off a layer of dead skin and help reduce fine lines, wrinkles, redness, fade sun spots and acne scarring, make your skin NOTICEABLY clearer, smoother and more beautiful with each use! It's honestly my secret weapon tool for anti-aging and making skin look 10x better than it did before you knew it existed!! I also swear by this as the ONLY thing that's cured the Keratosis Pilaris (KP) on my arms – the tiny red bumps so many people suffer from on the back of their arms. For more reasons why I love it plus some FAQ's, take a look at this post!
Get this PMD Personal Microderm Pro right now for ONLY $99 (reg 199) — that's $100 off and such a good deal!!
Add to cart
Remember, these up to 50% off Sephora Sale prices only last through the weekend, but I'd be surprised if some of these last until then! So add to cart before you miss out and get ready to stalk your mail man (HA!) until they arrive!