You may be one of the many people starting to think about what Dyson Nordstrom Anniversary Sale deals you're going to score on this year! Keep reading for all the details on the 2023 sale, and what Dyson items I love (as a preview for what's to come this year!). Make sure to subscribe to our email list here to be the first one in the know about all things Nordstrom Anniversary Sale this year!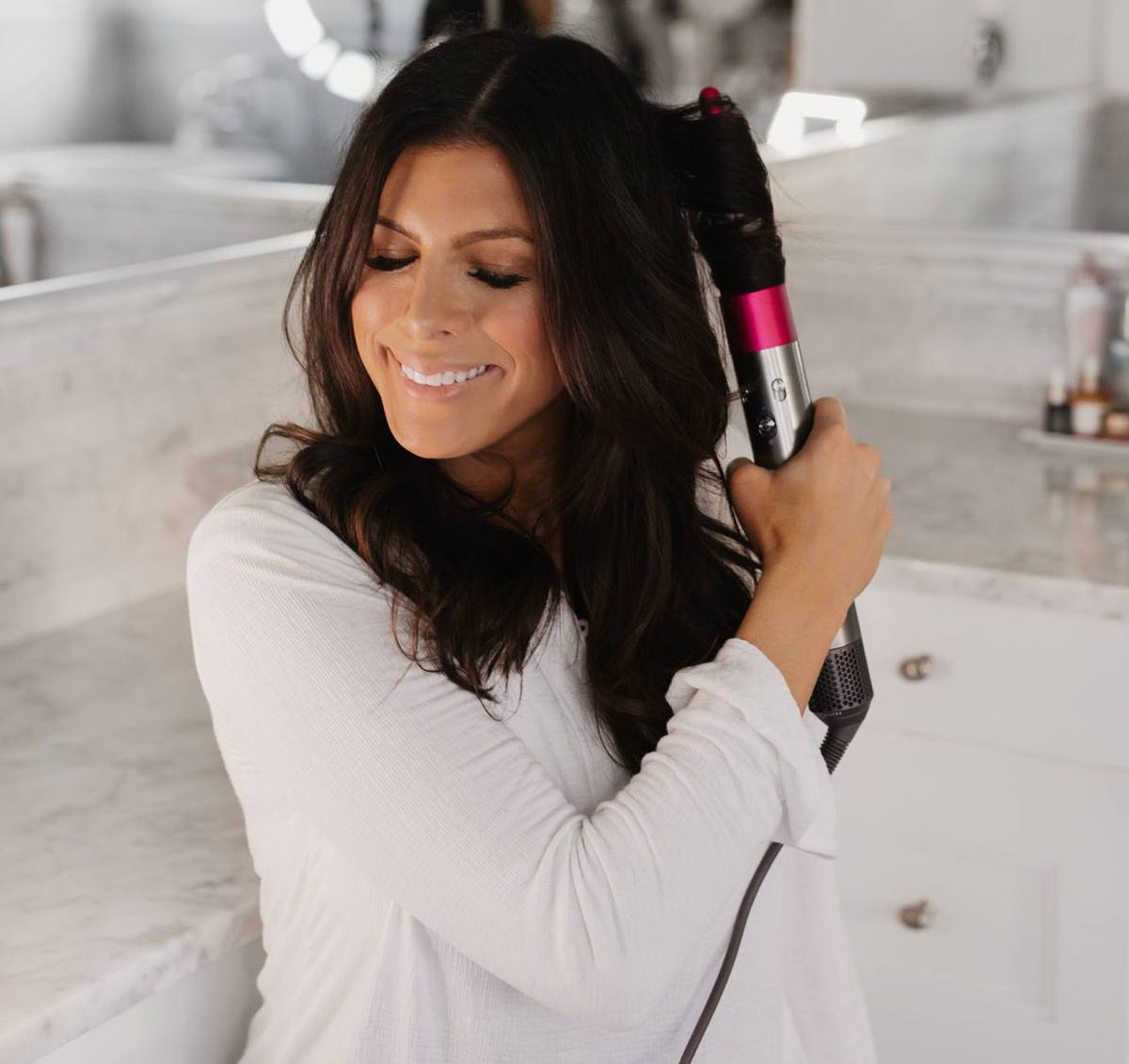 When can I shop the sale?
CATALOG IS LIVE: Take a look at it here!
ICON early access: NOW!
Ambassador early access: NOW!
Influencer early access: NOW!
Open to the public: NOW!
Sale ends August 6th!
Stay informed with our EXCLUSIVE text + email
Dyson Nordstrom Anniversary Sale Airwrap deal
Once I finally gave the Dyson Airwrap a spin, I was BLOWN AWAY (ha!) at how magical this little device was. The attachments will round brush dry or curl your hair.
It does take a minute to figure out the curling process, but once I did I was ELATED by how smooth the process was! It really does smooth out your hair while curling each section and gives you crazy good volume as it curls.
Something important to note here about this Dyson Airwrap deal. We wouldn't technically call this a steal of a deal if you know what we mean?! HOWEVER, if you've been on the hunt for an Airwrap this is a great place to find it actually in stock + all of the additional attachments this comes with does make it a good value overall just not necessarily the lowest price we've seen it.
One Dyson Nordstrom Anniversary Sale tool to rule them all
The Dyson Airwrap is so good and such a great combo tool for drying, curling, waving, or smoothing your hair! It dries AND styles all in one shot so it's a MAJOR time-saver. It's super quick and super easy and you. will. LOVE it. Get it during the Anniversary Sale for $599!
Save the hair
It also uses MINIMAL heat to protect your hair. If you're trying to damage control your hair like I am, you'll love using the Dyson Airwrap to dry OR curl your hair.
How to use it
Ever since I first used the Dyson Airwrap I've been in love. It's the easiest way to style my hair start to finish, with the least amount of damage! This set comes with a smoothing brush, curling attachments, a round brush attachment, AND the blow dryer attachment. You're getting SO many options and attachments with this set, it's so worth the investment for this Allure Magazine's Best of Beauty winner for 2020!
I personally like to air dry my hair about 50% to avoid as much heat as possible, BUT with the Dyson Airwrap I can literally rough dry my sopping wet hair with the blow dryer attachment AND finish drying it and curling it at the same time in MINUTES. Wet to styled in no time flat!!
Dyson Hair Dryer deal
There are SO many reasons to love this powerhouse of a hair dryer – and it's on sale this year during the Nordstrom Anniversary Sale! Here are just a few reasons I love it!!
Cuts drying time in half
I talked about my obsession with this Dyson Supersonic Hair Dryer in this post a while back and I'm still just as in love. It really did cut my dry time IN HALF. All the attachments are magnetic (amazing right?!) and stay cool so you can swap them out mid-drying.
Crazy powerful
The Dyson Supersonic Hair Dryer is hands down the MOST powerful blow dryer I've ever used in my life, and I've tried a TON of high-end dryers out of desperation to find something that will dry my hair faster and more efficiently.
I have thick, long hair that I swear takes me HOURS to dry. Every time I go to the DryBar, I always hear "Wow! Your hair takes a long time to dry!" Mind you, that's with ZERO extensions and I'm definitely grateful for that but it's just so crazy how much my hair LOVES to retain water.
The Dyson has become a GAME CHANGER for that reason because it literally has cut the time in HALF to dry! (Can I get a hallelujah?!)
Gentle
Another plus about the Dyson hair dryer is how gentle it is with my hair. Sometimes in the past using other blow dryers, I've noticed my hair getting damaged from the extreme heat. But, nope! Not with the Dyson! It uses a minimal amount of heat while still giving a VERY powerful and quick blow dry.
It's great for ALL hair types and produces amazing results with increased shine and minimized frizz! It's seriously a-ma-zing. Your hair will LOVE you, and you'll love it right back!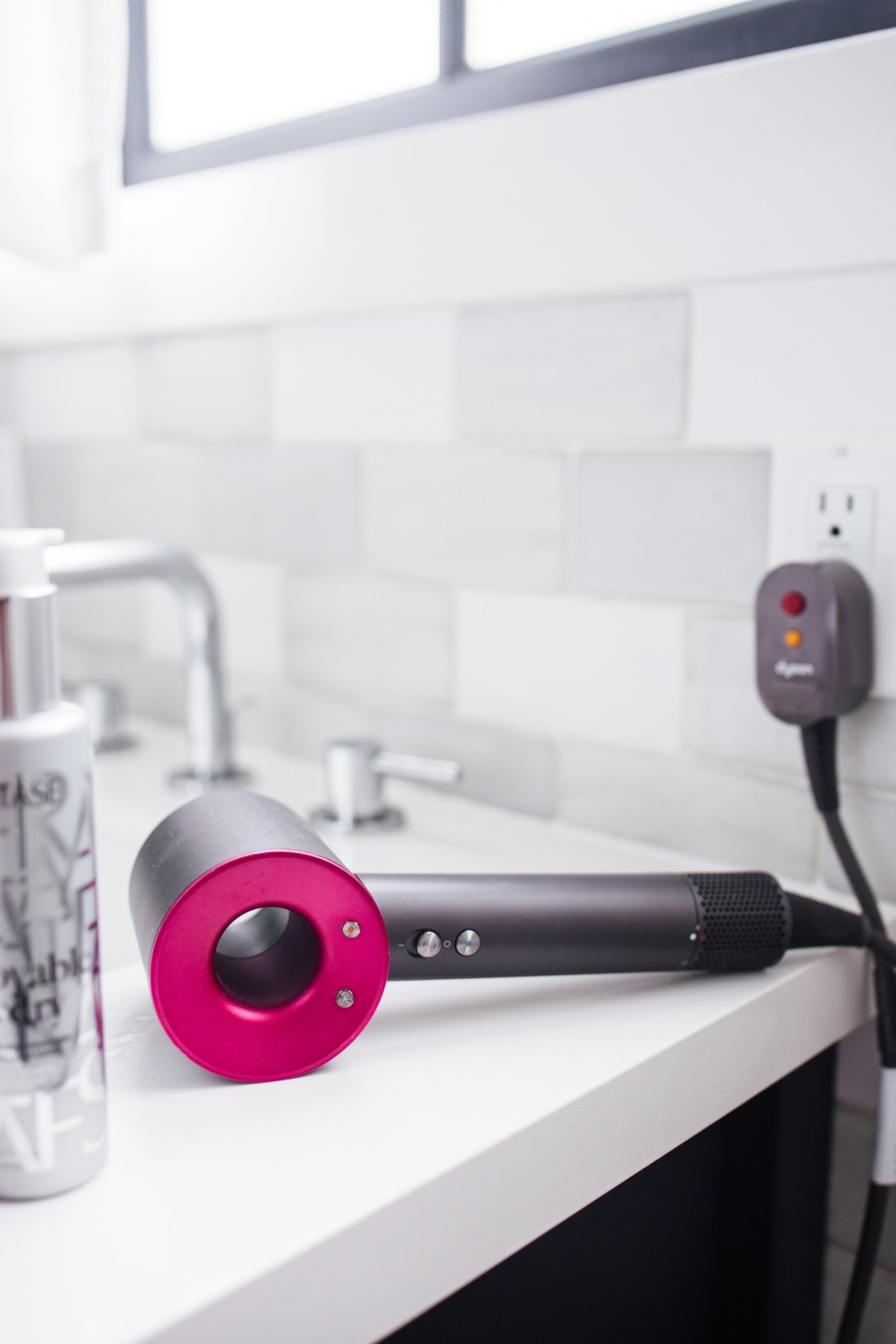 Dyson Nordstrom Anniversary Sale deals
Scoring on Dyson Nordstrom Anniversary Sale deals is the best feeling ever, so get ready to get some amazing products at a great price!
2023 Nordstrom Anniversary Sale Guides
Nordstrom Anniversary Sale 2023 {Complete Guide!}
TOP 15 Nordstrom Anniversary Sale 2023 picks – most likely to sell out first!
I tried on ALL THE JEANS in the Nordstrom Anniversary Sale – these are the BEST.
Best Nordstrom Anniversary Sale shoes, with sizing info!
Nordstrom Anniversary Sale beauty top picks!
Nordstrom Anniversary Sale BABY DEALS!
Bags + Accessories worth buying at the Nordstrom Anniversary Sale
The CUTEST Nordstrom Anniversary Sale women's clothes
A week worth of outfit ideas straight from the Nordstrom Anniversary Sale!
Nordstrom Anniversary Sale best picks $50 and UNDER!!!
The BEST Nordstrom Anniversary Sale home items!
TOP Nordstrom Anniversary Sale Men's Items
Back to school ready with Nordstrom Anniversary Sale KIDS + TWEEN picks!
The Nordstrom Anniversary Sale 2023 Preview