The time to score big on deals is RIGHT NOW and I'm all about stretching my dollars when it comes to buying the biggest things on each person's list in my life!
We all know eBay is an amazing place to score these deals, and also to find on those hard-to-find items that are so hot they sell out before you can get your hands on them. SO, today I'm walking you through some of my very best tips on grabbing the greatest deals, at the hottest prices, all while making sure you have the experience of shopping like an eBay pro. Let's go.
Tips for shopping smart on eBay
98% or above: I look for at least 98% positive feedback score on the seller profile when I shop on eBay. If 98% of that seller's customers have been satisfied, chances are I will be too, as long as they've sold to more than their 3 best friends. Which leads me to my next tip . . .
Numbers matter: I also really look at how many people have rated a seller. If they've sold with 99% positive rates to hundreds or (even better!) thousands of people, you're looking at a pretty safe bet. The exception to this is if an item is used and it's clear you're looking at a person who's cleaning out their closet, not a power-seller (someone who's making a career out of eBay sales). In this case, if they have at least over 50 positive ratings, the next step is to look at what items they've sold in the past. Make sure if you're about to buy designer heels from someone, they've sold someone else genuine, authentic designer heels or items of similar value with positive feedback.
Top-rated plus: If you really want to buy securely, look for the little "top-rated plus" icon next to listings that looks like a ribbon from a county fair. That little icon tells you that the seller is highly experienced and has an excellent track record, has committed to shipping their items within 1 day, and you even get a 14-day money-back return period.
READ carefully: I can't stress enough how important it is to read and re-read the description before buying. If you buy something where the seller clearly discloses that there's damage or something missing or is "inspired by" but not the actual item, you are ultimately at fault. A lot of buyers can be misled by items that seem like a deal that's too good to be true, and don't take the time to read the description and suddenly a case for sunglasses instead of the designer sunnies you thought you were getting show up on your door. And instead of getting $500 sunglasses for $50, you realize you just paid $50 for a sunglass case. Give yourself a high-five in the face.
Shop in the USA: others might disagree, but I feel like your best bet for getting 100% authentic designer items is to buy them from someone who's selling and shipping in the states. There are lots of great sellers from Canada too!
So, let's put those tips to the test by sharing two of my MOST requested items that are hard-to-find on sale, at killer deals.
It can be SO OVERWHELMING to check everyone off your holiday gift list. I love that eBay is such a great place to save money on the gifts your family and close friends actually really REALLY want, like these two incredible Dyson products that I'm so in love with.
Dyson Supersonic Hair Dryer
First up, the Dyson Supersonic Hair Dryer. This dryer RARELY goes on sale, but it's one of my very most favorite splurges ever because it literally cut my hair drying time in HALF.
Buying this Dyson Supersonic Hair Dryer from the eBay Official Dyson Store is a safe and secure bet because you know you're buying directly from the manufacturer, which is a huge plus! You're scoring a Dyson dryer for 45% off which is a crazy good deal, they've sold nearly 3,000 of these and of their sales, 166 people have left positive feedback with only 4 negative reviews. 4 out of 3,000 is pretty good if you ask me!
This Dyson Supersonic Hair Dryer is refurbished, and that's why you're getting it directly from the manufacturer for SO LOW. That said, I've heard back from SO MANY other Mint Arrow readers who say that their refurbished Dyson dryer has held up perfectly for years. I really trust Dyson to do an incredible job with refurbished versions of anything they make, and they come with a 12-month official Dyson guarantee.
Dyson Air Wrap
The Dyson Air Wrap was one of THE hottest items to gift for holiday season 2018, and I predict it will be another hot item this year! Let's start off with how I narrowed down all the sellers on eBay right now to the one I think is your best bet, and why. This item is not sold from Dyson (yet!) directly on eBay, so right now your only option for getting a true deal on this is going through a trusted seller.
This Dyson Air Wrap seller is a Top-Rated Plus seller, so that's HUGE to start off with! That's not a badge that eBay hands out lightly, so I always get very excited when I see that blue ribbon next to a seller's name.
Second of all, this Dyson Air Wrap seller has sold 14 of these, and 13 of the 14 have given perfect 5-star reviews! 14 is a good amount for how scarce these are and how easily they've sold out everywhere at peak times.
They've also earned 100% buyer satisfaction, they are beating the current trending price, and they ACCEPT RETURNS. That's also another major plus when taking the chance of buying anything from eBay! That shows me this seller cares enough about making sure the customer has an excellent experience that they're willing to stand behind the product they're selling.
Lastly, this seller is in the U.S. and is selling multiple units of these brand new. All really good signs of most likely having a great experience scoring this super hard to get item at a deal which is even harder to find!
I finally gave the Dyson Air Wrap a spin myself and was BLOWN AWAY (ha!) at how magical this little device was. It has 7 attachments that will straighten, round brush dry, or curl your hair. I used it to curl my hair here and I'll be honest, it did take a minute to figure out, but once I did, I was ELATED by how smooth the process was! It really does smooth out your hair while curling each section and gives you crazy good volume as it curls. It also uses MINIMAL heat so if you're trying to damage control your hair like I am since I chopped off all the dead layers at the bottom a couple of months ago, you will love using this tool to dry OR curl your hair.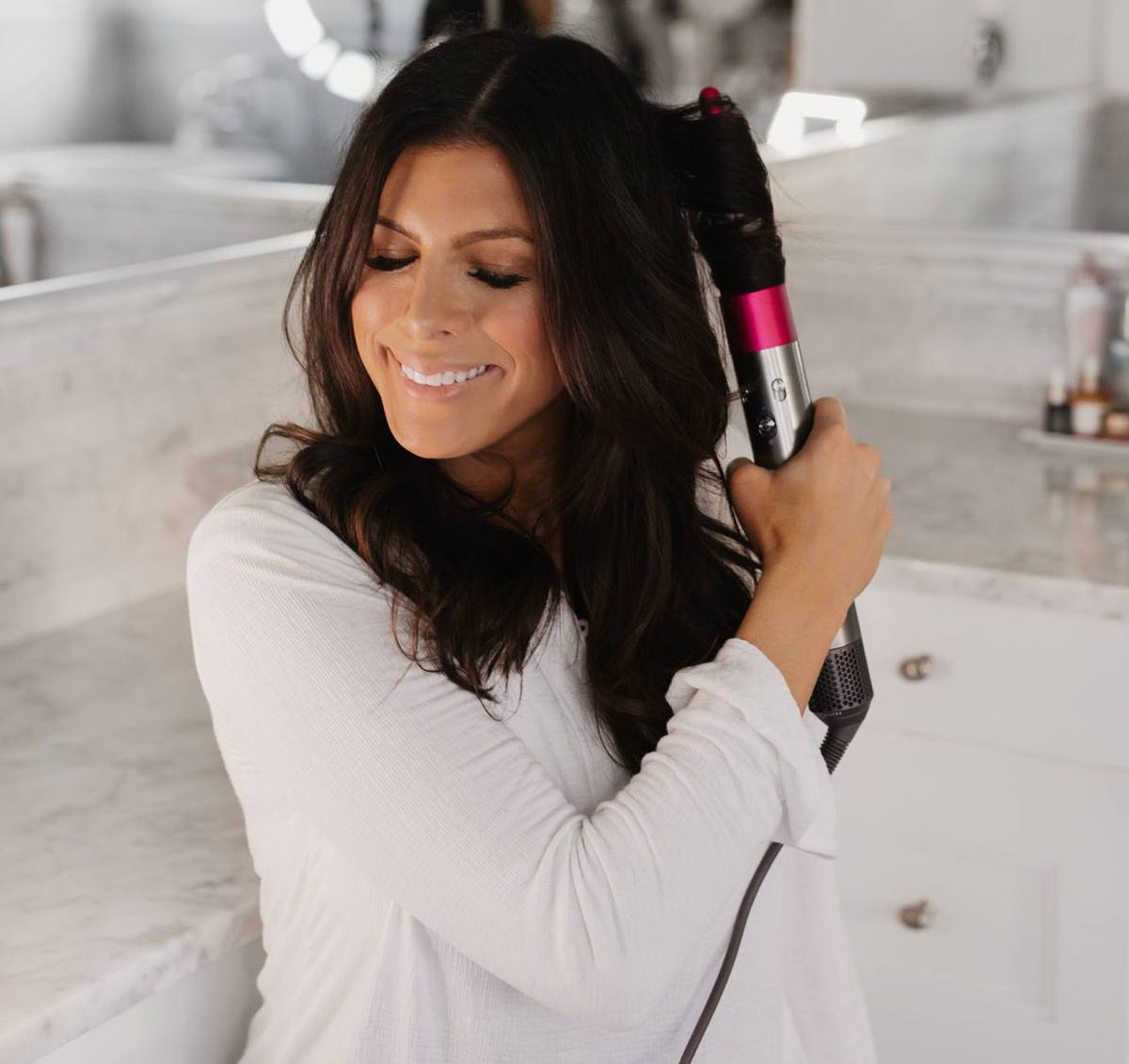 You totally don't need both the Dyson Air Wrap and the Dyson Supersonic Hair Dryer. The Air Wrap will do BOTH drying and curling, which is why it's significantly more expensive. It's also newer and harder to find a deal on. So that's why I LOVE that you can get this Dyson Air Wrap for $50 off retail price!!!
Dyson Air Wrap
Dyson Supersonic Hair Dryer
Photos by Arielle Levy

These really are the best deals on the Dyson Air Wrap and the Dyson Supersonic Hair Dryer available RIGHT NOW, so if they're on your Christmas wish list and you want to save some cash, this is your best bet!

Have you guys scored anything awesome lately at eBay or in past years for the holidays? Do you have any eBay shopping tips? Let me know in the comments!!