Quick Version: Right now through 4/24, you can get 30% off ALL Mint Arrow Messages merch with code MAMA30 at checkout. Order now so you're able to get all your gifts in time for Mother's Day!
Somehow Mother's Day is just a few shorts weeks away already! What better way to celebrate your mom and all she means to you than with a meaningful gift?! Right now, we're offering 30% off of ALL of our Mint Arrow Messages positive merch collection!
This line is a passion project that we intentionally set out to design clothing + accessories that are cute and stylish AND that make you feel good inside. We hope this positive merch inspires confidence, happiness, and a meaningful life. And what better way to let your mom know how much you love her?
I'm so so excited about this deal – keep reading for all the details!
What if ONLY the deals YOU wanted to see were in your inbox before anyone else?! If you want to be in the know and find out the hottest deals tailored just for you, you can join our subscription email here! It's simple, you tell us the deals you want to see and we'll make sure you see them first!
Deal details
Starting today 4/20, you can use code MAMA30 to take 30% off ALL of our Mint Arrow Messages merch! These inspirational pieces are the perfect Mother's Day gift for all of the moms in your life!
The NECKLACES
The Serenity Necklace
The serenity prayer has changed my life. I learned it in recovery and I say it to myself often! If you've never heard of this prayer, it goes like this:
God grant me the serenity to accept the things I cannot change, courage to change the things I can, and wisdom to know the difference.
When I created the serenity necklace, I wanted it to have three key words to remind you how to say the serenity prayer: serenity, courage, and wisdom.
If you get into a situation where you feel overwhelmed, or you feel like life is out of your control, or people or things are hard for you to deal with, or the world is heavy, or whatever it may be, my hope is that this serenity prayer necklace can help you to surrender those things to God that you can't control, the courage to change the things you can, and wisdom to know the difference.
Buy our serenity necklace here and use code MAMA30 at checkout to get it for 30% off!
One Day at a Time Necklace
The phrase "one day at a time" is something that I've learned to live by and has brought me so much strength as I experience different things in my life.
The saying "one day at a time" is connected to the cutest paper clip chain clasped by a toggle enclosure. Sometimes it's overwhelming looking into the future and seeing all of the many things coming up, especially the things that aren't in our control.
This one day at a time necklace would be especially helpful to someone who might be facing a lot in their life right now, or maybe has a big mountain to climb, or a burden they're trying to carry. And this necklace is just a great daily reminder that you only have to take it one day at a time and that has always given me more peace in those overwhelming moments!
Buy our one day at a time necklace here and take 30% off with code MAMA30!
Rainbow Necklace
Rainbows! I LOVE them because they just have so much meaning and symbolism! In Genesis 9, a rainbow is "a sign of the covenant between God and man." God promises us JOY after tribulation. A lot of people even associate rainbows with rainbow babies, making this rainbow necklace just a little more special to me now that we have our rainbow baby here. It's a symbol of hope and brightness of mercy and love, and that's why I was so excited to include in our first jewelry launch!
Rainbows can also symbolize inclusivity and show loved ones that you're a safe place, no matter how they identify.
My intention with this rainbow necklace is that when you put it on in the morning, especially during any challenges or storms you're facing, that you're reminded that your rainbow will come. Because light of sunshine plus hope equals a rainbow after a storm.
Buy our rainbow necklace here and use code MAMA30 at checkout for 30% off!
Miracles Happen Necklace
This is our Miracles Happen Necklace! This one inch pendant has the words "Miracles Happen" engraved in pretty cursive writing. I chose a font that was similar to my own handwriting, so that it'd feel like a little personal note to self to remember that miracles happen.
It has a really pretty hammered, beachy look. If you love the message of miracles happen, but don't want to wear our sweatshirt daily, you can wear this necklace everyday. It layers so beautifully with our Believer necklace that I'm going to tell you about next!
Get the Miracles Happen Necklace here for 30% off with code MAMA30 at checkout!
Believer Necklace
I love this Mint Arrow Messages necklace particularly because it can go with any faith-base that you or someone you're gifting this to may have. Whether you believe in God, Jesus, a higher power, or you're choosing to believe in a miracle to happen, I felt like this necklace was very inclusive but also empowering for people to remember that they've chosen to be a believer and that's something they want to wear close to their heart everyday.
Make sure to use code MAMA30 at checkout to get this Believer necklace for 30% off for Mother's Day!
Magic Clasp
We were able to create our magic clasp that's totally MAGNETIC and it makes everything really, really easy. Within seconds you'll be able to stack two of your favorite necklaces – magnetic jewelry clasps makes getting your jewelry on and off super easy.
I personally hate when there are tiny clasp closures on necklaces that I'm trying to hook behind me for what seems like ALL DAY. The magnetization makes it so the clasp snaps on in two seconds and you don't have to think twice about it coming off. "Click" and done! This product is very strong, my necklaces have never fallen off while wearing it even when I'm changing clothes or throwing on a sweatshirt! It's almost like it locks until you're ready to really pull it off.
This clasp will come off only when you intentionally take it off before the shower or end of the day. I just love how quick it makes layering pieces! Get it for 30% off through April 24 with code MAMA30!
The QUALITY of our meaningful jewelry
So how did we do it?! All of the jewelry has been TRIPLE dipped in 18k gold so that it's at its highest standard while still being affordable. The next step is solid gold, but the pricing significantly increases. To keep our jewelry all under $50, we've triple dipped all of our gold pieces to make sure they're the very highest quality possible. I've worn this jewelry daily in all kinds of conditions and they've stayed perfectly untarnished. The best kind of jewelry especially if you're a mom with busy kiddos this summer!!
Also, some of our necklaces have multiple loops so you can adjust how long or short you want to wear them! And a feature that's a personal favorite that I'm sooo excited about are the little engraved Mint Arrow Messages tags next to all of the clasps.
All of our jewelry makes the perfect gift and they come in beautiful, gold embossed Mint Arrow boxes so that eliminates one more step for you in the gifting process. Some of our new jewelry will come in white boxes with gold embossing, and our older jewelry will come in this cute brown box with gold embossing – all such pretty packaging and perfect if you're planning to gift it to someone! I love that you don't even have to wrap these because they're already so cute. You could even wrap a little bow around it if you want, but they come ready to gift which is one of my favorite things about these.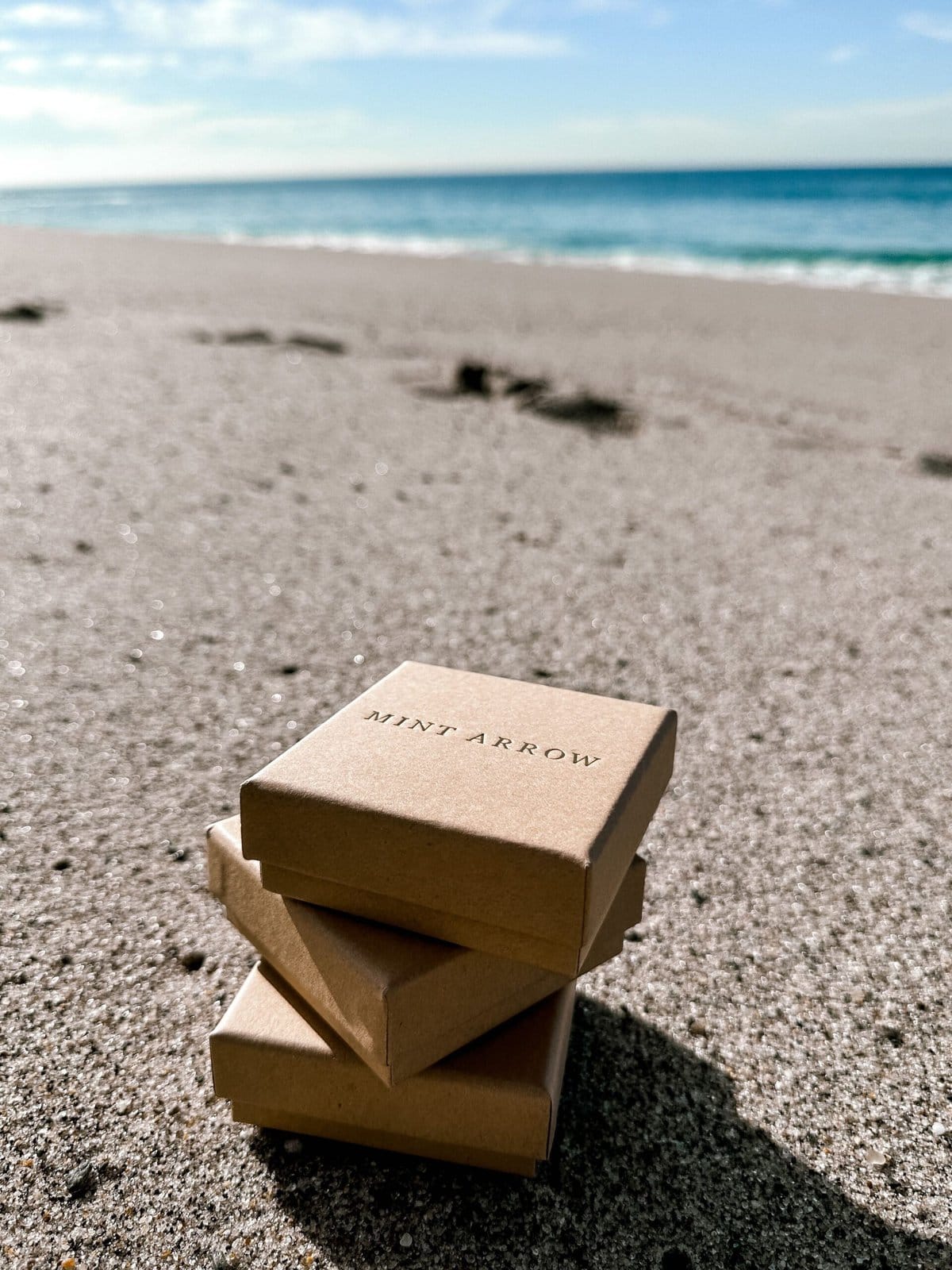 The SWEATSHIRTS
Miracles Happen Sweatshirt 2.0
This Mint Arrow Messages Miracles Happen crewneck 2.0 includes all the major improvements you requested from last year's design! The first time we launched these sweatshirts, they sold out within a couple hours of when they were released. They were definitely a crowd favorite, so we decided to bring them back again this year and made them a little bit better, and I love everything about it!
We got some feedback from a few people last year about the neck opening being a little too wide, so we made this year's a true crewneck neckline. This sweatshirt is also UNBELIEVABLY soft. Last year's was soft, but this one is WAY SOFTER.
I made this one more light weight as well with my California girls in mind, so you can wear it just as a single layer, or put a coat on over it. If you go holiday shopping or run errands and want to take your coat off, you won't be sweating! It's just the perfect year-round sweatshirt – I'm SO in love with it.
The most popular request we got from last year's design is something I totally agreed with, and that was to bring it back in a neutral color option. The peach color we did last year was beautiful, but it was a little tricky to match with everything in your wardrobe. So THIS new one's the absolute dream color! It matches with ev-er-y-thing. It's the perfect sand/tan color.
These crewnecks do run a little oversized! So you can order your true size and it'll have that cute, slightly oversized fit – or if you want it to be extra oversized, you can go up one size! They run slightly large, but not a ton. They look so cute with some black leggings for a lounge fit, or with a pair of denim or black jeans when you're out and about.
Love Is Sweatshirt
This oh so soft and cozy black crewneck is the best reminder of what love is! "Love is patient. Love is kind. It does not envy, it does not boast, it is not proud. It does not dishonor others, it is not self-seeking, it is not easily angered, it keeps no record of wrongs. Love does not delight in evil but rejoices with truth. It always protects, always trusts, always hopes, always perseveres. Love never fails."
The perfect crewneck especially for any mom. And even better, you can get it for 30% OFF with code MAMA30 now through April 24! Fit tip: size up 1-2 sizes to get the perfect, oversized sweatshirt look.
Mint Arrow Messages merch: perfect Mother's Day gift idea!
I'm so thrilled that ALL of our Mint Arrow Messages merch is on sale just in time for Mother's Day with code MAMA30 at checkout. Each item portrays such a special message, so there is sure to be one for everyone you know.