Quick version: get 40% OFF ALL Mint Arrow Messages merch (including new arrivals) + free shipping on all orders $75+ with the code BF40 at checkout for Black Friday!
HAPPY BLACK FRIDAY! I'm so giddy and excited because we're offering the biggest discount we've ever done on all of our Mint Arrow Messages Merch! We've NEVER, ever offered this big of a discount and it includes our ENTIRE store. Including previous merchandise and brand new merchandise. EVERYTHING 40% OFF, and an opportunity for free shipping. Holy cow, I'm so excited.
I had to beg Neil to let me do this big of a discount, and I'm so happy we went through with it. I've always dreamed of being able to offer the kind of discount that I was always so excited about sharing when other retailers would do it for their own Black Friday sales. So let's get into these exciting deal details PLUS some super cute new merchandise we just released!!
Mint Arrow Messages Merch Black Friday CODE
YEP, 40% off. EVERYTHING. Just use code BF40 at checkout!
We're also offering free shipping on orders over $75!
This is a Black Friday deal we've never, ever offered before. This is definitely a deal you'll want to take advantage of while it lasts.
Miracles Happen Crewneck 2.0
This Mint Arrow Messages Miracles Happen crewneck 2.0 includes all the major improvements you requested from last year's design! The first time we launched these sweatshirts, they sold out within a couple hours of when they were released. They were definitely a crowd favorite, so we decided to bring them back again this year and made them a little bit better, and I love everything about it!
We got some feedback from a few people last year about the neck opening being a little too wide, so we made this year's a true crewneck neckline. This sweatshirt is also UNBELIEVABLY soft. Last year's was soft, but this one is WAY SOFTER.
I made this one more light weight as well with my California girls in mind, so you can wear it just as a single layer, or put a coat on over it. If you go holiday shopping or run errands and want to take your coat off, you won't be sweating! It's just the perfect year-round sweatshirt – I'm SO in love with it.
The most popular request we got from last year's design is something I totally agreed with, and that was to bring it back in a neutral color option. The peach color we did last year was beautiful, but it was a little tricky to match with everything in your wardrobe. So THIS new one is the absolute dream color! It matches with ev-er-y-thing. It's the perfect sand/tan color.
These crewnecks do run a little oversized! So you can order your true size and it'll have that cute, slightly oversized fit – or if you want it to be extra oversized, you can go up one size! They run slightly large, but not a ton. They look so cute with some black leggings for a lounge fit, or with a pair of denim or black jeans when you're out and about.
PRO TIP: These sold out crazy fast last year – I ordered extra this year but I'm sure these will sell out super fast again so get yours before it's too late!
And remember, use code BF40 to get 40% OFF!
Mint Arrow Messages Necklaces
Miracles Happen
We're also releasing a BRAND NEW Miracles Happen Necklace as well! This one inch pendant has the words "Miracles Happen" engraved in pretty cursive writing. I chose a font that was similar to my own handwriting, so that it would feel like a little personal note to self to remember that miracles happen.
It has a really pretty hammered, beachy look. If you love the message of miracles happen, but don't want to wear your sweatshirt daily, you can wear this necklace everyday. It layers so beautifully with our Believer necklace that I'm going to tell you about next!
Get 40% OFF with the code BF40 at checkout!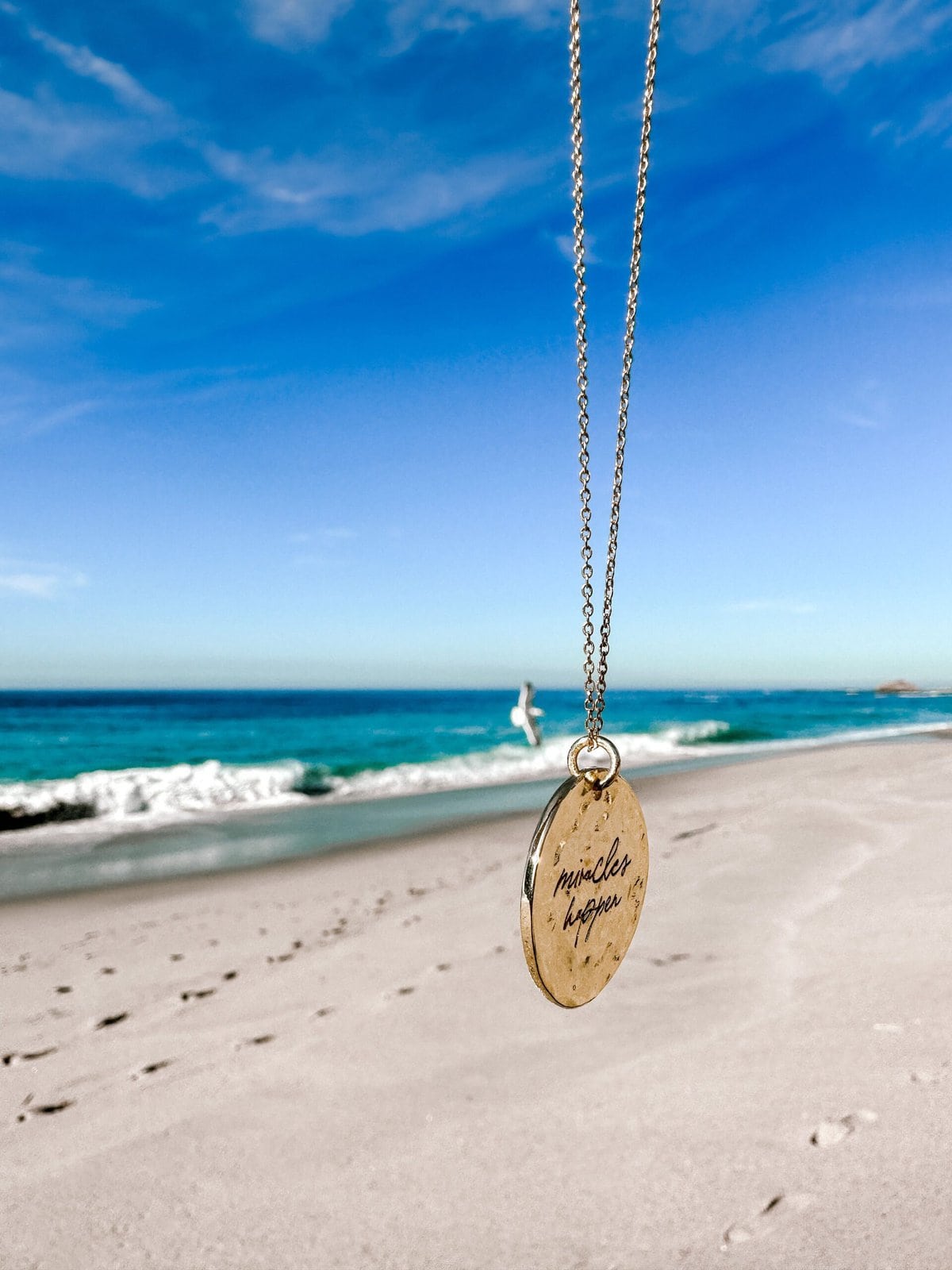 Believer
I love this Mint Arrow Messages necklace particularly because it can go with any faith-base that you or someone you're gifting this to may have. Whether you believe in God, Jesus, a higher power, or you're choosing to believe in a miracle to happen, I felt like this necklace was very inclusive but also empowering for people to remember that they've chosen to be a believer and that's something they want to wear close to their heart everyday.
I especially love this as a Christmas gift for the believer in Jesus during Christmastime!
Remember to take 40% off at checkout with code BF40.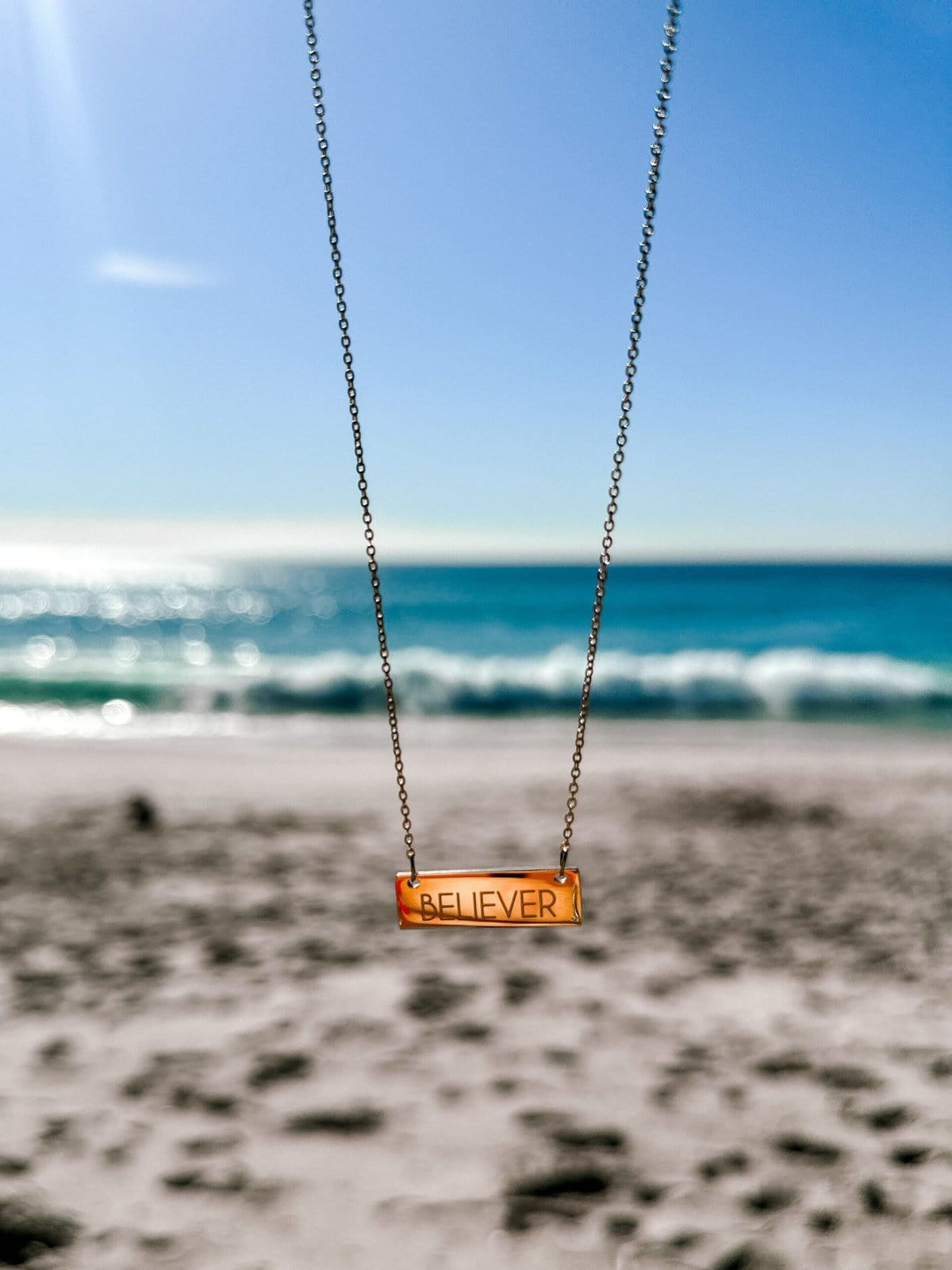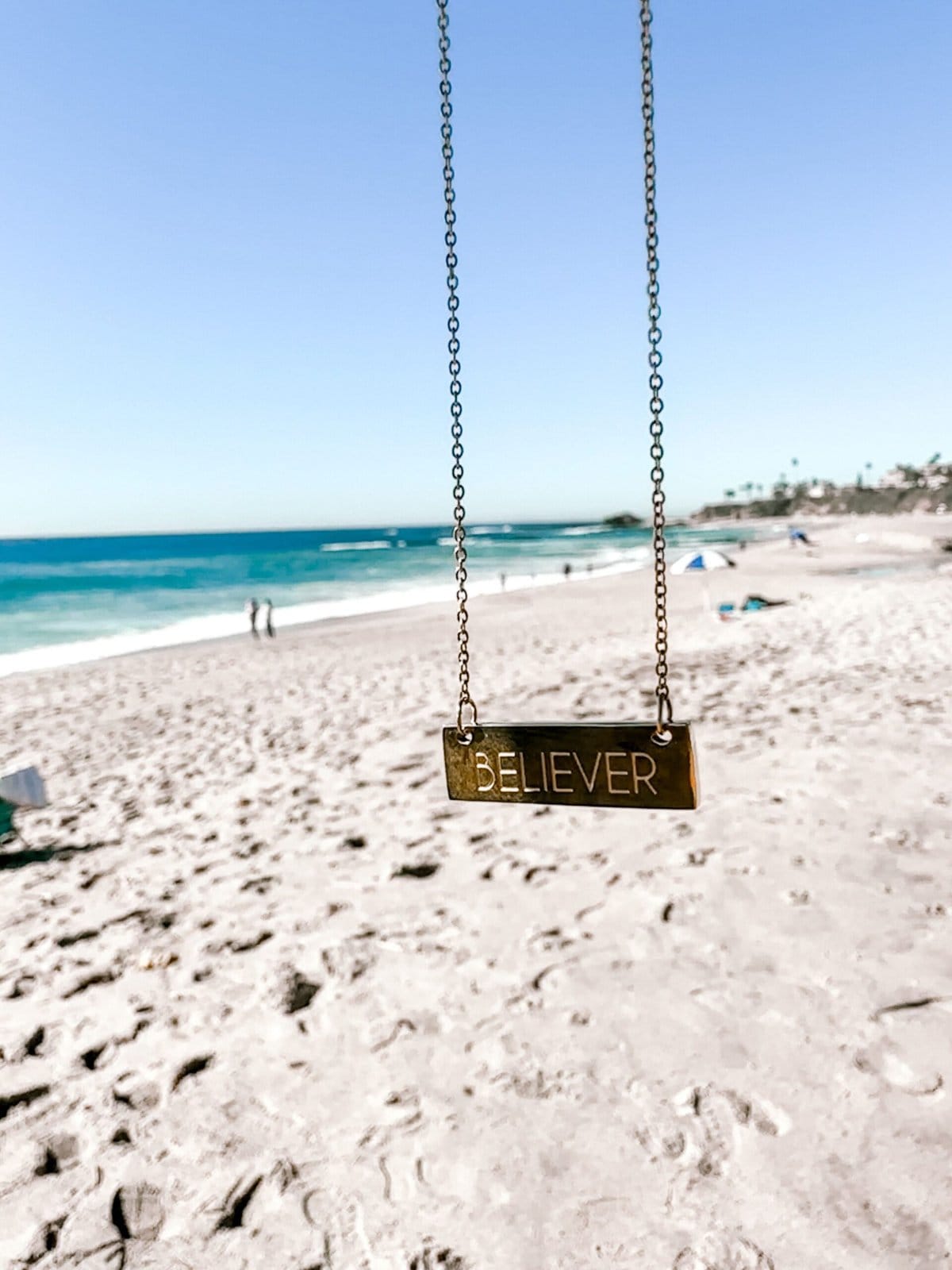 The QUALITY of our meaningful jewelry
All of our Mint Arrow Messages jewelry has been TRIPLE dipped in 18k gold so that it's at its highest standard while still being affordable. The next step is solid gold, but the pricing significantly increases. To keep our jewelry all under $50, we've triple dipped all of our gold pieces to make sure they're the very highest quality possible. I've been wearing my necklaces for over a year now and they've lasted beautifully! The best kind of jewelry especially if you're a mom with busy kiddos running around in all different kinds of environments.
Both of these necklaces also have the extenders on them so you can choose if you want to wear them shorter or longer, which is really nice and great for layering.
Meaningful jewelry: perfect gifting idea!
I'm so thrilled to share these necklaces with you, the incredible quality of the jewelry, and the meaningful messages that they each portray!
Our BF40 code works with all of our existing jewelry as well, including these necklaces:

All of our jewelry makes the perfect gift and they come in beautiful, gold embossed Mint Arrow boxes so that eliminates one more step for you in the gifting process. Some of our new jewelry will come in white boxes with gold embossing, and our older jewelry will come in this cute brown box with gold embossing – all such pretty packaging and perfect if you're planning to gift it to someone! I love that you don't even have to wrap these because they're already so cute. You could even wrap a little red bow around it if you want, but they come ready to gift which is one of my favorite things about these especially during the holidays.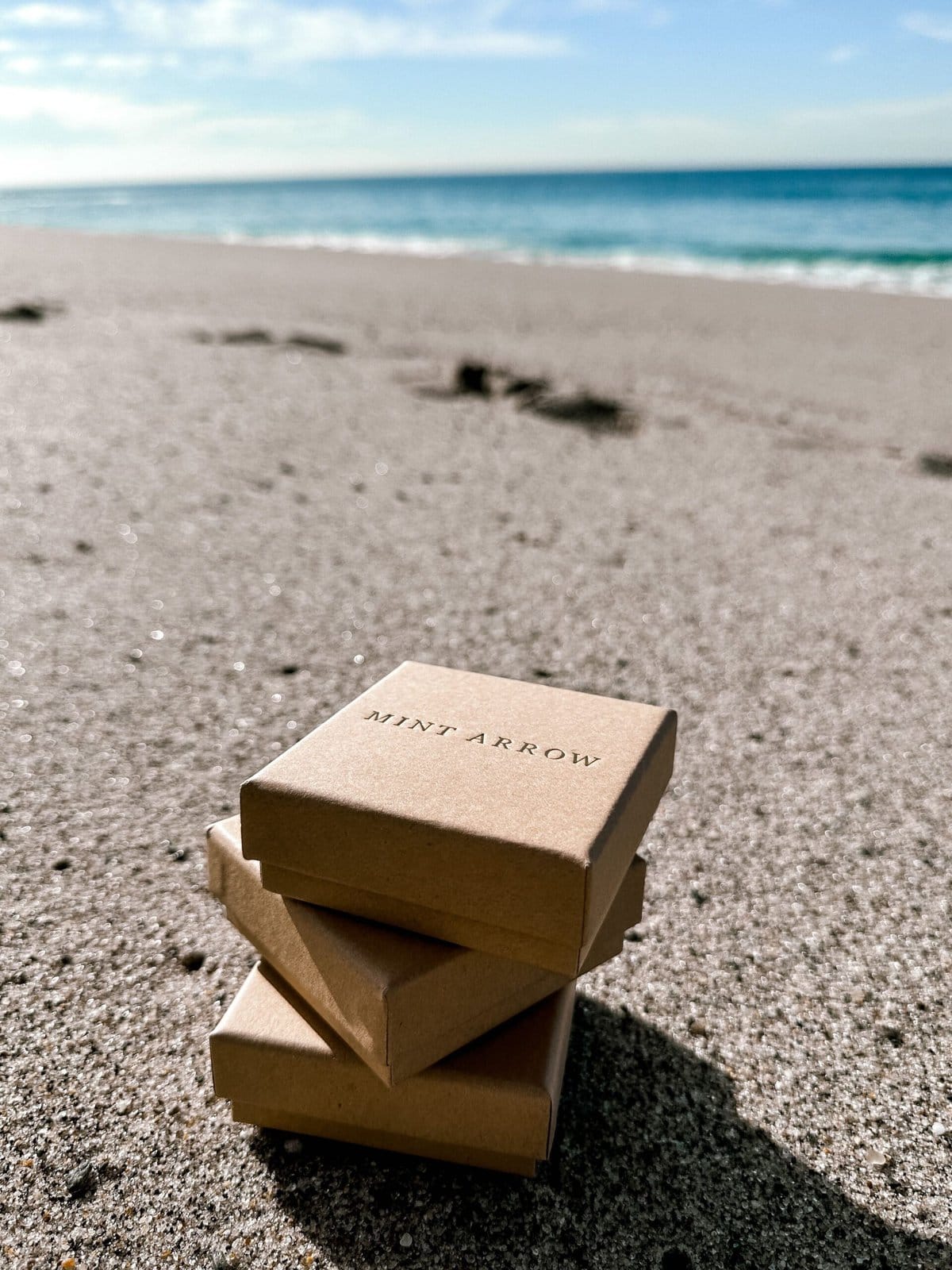 Shipping details
All of our merchandise will ship the first week of December, so they'll definitely arrive by Christmas! You'll receive a notification when your order ships and you'll for sure get to enjoy these goodies before Christmas is here, and have them ready-to-gift well before Christmas.
Mint Arrow Messages Merch super rare discount!
We've never, ever discounted this low and this isn't something we're going to do frequently, so definitely take advantage of this while you can!! Our crewnecks and jewelry all have a deeper meaningful message that would make a special gift for someone for Christmas or "just because."
Enjoy this crazy good sale while it lasts – through midnight Cyber Monday and don't forget to use code BF40 for 40% off + take advantage of free shipping on orders $75+!