I am so excited to joyfully announce that we're expecting our 5th baby this January! We've had a longer road bringing this baby into our family than any of our others, with 2 miscarriages and 3 pregnancies in the past 7 months.
This is going to be my 7th pregnancy, and it will turn our family of 6 into a family of 7 so this really does feel like a lucky 7th pregnancy and I love that we'll be the Stokoe 7 once our rainbow baby arrives.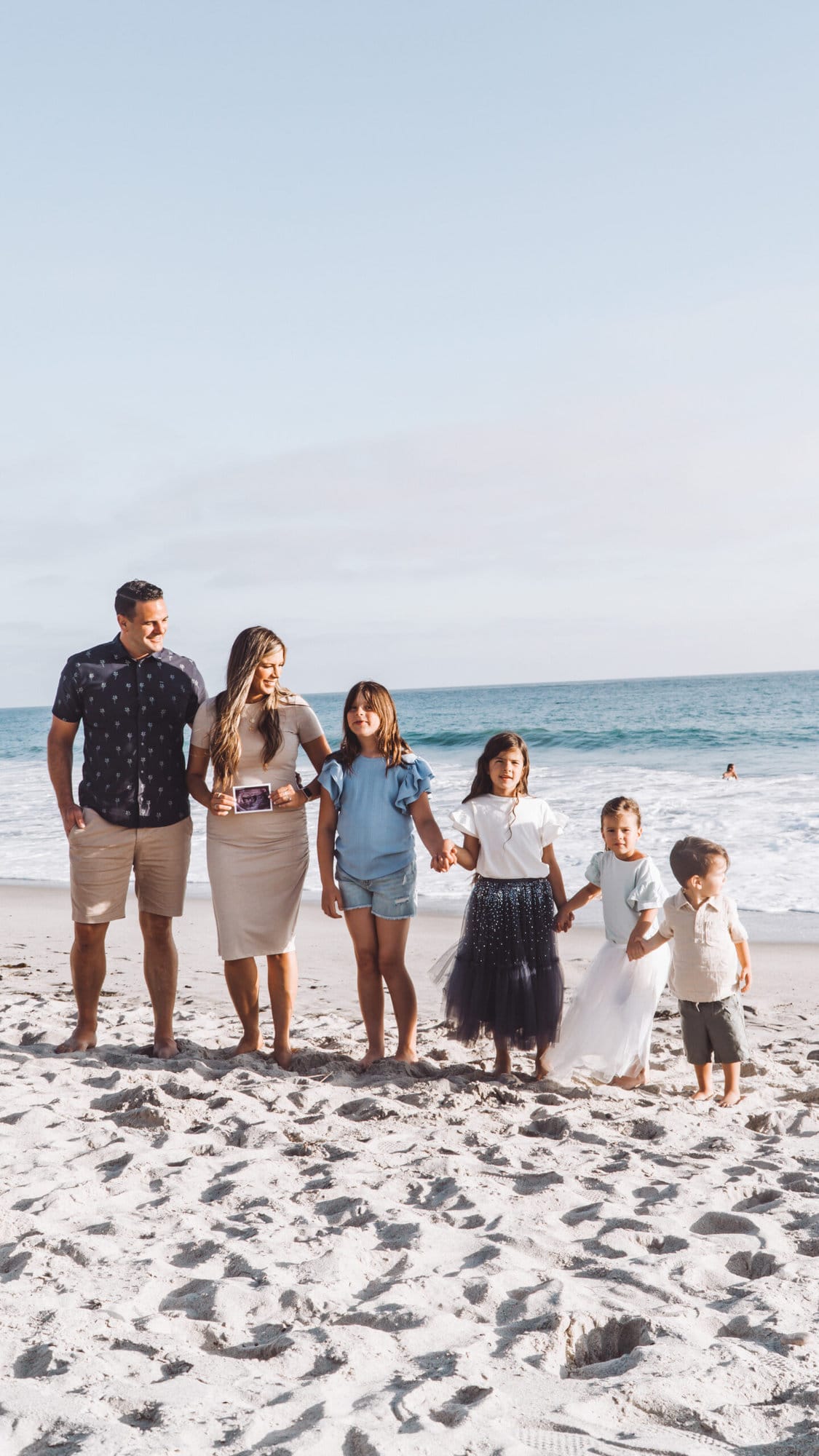 My first miscarriage
I pretty openly shared our experience getting pregnant and then seeing signs of trouble (heavy bleeding and cramping) in the beginning of the pregnancy back in early November 2021. For reasons I didn't understand at the time, I felt super strongly that God wanted me to share that I was worried I could miscarry soon right when we started having issues.
After that, we rode a rollercoaster of being told there was a baby and a yolk sac (yay!), to then find out that my HCG levels weren't rising enough, and a week after that being medically advised to terminate the pregnancy because it was a "slam dunk" that this pregnancy would be a miscarriage. Neil and I called our bishop (congregational leader) and asked him for advice, and he wisely counseled us to wait if there was "even 1% chance there could be a life."
A miracle occurred the following week when we went to my ultrasound, fully expecting to hear even more dismal news, only to see a heartbeat!!! We were overcome with joy and gratitude.
Sadly, my HCG levels still did not rise as they should have and subsequent ultrasounds showed the baby's heartbeat slowing, even though the first heartbeat was very strong and right on-track with where it should have been.
A couple weeks later, just a few days before Christmas, I lost that baby.
I buried myself in the busy-ness of Christmas and the holidays and tried not to give myself too much quiet or alone time or else the grief would catch up to me. A few times I did let it catch me, in a Target parking lot alone before I bought stocking stuffers, or early in the morning a few mornings in a row when I woke up still feeling a little sick and thinking I was pregnant, only to remember I wasn't anymore.
I really healed from that trauma and loss through the scriptures. I heard the same scripture mentioned 3 times in a row right after that experience, Luke 1:38, "behold, the handmaid of the Lord," which was Mary's expression of willingness to be the Lord's servant when she was asked as a virgin to carry the Son of God.
In no way am I saying I had as difficult a task as Mary, but her story in the scriptures gave my miscarriage greater purpose. In our faith, we believe that in order to live with God eternally, you have to come to earth and gain a body through earthly parents. I had some really sacred experiences right after this miscarriage that taught me that that little tiny baby with its tiny heartbeat really did have a purpose. I believe that even though I didn't carry that baby to term, that they're part of our eternal family and someday, in the next life, we'll get to raise that baby.
Miscarriage #2
I experienced another miscarriage a couple months later, this time it was much quicker and it almost felt like it was over before it started. I found out on Easter that I was pregnant with multiple positive pregnancy tests! I kept testing the next few days and was so excited about becoming pregnant again, and I thought the timing of finding out on Easter about my pregnancy and having a due date of Christmas Day were both such sweet tender mercies, both because Easter represents new life and because I had lost our last pregnancy the week of Christmas.
I lost that pregnancy a week later, almost as quickly as it started. I was sad but grateful that this one was less of a rollercoaster. I felt like if I was going to lose the pregnancy, it was so much easier to have it happen early as compared to the trauma of losing the baby weeks and weeks into being invested in its little life.
I didn't share about this second miscarriage because it happened so quickly, and because I guess I didn't want the pressure of everyone being curious/anxious/asking about us continuing to try for another baby. I really just wanted to put it in God's hands and trust His timing completely.
7th time's a charm
I found out that we were pregnant with this baby in my belly right now (pregnancy #7, our rainbow baby) while we were in Hawaii. It was such a special and sweet experience to be in one of our favorite places in the world and to be in such a healing place to embrace this pregnancy with hope.
I've been showing for a few weeks now but trying to hide it under very loose dresses, oversized boxy tees and biker shorts, but it's getting pretty obvious so we decided we better share! Also with one of our biggest work events of the entire year, the Nordstrom Anniversary Sale, I'm going to have to rely on some of my team members to help me cover the sale this year so I wanted to let you know why they'll be trying on all the jeans this year, since I can't button or zip up a pair of normal jeans to save my life right now!
I'm 10 weeks today with 30 to go (ha) which makes my due date around the end of January. I think if my job and trying on clothes for the Anniversary Sale didn't make my pregnancy so obvious, I probably would have waited a bit longer, but the nature of my job does put me in a bit of a pickle trying to keep something like a cantaloupe-sized bump concealed under my clothes. And no my baby isn't the size of a cantaloupe – it's actually apparently the size of a strawberry but ALSO when you're having your 5th baby or 7th pregnancy, your belly blows up like a balloon what feels like moments after conception!
How I'm feeling
I'm feeling pretty sick most of the time, but that's a reassurance because with my miscarriages I never felt as totally sick as I normally do.
Also absolutely dead tired at about 2 or 3 p.m. every day.
ALSO I've had pretty awful sacroiliac joint pain on and off the past 10 months, and pregnancy seems to really exacerbate that, so I'm hoping we can just figure out how to manage that as my pregnancy progresses, because apparently it just gets worse as the pregnancy goes on (yikes!). I've had a couple of miracle weeks where I've prayed and asked God to give me a miracle of not having my back hurt so that I could serve as an adult leader at our youth camp in St. George Utah a couple weeks ago, and He answered that prayer with zero back pain while I was there volunteering.
Then last week at Aspen Grove where I spoke 9 times to 2 different groups, I experienced another miracle week of very little to no back pain, even though just the day before we left I was in excruciating pain. My testimony of how to "seek and expect miracles" has grown more and more over the past few weeks as I've asked God to help me and I've watched in awe how "all things work together for good to them that love God, to them who are the called according to his purpose." (Romans 8:28).
Is everything going okay this time?
Yes. So grateful to share that YES everything is looking good this time around. We've seen our rainbow baby a couple times now on ultrasounds, and just yesterday baby's heartbeat was 174, right where it should be for week 10. My wonderful doctor has been keeping a close eye on this pregnancy and my levels in my bloodwork, and has helped me with getting my progesterone levels up with the help of a progesterone supplement!
What our kids think about our rainbow baby
The big girls are SO excited about another baby in the family! All of my girls say they want another sister. I honestly don't think Millie really understands and Harry for sure is oblivious!
Boy or girl?
We don't have proof yet of whether our rainbow baby's a boy or a girl, but I had a special experience in Hawaii that really led me to believe this rainbow baby is going to be a boy, and a little buddy for Harry. I could be wrong, but I'm going with that for now! We'll do blood work next week and find out a couple weeks after that.
Baby #5 cravings
I swear because I found out about this baby in Hawaii, shave ice has never sounded so good!!! Too bad we don't have any legit shave ice in South Orange County. I've been meaning to get either this machine or this attachment to make some for myself at home, but I know it won't be quite the same as the real stuff from Matsumotos. YUM.
Just like all my other pregnancies, in the first trimester while I feel gross, I mostly want plain carbs all the time. If I eat every couple hours I do okay. If I get to a totally empty stomach, I feel really awful.
Rainbow baby
I love the symbolism of rainbows, God's promises to us. I believe so strongly in these, in the promise that He gave Noah that he would never flood the earth again. I also love that with sunlight, after a storm, you can see the beauty of a rainbow.
I am so excited to bring this sunshine into our home in January. Thank you for sharing in this joy with us, and if you are reading this after pregnancy losses yourself, I hope you know that better days are coming, and that just like a rainbow shows us, to HOPE = hold on, pain ends.