Quick Version: Take up to 50% off Ray-Ban sunglasses HERE!
Sunglasses are a daily outfit accessory no matter the time of year, and with Ray-Ban sunglasses, you know your outfit is going to be on-point, every time!
If you don't have a pair of sunglasses you love, or if you're looking to add a new pair to your collection, there's never been a better day to buy! Some pairs of Ray-Ban sunglasses today are a full 50% OFF and under $100! Keep reading to get all the details on how you can score on these insane deals today and where to get them for the best deal – and FAST, before they sell out!
In a hurry? Shop the deals below!
Deal details
If you are wondering where to buy Ray-Ban sunglasses online, you've come to the right place! Right now for Cyber Monday, you can get up to 50% off Ray-Ban sunglasses here, NO CODE NEEDED!
It's super rare to find designer sunglasses at a discount!! They're often excluded from sales because they're staples, so retailers know people will buy them at full price. But today, you're in the KNOW. Grab them at a discount while you can – and yes, RUNNING is appropriate because these deals have a high sell-out risk!
You'll get the best deals HERE, but if you don't see the style you're looking for try looking here or here!
Are Ray-Ban Sunglasses worth the hype?
If you're asking this question, I have something for you… a resounding YES! First off, Ray-Ban sunglasses never ever go out of style. Second, they are such high quality that I can pull out my favorites over and over again, year after year, and I still love them just as much as when I first got them! They are worth every penny, and they are especially sweet when you know you got a stellar deal on them.
Are Ray-Ban Sunglasses UV protected?
YES! ALL Ray-Bans have a degree of UV protection. A lot of their styles offer up to 100% UV protection. You just have to check the product details to find out! But I love that the round retro glasses and the Aviators I mention below BOTH have 100% UV protection. Pretty amazing!
Round Retro Ray-Ban Sunglasses
These round retro sunglasses are one of Ray-Ban's newest, cutest, and smartest styles – and today you can get them for 30% off. Score!!
They are so cool because the lenses change and get darker or lighter with sun exposure so you're getting the perfect amount of coverage. The lighter and brighter it is outside, the darker the lenses get and vice versa. No more taking on and off sunglasses with changing sun conditions, dashing inside for a quick errand, or hopping into a car. How awesome is that? I love that they're also stylish, and super highly rated. So fun to give this style a whirl and I give them a full 10/10.
Regularly, these retro faves cost $163. But with today's sale, you're getting them for only $114.10! That is SUCH a steal on a pair of Ray-Bans!
Ray-Ban Aviators
The Ray-Ban Aviators are some of the most popular Ray-Ban sunglasses. You're probably really familiar with them already! There are a few reasons I own these in SO many colors and you see me wearing them over and OVER again.
They're lightweight, casual or dressy, and they look good on everyone. Not impossible to find a deal on these, but definitely not readily available at a discount all the time. You can get ALL 10 colors for 30% OFF! That means you're getting some colors for as low as $114.10! (Regularly $213 – this is such an insane deal!).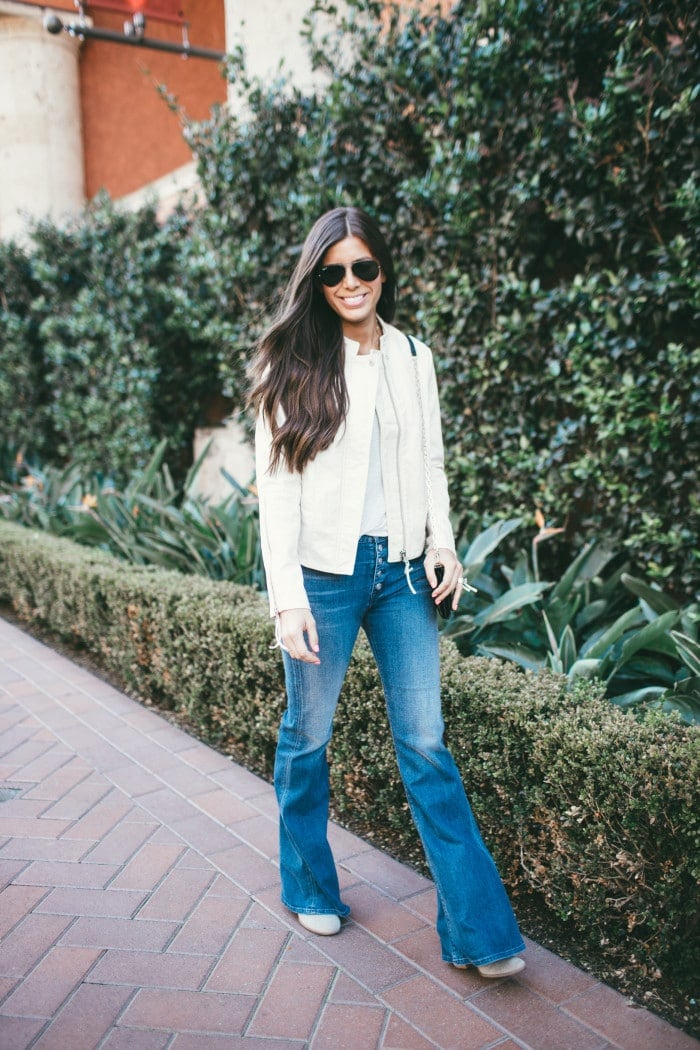 Save money on your sunnies!
I can't believe some of my favorite Ray-Bans are up to 50% OFF for Cyber Monday today! If you're loving this sale and are interested in even more discounted Ray-Ban styles, we've rounded up some of our absolute faves below. Let me know which ones you decide to get. You're going to look SO good in your new Ray-Ban sunnies!