Dressing postpartum. Sigh. In my opinion, it's way more challenging than dressing your body during pregnancy! It's fun to embrace a baby bump when it's obvious and everyone can tell you're pregnant. But as soon as you have the baby it's so hard to know how to dress a body that might seen foreign.
Fourth trimester can be the hardest of all. It's difficult figuring out how to be comfortable dressing for your new body when everything feels and fits different. I saw this quotation on instagram a few weeks ago and loved it so much: "We live in a culture where a mother's pregnant body is beautiful until the moment she gives birth. That's when it's time to wrap things up, tuck away the evidence, apologize for the mess. For me, personally, the body that I had after birth was the one that led to transformation." – Kate Baer.
After four babies, I've gotten a little better with each at dressing my postpartum body, incorporating both comfort and style. I'm excited to share some of my best tips with you today, and a little encouragement and love too.
Loungewear
The first few weeks after you have a baby will probably be strictly loungewear (as it should be!). Once you're ready to leave the house though, you'll want items that are just as comfortable as your favorite pjs. I have LOVED hanging out in these house dresses that I featured in my postpartum must-haves post (I will be updating that post soon)! They are not only breastfeeding friendly, but so forgiving and can be worn in public!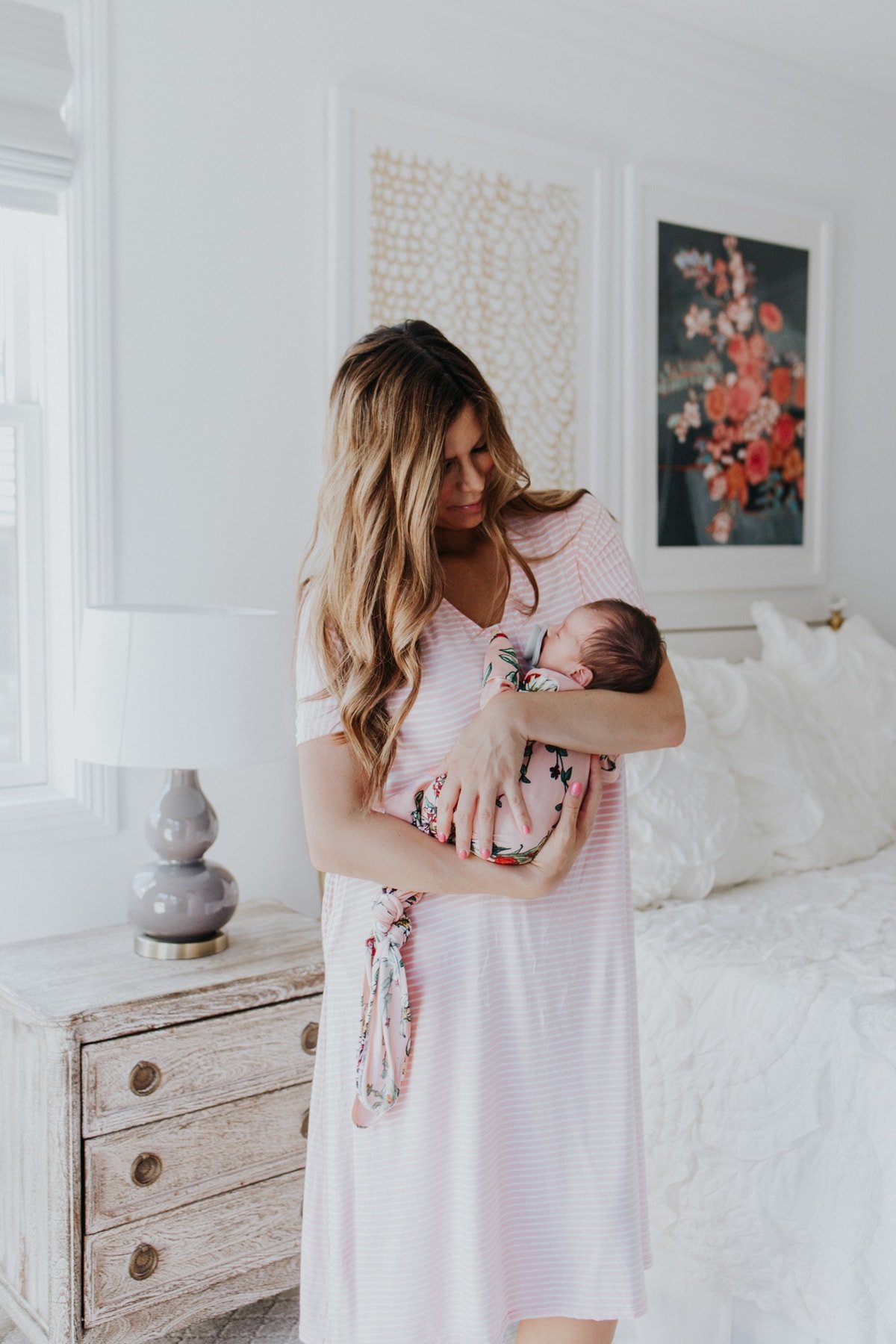 Keep it loose
Loose, flowy dresses are another lifesaver in the months after you give birth. They're flattering and feminine and still feel dressed up, which is so much fun when you've been just hanging around the house changing from daytime pj's into nighttime pj's! Just make sure you're buying ones that button or wrap on the top if you're nursing and going out in public. I only made that mistake once, ha!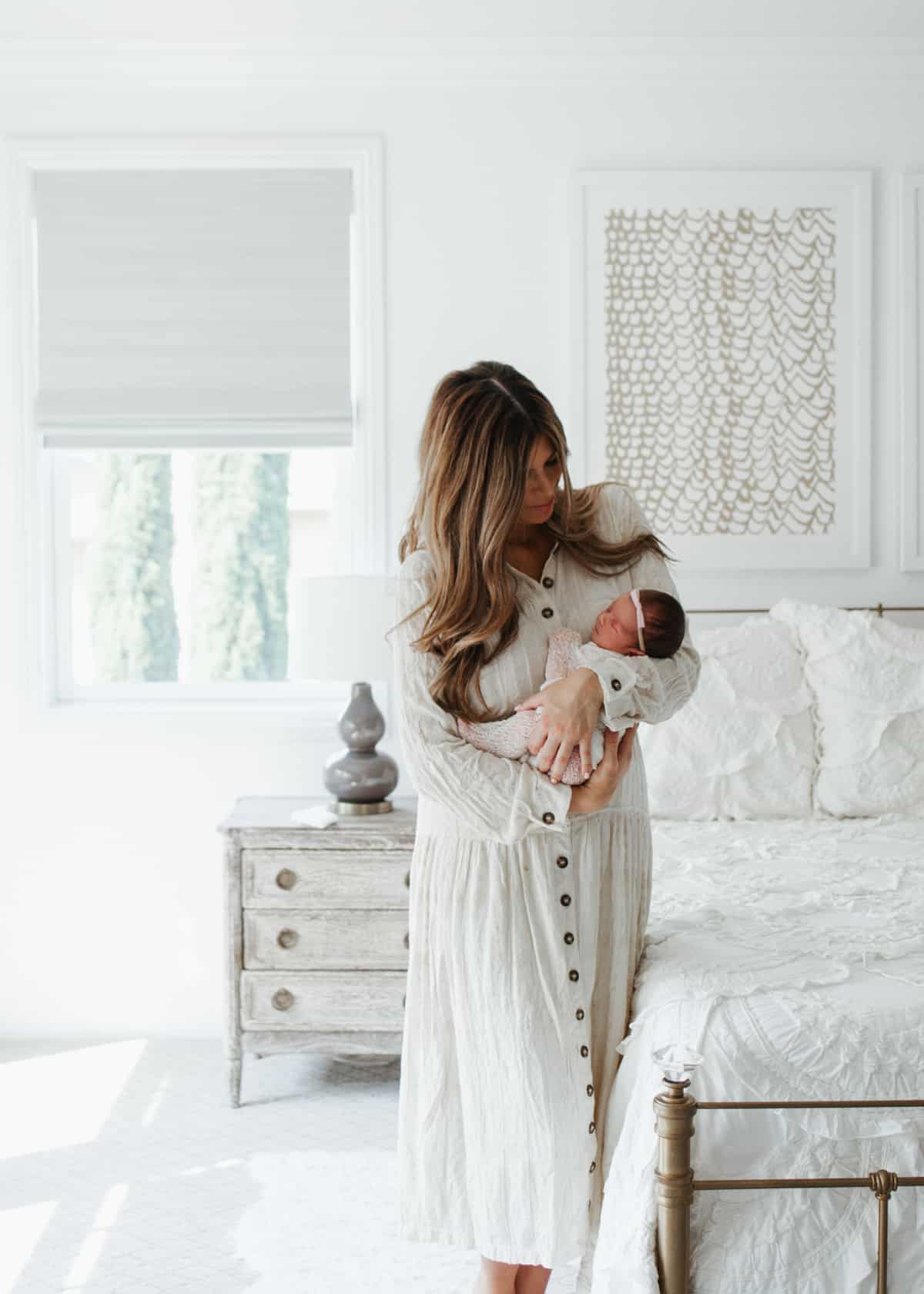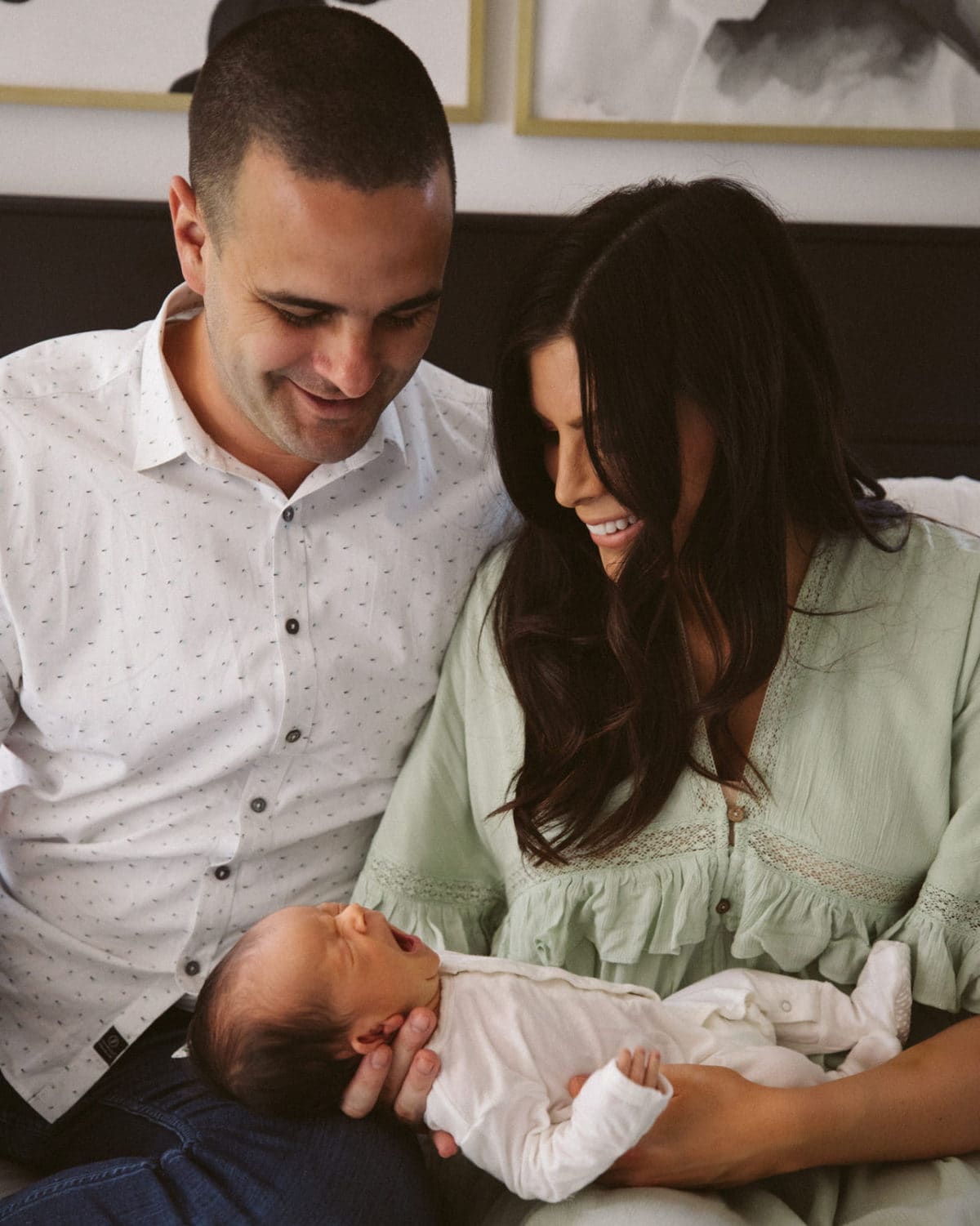 Nursing-friendly tops
Button-ups
Button-ups are a postpartum fave, especially if you're nursing! They usually have a softer, looser shape, and I love tucking in the front to add a little structure. The short sleeves on this top make it super easy for layering if you want to add a cardigan, and it's cool enough to wear on its own if you're feeling warm! Definite win-win in my book. The shirt I'm wearing below is in low stock, but here's a similar option in multiple colors and sizes!
I love the Madewell button ups, but they can be pricy and I have to go up a size because #nursing, so I prefer to get something a little more inexpensive like these tops from Amazon! They look nice, they're great for breastfeeding, and the price is unbeatable for the quality!
Flowy forever
This top is probably my favorite recent purchase! It's flattering yet feminine and I don't feel like I'm wearing a sack even though it's flowy. And if you're nervous about flowy shirts adding volume to your frame, do a little front tuck and boom! You have a waist.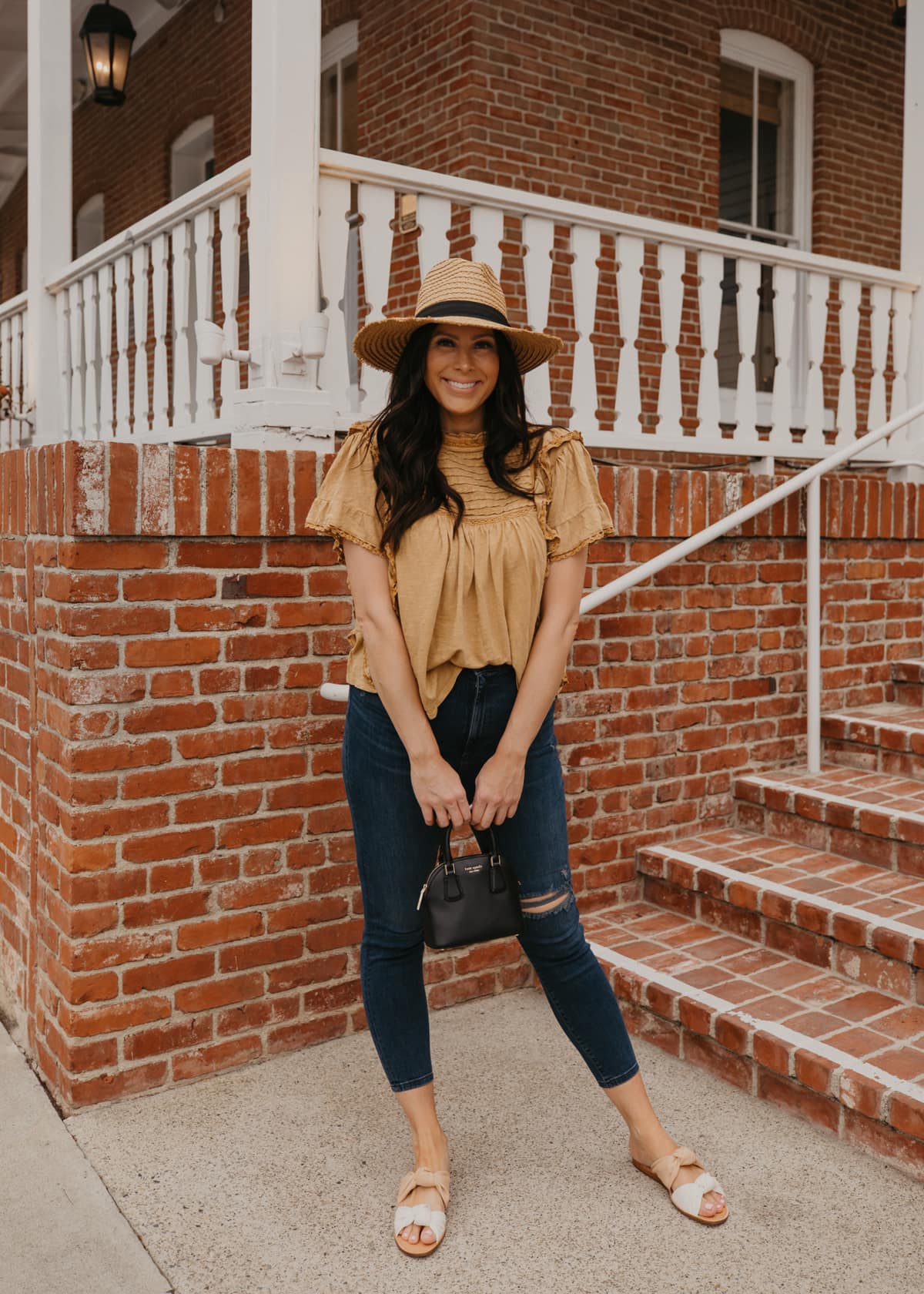 Jeans…(yes, jeans!)
I know the thought of wearing jeans post-baby might sound crazy, but getting dressed in normal clothes makes me feel mentally in a better spot. It totally gives me that boost of confidence I sometimes don't realize I'm missing. Sometimes I just want to wear an outfit that feels like ME!!
With my first two babies, I gave into all kinds of guilt and feeling badly about myself waiting until "MY" jeans fit. Finally with Millie I just bought jeans that fit after about 6 weeks, in a bigger size, and wore those happily until several months later I fit into jeans I had worn after two kids. Don't feel an enormous pressure to race back to your pre-pregnancy waistline. It's OKAY if it takes a long time, or forever, or never happens. You made a human!!! If your new size is a size larger, because your hips moved and your body grew a living breathing person inside of you, that's okay. Buy a new pair of jeans in the meantime if you can and let go of all that expectation you have on yourself to hurry back to "normal." It's okay to take time and embrace the season you're in. When I've done this, I've been so much happier.
I always love a high-waisted jean, but especially after baby, I love the structure and how they hold me in. The pair pictured is low stock, but here's another affordable pair for only $25!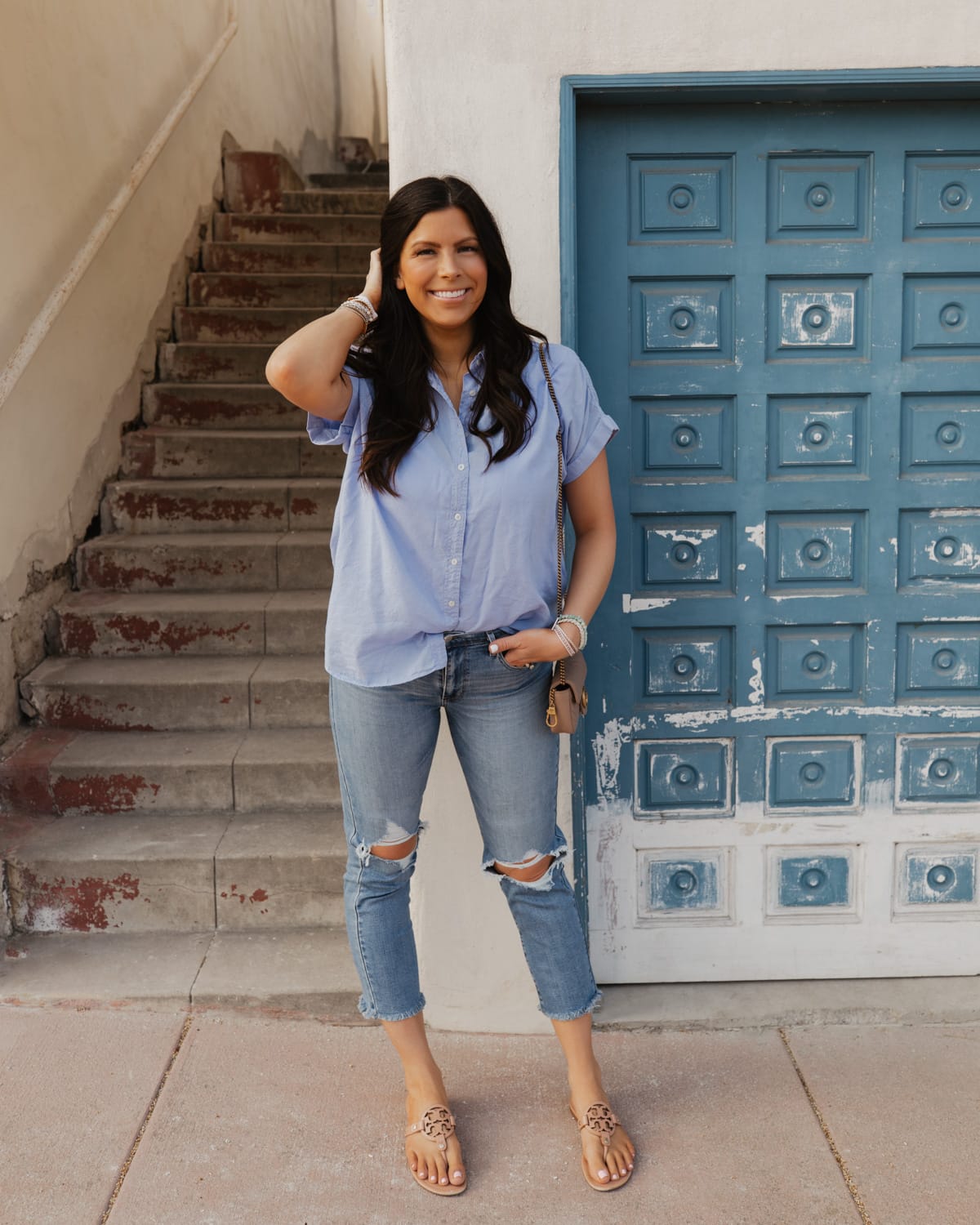 It may also be helpful to buy some less expensive jeans in a few sizes up from your pre-pregnancy size to ease you through that transition. Also a fabric measuring tape is a lifeline for buying clothes online postpartum. It's much less discouraging when the clothes you order come to the door and actually FIT!
But if you're not sure of your size, stores are being super accommodating when it comes to returns (both in-store and online), so feel free to grab a couple sizes and see what works for you! Try on at home, where you're comfortable (and not standing under blaring fluorescent lighting).
Stretchy Pants
Joggers
Let's talk joggers. JOGGERS! They're sweatpants with a sightly fancier feel, and I love that they're ON TREND right now. They will keep you feeling as comfy as you would be in pajamas, while still looking put together! Total WIN in my book.
I've been wearing the pair pictured below like crazy. They're currently sold out, but here's a similar pair I found with almost 1k positive reviews for $13.99!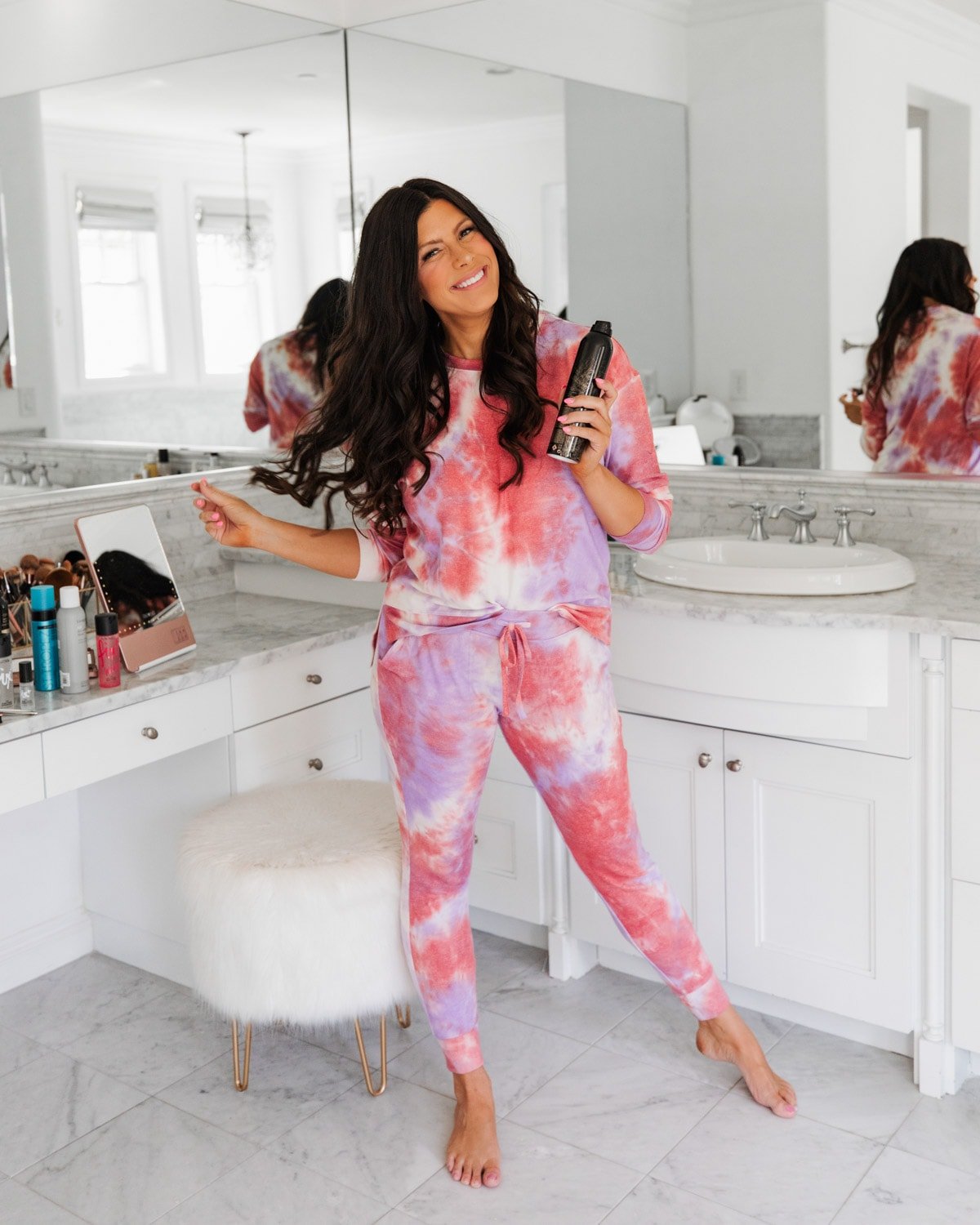 Legging lover
Comfy, supportive leggings are a new mama's postpartum best friend. I love finding ones with a higher waist that pull everything in and support your postpartum belly. Loose and flowy tunics or button-ups are a great way to dress up black leggings, and they're really convenient if you're nursing, too!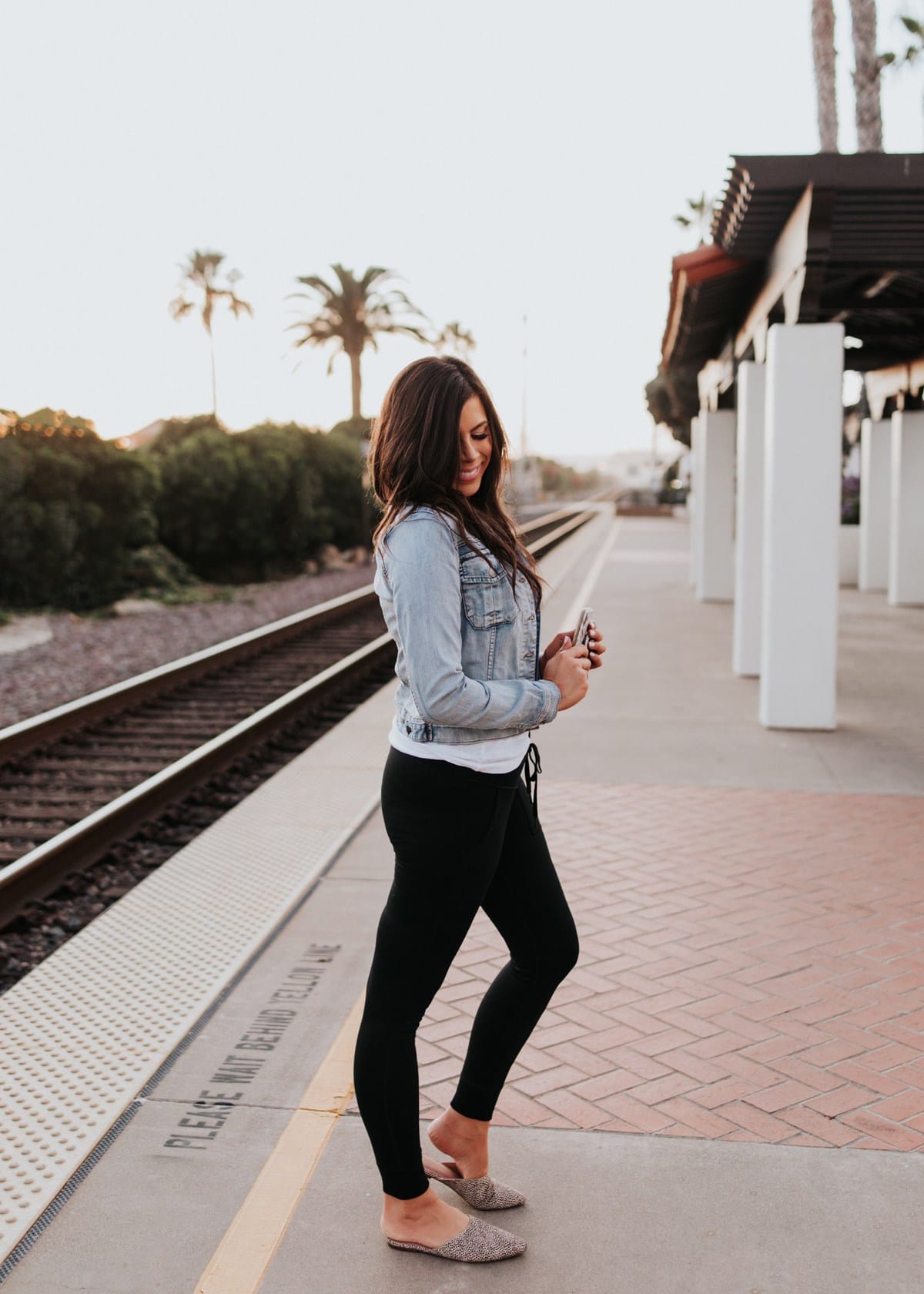 The leggings pictured are INSANE. I love them because they have pockets (YES, pockets) and kiiiinda look more like actual pants, but they are leggings so they are better!!
If leggings and joggers had a baby, these would be their uber happy love child! Loggers? Joggings? Whatever we decide to call them, they are ABSOLUTELY amazing. They are super flattering and super comfortable, so they are a total staple for me! I also really like to wear them with a tee and tennis for a Disney day with the family.
These leggings come in black and gray (I have BOTH) AND you can choose your length (short, regular, or long): cue applause!
Biker shorts
Biker shorts are back and I could not be more here for it! I love this trend, because it's like the summer version of leggings! They're comfortable and casual. They're perfect for running errands or hanging out at the house, especially in the summer! Being immediately postpartum in the summer seems harder than in the winter because you can't hide behind layers. 3 of my 4 babies have been summertime recoveries and I've had a rough time figuring out what I can wear that works for the weather AND for me. BIKER SHORTS FOR THE WIN.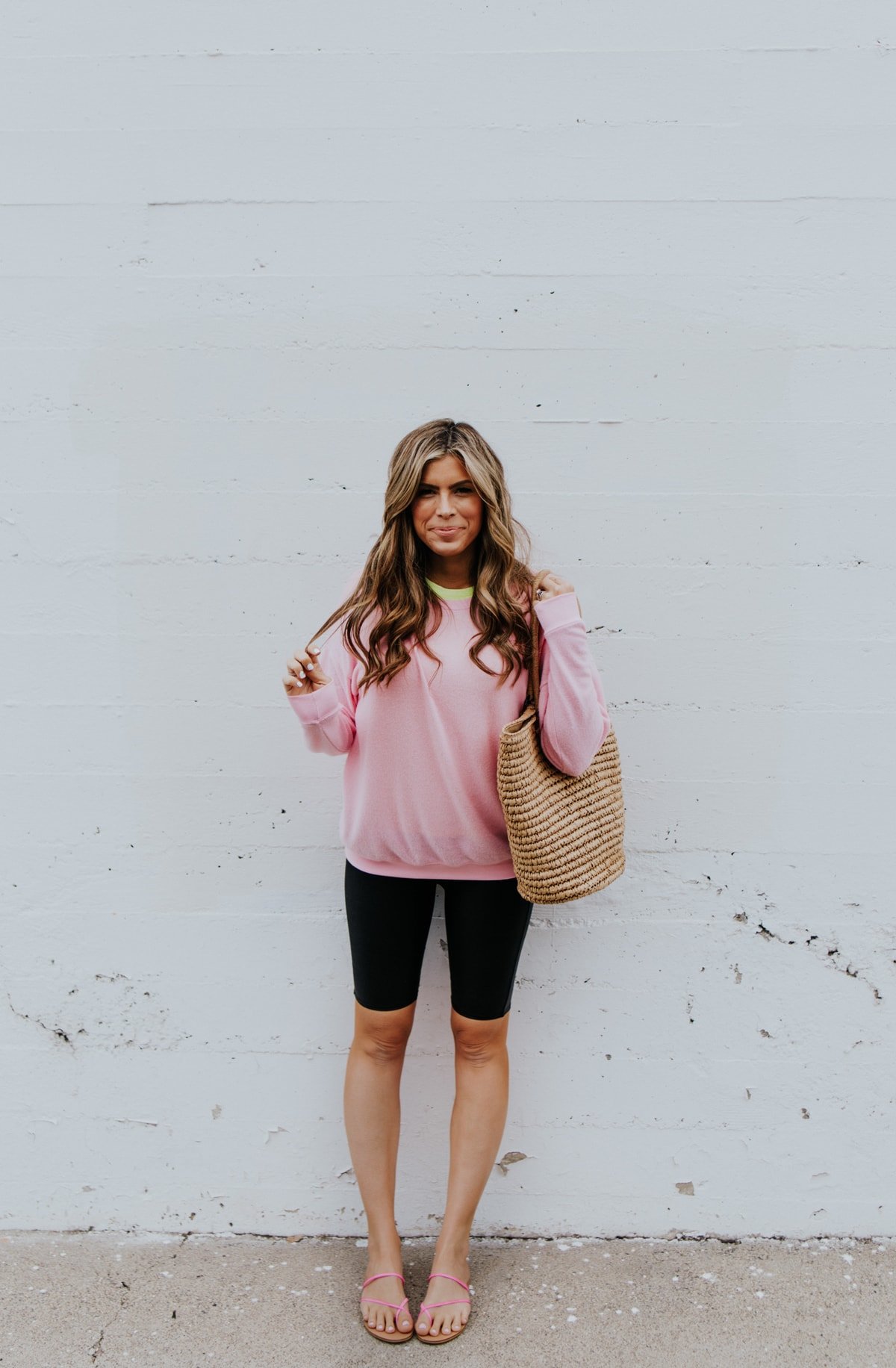 The Spanx version is my favorite postpartum because they are sooo slimming, but they will cost you a few more pennies. The Zella version is also amazing and a little more affordable and a little more comfortable for all-day wear. You really can't go wrong with either!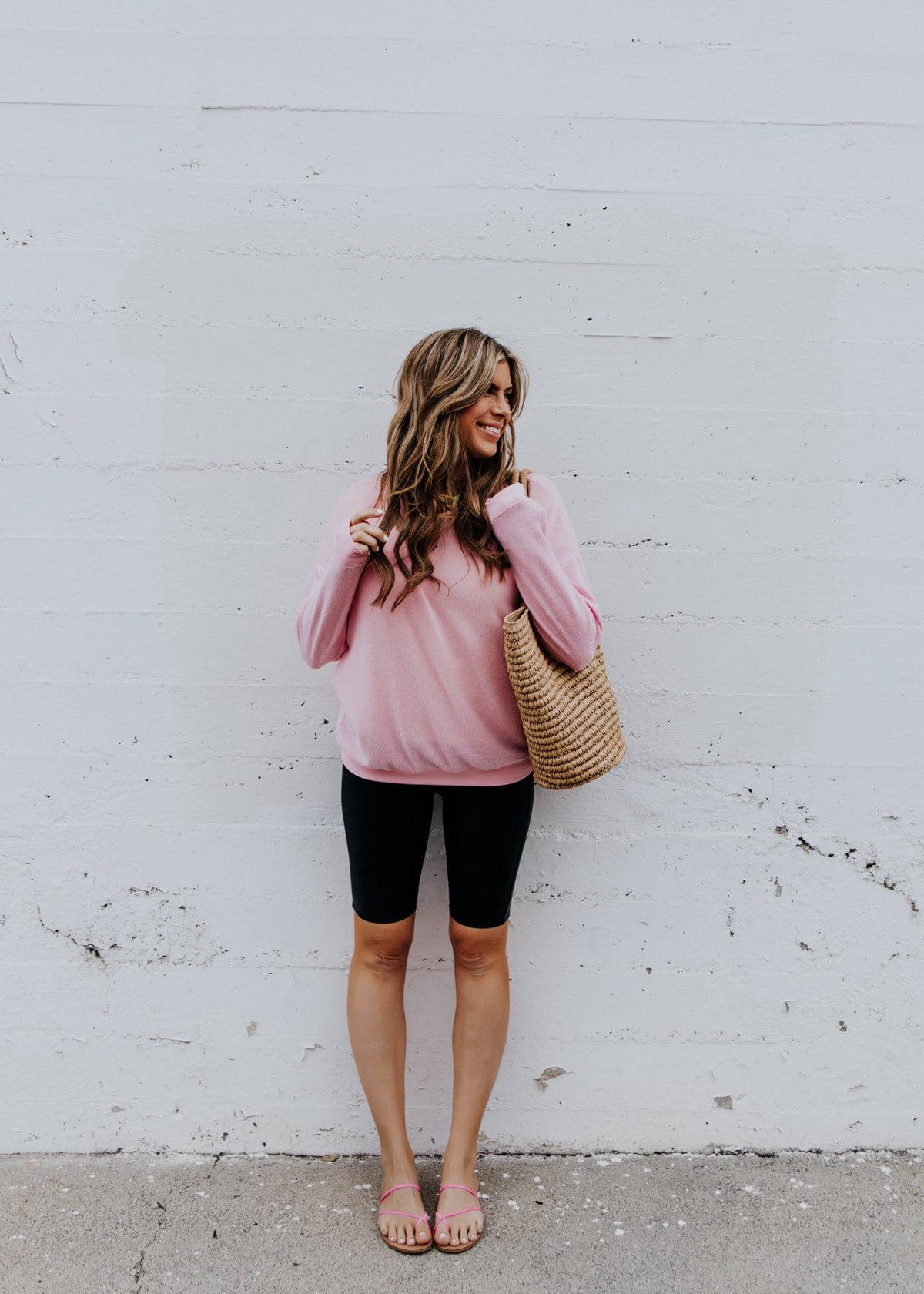 Grab a bag
Totes
I am SUCH a fan of a big tote, especially when I have a newborn! If you don't want to carry a diaper bag, a tote will hold all the diapers, and wipes, and burp cloths needed for a day out and about. AND it's plenty big for a laptop – always a huge plus in my book!
The tote pictured here is a splurge, but this one is similar for $49.98. And if you want to stick with a diaper bag, we've been loving this one.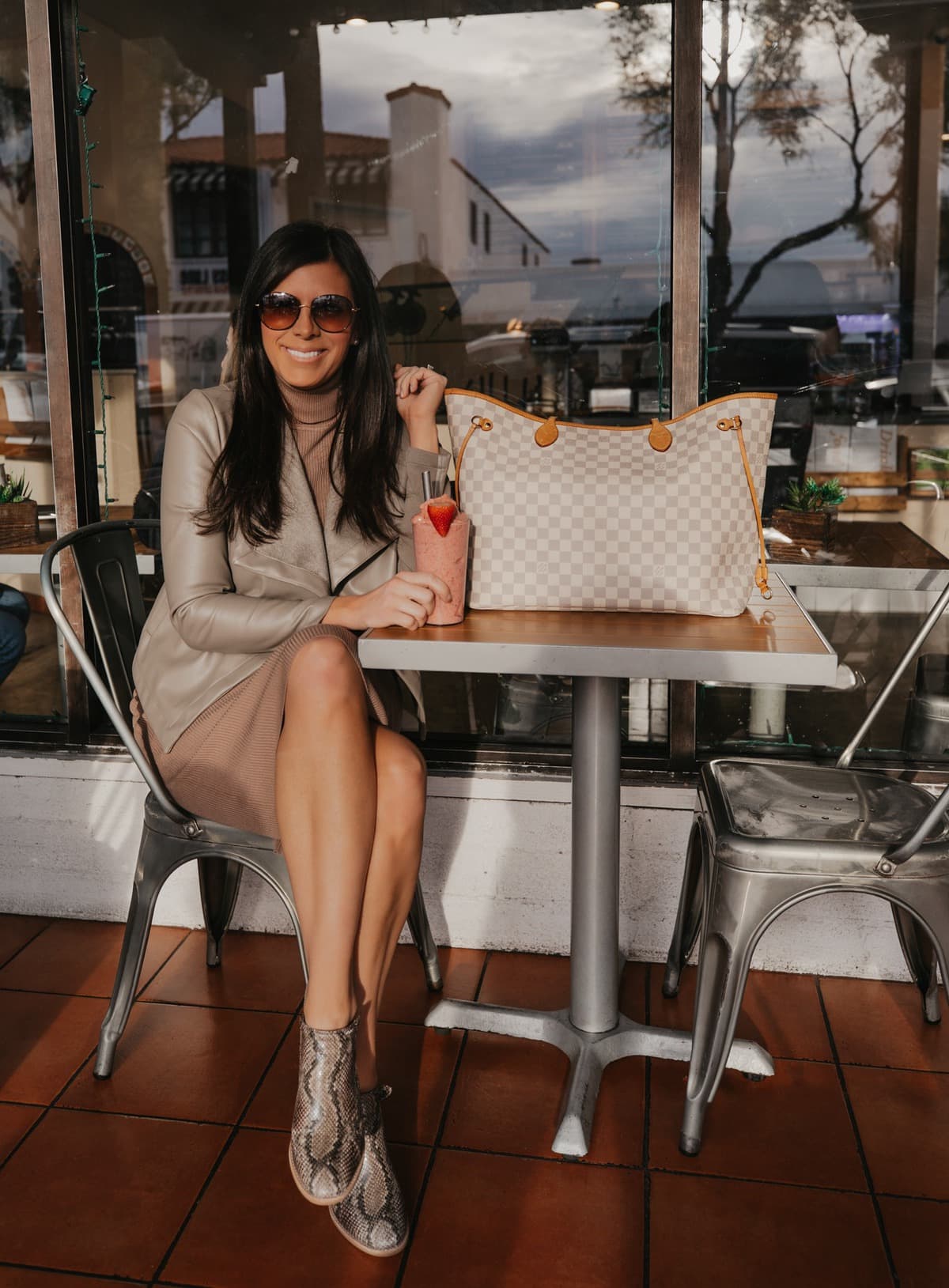 Mini bag
Mini bags are my new favorite. I use them for solo errands, and it's SO freeing to only bring my keys, phone and a bank card! Most of the time moms are saddled with massive bags that carry ALL THE THINGS, but mini bags are a luxury that are just as fun as running to a drive through for your Diet Coke, jamming out to T.Swift (by yourself, of course)!! This designer bag is pretty pricey, but you're in luck because we found a pretty good similar option for only $20!
Keep your feet comfy
Let's be real, I barely have time to shower postpartum, let alone strap into some shoe contraption. I need two things from a shoe right now: comfort and easy style. These Tory Burch sandals are both!
Final postpartum tips
Embrace the maternity wear
Embrace the maternity wear for a few weeks! A lot of first-time moms are surprised or even discouraged that they still look pregnant after giving birth. But every woman who's had a baby knows IT'S TOTALLY NORMAL. And even though you might be feeling so sick of the maternity clothes that have been on repeat for the last few months, keeping those pants with the stretchy waistband around for a few more weeks will totally save your sanity.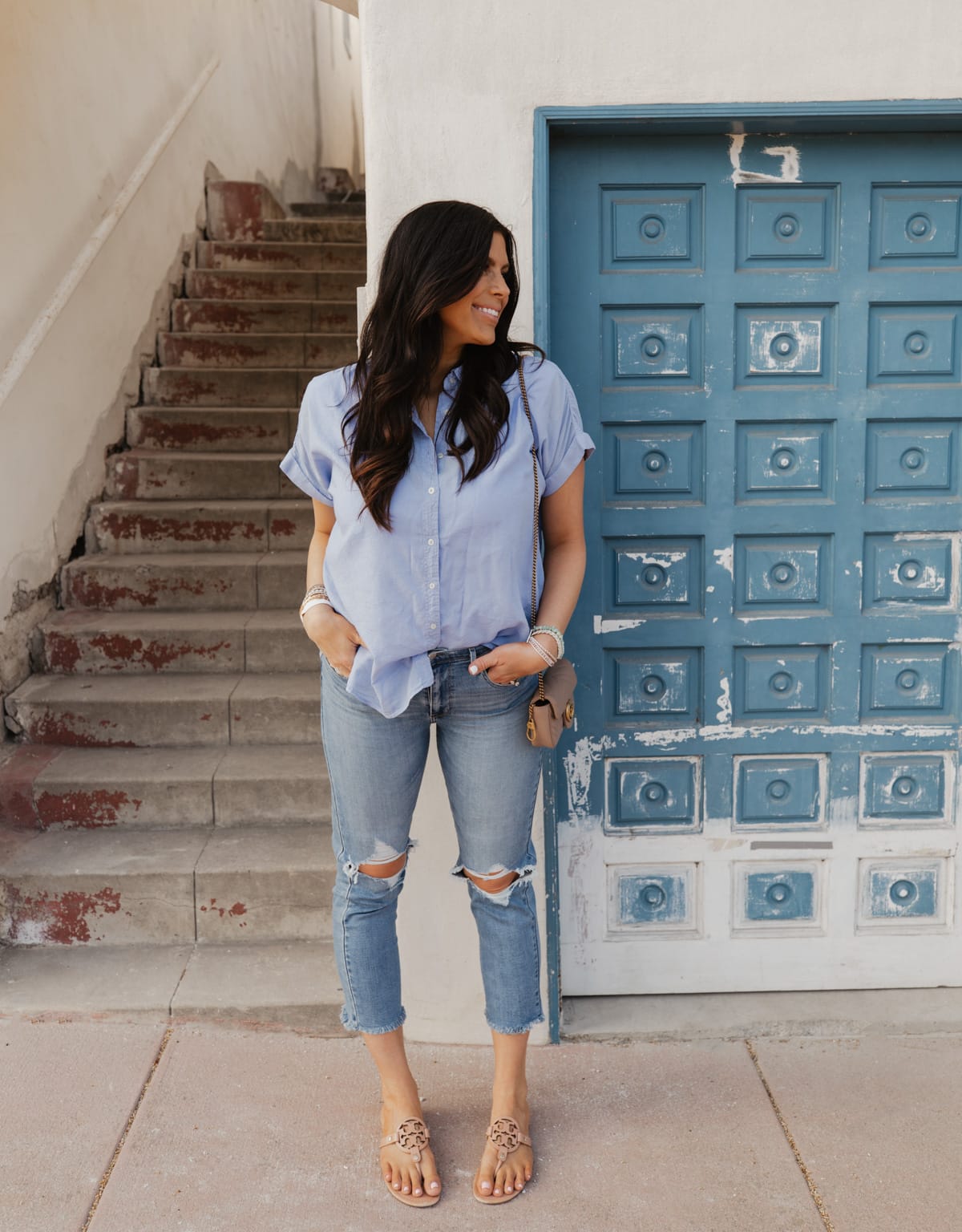 Give yourself grace
Your body just did an INCREDIBLE thing. You just grew a human, INSIDE YOUR BODY! Your body is going through some radical changes getting used to not having that baby inside of you, after housing a human for almost a year. Your body was made for this, but it also wasn't made to bounce back a few days or even weeks after you give birth.
It always takes me a minimum of a year to feel like myself again. A YEAR! Physically and mentally. It makes sense if you think about how long it took to MAKE the baby, that it would take that long for your body to recover too from having a baby.
I totally get how frustrating it can feel. It goes by fast. Your jeans will fit again someday. Or maybe they won't. I'll be honest I've never gone back down to the size I was before I had my first baby. But you are not defined by your jean size. Your worth comes from WHO YOU ARE inside. You are incredible. You are strong. And your body just as it is right now was made for this.