I've got less than 3 weeks left carrying my fourth baby and I'm definitely at that point in my pregnancy where the only thing that sounds nice is air conditioning at full blast, frozen grapes and a footrest with a very comfy chair. Or maybe living in an igloo. I think that sounds nice too – ha!
I do have a third-trimester checklist of favorite things I've craved, loved and lived off for the past several weeks and it's basically my mama duty to help other expecting mothers out there survive the last little bit of child-growing too!
Third Trimester Checklist
Cope with pain
I always have such horrible pain walking around during my last trimester. Mostly round ligament pain, which feels like a shooting stabbing knife in the top of your thigh (fun huh!). But I've also dealt with serious sciatic nerve pain in all 4 of my pregnancies and wearing a pregnancy support band REALLY really helps!! I try to wear this belly band when I remember at home, or if I'm in a lot of pain OR if I know I'm going to be walking a lot, I wear it under a really loose dress or under maternity jeans and a loose top and you can't even tell you to have it on! If you've been having pain in your last trimester, add this to your third-trimester checklist FOR SURE.
This pregnancy I also tried out this underbelly pregnancy support band with hundreds of high ratings since it was only $17 and it's not quite as comfy as the other one I own, but it does help!
Bath salts and bubbles
Did you know that taking a bath is second ONLY to an epidural for pain relief in the last phase of pregnancy? It's seriously one of the ONLY things that helped me through horrible back labor and early contractions has been jumping in a warm bath, and adding these bath salts and bubble bath that I talked about recently in my self-care faves guide, my mother's day gift guide, and my February Amazon love list (yes, that's how obsessed I am!!) help even more with relaxing your body! And BONUS: they're both $5 for about a month's supply.
Avoid stretch marks
Mother's Special Blend is one of the products I've absolutely SWORN by with all 4 of my pregnancies, and I've had SO many women come back to me after finding it on my best baby registry and tell me it saved them from getting stretch marks!! Trust me when I say the last trimester is THE MOST vital time to be putting this stuff on your belly, sides, and back like it's your job.
Your skin is stretching so much that last little bit and keeping it hydrated has worked so well for me in preventing stretch marks on my belly (not ONE – yet!) which is pretty crazy since I have stretch marks all over the rest of my body from growing so I am definitely prone to getting them. Oh and use this too every day after baby comes while your skin stretches back to its normal size – you can get stretch marks then too!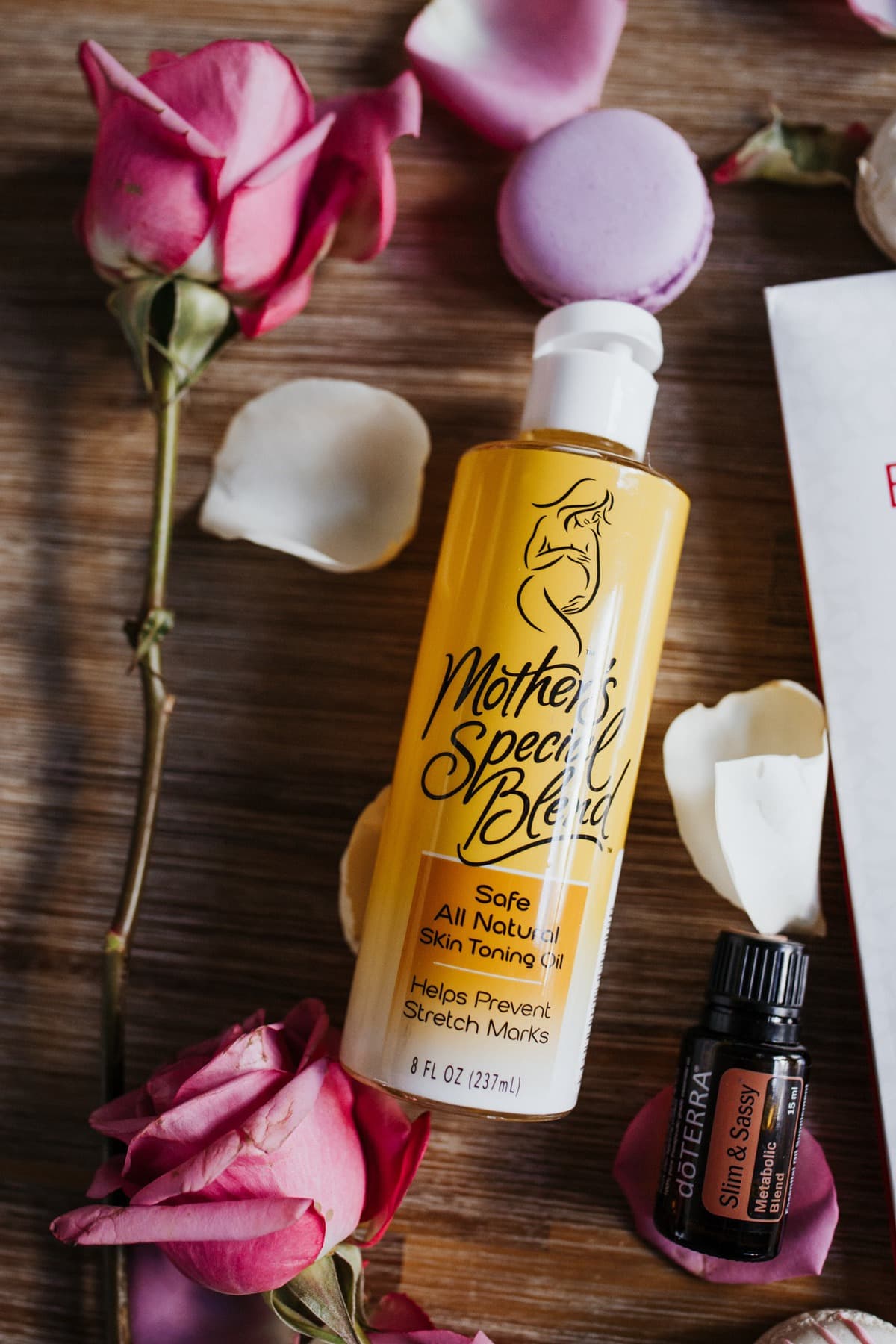 Sleep better
One of the best tips I finally listened to this last pregnancy, that I wish I would've heeded in earlier pregnancies, was to take unisom every night! You HAVE to take the unisom tablets with Doxylamine Succinate as the active ingredient, not the sleep gels with Diphenhydramine HCl because those seriously do not work the same. You might feel groggy the first day or two after you take it, but hang in there because if you're like me, your body will adjust and the drowsiness that lasts into the beginning of the next day will subside and it's well worth getting an actual full night of sleep.
Of course, check with your doctor before taking medication, but seriously every doctor I've had and everything I've read says unisom is safe in pregnancy and this will actually HELP YOU SLEEP!
Chew on this
Okay THIS nugget ice maker may be the very best purchase of my entire life!! Haha I'm only half kidding … but I seriously use this thing daily, everyone in my house is obsessed with it.
Flavored water
So my food blogger mom turned me on to this stuff and it. is. AMAZING. I normally don't like flavored water or barely flavored soda, you know the kind that tastes like someone had koolaid with a huge glass of ice and all the ice melted and you have that icky barely flavored taste at the end? I know you know the kind!
THIS STUFF is absolutely delicious and has zero sweeteners or preservatives, it's literally just water naturally flavored with fruit and other non-GMO plants and it tastes like heaven if it's ice cold. I will ONLY drink it ice cold though otherwise it's not half as good! I take a little cooler to the pool or beach with one of these or have one if I'm craving a yummy drink and I've already had a diet coke for the day. Really it has helped me drink SO MUCH more water. And this is the cheapest (and most convenient!) place I've found to have it delivered right to my doorstep. Oh and I love ALL the flavors.
Comfy shoes
At this point in my pregnancy I really can only comfortably wear a few pair of my shoes, and these sandals have been my go-tos EVERY DAY of the week. I feel like they're nice enough to not look like flip flops, but they function like a flip flop giving your poor swollen feet room to breathe and stretch and they really are so so comfy.
I'm also living in my slippers these days! I absolutely love these fuzzy slippers that I just got in the mail last week for $25. They're cushy, comfy and cute enough to not feel like I'm a total grandma shuffling around the house in my slippers 🙂
Tums chews
If you're having heartburn from you-know-where like I have with all 4 of my pregnancies and especially this last one, these Tums chews are life!! I really dislike the chalky taste of traditional Tums but the chews taste more like a chewy candy which is SO MUCH more bearable for me. And they work IMMEDIATELY. I still try to eat them sparingly, like one a day at the most because my OB warned me that too many Tums could turn into a kidney stone! But so far they've been a total lifesaver.
Entertainment
Baby Wise
Baby Wise is an OG book about helping your baby sleep through the night! I read this thoroughly a couple of times before Anabelle was born, and I've reviewed the first 1/3 of the book before each of the rest of my babies have come, so it has definitely been on my third-trimester checklist for all 4 pregnancies. If you haven't read it yet, it might be different than what you'd think! It's full of helpful advice and planning techniques before your baby comes, feeding and parenting tips and one of my very favorite things about this book — the sample schedules from when baby is born through its first year. I've patterned my babies' schedules after this book and it has worked so well! I can't recommend it enough.
What to Expect when you're Expecting
This is another fun book to have around when you have questions about what's going on with your body, what labor should feel like, even advice for dad! It's broken up into very easy-to-digest chapters so you can skip around and get the info you need, while you soak in a bath! Ha.
Binge-worthy shows
I'll admit that at the tail end of pregnancy, I become pretty useless. It's hard to sleep, hard to relax, hard to walk, hard to do just about anything. It really helps to have a fun show to binge so you have something to look forward to. And trust me, you'll have plenty of time to keep going even if you don't finish before baby comes because before you know it, you'll be feeding that baby around the clock too!
Here's my list of clean shows that I love, and hopefully it helps you find something fun and easy to plow through too while you (im)patiently wait for baby to come.
You've got this mama!
I hope this helped you guys with some survival tips and little luxuries to add to your third-trimester checklist and get you through that last little bit of pregnancy! And if you want to see our little peanut when he arrives, go follow me on instagram @mintarrow where I'll be sharing pics and videos of baby when he arrives!!