January is nearly over and you might be in need of a little extra motivation to keep you on track with your fitness goals! Or maybe you are in need of a treat for the goals you have accomplished so far? Running shoes are the perfect guilt-free treat because they're super practical and useful, in addition to being fun!
Some of my most FAQs are about my favorite things: favorite dry shampoo, favorite self-tanner, favorite leggings. So I thought today it might be super useful to round up my top SIX favorite running shoes in one place!
Important Note
Because these are my tried and true favorites, I have owned all of these sneakers for quite awhile. So the colorways pictured may not currently be available for purchase. But all of the same exact shoes in slightly different colors are linked, in the colors I love most available right now.
Celebrities, fitness stars, and sneakerheads are as obsessed with these laceless sneakers as I am because they are BEYOND comfortable! Like 10/10, super-duper bananas comfortable. This is usually my go-to Disneyland shoe because I can spend the entire day on my feet without one single blister or sore toe.
These sneakers are perfect for running errands, traveling, or doing your favorite at-home workout. This is for sure a spendier option, but totally worth your pennies in my opinion because they wear well, last forever and look cool.
I am completely OBSESSED with my Ultraboosts. They easily make my top 3 COMFIEST shoes of all time list! The Ultraboosts are my favorite, most comfortable workout shoes. They were recommended to me by SEVERAL friends in the fashion industry and I was pleasantly surprised to find they were so good I keep going to them again and again.
I own this shoe in THREE colors-that's how much I love them.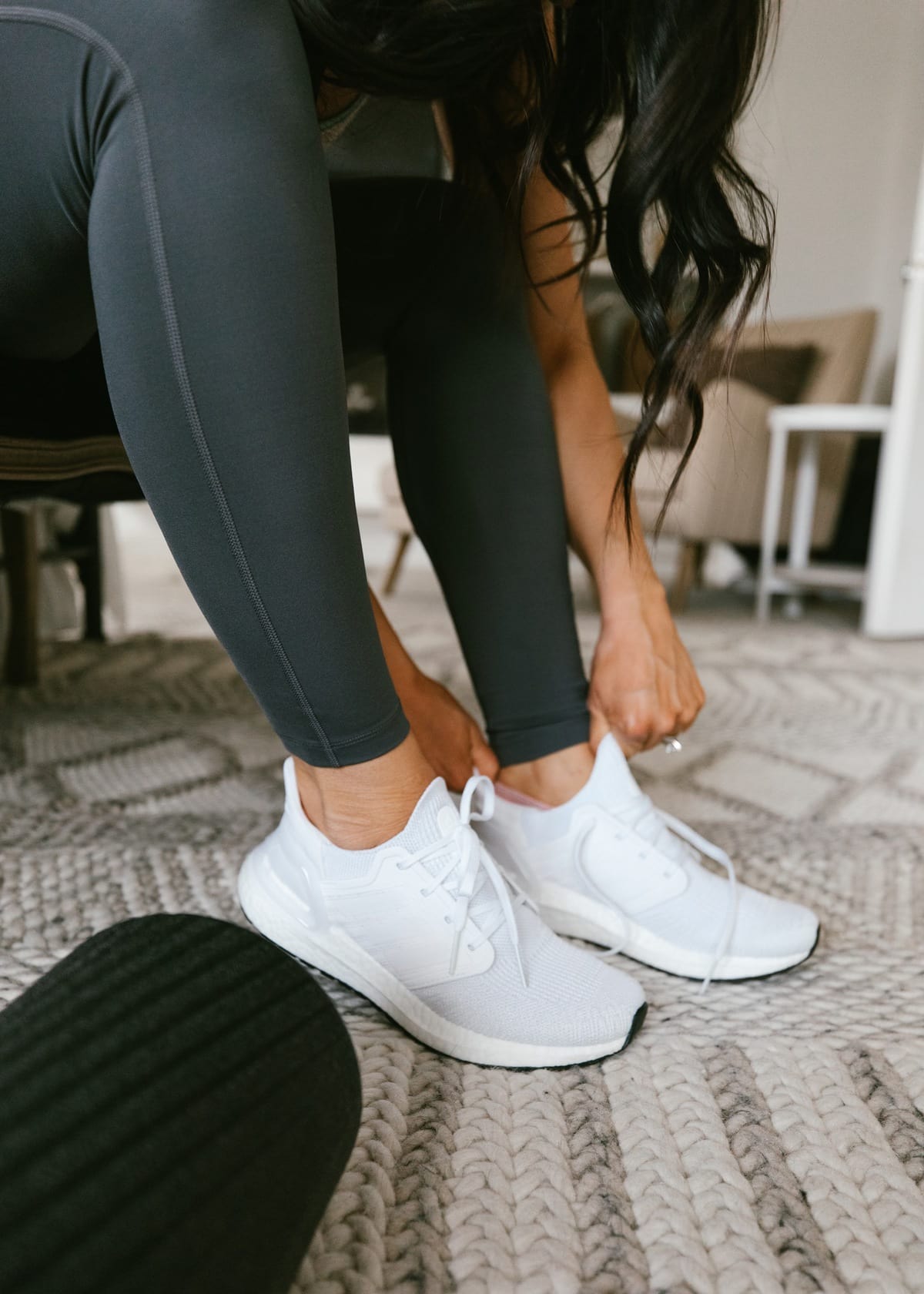 Running shoes don't get much cuter than the Adidas Edge Lux! The color combo of white and rose gold just sparks SO MUCH JOY don't you think?!
These Adidas are the shoe trifecta of comfortable, affordable AND cute! It doesn't get much better than that! They're highly rated and were specifically designed for indoor and outdoor workouts-making these a great option no matter what kind of workout is your jam!
I had heard so many amazing things about these new waterproof running shoes and I finally tried them out myself a few weeks ago. SO glad that I did because they are actually like walking on clouds.
They're so comfy and I am super into the knotted elastic laces that make these super easy to slip on and off, and I am all about things that make my life easier! These are a 10/10 for me, and I put the waterproof claim to the test on a rainy day this week and they kept my toes perfectly warm and dry.
I've been a die hard Nike Free Run Flyknit fan for YEARS. Once you get these babies on your feet, you'll never want to live without them! They're comfortable, supportive, and they are some of THE cutest running shoes. I love that they're super lightweight and that you don't even have to wear socks! These run slightly small so I always go up 1/2 size.
The React Flyknit and the Free RN 3.0 were both recently remixed so they're rocking a little different look these days, but it's still the same amazingly comfortable and cute shoe!
My brother Jake who I mentioned earlier is a sneaker freak! He totally knows his stuff and he convinced me I NEEDED this pair of Nikes! According to the Sneaker King (HA!) these Nikes were comfortable, lightweight, breathable, and would look "sick" too. I trusted his judgement and bought them and he was SO RIGHT.
I wore these Nikes for the first time walking around Disneyland for TWELVE hours and didn't have one blister! (See all my best Disneyland tips HERE and HERE). I didn't even break these shoes in beforehand. They were literally like walking on foamy fluffy clouds of heaven! And you can customize them so many ways. You could even recreate my perfectly pink ones!
A Shoe In
These six tried and true shoes are simply runbelievable. Whether you're actually running or just running errands, these are my top recommendations. Do you have a ride or die running shoe that didn't make my list? Let me know so I can try them out too!