You guys know we flip out over the Nordstrom Anniversary Sale over here – it's kind of like my Olympics and has been for the past 7 years … but I have NEVER, EVER seen a discount quite like this from Nordstrom and I am doing a MAJOR HAPPY DANCE! Read on to find out the details for this discount and the TOP rated things I think you'll love!
What's the deal?
For a limited time, Nordstrom is offering a SITE-WIDE discount of 25% off EVERYTHING!!!
There are very few restrictions on a handful of luxury brands, but pretty much everything is fair game. This is like the ONE good dream I can't believe is real, after feeling like every day I keep waking up from a bad dream haha. It's seriously the BEST NEWS EVER!
Tricky deal details
I nearly pulled an all-nighter pouring over this sale and how it works, and what you need to know is that the 25% off deal is the total discount at checkout on ALL items. Some things you'll see marked down already, so by adding them to cart you can see the total discount. With everything I've tried out if you see it's currently marked down 20%, then when you add it to your cart, it will drop another 5% to reflect a total 25% discount. Don't be discouraged by this, I promise you in ALL MY YEARS of deal blogging I have NEVER, EVER seen Nordstrom dish out a discount quite this sweet!!!
Faves I promise you will LOVE
I'm here to share with you 10 of MY greatest loves and things I think you would be so happy with if you decided to buy during this seriously NEVER BEFORE SEEN sale. Most of these are nearly impossible to get a deal on as well. I back all of these one zillion percent and I would bet anything you're going to absolutely, positively be totally obsessed too.
1) Most beautiful sandals
For sure these are one of THE very best, rarest deals to be found today in this Nordstrom Surprise Sale. Normally these babies ring up right at $200 but right now you can get them 25% off at $148.50!!
You all know by now that I've been a LONG TIME huge fan of Tory Burch Miller sandals!! They're extremely comfy, so pretty, and just a bit dressier than your average flip flop without being too dressy – so you really can wear them with a pretty dress, a tee shirt and shorts, or just a swimsuit and coverup!
I gifted these to my mom once and she loves them too! She's like THE pickiest with her footwear (haha) so if she loves them you KNOW they're comfy. Also, my friend Mindy from Cute Girls Hairstyles still teases me about how I did the water walk in the Dominican Republic wearing these. Maybe not my smartest moment but hey, they were comfy!! HA.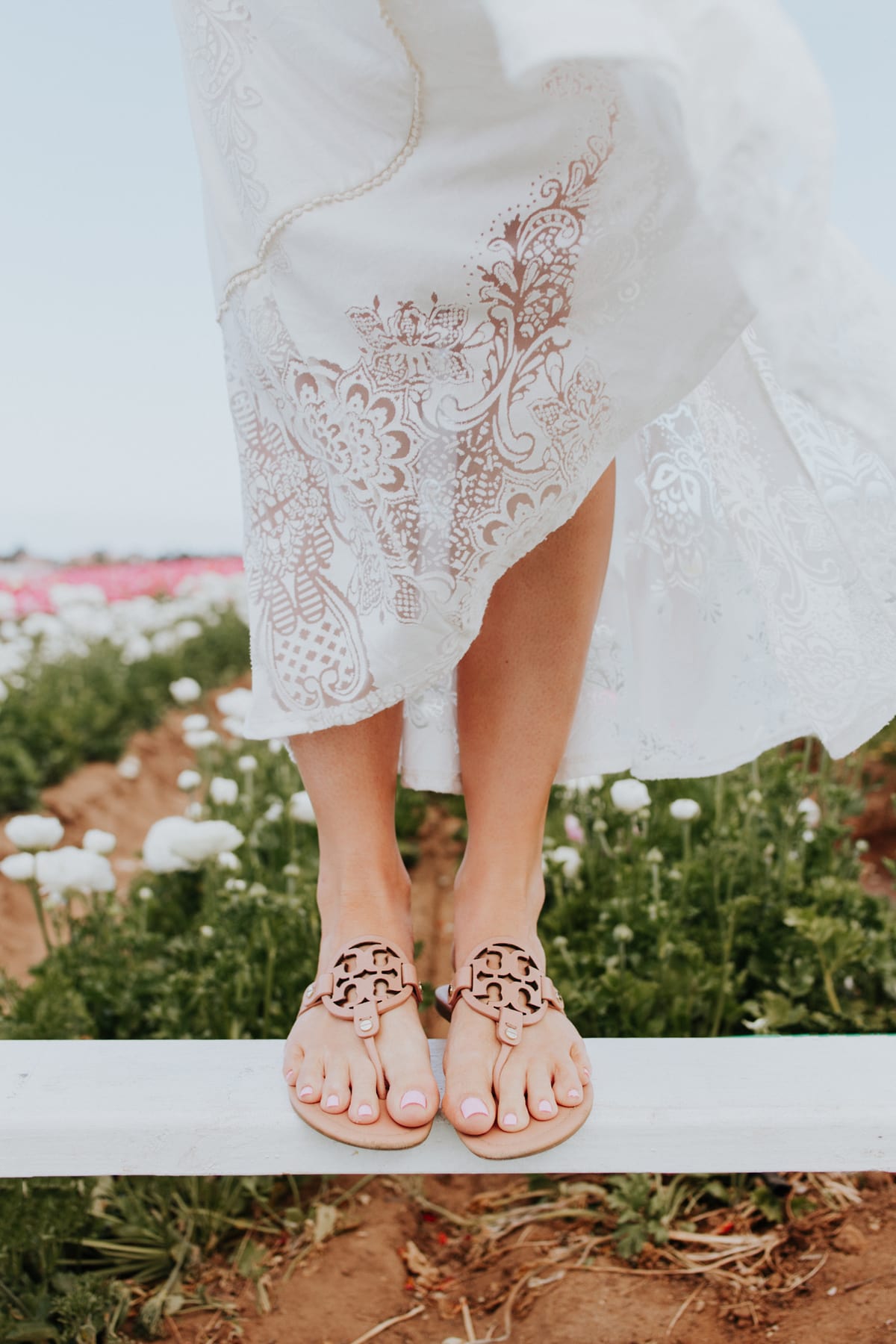 2) Five thousand favorited leggings
You read that right – nearly five THOUSAND people have rated these leggings absolutely perfect!! They're thick enough to NOT be see-through (as in, you can't see your underwear color!) but comfy enough for workout OR all-day wear. And let's be honest, that's how I'm normally wearing them.
So you can hit the gym in these, or throw on a long sweater and boots with them, or tie a button-down around your waist with a v-neck on top and sandals on the bottom. BAM. Wardrobe staple goodness.
The best part? These insanely high-rated leggings are $44.25 (reg $59!) during this surprise sale! You'll most likely see them a few dollars less during the Nordstrom Anniversary Sale but if you don't want to wait until JULY to get them at that price, this is the next best price you'll see until then – TRUST me.
3) Most comfortable booties
I'm SO excited that these silver booties are on MEGA sale. 25% off is the most I've ever seen these discounted, and they've stayed in style for YEARS. They're a splurge still BUT by far, hands down, THE most comfortable bootie I own.
My gray jeans are ALSO a killer deal and I am currently completely addicted to these! They are insanely, incredibly comfy AND flattering. That is the ultimate win-win. If you're looking for a good grey designer denim to spend a bit more on, but still save BIG, these are it!
My exact ruffle top is not available but this one is super similar and only $36 PLUS that extra 25% off drops it down to $27.56!!
4) The perfect white jeans
These white skinnies were the clear winner when I tested out COUNTLESS pairs last year! Truly, so many I lost track but for sure over 20. They're normally priced right in the middle of everyone's price point at $70, so they're well under that $100 mark, but also high enough quality that they'll last longer than a cheaper pair of denim that might stretch out after a couple hours. And BONUS: right now with this surprise Nordstrom site-wide discount, you can grab a pair for $52.50!
They really are that magical combination of super comfortable and super flattering and the length is perfect for warmer spring and summer temperatures! They do run very small though, so size up one size!
5) Most popular pajamas
My favorite Moonlight Pajamas aren't just MY favorite, they're apparently everyone else's favorite too because they're literally THE most popular PJs Nordstrom has ever sold – FOR GOOD REASON. It's impossible to have too many pairs of these babies, because they're practically perfect in every way. Hands down my favorite pajamas I have ever, ever owned!

​Oh and guess how many people agree with me? ONE THOUSAND. Seriously, 1K reviewers on these most perfect pajamas ever. Comfy, cozy, and they stay soft after a million washes.
Normally $65, these faves drop down to $48.75 with the surprise sale discount and I promise you they are worth EVERY penny.
I hang-dry mine so they don't shrink up, but my friends who aren't as tall throw them right in the dryer and they stay super soft that way too!
Online it says that these run big and to size down, but I totally disagree. For me, these favorite pajamas run TTS!
6) My everything bag
This is the ultimate EVERYTHING bag! It squishes into the smallest corner of your suitcase and pops out looking perfect, it wipes clean, and has removable zipper pockets on the inside. This bag goes with me to the beach and workouts and is seen in the hippest places from New York to LA. I'm totally obsessed and I've collected a few in different colors over the past 5 years.
The 25% off Nordstrom site-wide discount drops this fave bag of mine from $225 down to $168.75!!
7) Favorite coverup that doubles as a dress
This coverup has been my ultimate, all-time favorite for years and years now. I've bought it in a different print every summer for the past several years but they're always just perfect. Flattering fit, EVEN right after having a baby, super high quality and they last forever.
BONUS styling tip: I love to tie a tee shirt or button-down on top, even when I'm pregnant! Makes this cover-up double as the cutest casual wear maxi dress. Runs TTS!
Normally $58 in solid colors, it drops to $43.50, or in super cute stripes it's normally $68 but drops to $51 with the secret sale savings.
8) Highest rated denim jacket
Spring and summer nights can still get a little chilly-depending on where you live! I've had this highest-rated denim jacket for a few years now, and I'm still totally in love with it, and I'm not the only one. 356 people give it a perfect FIVE STAR rating, another 85 give it 4/5 stars, and it gained about the same ratio of perfect ratings in this super cute wash.
This denim jacket is a great closet staple because it's super soft and the fit is super flattering-other jean jackets can sometimes be boxy! I think the thing I love the most is it's STRETCHY so it's not only a perfect fit but it's actually comfy to wear too. And the best news of all? It's $59 (reg $80!) during the Nordstrom secret sale.
9) Nordstrom's most popular foundation
This award winning Luminous Silk Foundation is AMAZING. It has over 1000 perfect reviews!! Glowing reviews and glowing skin? That's a win-win. It's weightless and hydrating and makes your skin look totally flawless and natural! It is on the pricier side, but today's 25% off deal is THE BEST I've ever seen – EVER. So if you've been dying to try it, NOW would be the time.
10) Hairdryer that cuts drying time in half
The Dyson Supersonic Hair Dryer is hands down the MOST powerful hairdryer I've ever used in my life, and I've tried a TON of high-end dryers out of desperation to find something that will dry my hair faster and more efficiently.
This dryer is also way better for your hair than a cheap dryer, because it measures the heat output every 20 seconds ensuring that your hair doesn't suffer from extreme heat damage while protecting your natural shine. Buy it today during this Nordstrom site-wide discount and get $100 off!!! In the past, we've posted about similar deals, but they've always been on refurbished models (which for the record I love and think are a great way to save BIG). But if that makes you nervous and brand new is the only way you'll splurge, THIS is your deal.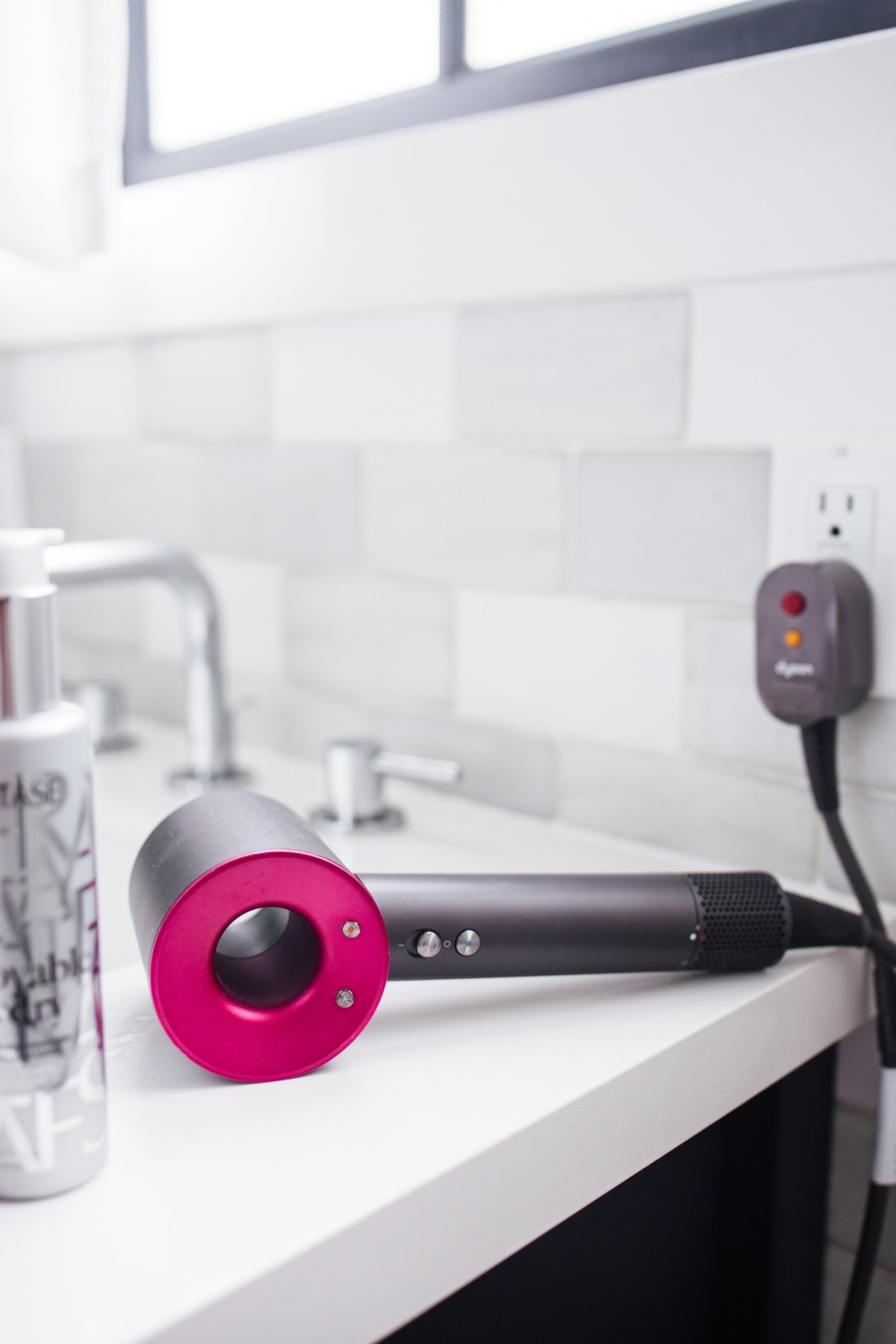 Even more faves of mine for a crazy good deal
Below you'll see even MORE highly rated faves of mine from this Nordstrom site-wide discount that are all 25% off for a very limited time. JUMP NOW on these deals because I wouldn't be surprised to see the very best stuff get picked over fast!!!