Is this real life?! Today the Dyson hair dryer, Dyson straightener AND the Dyson airwrap are all on major sale – I'm freaking out!!
I'm always on the hunt for deals on Dyson everything, but it's pretty rare when a deal on all three of our beauty favorites pops up at the same time. So it's time to get really excited because right now you can save up to 60% OFF! KEEP READING to find out how to score on these insanely good deals.
Sometimes our hottest deals sell out REALLY fast, so if you want to be in the know and find out FIRST, you can join our bestie group text! And don't worry, I'll only send you the VERY hottest deals that have the highest sell out risk – PROMISE. To join the list, text DEALS to 949-506-2558
Dyson sale details
Right now all three of my favorite Dyson beauty tools are on sale!
Is it okay to buy refurbished?
What does refurbished mean? This means that it's been opened, or a minor flaw has been repaired, but it's gone through a rigorous process to deem it ready for resale!
My experience with buying refurbished items has been flawless. I've literally never bought anything refurbished and had a bad experience – including everything from electronics to hair products. Buying refurbished is often an incredible (and super smart) way to save on an item that's a little bit of a splurge!
Why I love the Dyson Supersonic Hair Dryer
There are SO many reasons to love this powerhouse of a hair dryer – here are just a few!!
Cuts drying time in half
I talked about my obsession with this Dyson Supersonic Hair Dryer in this post a while back and I'm still just as in love. It really did cut my dry time IN HALF. All the attachments are magnetic (amazing right?!) and stay cool so you can swap them out mid-drying.
Crazy powerful
The Dyson Supersonic Hair Dryer is hands down the MOST powerful blow dryer I've ever used in my life, and I've tried a TON of high-end dryers out of desperation to find something that will dry my hair faster and more efficiently.
I have thick, long hair that I swear takes me HOURS to dry. Every time I go to the DryBar, I always hear "Wow! Your hair takes a long time to dry!" Mind you, that's with ZERO extensions and I'm definitely grateful for that but it's just so crazy how much my hair LOVES to retain water.
The Dyson has become a GAME CHANGER for that reason because it literally has cut the time in HALF to dry! (Can I get a hallelujah?!)
Gentle
Another plus about the Dyson hair dryer is how gentle it is with my hair. Sometimes in the past using other blow dryers, I've noticed my hair getting damaged from the extreme heat. But, nope! Not with the Dyson! It uses a minimal amount of heat while still giving a VERY powerful and quick blow dry.
It's great for ALL hair types and produces amazing results with increased shine and minimized frizz! It's seriously a-ma-zing. Your hair will LOVE you, and you'll love it right back!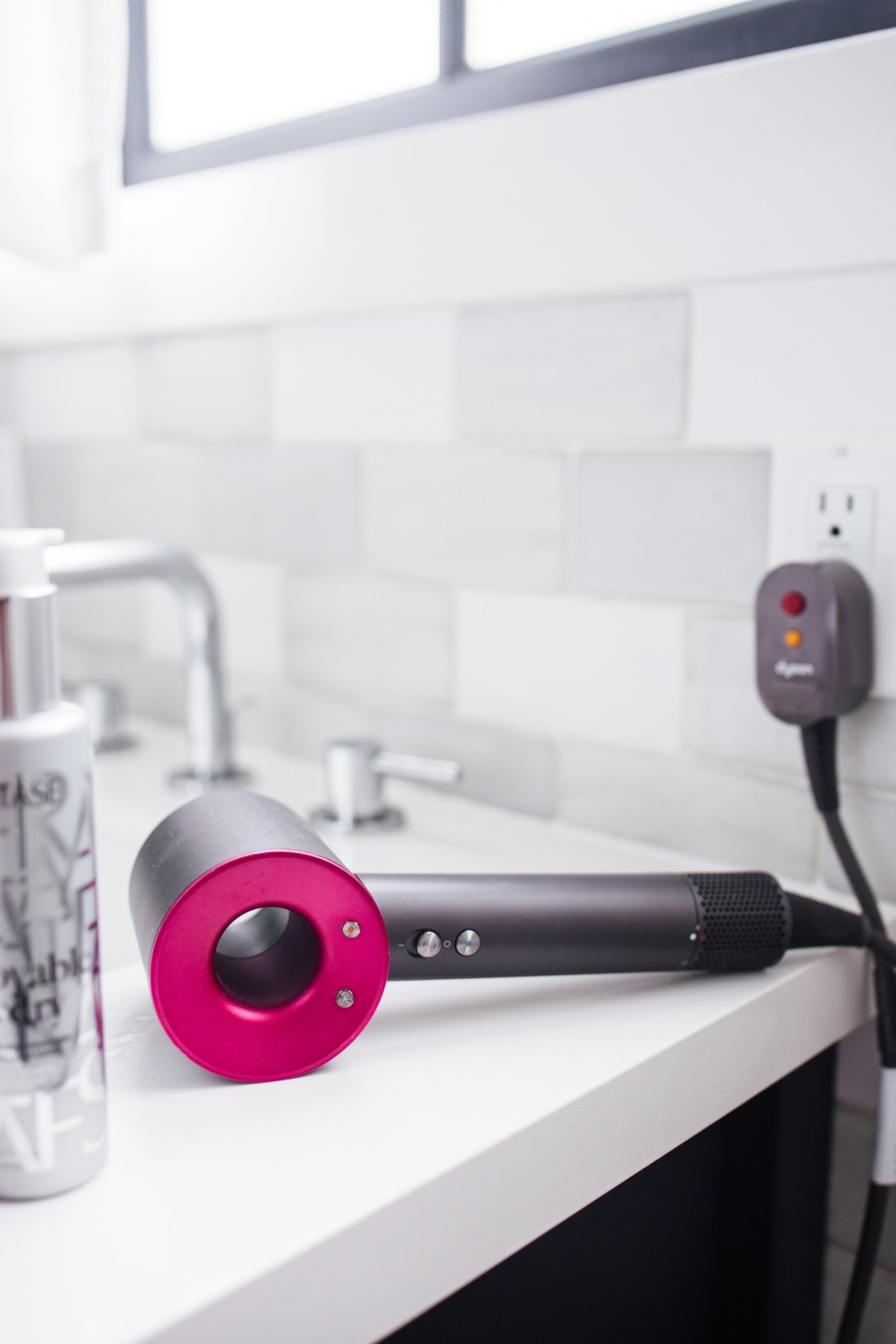 Dyson Corrale Cordless Hair Straightener
This! This! This!
I wish I could put neon lights on this title! This is going to be gone QUICK. The Dyson Corrale is the VERY BEST HAIR STRAIGHTENER I've ever used. Period. Hands Down. Currently only $199.99 – such an amazing deal on this Dyson. That's $300 OFF!
So smooth
I've LOVED my Dyson Corrale like it's my own child. It makes an immediate, visible difference that even my friends notice! I was with a few girlfriends a while back, and they asked me what I did to my hair…they'd assumed I'd had a salon straightening treatment, like a Brazilian Blowout! This straightener makes it THAT smooth.
Regardless of the salon treatments or even hair products you use, the Dyson Cordless Hair Straightener will transform your hair into the most glossy, smooth version of itself. In true Dyson fashion, it has innovative technology – including flex plate technology and intelligent heat control – to simultaneously shape to your hair and lessen damage.
Curved edges
Unlike any other flat iron I've ever used, it has curved edges. My own hair doesn't hold curl easily, but it does with a flat iron better than anything else. These curved edges make it so simple to maneuver without getting crazy kinks in it and having to pass heat over your hair multiple times.
NO cord!
If you're not already sold, IT'S CORDLESS! For those of us getting ready in obscure spots to chase natural light (me!), you don't have to worry about an outlet location.
RUN to grab this! This price won't last long! ($300 OFF)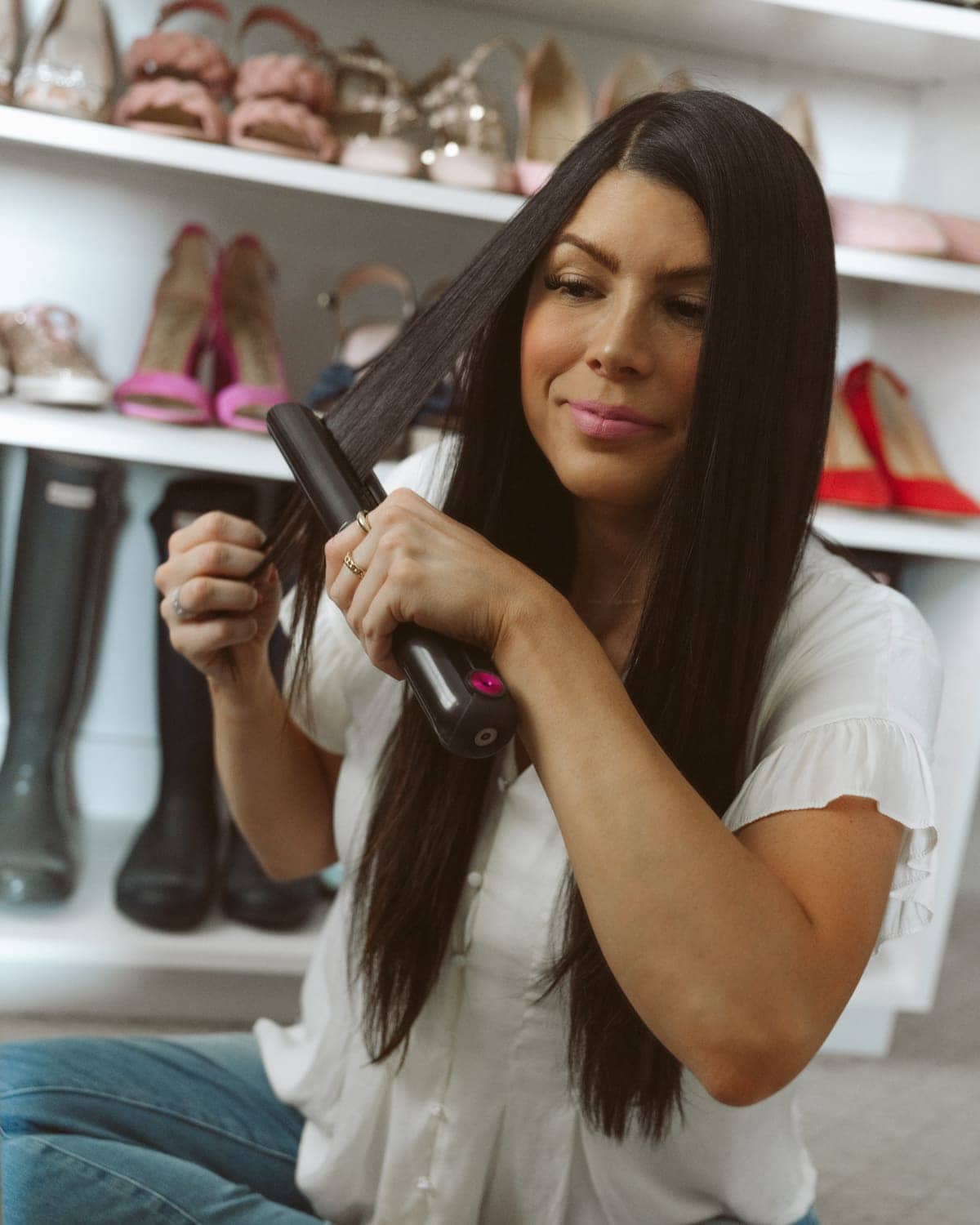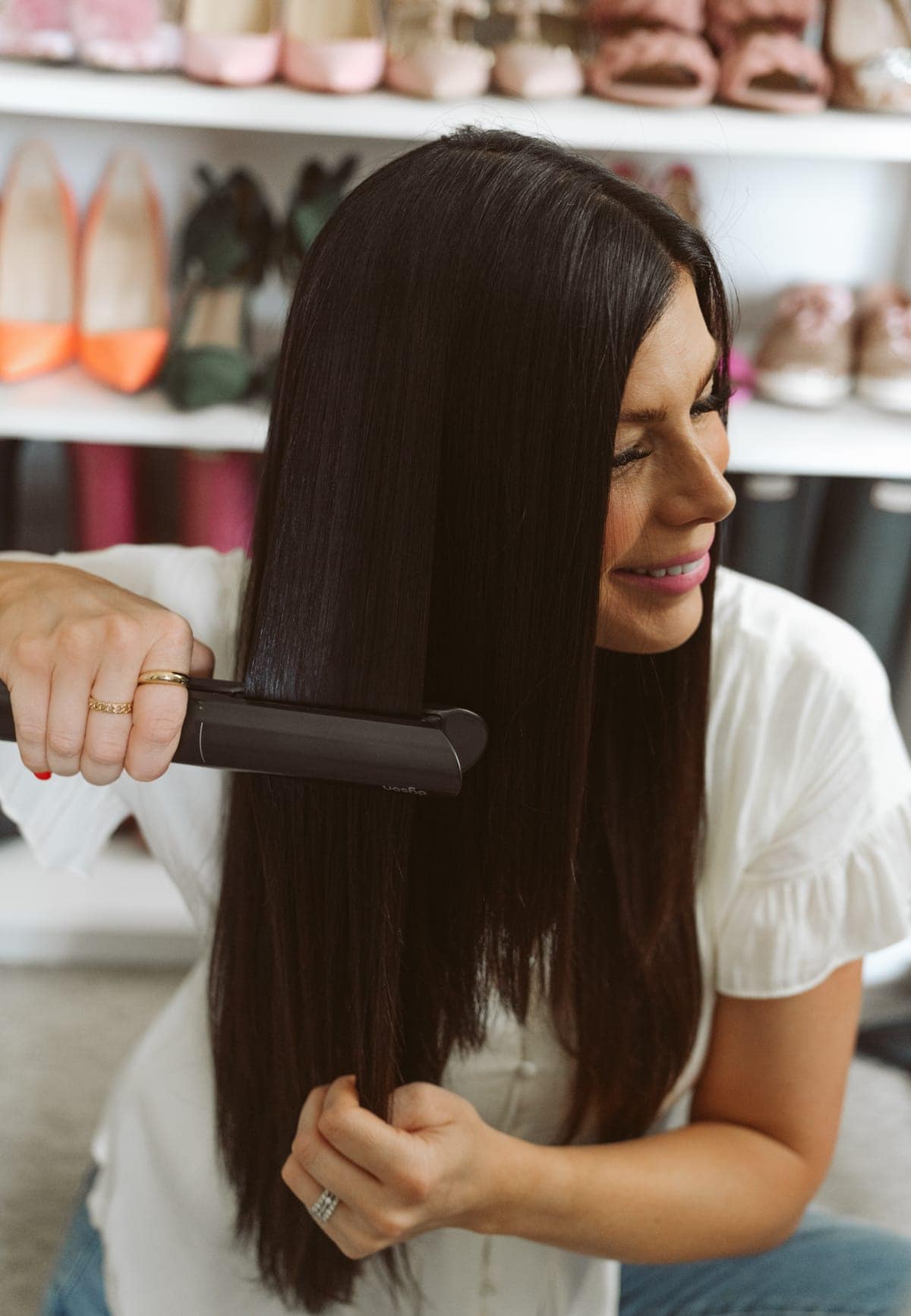 Dyson Airwrap
Once I finally gave the Dyson Airwrap a spin, I was BLOWN AWAY (ha!) at how magical this little device was. The attachments will round brush dry or curl your hair. It does take a minute to figure out the curling process, but once I did I was ELATED by how smooth the process was! It really does smooth out your hair while curling each section and gives you crazy good volume as it curls.
Save the hair
It also uses MINIMAL heat to protect your hair. If you're trying to damage control your hair like I am, you'll love using the Dyson Airwrap to dry OR curl your hair.
How to use it
Ever since I first used the Dyson Airwrap I've been in love. It's the easiest way to style my hair start to finish, with the least amount of damage! This set comes with a smoothing brush, curling attachments, a round brush attachment, AND the blow dryer attachment. You're getting SO many options and attachments with this set, it's so worth the investment for this Allure Magazine's Best of Beauty winner for 2020!
I personally like to air dry my hair about 50% to avoid as much heat as possible, BUT with the Dyson Airwrap I can literally rough dry my sopping wet hair with the blow dryer attachment AND finish drying it and curling it at the same time in MINUTES. Wet to styled in no time flat!!
Don't miss these Dyson deals!
These Dyson deals are going to sell out QUICK! My favorite blow dryer is only $249.99 (reg. $430), the Dyson Straightener is $300 OFF and the Dyson Airwrap is $200 OFF!! It's super rare to see a deal on all three of these beauty products. If you've been dying to get one of these magic Dyson tools, DON'T wait because I have no idea how long it will be before we see these deals again!