So excited because not one but TWO of my favorite Dyson hair products are on MEGA sale today! I'm always on the hunt for deals on these popular products and today those deals are here!
Right now you can save 45% off my very favorite hair dryer in the whole entire world annnnnnd you can get a killer 27% off (that's $150 savings!!!) deal on the Dyson AirWrap that I LOVE! KEEP READING to find out how to score these insanely good deals.
Deal details
Right now the Dyson Supersonic Hair Dryer is ON SALE HERE for 45% off at $219.99 (reg $400!!!) and the Dyson Airwrap for 27% off at $399.97 (reg $550)!
Is it okay to buy refurbished?
What does refurbished mean? This means that it's been opened or a minor flaw has been repaired, but it's gone through a rigorous process to deem it ready for resale! My experience with buying refurbished items has been flawless. I've literally never bought anything refurbished and had a bad experience – including everything from electronics to hair products. Buying refurbished is often an incredible (and super smart) way to save on an item that's a little bit of a splurge!!
Dyson Supersonic Hair Dryer
Cuts drying time in half
I talked about my obsession with this Dyson Supersonic Hair Dryer in this post a while back and I'm still just as in love. It really did cut my dry time IN HALF. All the attachments are magnetic (amazing right?!) and stay cool so you can swap them out mid-drying.
Crazy powerful
The Dyson Supersonic Hair Dryer is hands down the MOST powerful hair dryer I've ever used in my life, and I've tried a TON of high-end dryers out of desperation to find something that will dry my hair faster and more efficiently.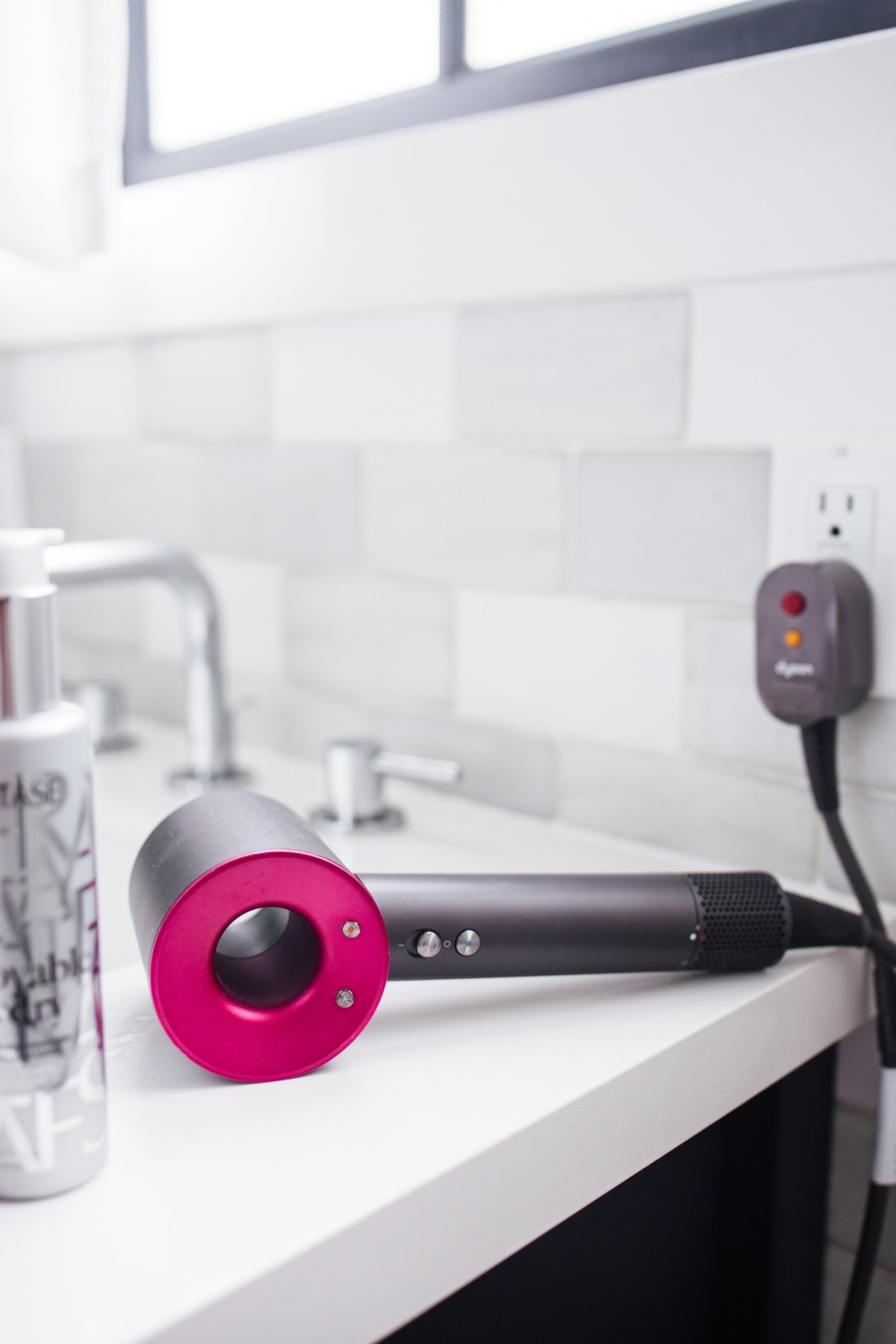 Dyson AirWrap
Right now you can grab the Dyson AirWrap 27% off making it only $399.97 (reg $550) That's $150 off and THE VERY BEST deal I have ever seen on the Dyson AirWrap!
Why do I love the Dyson AirWrap?
Once I finally gave the Dyson AirWrap a spin, I was BLOWN AWAY (ha!) at how magical this little device was. It has 7 attachments that will straighten, round brush dry, or curl your hair. It does take a minute to figure out the curling process, but once I did I was ELATED by how smooth the process was! It really does smooth out your hair while curling each section and gives you crazy good volume as it curls.
The Dyson AirWrap is so good and such a great combo tool for drying, curling, waving, or smoothing your hair! It dries AND style all in one shot so it's a MAJOR time-saver. It's super quick and super easy and you. will. LOVE it.
ALSO: not a total necessity, but I recently got the long barrel attachment that I mentioned in this post and it is worth EVERY PENNY if you have long hair!
Save the hair
It also uses MINIMAL heat to protect your hair. If you're trying to damage control your hair like I am, you will love using the Dyson AirWrap to dry OR curl your hair.
Don't miss this deal!
This BEST PRICE you'll find on the Dyson Supersonic Hair Dryer for $219.99 and the Dyson Airwrap for $399.99 (reg $550) pretty sure this will sell out fast! So if you've been dying to get these, DON'T wait because I have no idea how long it will be before we see these deals again!
More Black Friday 2020 deals:
Cyber Monday 2020 Guides
Black Friday 2020 Guides