I'm always on the lookout for Dyson deals. And today I found something AMAZING! You can get a great deal right now on the very popular and incredible Dyson hair straightener. KEEP READING to find out how to score on one of my absolute favorite beauty tools ever, and secure the prize for best Santa ever!
In a hurry? Shop the deal below!
Deal details
This is a ONE DAY ONLY deal, so don't sleep on it! Today you can get the Dyson hair straightener for $459.99 – normally $549!! A deal on a Dyson product like this only comes around once in a blue moon, so it's kinda a big deal. This is the best price right now on a brand new, original packaging, never opened version!
ALSO, if you're a brand new customer at QVC, you can get free shipping on your first purchase with code FREESHIP. If you're a returning customer, then you can use code QVCGIFT for free shipping as well (max. of 15 purchases!).
What's so special about the Dyson straightener?
I've LOVED my Dyson Corrale™ Styler for a couple of years now. It makes an immediate, visible difference that even my friends notice!
I was with a few girlfriends a while ago, and they asked me what I did to my hair… they'd assumed I'd had a salon straightening treatment, like a Brazilian Blowout! This straightener makes it THAT smooth, with much fewer flyaways than a normal straightener.
Regardless of the salon treatments or even hair products you use, the Dyson Cordless Hair Straightener will transform your hair into the most glossy, smooth version of itself. Bye, bye frizz! In true Dyson fashion, it has innovative technology – including flex plate technology and intelligent temperature control – to simultaneously shape to your hair and lessen damage from heaters.
Additionally, unlike any other flat iron I'd ever owned before this one, this straightener has curved edges. My own hair doesn't hold curl easily, but it does with a flat iron better than anything else. The temperature of the plates, smooth glide, and curved edges make it so simple to maneuver without getting crazy kinks in your hair and having to pass heat over it multiple times.
If you're not already sold, IT'S CORDLESS! For those of us getting ready in obscure spots to chase natural light (me!), you don't have to worry about an outlet location or cable getting in your way with its cord-free versatility. Just find a place for your sleek charging dock while it's not in use to make sure the battery recharges, and you're all set!
Is the Dyson hair straightener better for your hair?
YES! In true Dyson design, this Dyson Corrale™ hair straightener is made with flexing manganese copper alloy plates that shape around your hair which allows you to achieve a pretty styled look with WAY less heat. It also has intelligent heat control technology so it ensures you never exceed your chosen precise heat settings. Talk about a dream Dyson machine, and peace of mind!
How do you clean the Dyson hair straightener?
Make sure your Dyson Corrale™ straightener is turned off and cooled before cleaning. Then, clean the flexing plates with a damp, lint-free, soft fabric cloth. You'll want to rub gently to remove any stubborn hair product residue. Warning: DON'T use abrasive products or harsh chemicals because they'll damage the surface of the flexing plates.
Is the Dyson hair straightener better than GHD?
Both the Dyson Corrale hair straightener and GHD are very popular hair straighteners. It can be hard to know what's worth the extra money, and what's not! Dyson technology is for sure worth it if you can afford it. It's way faster styling, smoother finish, and cordless convenience!
Is the Dyson straightener worth it?
100% YES! I know this Dyson Corrale is expensive, but it's WELL worth the investment… especially while it's on sale! This brand of straightener has the right kind of technology that protects your hair from excessive thermal damage.
I can't say enough good things about the Dyson Corrale Straightener – it seriously works so well and is next level amazing for every hair type, including fine hair.
If you're looking to invest in the BEST straightener the world has to offer, hands down, this is my #1 pick!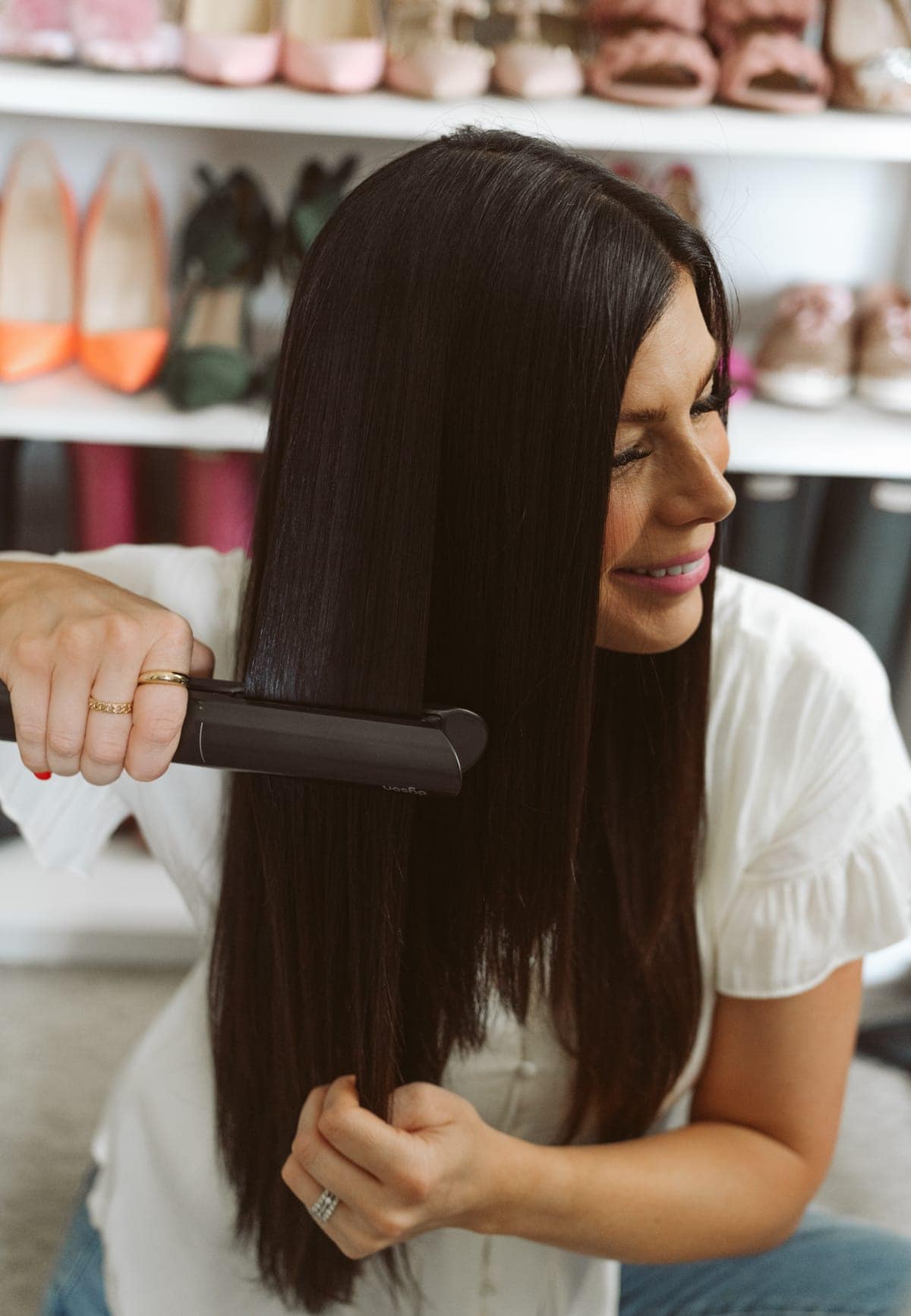 Don't miss this Dyson deal!
This Dyson Corrale deal is going to sell out QUICK. Get this incredible, one-of-a-kind straightener for only $459.99 (normally $549!!). It's super rare to see a lower price on anything Dyson. If you know someone who will LOVE this as a gift, or if you've been wanting it for yourself, DON'T wait – I have no idea how long it'll be before a deal like this pops up again! AND you can avoid shipping delays before the holiday season is in full force.