Shopping for the best hair straightener can be super overwhelming – there are so many options on the market all at different prices! So I'm hoping this post proves to be super helpful by sharing my TOP 3 picks for different budgets, and what I love about each.
When my hair's done I feel so much better and more put together – can you relate?! These tools have been my favorite and seriously give me salon results at home. If you're here because you Google-searched "best hair straightener" I'm here to give you ALL the info today!
In this post you'll find my "good," "better," "best" rankings, in hopes that it'll help you decide which straightener best fits your needs & budget. (AND, I'll be sharing what product didn't make the cut for me because a big price tag doesn't always mean results!)
BONUS: If you're ready to take the plunge on my very favorite straightener but want a great tip on how to save some serious pennies, keep reading for a super hot deal!
The GOOD straightener – Hairitage by Mindy
I haven't owned this straightener as long as others, but my girls and I love it! This is the most affordable straightener that works really well. The "Straight to it Flat Iron" by Mindy McKnight is only $35.94 which is a price I'll forever be able to get behind for a great hair straightener!!
If you're not looking to spend a lot but you still need a straightener that works well, this is my pick for you!
One of my favorite parts about this straightener is the soft touch housing and heat-resistant sleeve. This seriously feels so nice and fits comfortably in your hand! I'm obsessed with the compact cover that makes it the perfect straightener to travel with, too.
This tool has 4 digital settings that heat up to 420 degrees with an automatic shut-off feature after 30 minutes! This flat iron's going to be a lifesaver if you're constantly leaving the house worrying if you actually shut off your hair tools. I also think it's a GREAT choice for younger girls or a teen heading off to college – I've loved teaching my daughter how to use this straightener!
The Straight to it Flat Iron is recommended for coily, curly, straight, and wavy textured hair types and has a 2 year warranty and an almost 5-star rating! *Heads up: the power button needs to be held down for just a few seconds before turning on and selecting your heat level.*
The BETTER straightener – BaByliss
This has been one of my favorites for a long time! The BaByliss flat iron became an instant favorite, because (just like the Dyson flat iron) it has curved edges! These edges make curling your hair with a flat iron super fast and insanely easy.
The BaBylissPRO Nano Titanium has 5 LED heat settings going up to 465 degrees and it heats up super quick! This is good for all hair types and makes your locks super shiny at just under $200.
You know this product is delivering with all the super high ratings! One thing I love about this brand is that you have the flexibility to shop higher or lower features around the price point you want to stay in.
My BaByliss has seen a ton of use and wear and tear for over 5 years and still is going strong! I know this straightener will last you years and you'll get a ton of use out of it and LOVE the frizz-free and easy to achieve results.
If you're willing to spend a little more on a straightener that'll last you a long time, but you want to spend less than $200, this is my pick for you!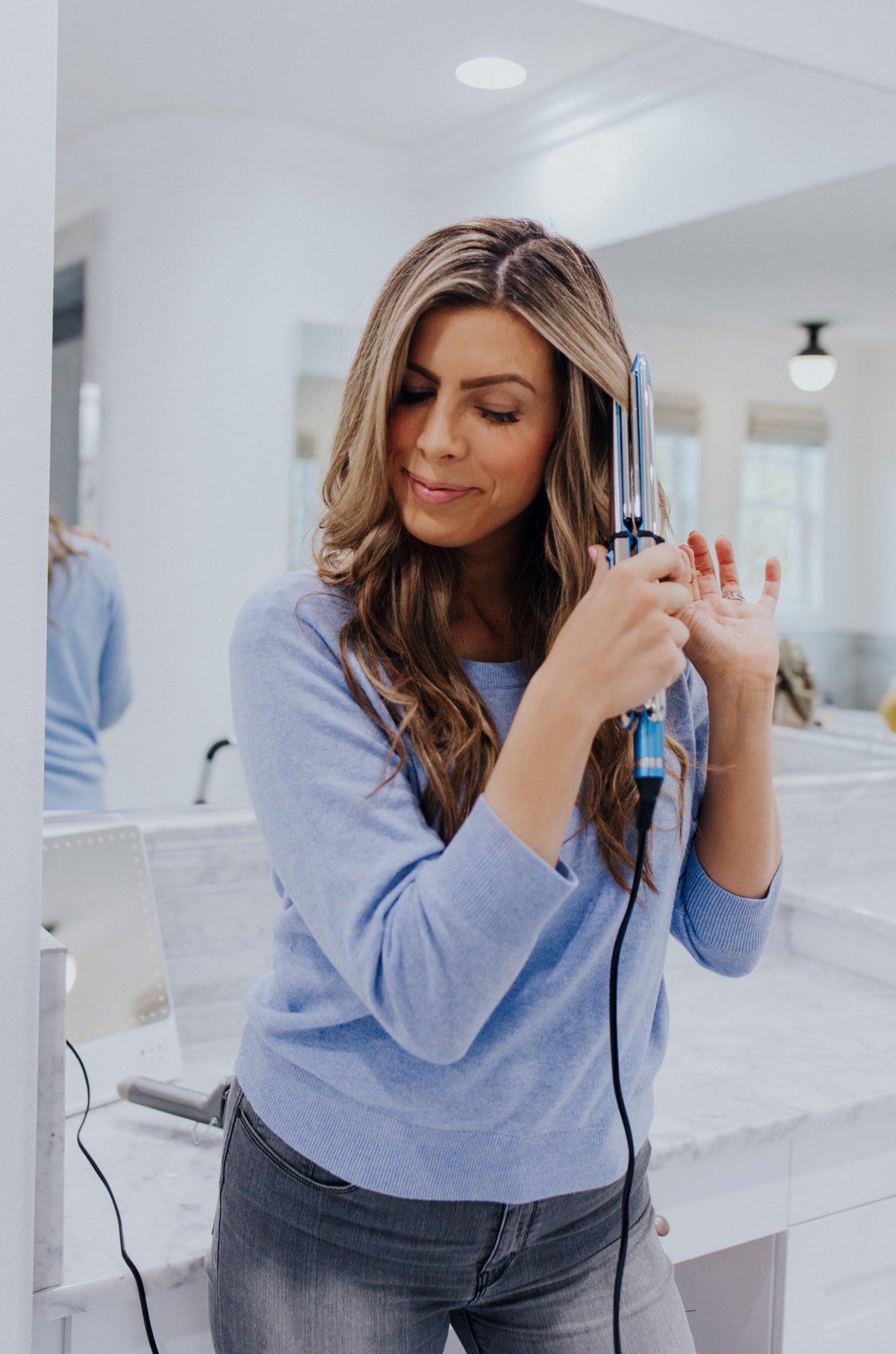 The BEST straightener on the market – Dyson
Saving the best for last! I can't say enough good things about the Dyson Corrale Straightener – it seriously works so well and is next level amazing for every hair type.
If you're looking to invest in the BEST straightener the world has to offer, hands down, this is my pick for you!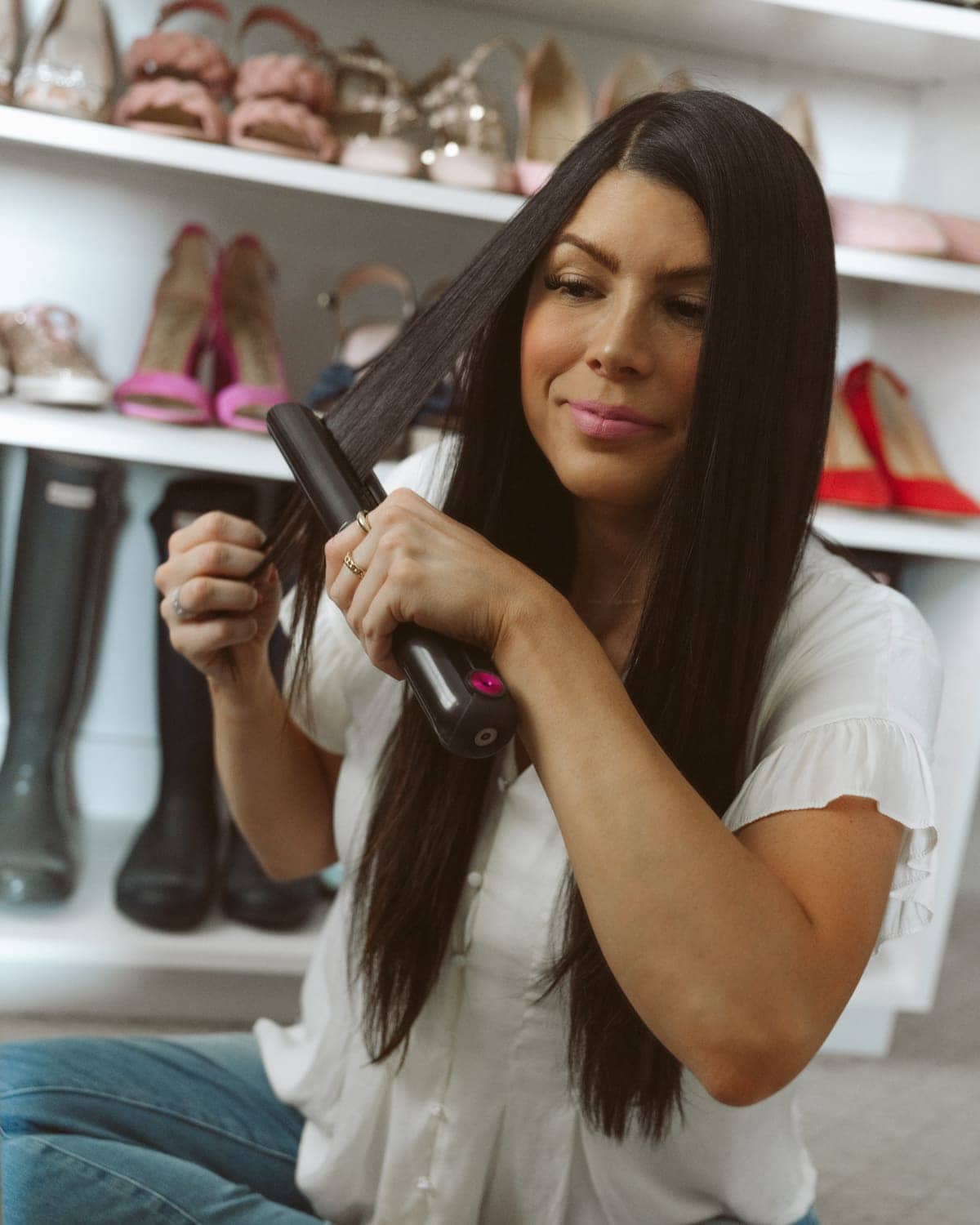 Ok so let's break down why this straightener costs $500… the Dyson Corrale is uniquely designed with flexing plates that neatly gather your hair and offers up to 50% LESS hair damage. It's conveniently cordless and charges either on the wall or with a wireless charger (I get 3-4 uses out of it before charging again!).
While the Corrale heats up super quickly, it also comes with a heat resistant pouch that's safe to store your tool in while it's still hot. One of my favorite features is that it automatically turns off after 10 minutes of inactivity! Again, no more having to worry when you leave the house, because even if you did accidentally leave it on, you know it'll turn off on its own… SO GENIUS.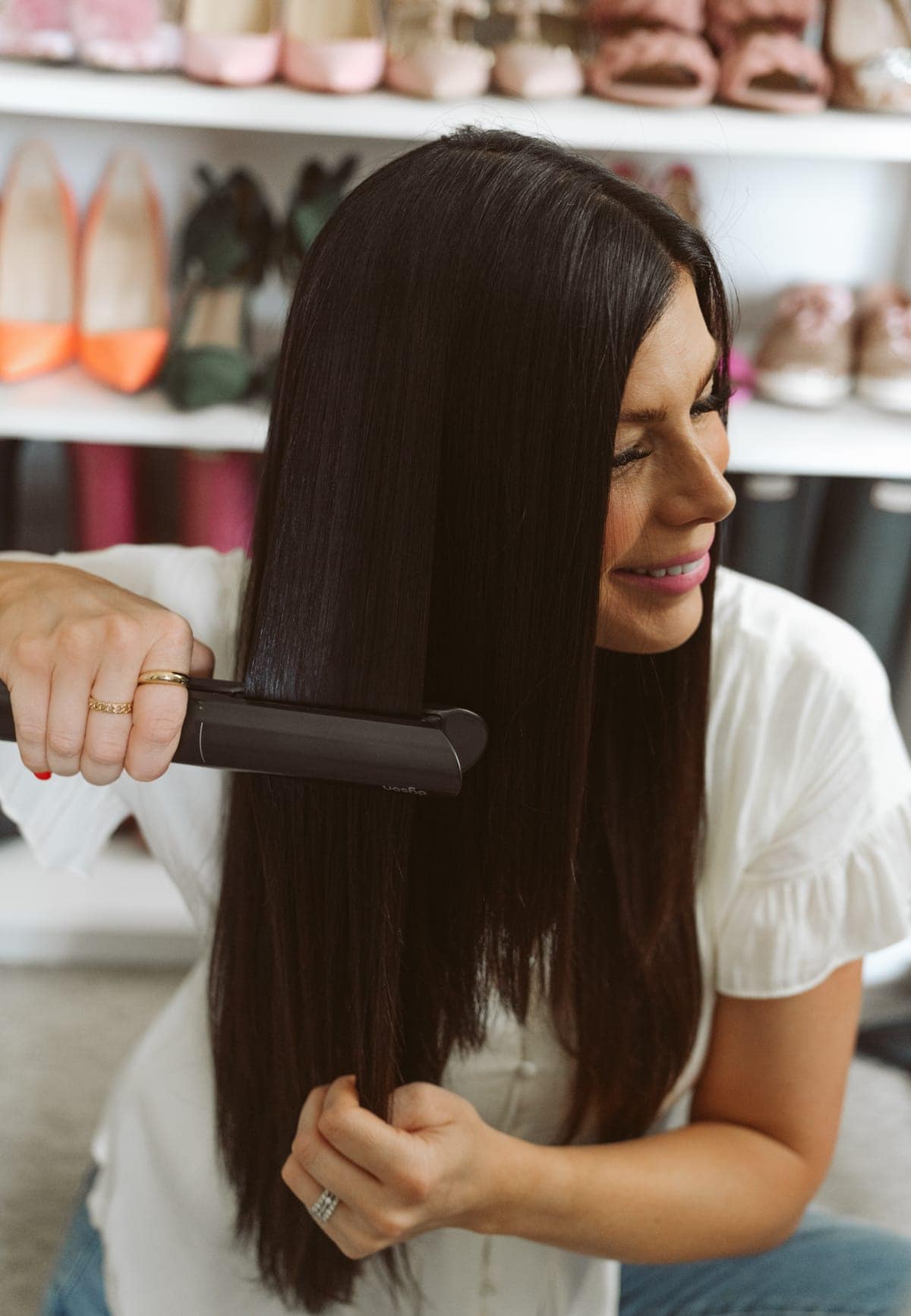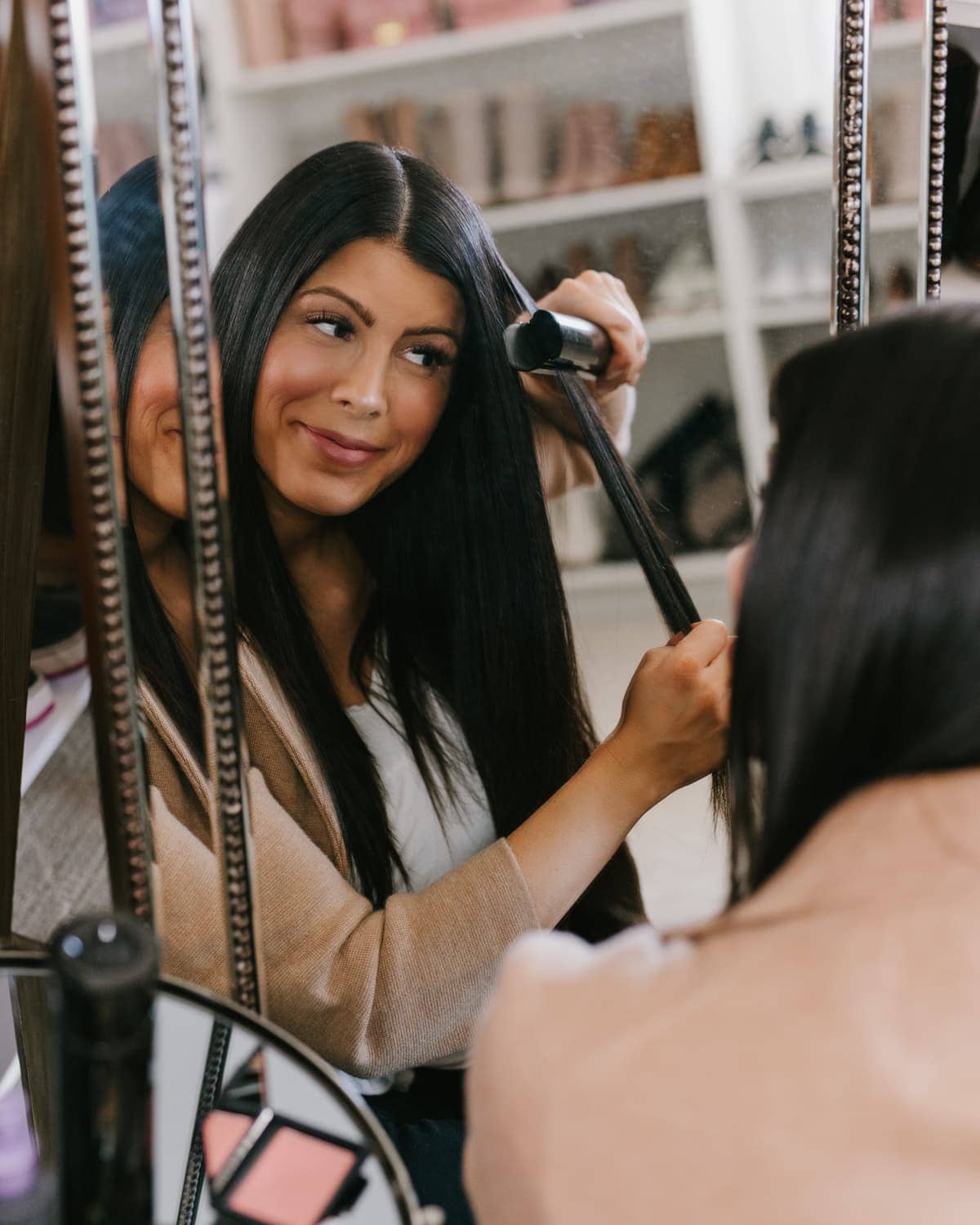 Without fail, whenever I use this flat iron people ask me what I did to my hair, what treatment I did, and comment on how amazing it looks! I love this product from the flexibility of taking it off the charging stand, straightening OR curling my hair, and the overall style that it makes my hair hold.
Bottom line: with every Dyson purchase that I've made it's been more than worth the cost.
Want to save some pennies? Buy refurbished!
A great way to try this amazing tool for less is to buy refurbished! Today, you can save almost $120 and get a refurbished dyson corrale straightener for just $379.99 – that's 24% off!
Is it okay to buy refurbished?
What does refurbished mean? This means that it's been opened or a minor flaw has been repaired, but it's gone through a rigorous process to deem it ready for resale!
My experience with buying refurbished items has been flawless. I've literally never bought anything refurbished and had a bad experience – including everything from electronics to hair products. Buying refurbished is often an incredible (and super smart) way to save on an item that's a little bit of a splurge!!
Hair straightener to avoid – what I WOULDN'T recommend!
I have some friends that are loving the L'Oreal Professionnel Steampod Flat Iron & Styler, but it's not for me! I personally wouldn't recommend this product after trying it and think it's a good reminder that just because something's expensive doesn't mean it's going to be amazing.
Happy hair straightener shopping!
I hope this post helped you decide on the best straightener for your life right now! I truly can't recommend Dyson more, but BaByliss and Hairitage are both GREAT options, too. And while you're hair shopping, make sure to check out my other favorite hair tools here!