I'm SO excited to share today's post with you because it's absolutely PACKED with all my new faves that I found recently on a real life IN PERSON trip to Nordstrom. It's been forever since I've been able to chat about all the latest and greatest with a Nordstrom beauty expert and collaborate on getting me some new fun beauty items. I found a bunch of brand new favorites, plus grabbed some of my go-to's to stock up on, I'm spilling my thoughts on something I've been testing out for months, AND giving you a bonus round of a few presents my friends gave me for my birthday. Here we go!
Backlight Primer
I've only recently tried this Backlight Primer that I got from the Nordstrom beauty department and it's my new FAVORITE. The luminous Backlight BECCA primer gives a filtered and blurring effect on the skin making your makeup look flawless!! It has a pearlescent technology to provide a glow that radiates through your makeup while smoothing and perfecting. It can also be used alone (swipe on a second layer to the high points of your face for added dimension!) or under your favorite foundation.
I love that Becca's products are vegan and house incredible ingredients like nourishing vitamin E and antioxidant licorice root extract which also improves uneven skin tone! And also, honestly, this stuff just looks the prettiest of any primer I've ever used under my foundation.
Makeup Brushes
The more I use the Artis Makeup Brushes, the more I love them. My number one fave right now is the concealer brush!! It comes in the set and seriously makes my skin look airbrushed. The brushes make applying and blending makeup SO FAST and I can't believe how perfect my foundation looks afterwards.
The Oval 8 brush is the BEST foundation brush I've ever used, with flawless coverage and foolproof usage. It picks up (but never absorbs) so much product and pigment, there's no need for a second layer! You can use these brushes with cream, powder or liquid formulas, and there's a brush for every part of your face! You will LOVE them!
Best foundation
This award-winning Luminous Silk Foundation from Giorgio Armani has over 1000 perfect reviews!! Glowing reviews and glowing skin? That's a win-win. It is on the pricier side, but if you're determined to find the very best foundation out there, this is a must. It's weightless and hydrating and makes your skin look totally flawless and natural! I use color number 7, and the match is impeccable.
If you tend to be more oily, try its sister product Giorgio Armani Power Fabric Longwear High Cover Foundation! It gives the same look, but with a slightly matte finish to help combat oils throughout the day.
Concealer
I've heard nothing but rave reviews about the Giorgio Armani Concealer, which is a fairly new product. I was SO excited to try it for myself, since my love for the foundation runs deep.
And let me tell you. This concealer IS.INCREDIBLE. It feels so light, not sticky or tacky, but still gives amazing coverage. If you're looking for a powerful but lightweight concealer, this is the one for you. I wear it in the color 6, which is brightening but still blends beautifully with the foundation. Truly I can describe it perfectly by it's name: Luminous Silk!
Blush
NARS Blush in Dolce Vita is SOOO pretty. I love a deeper hue for fall/winter months and I also love getting a blush that is buildable. This one can give you the slightest hint of color or a bold bright cheek depending on how you build it! It also blends beautifully with a bronzer or contour because of the warm undertones.
Powder Highlighter
MAC Powder Mineralize Skinfinish in Soft and Gentle is seriously the prettiest highlighter. It's subtle enough to give you the slightest glow, but can be built up to turn up the glow factor! These highlighters are slowly baked and include Vitamin E for a good-for-you skin glow that you will loooove. I looked at tons of highlighters in Nordstrom, and this was the clear winner. Try spraying your brush with setting spray for a more intense highlight!
Cream Eyeshadow
Eyes to Mesmerise Cream Eyeshadow in Champagne is the best base color to wear alone or to build upon with other shadows. It's a cream to powder formula that goes on sheer with a sweep of the finger, or with more coverage if you use a brush! These cream shadows are so beautiful, stay all day, never crease, and come in 6 stunning hues.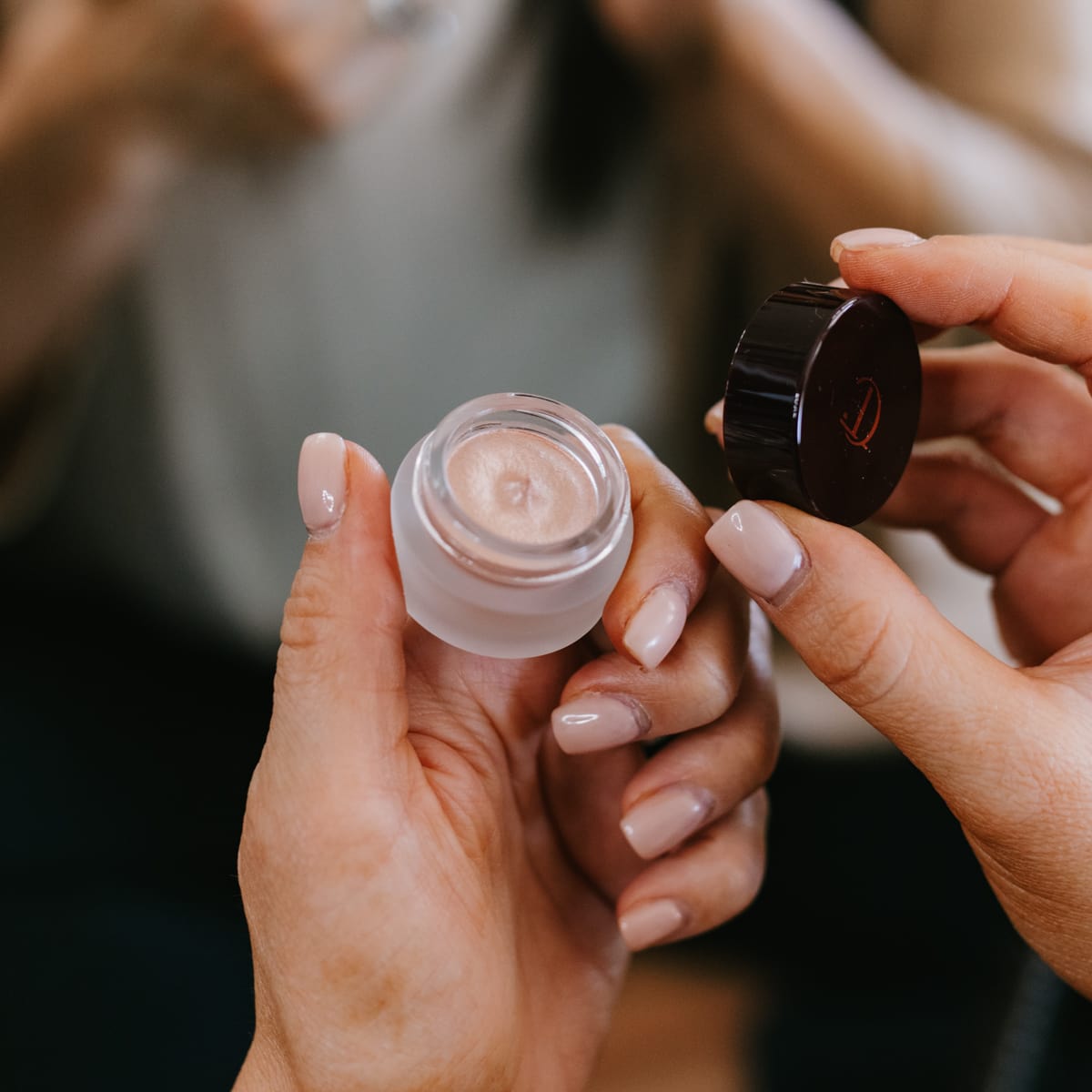 Brow Power Universal Brow Pencil
This Brow Pencil from IT Cosmetics has basically taken over my makeup kit as my GO-TO brow product. Those of you who know me know this is a BIG deal, because I've used a different brow product for yeeeears.
This pencil doesn't break, lasts forever, stays put on my brows, is ultra-creamy, easy to apply, and is the most universal color (I use Taupe as a blonde and a brunette!). I could seriously go on and on…
Anastasia Micro-Stroking Brow Pen
This Brow Pen keeps selling out everywhere because it is truly phenomenal!! If you want the look of microbladed brows but don't want to pay the pain or price tag, this is the product for you! I fill in my brows like normal with a brow pencil and then I layer this stroking pen (in Taupe) in the direction of my brow hairs. It gives it a killer 3D look, like all of a sudden I grew a bunch of brow hairs! It's only $22, and worth.every.penny. Hurry and grab it before it sells out again!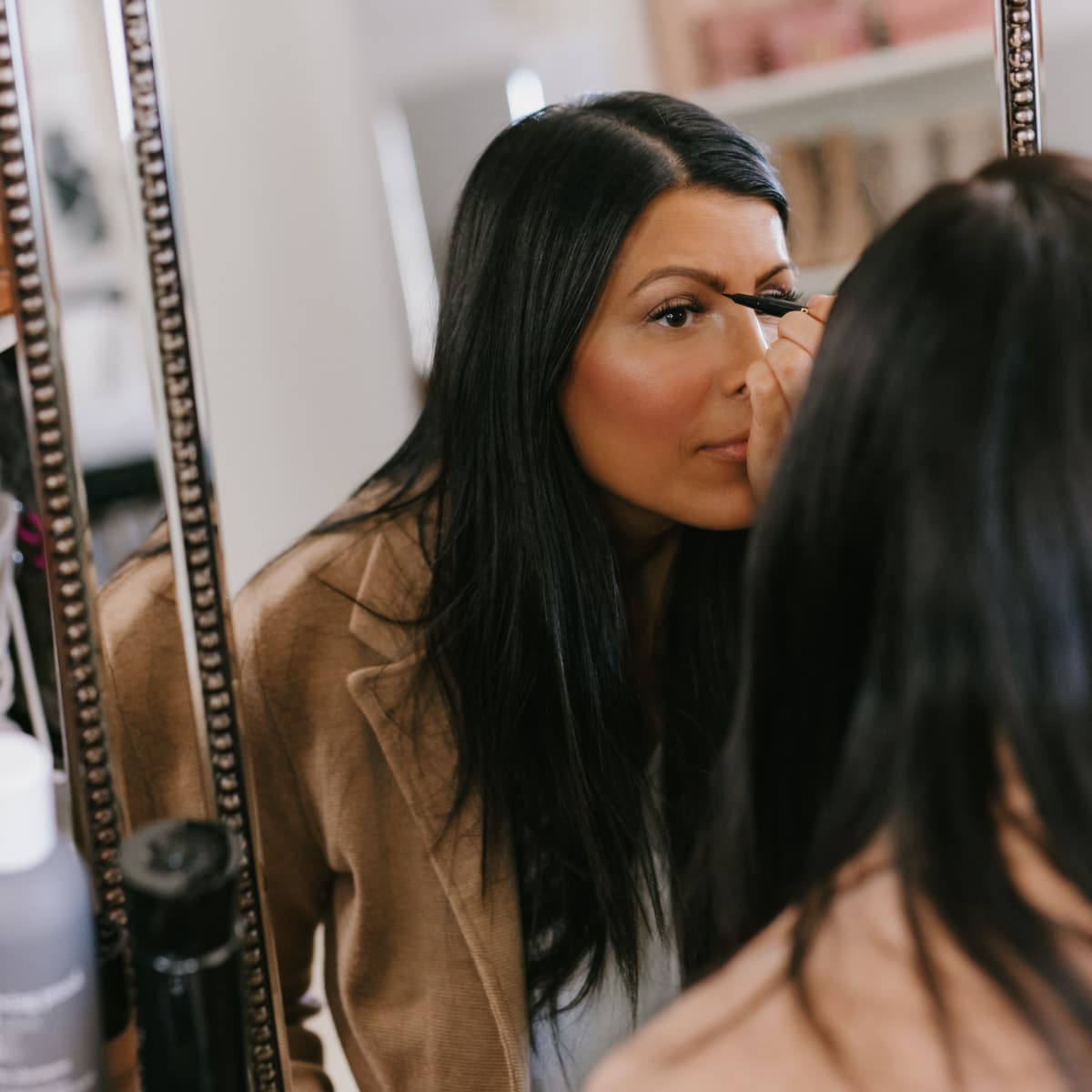 Top Selling Lipstick
The NUMBER ONE selling lipstick on Nordstrom's site is Charlotte Tilbury's Pillow Talk! It's the perfect neutral EVER and been in my constant rotation for months! Luckily for me, they created a Pillow Talk Medium (!!!) shade that is just the slightest bit darker, which is PERFECT for fall. It has a little bit of a berry tone, which I love for cooler weather. There is also a Pillow Talk Intense shade which is even deeper if you're wanting something more along those lines.
TIP: I usually put the lipstick on first and then line my lips with the Lip Cheat Lip Liner in the same shade (Pillow Talk) to seal it in, BUT if I want to make my lipstick last super long I will line first and fill in my lips completely with the liner then put on the lipstick!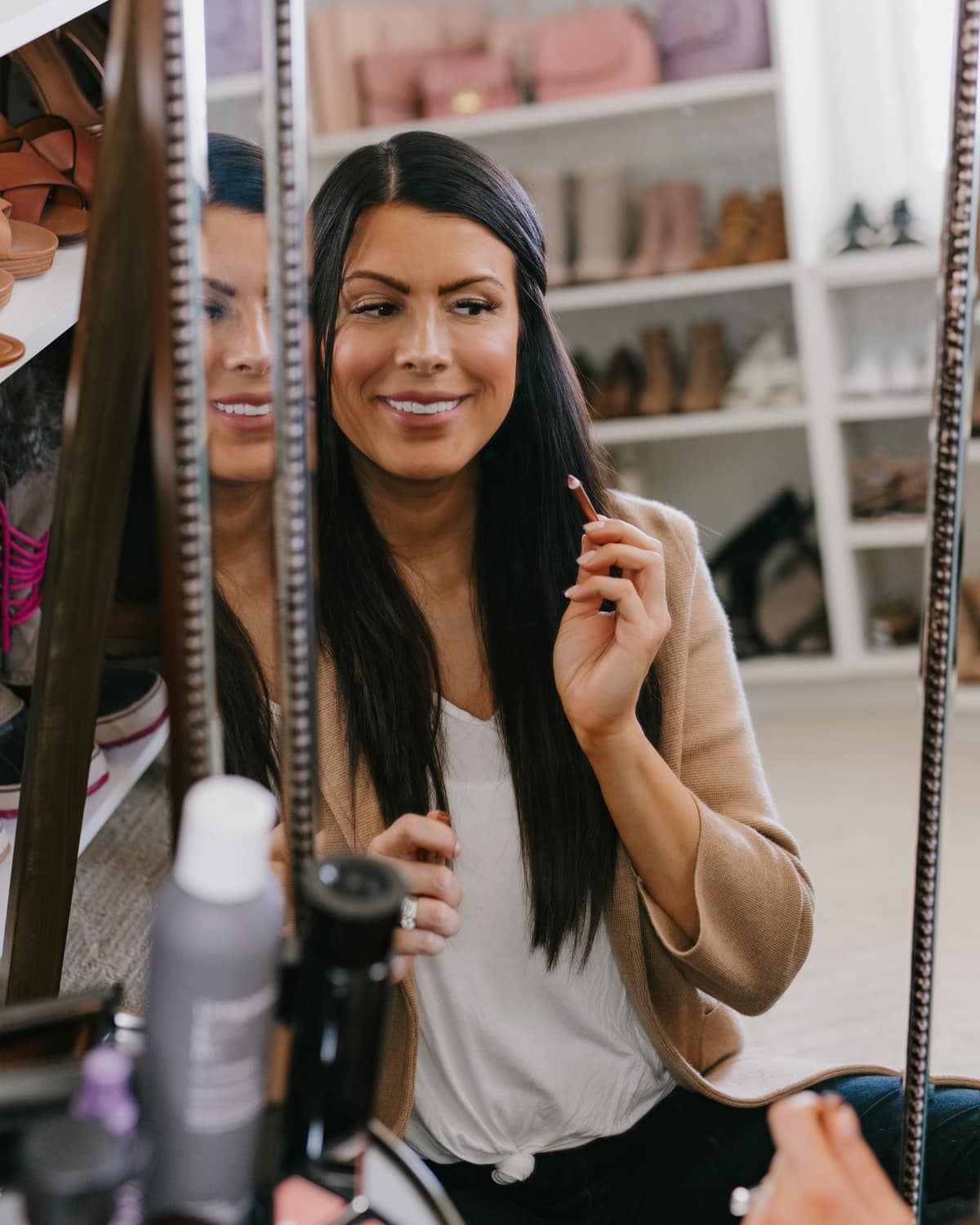 Laura Mercier Setting Powder
THIS is my favorite setting powder of all time. Ever. Period. I will never not have this in my makeup drawer! I had used Laura Mercier's regular translucent powder in the past and loved it, but this one is even better! The Honey color doesn't leave a white cast and blends amazingly with my foundation. It locks in makeup, absorbs oil, and seriously looks flawless ALL DAY!! This has insane reviews, so I know it's not just my new makeup obsession!!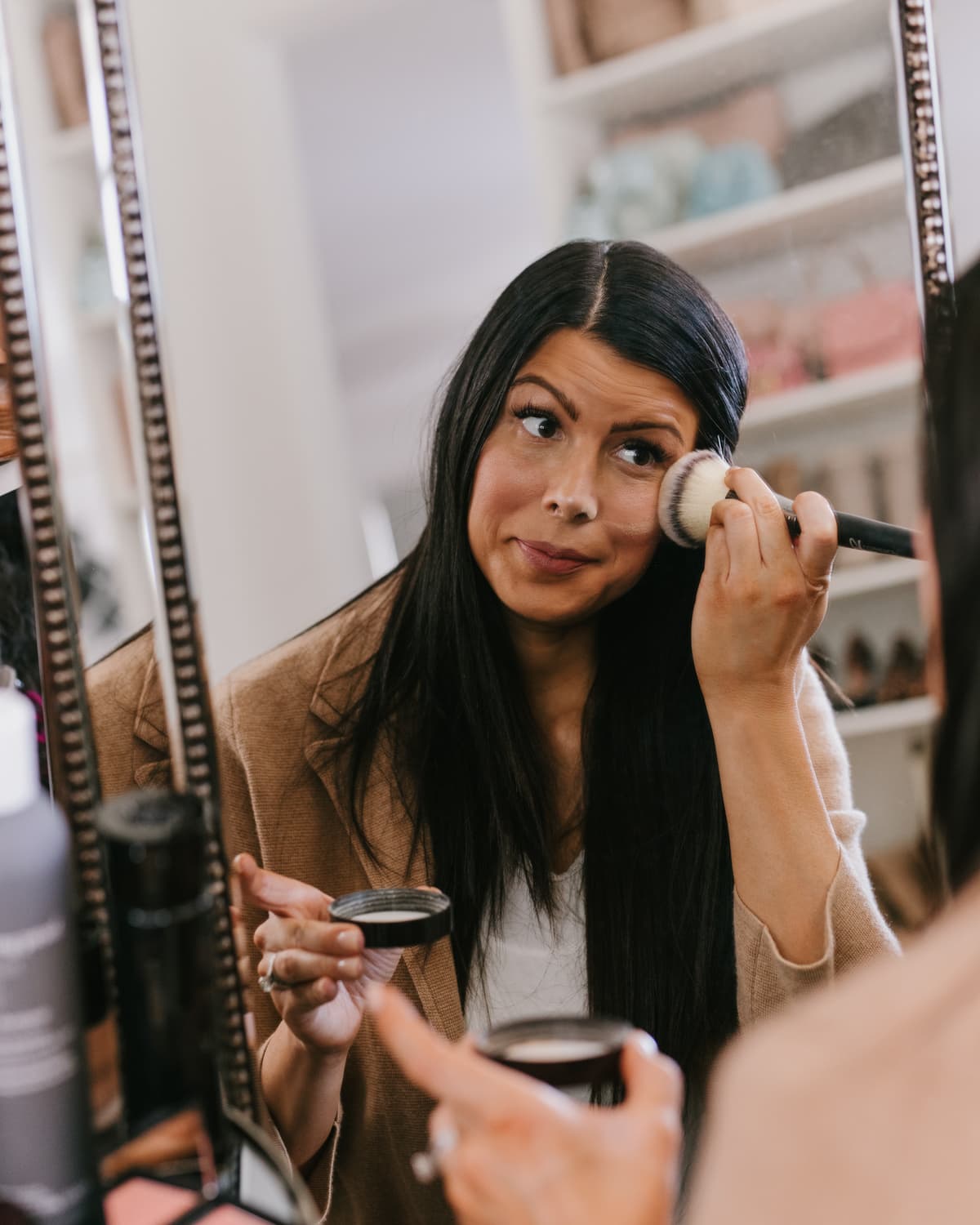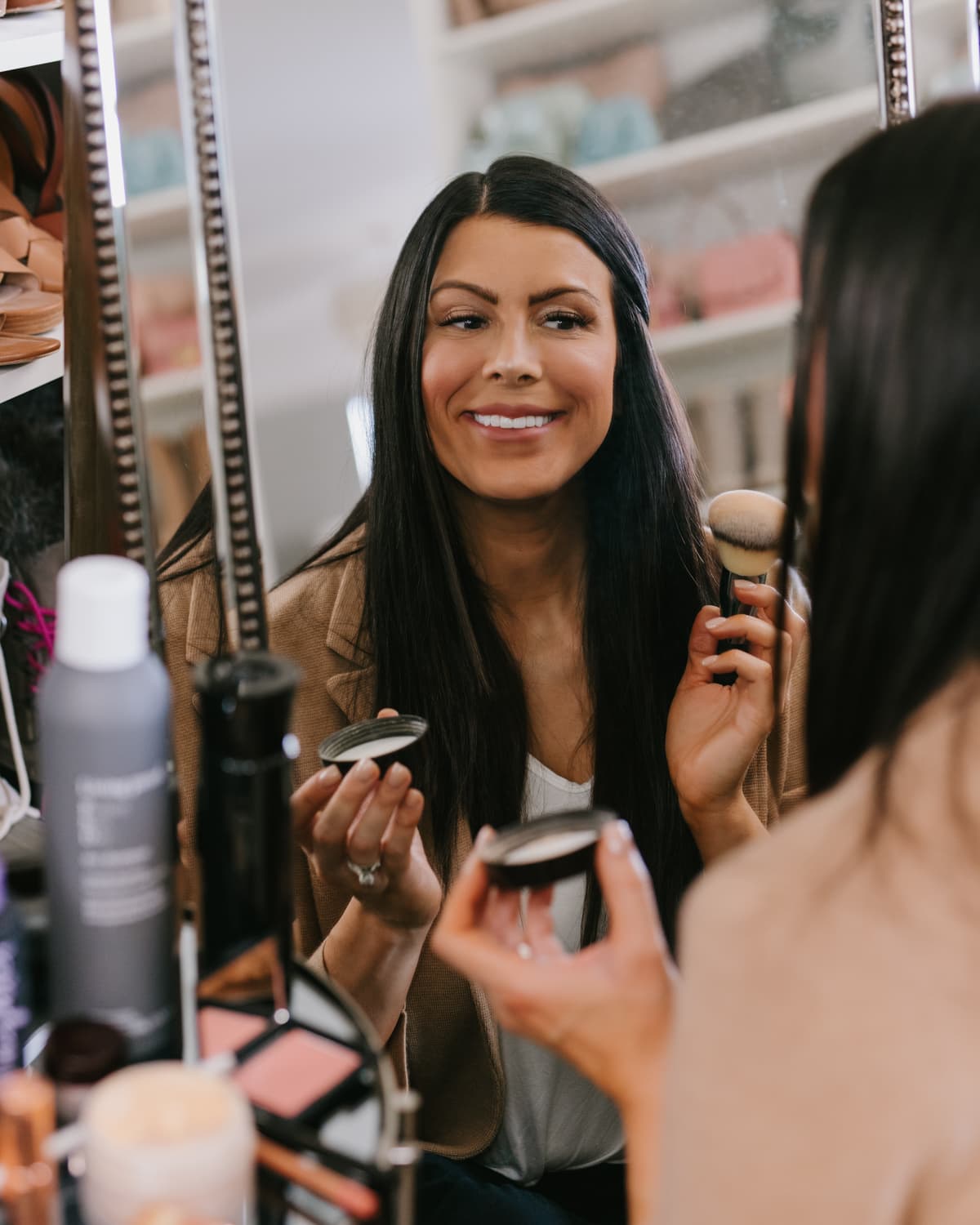 MAC Fix+ Setting Spray
I always finish off a makeup look by using a setting spray, and MAC Fix+ setting spray truly ensures all-day wear! This spray gives a boost of hydration while binding your makeup for a flawless look. It also boasts green tea, chamomile and cucumber to soothe your skin so it's great to spritz on a bare face as well.
All-nighter setting spray
The other setting spray I love is the award-winning Urban Decay All-Nighter Setting Spray! It is seriously like hairspray for your face. This setting spray will make your makeup last WAY longer (a casual 16 hours) just by lightly misting this on your face after you're all done with your makeup.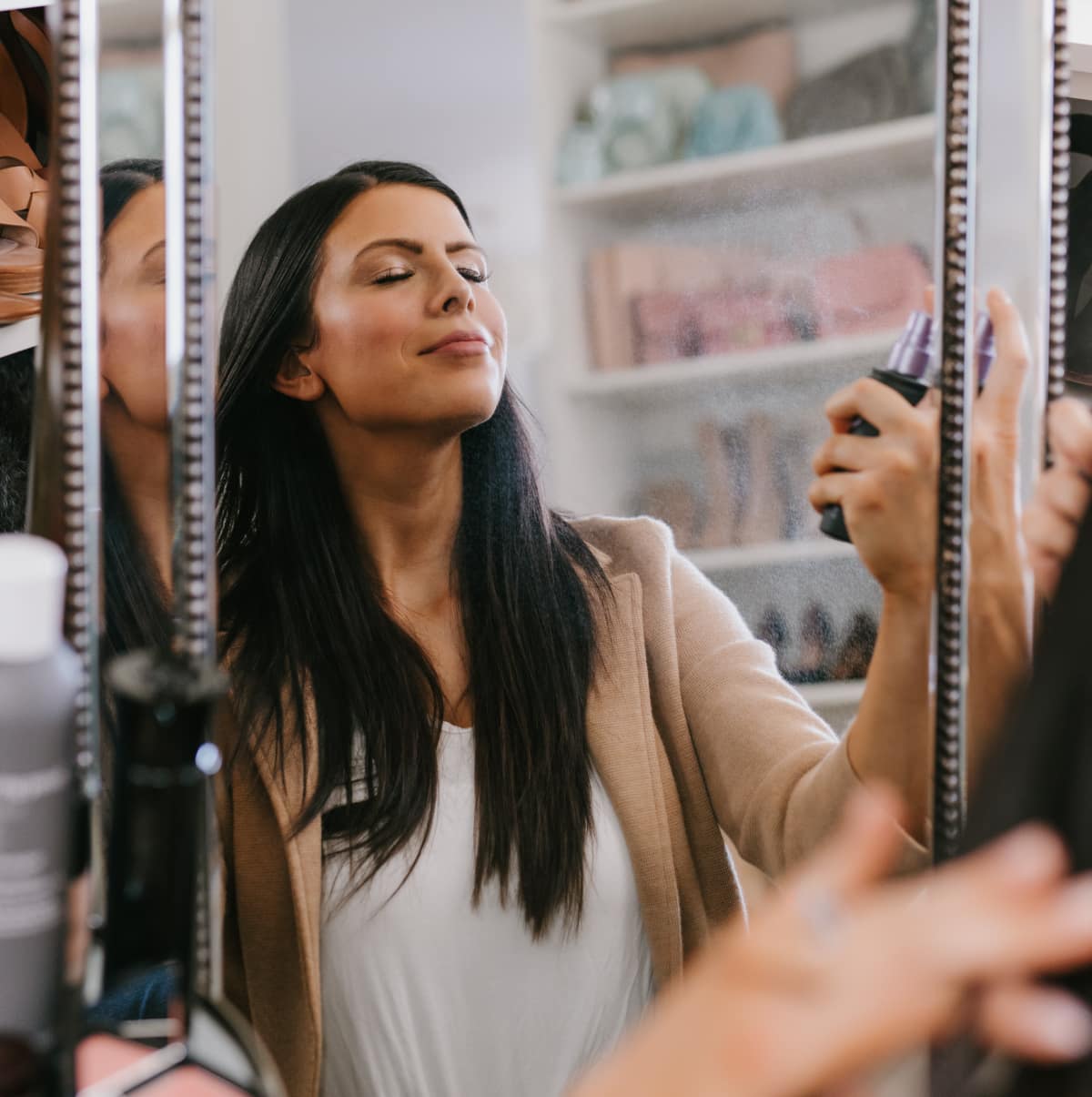 Perfect Hair Day Living Proof Dry Shampoo
This Living Proof dry shampoo now comes in a 7.3 oz size, which is humungous. For $36 from Nordstrom beauty, you're getting way more per oz than the usual 4 oz bottle I'm used to! It is the best at cleansing, it has a great smell, and it's easy to use for dry shampoo-beginners. It shows just a little bit if you have darker hair which but you can totally massage/brush it out!
Heat Styling Spray
I'm loving this Oribe Royal Blowout Heat Styling Spray that I got from the Nordstrom beauty department because it's dual-functioning! You can put it on wet or dry hair and the super-concentrated formula protects from any heat you apply. The first time I used it right before flat ironing my hair and I LOVED it! It smells amazing and didn't leave my hair greasy or weighed down. When I used it with wet hair, it totally detangled my mane AND still protected it from any heat I used to style.
Hair Straightener
I've been using this hair straightener for a few months and it is truly phenomenal. I have LOVED the rest of Dyson's hair tools, and this one is no exception. It's conveniently cordless and charges either on the wall or with a wireless charger (I get 3-4 uses out of it before charging again). It's so fun to use!
This hair straightener relies less on heat, so it does way less damage than a traditional flat iron. Minimum heat for maximum smoothness!
I really think my hair has stayed way healthier by using this flat iron (even my hair stylist mentioned this too!) It works beautifully, both for straightening and for curling. The tool has flex plates that allow for easier curling, and I truly think the way to get the longest-lasting curls is by using a flat iron! The plates are soooo smooth and never catch or snag my hair.
Fun fact: the first day I used this Dyson hair straightener and did stories (and didn't say a WORD about doing anything different to my hair) I had tons of people DM me on instagram asking what I did differently to my hair! It really does smooth like a dream, all while using minimal heat.
I also love that it's a "smart" tool, totally temperature adjustable AND shuts off by itself after 10 minutes of inactivity. I can't even tell you how many times I've wondered if I've left my straightener on after leaving the house! BUT NO MORE!
This one is a bit of a splurge, but right now it comes in a set with a paddle brush, detangling comb, and heat-resistant pouch for the same price as just the straightener!
BONUS ROUND: birthday presents
So I turned 36 a couple weeks ago and my cute friends dropped a box of birthday surprises on my doorstep a few days later! Inside I found all kinds of new loves including THIS bodywash in Sandalwood (it's SO GOOD and so gentle too). It's so good in fact that I told Neil he's not allowed to use it.
Also in the goody box: this hand cream that's conveniently unscented so if you love a perfume it's not going to mix or compete with a hand cream scent. Genius!
Speaking of perfume, one more new beauty fave they gifted me that I'm now in love with: this little roller that's affordable enough to suggest or gift for upcoming holidays but also SO YUMMY that I kept smelling myself all day over and over the first day I wore it, and Neil even complimented me on it too! WIN.
Nordstrom Love
I love to buy anything and everything I possibly can from Nordstrom because they truly have the very best customer service on earth, plus FREE shipping, FREE returns, AND curbside pickup. Their selection is totally unmatched too.

And do you know about BOPUS? If you don't prepare to meet one of your new shopping BFFs!! BOPUS is Buy Online, Pick Up in Store. If you're ready to just pull the trigger and you want it now, you will love this option. Especially since Nordstrom has curbside pickup. You can click, drive up, pick up and get on with your day! Literally every mom or busy girl's dream. Plus right now Nordstrom is offering you a $10 promo card when you choose this delivery option. SCORE!
Nordstrom beauty, always
It's no secret that the best shopping experiences happen at Nordstrom. But the Nordstrom beauty department takes it over the top! Nordstrom has an AMAZING variety of holiday kits and everything you need to update your makeup drawer this season.