Quick Version: take up to 56% off select Dyson products HERE!
SO excited because not one, not two, but THREE of our favorite Dyson products are on super sale today! We're always waiting and hoping to find deals on these products, and today's pretty much the best day ever because they ALL have amazing prices right now!
You can save big time right now on Corrine's very favorite hair straightener in the whole entire world, the famous Dyson Straightener, amazing V8 vacuum, and last but not least, you can save on the Dyson 2-in-1 Air Purifier! KEEP READING to find out how to score on ALL of these deals.
What if ONLY the deals YOU wanted to see were in your inbox before anyone else?! If you want to be in the know and find out the hottest deals tailored just for you, you can join our subscription email here! It's simple, you tell us the deals you want to see and we'll make sure you see them first! 
Deal details
Right now ALL of these Dyson products are ON SALE!! Grab them while they're still in stock at these incredible prices!
Dyson Straightener (refurbished): 45% off for only $249.99 (reg $449.99) AMAZING DEAL
Dyson V8 Animal Cordless Vacuum : This Dyson V8 is $100 off at just $349.99 (reg $449.99)!
Dyson Pure Cool Tower Purifier Fan (refurbished): Get the Dyson Air Purifier for $250 off at just $199.99 (reg $449.99)!
Is it okay to buy refurbished?
What does refurbished mean? This means that it's been opened or a minor flaw has been repaired, but it's gone through a rigorous process to deem it ready for resale! My experience with buying refurbished items has been flawless. I've literally never bought anything refurbished and had a bad experience – including everything from electronics to hair products. Buying refurbished is often an incredible (and super smart) way to save on an item that's a little bit of a splurge!!
Dyson Corrale Multi-Styler Cordless Hair Straightener
We wish we could put neon lights on this title! This is going to be gone QUICK. The Dyson Corrale is the VERY BEST HAIR STRAIGHTENER Corrine has ever used. Period. Hands Down. Currently only $249.99 – an extremely rare price on this Dyson. That's $200 OFF!
Dyson V8 Animal Cordless – goldilocks
This Dyson V8 is a great alternative if you're looking for something like the V11, but you want a middle of the line investment. You can carry it everywhere, and it makes vacuuming a cinch. We know the reservation with cord-free vacuums is the power; will it work as well as my traditional vacuum? The answer is a resounding YES!! We're so impressed with how powerful this lightweight vacuum is. The cleaning head is designed for all surfaces, it converts to handheld AND boasts a HEPA filtration system.
This Dyson V8 is 23% OFF at just $349.99 (reg $449.99)!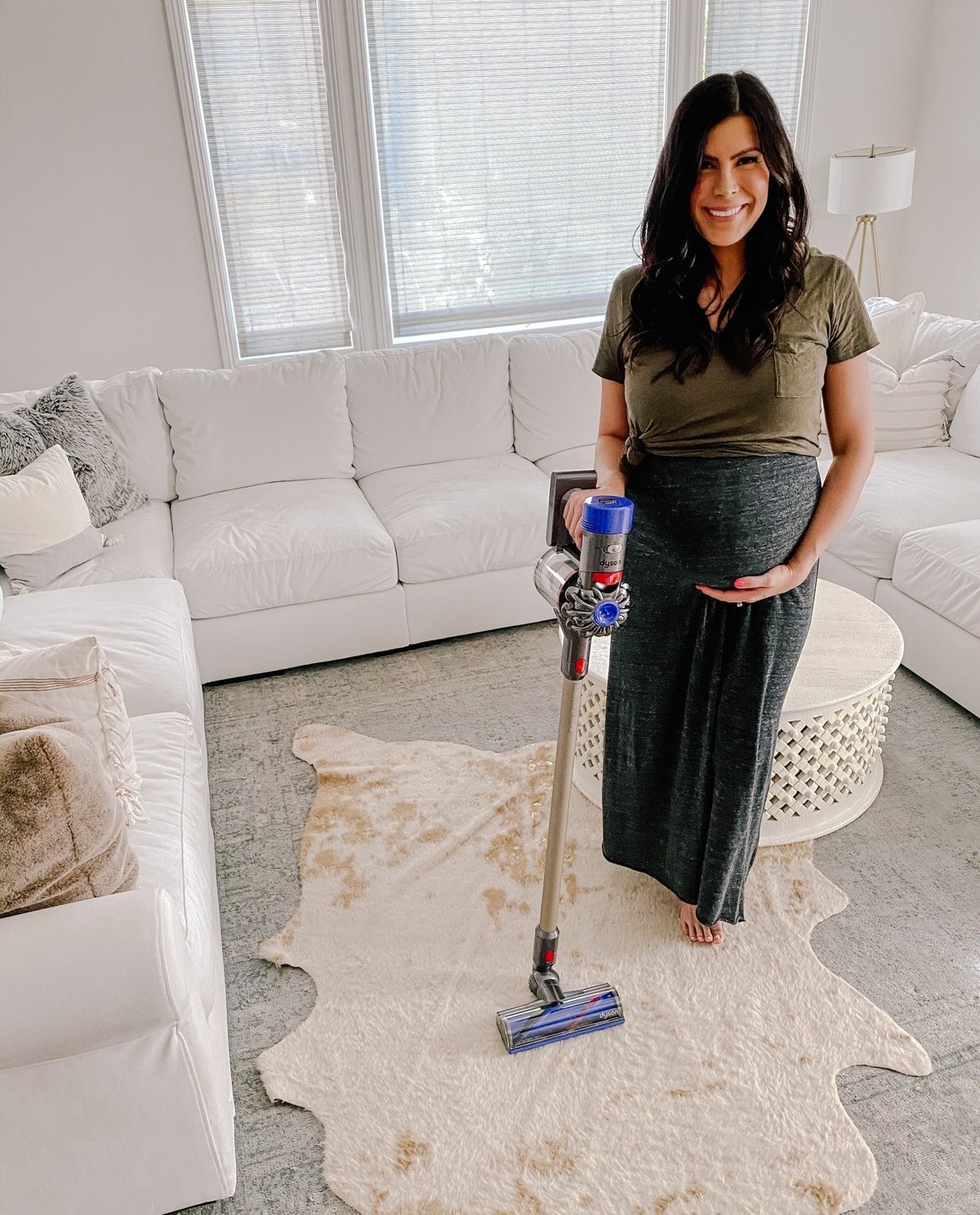 Dyson Air Purifier
It's a fan. It's an air purifier. It's BOTH. But what this Dyson 2-in-1 Air Purifier really is, is seriously cool. As a mom, Corrine's favorite feature has got to be that it's bladeless. Super important when you have a lot of littles (and little hands!) in the house. The feature also makes the Dyson 2-in-1 super easy to clean.
This Dyson Air Purifier is bananas quiet. Like totally silent on several of the lower settings and still barely audible on the very highest setting. We love the super slim modern profile that just fades into the background of any room while cooling and purifying the air.
The air purifier filter captures ultra fine particles in the air, including bacteria, pollen, and pet dander. This is such a great feature at a time when we're all trying a little more diligently to stay healthy and is especially great for somebody like me with asthma.
Get the Dyson Air Purifier refurbished for 56% OFF at just $199.99 (reg $449.99), an INSANE deal!
Don't miss these deals!
If you've been dying to get any of these amazing Dyson products, TODAY'S the day!! All of these WILL sell out, so act fast so you don't miss out! We're so excited for you to get your hands on one of these products!