SO excited because not two, not four, but FIVE of my favorite Dyson products are on super sale today! I'm always waiting and hoping to find deals on these products, and today's pretty much the best day ever because they ALL have amazing prices right now!
You can save big time right now on my very favorite hair straightener in the whole entire world, the Dyson AirWrap that I LOVE, all the best vacuums ever (the Dyson V11 Torque Drive cordless vacuum, and the Dyson V8 Animal cordless vacuum), and last but not least, you can save on the Dyson 2-in-1 Air Purifier! KEEP READING to find out how to score on ALL of these deals.
Sometimes our hottest deals sell out REALLY fast, so if you want to be in the know and find out FIRST, you can join our bestie group text! And don't worry, I'll only send you the VERY hottest deals that have the highest sell out risk – PROMISE. To join the list, text DEALS to 949-506-2558
Deal details
Right now ALL of these Dyson products are ON SALE for Black Friday!!
Is it okay to buy refurbished?
What does refurbished mean? This means that it's been opened or a minor flaw has been repaired, but it's gone through a rigorous process to deem it ready for resale! My experience with buying refurbished items has been flawless. I've literally never bought anything refurbished and had a bad experience – including everything from electronics to hair products. Buying refurbished is often an incredible (and super smart) way to save on an item that's a little bit of a splurge!!
Dyson Corrale Multi-Styler Cordless Hair Straightener
I wish I could put neon lights on this title! This is going to be gone QUICK. The Dyson Corrale is the VERY BEST HAIR STRAIGHTENER I've ever used. Period. Hands Down. Currently only $374.97 – an extremely rare, possibly never before seen price on this Dyson. That's over $125 OFF!
Dyson AirWrap
I finally gave the Dyson AirWrap a try a while ago and was BLOWN AWAY (ha!) at how magical this little device was. It has 7 attachments that will straighten, round brush dry, or curl your hair. It does take a minute to figure out the curling process, but once I did, I was ELATED by how smooth the process was! It really does smooth out your hair while curling each section and gives you crazy good volume as it curls.
The Dyson AirWrap is so good and such a great combo tool for drying, curling, waving, or smoothing your hair! It dries AND styles all in one shot, so it's a MAJOR time-saver. It's super quick and super easy and you will LOVE it.
Get it for 27% off for only $399.99 (reg $549.99)!
Now let's talk Dyson vacuums – how to choose?
There are two awesome Dyson vacuums on sale today, and you may be wondering how to choose between the two? Let's talk about it so you can get the BEST vacuum for you, at the BEST price.
Dyson V8 Animal Cordless – goldilocks
This Dyson V8 is a great alternative if you're looking for something like the V11, but you want a middle of the line investment. You can carry it everywhere, and it makes vacuuming a cinch. I know the reservation with cord-free vacuums is the power; will it work as well as my traditional vacuum? The answer is a resounding YES!! I am so impressed with how powerful this lightweight vacuum is. The cleaning head is designed for all surfaces, it converts to handheld AND boasts a HEPA filtration system.
You won't have the battery display at the top, and the charge doesn't last as long. But if you can live without those features from the V11, this really is an amazing vacuum.
This Dyson V8 is $100 off at just $299.99 (reg $399.99)!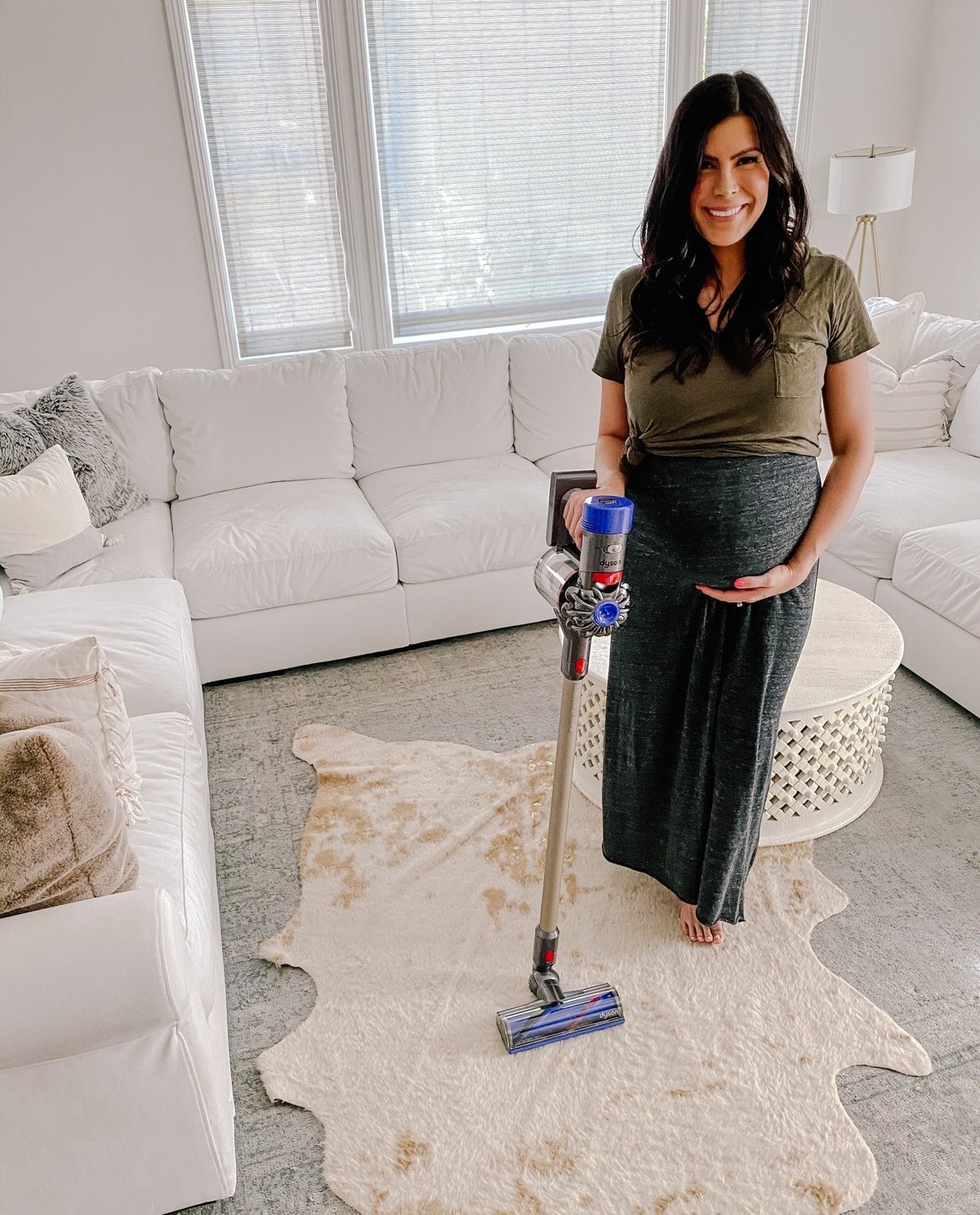 Dyson V11 Cordless – my top pick
This Dyson V11 Vacuum is basically the Bentley of cordless vacuums. It's the most powerful cordless vac, and if you're wanting to invest in the only vacuum you'll ever need, THIS is the one!
This is MY FAVORITE because it holds its charge for a super long time, it works like a DREAM, shows the battery level at the top, converts to a handheld, and is an absolute powerhouse.
When you purchase this Dyson V11 Outsize Origin cordless vacuum, the whole package comes with a mini soft dusting brush, combination tool, mini motorized tool, crevice tool, stubborn dirt brush, AND a wand storage clip. WHEW! Such a great deal!
This traps 99.99% of particles, dust, and allergens as small as 0.3 micron in boost mode (loooove) and the cordless charge lasts for 60 minutes! Like I said, if you're looking to invest in the best of the best when it comes to cordless vacuums, look no further.
$289 off at $529.99 (reg $819.96)!
Dyson Air Purifier
It's a fan. It's an air purifier. It's BOTH. But what this Dyson 2-in-1 Air Purifier really is, is seriously cool. As a mom, my favorite feature has got to be that it is bladeless. Super important when you have a lot of littles (and little hands!) in the house. The feature also makes the Dyson 2-in-1 super easy to clean.
This Dyson Air Purifier is bananas quiet. Like totally silent on several of the lower settings and still barely audible on the very highest setting. I love the super slim modern profile that just fades into the background of any room while cooling and purifying the air.
The air purifier filter captures ultra fine particles in the air, including bacteria, pollen, and pet dander. This is such a great feature at a time when we're all trying a little more diligently to stay healthy and is especially great for somebody like me with asthma.
Get the Dyson Air Purifier for 50% off at just $299.99 (reg $499.99) + free shipping!
Don't miss these deals!
If you've been dying to get any of these amazing Dyson products, TODAY is the day!! All of these WILL sell out, so act fast!