There's a super hot Nordstrom Friends & Family sale going on today and we've combed through and found the very best items for you guys that you should totally take advantage of! AND we're giving you a quick guide to what you need to buy during this sale. Keep reading for all the details on where to find this sale!
Nordstrom Friends & Family sale details
SO many companies are having Friends & Family sales right now and Nordstrom is price matching all of them, so it's like shopping ALL the Friends & Family sales in one easy spot! Right now you can save big on over 7200 items RIGHT HERE during this sale! You'll be able to see all the amazing sale prices as you shop, so no discount code is needed.
Leather Mules
These leather mules were included in my BEST women's shoe guide during the Anniversary sale and they are perfect for fall. I was pleasantly shocked, surprised AND delighted by just how comfortable they are.
These mules are a such a super simple, but versatile shoe. The stacked heel elevates any outfit and elongates the leg, but they're so easy to slip on and go. This go-to shoe rings in at just $39.90 (reg $80)!! That's LOWER than the Anniversary Sale price!!
Crossbody bag
This small (but roomy) bag is kind of the ideal size for everything. It easily holds a small laptop or iPad, snacks, a water bottle and ZIPS CLOSED at the top. I am always ALL about this feature. I don't know about you, but I want the contents of my bag to stay inside my bag regardless of the activity. THIS is just one of those perfect bags with an equally perfect price point of $100.80 (reg $168)!
The spotted calf hair is totally neutral, making it very versatile and worthy of this wardrobe checklist. It can be worn with black, brown, colors-it literally goes with everything. The large exterior pocket is also really nice for providing easy access to your phone or keys.
Natori Rose Dream
This highly-rated Natori Rose Dream bra (pictured third from the top in the picture below) is EVEN more comfortable than the Feathers bra we talk about below and like, MIND BLOWN, people! During the Friends & Family sale, this dreamy bra rings in at just $43.20 (reg $72). It is crazy, crazy buttery soft and if you're worried about the lace on the Feathers (which again, PINKY PROMISE isn't visible through clothes or itchy!), this one might be better because it's smooth all around.
I've honestly become even more drawn to this bra over the years and so have a couple other Team Mint Arrow girls here.
This bra earns top marks and has over 1600 perfect or nearly perfect reviews. The Natori Rose Dream is super dreamy and just disappears under clothing. Plus it's so comfortable it's like being Team No Bra, but better!
THE snakeskin booties
This Snake Print Bootie is so comfortable, the leather feels soft, there's fun silver detailing on the back, AND I like the print! I always feel a little bit more dressed up when I'm wearing a bit of a heel, and this block heel is seriously perfect. These are only $79.90 (reg $134.95!!) right now, even LOWER than the Nordstrom Anniversary Sale!
White sneaker
Featured in our Top 6 Sneakers for Fall roundup, these lace-up sneaker is so lightweight it literally feels like you're not wearing anything! When I was shopping for shoes, the girl who was helping me showed me these because she was still in awe over how weightless they are! To say I'm obsessed is an understatement. Not only are these sneakers so comfortable, they go with everything and the feminine scalloped detailing is just too cute! Wear them with a dress, jeans, leggings, anything; for only $59.90 (reg $130!!) you seriously can't go wrong.
Half-Zip Pullover
The evenings are finally starting to cool off and this half-zip pullover is just way too good of a buy to not mention. My sister, who is the ultimate mega minimalist, had this and only this on her Christmas list last year. She loved it so much that I had to buy one for myself this year! During this Nordstrom Friends & Family sale, it's just $46.80 (reg $78.00)!
This pullover has crazy good high ratings and it's so soft and cozy. It's basically like wearing a cloud. Pieces like this that are super easy to throw on and go are year round staples for me. I'm looking forward to wearing this all fall and winter long!
A Laptop-Friendly Tote
This Tory tote is so roomy. Perfect for the work week (because it's the perfect laptop-sized bag) or the freaking weekend (because there's plenty of room for your wallet, phones, keys, and makeup)! It's the perfect combination of being super high quality and super gorgeous. You can snag this tote for $316.80 (reg $528), that's a huge 40% off for this super high quality designer tote!!!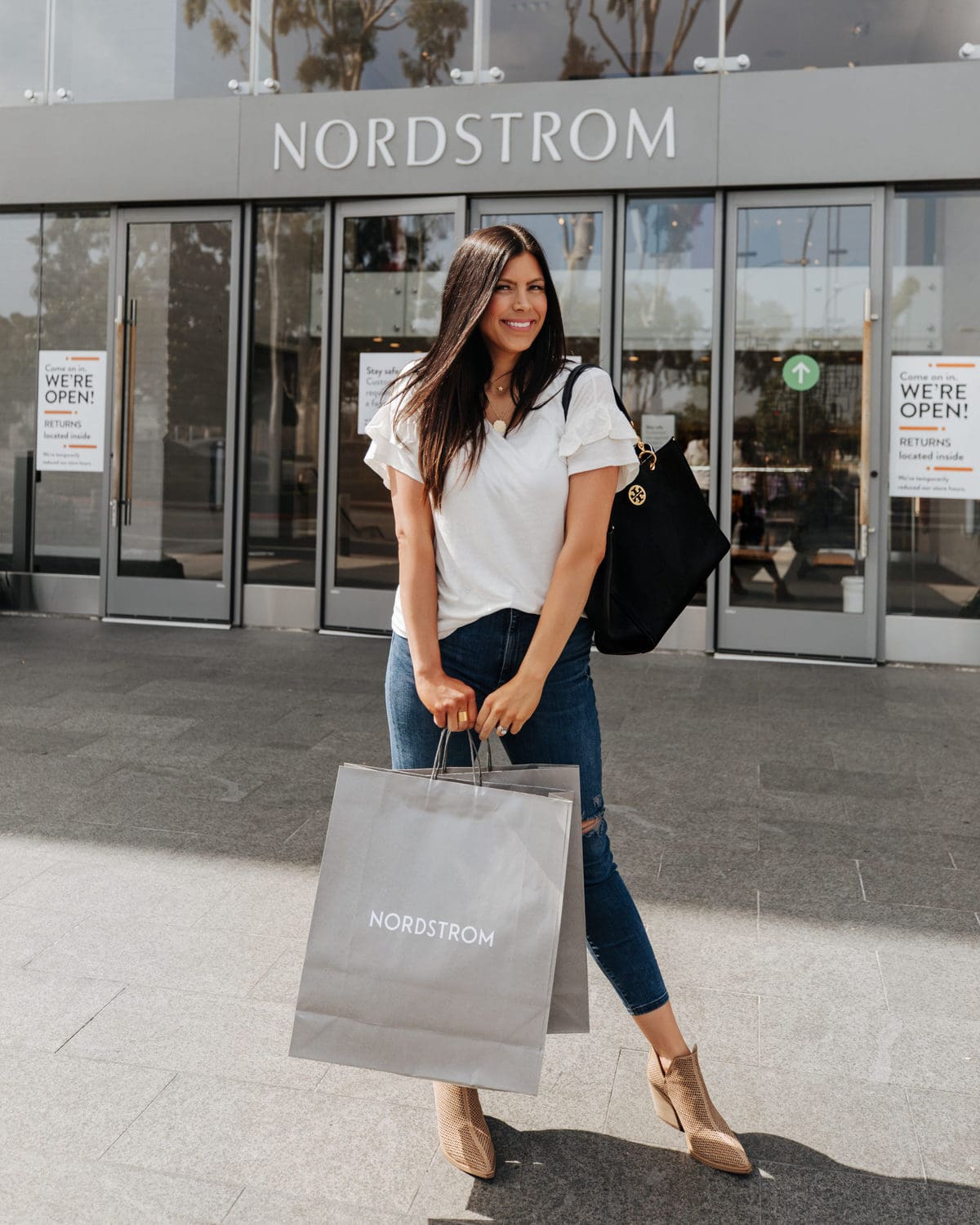 Super friendly savings!
We picked through thousands of items to find you guys the best of Nordstrom's Friends & Family sale. Find them below and get ready to stock up on some amazing pieces at an even more amazing price!