One of our very, very favorite things about summertime is exploring the great outdoors and taking little hikes as a family. Growing up I did this with my family in Washington and Utah and I love being able to carry on the tradition with my girls. Being outside together as a family is our happy place and if we're out doing active things then we have the perfect excuse to eat ALL the ice cream after we're done! One of our very favorite places to shop activewear has got to be Kohl's! It seems like the girls are growing out of shoes every other month (LITERALLY) so it's nice to be able to outfit the whole family in the Nike we love without breaking the bank!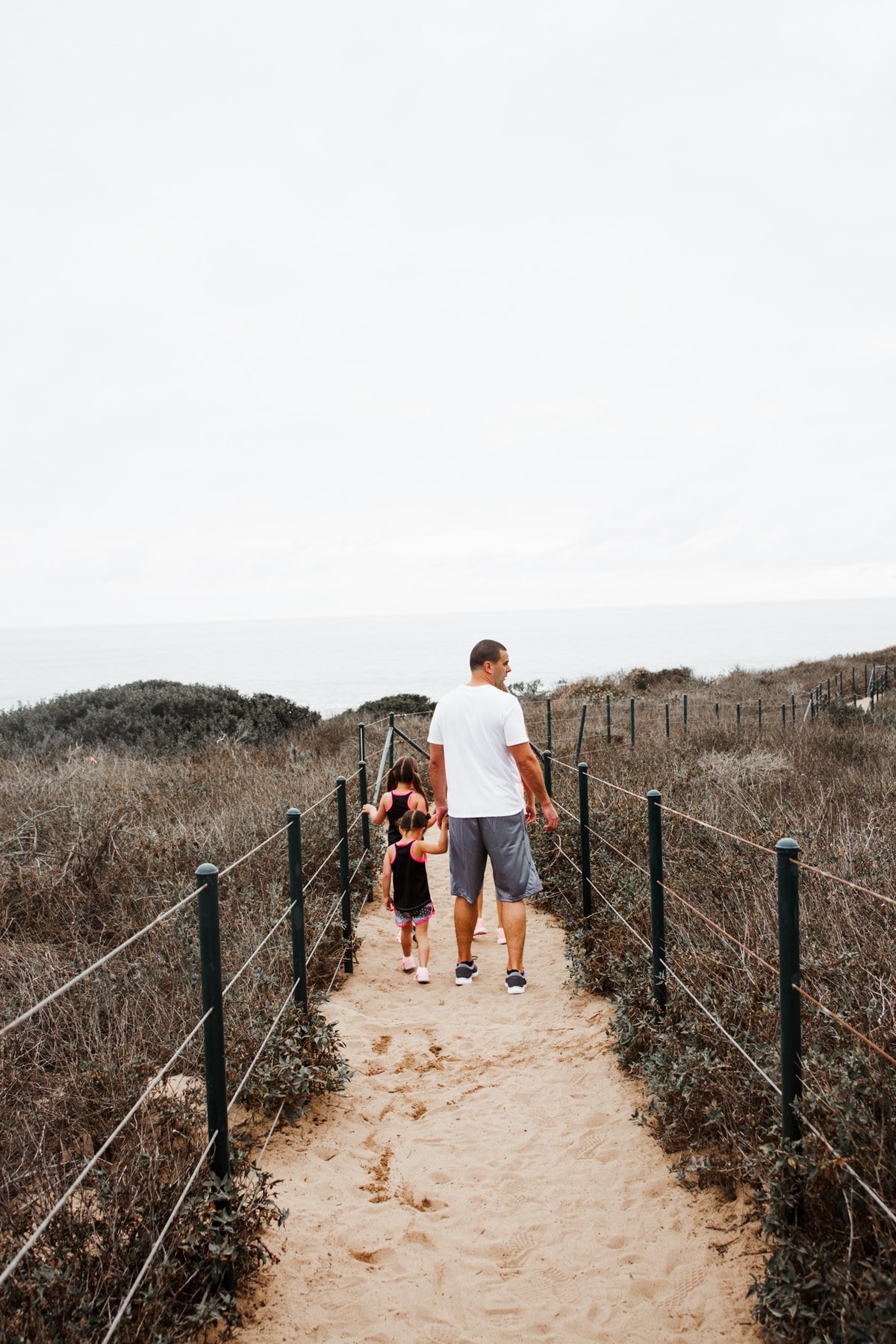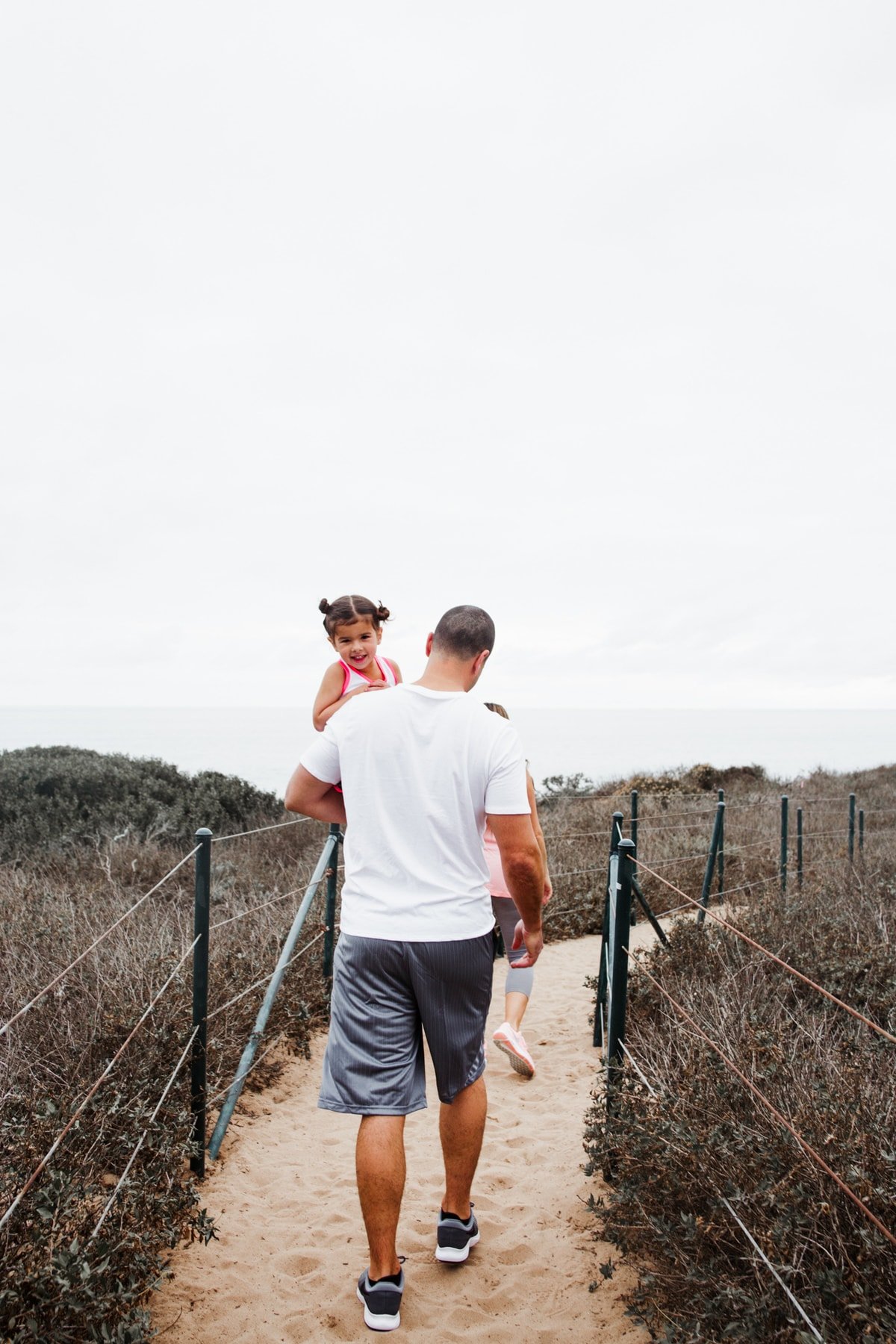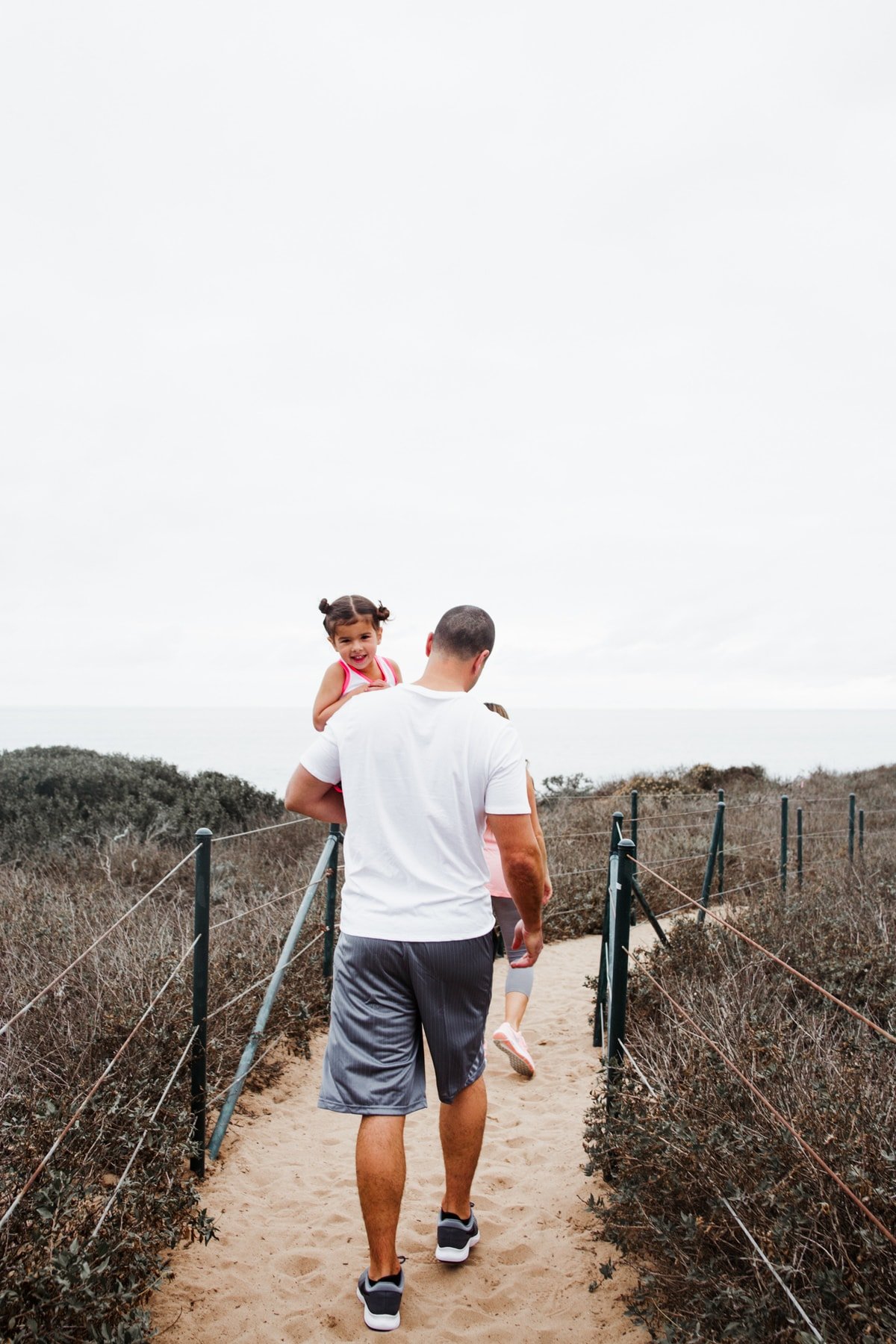 We love the Dana Point Headlands trail for kiddos (and this tired preggo lady!), because it's super easy and has insanely gorgeous ocean views.
 Aren't the girl's Dri-FIT tanks darling? Mama is a fan of anything and everything moisture-wicking and the girls are fans of all things pink.
The little geometric design on Lyla's shorts was so fun that I almost wanted them for myself! At $13.50 these are a total steal!
The girls were obsessed with reading all the signs along the trail and then trying to spot dolphins and whales out in the ocean!
If you watch my Instastories you know it's been harder and harder to fit this growing belly into my workout tops. Kohl's affordable prices made it easy to snag a few tops to cover the bigger bump and stay committed to my goal of working out during this pregnancy! I love the loose, but still feminine, drapey fit and wide racerback on this top. At $19.99 and with seven colors to choose from it's pretty impossible not to add it to your cart!
 I'm basically at the point in my pregnancy where maternity leggings are kinda my only option for workout wear! The capri length is perfect for summer and these ones are not only really comfortable, they're also only $18!
Ani's training shorts were perfect for jumping in and practicing all her cheer moves! They're super comfy and lightweight, making them ideal for all our summer adventures! Priced just right at $17 and available in 7 colors. She just might be able to talk me into buying them all!
Under $50 for Nike running shoes? Yes and YES! These are an awesome lightweight running shoe-perfect for chasing our little monkeys down all the trails! They're super comfortable and look good.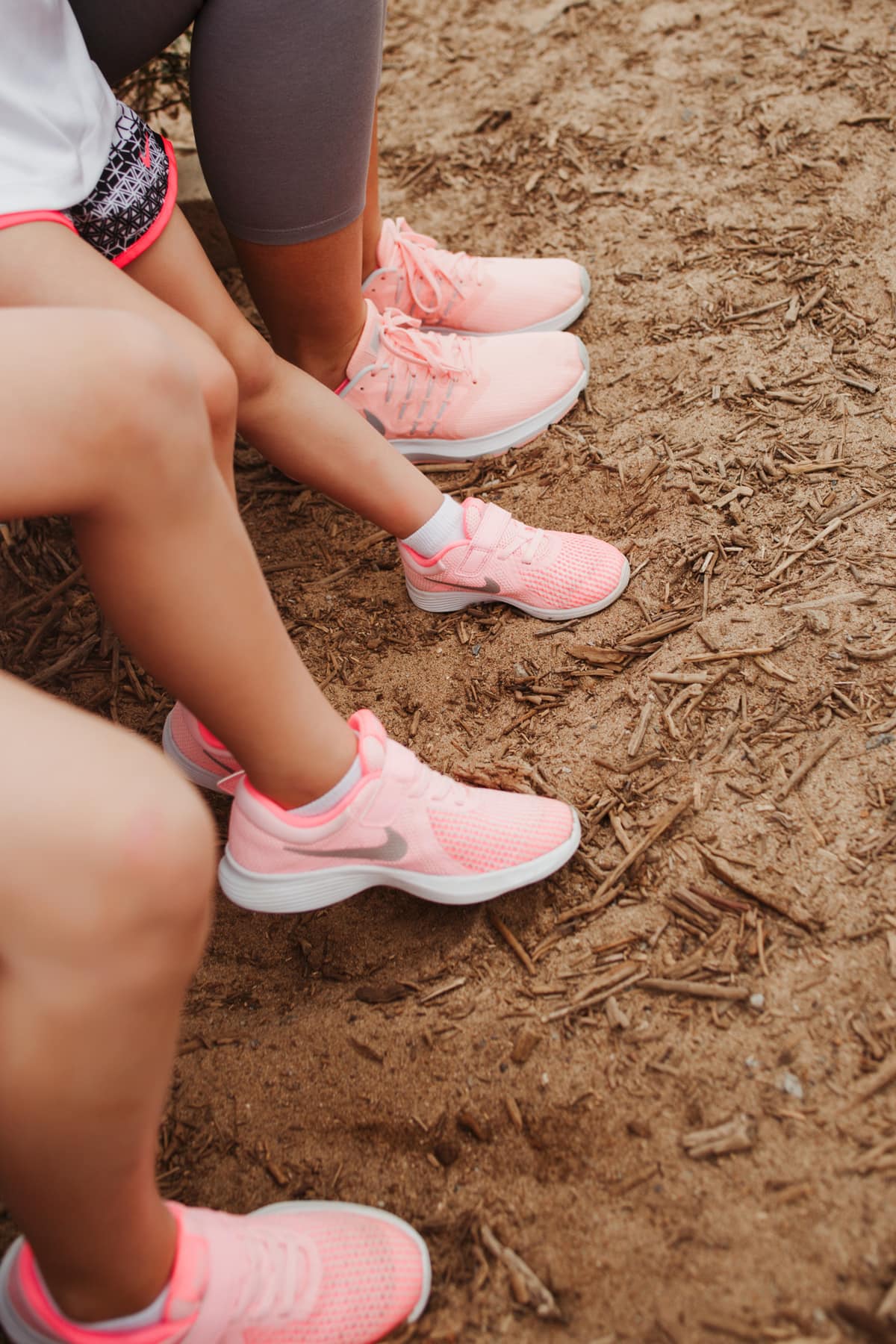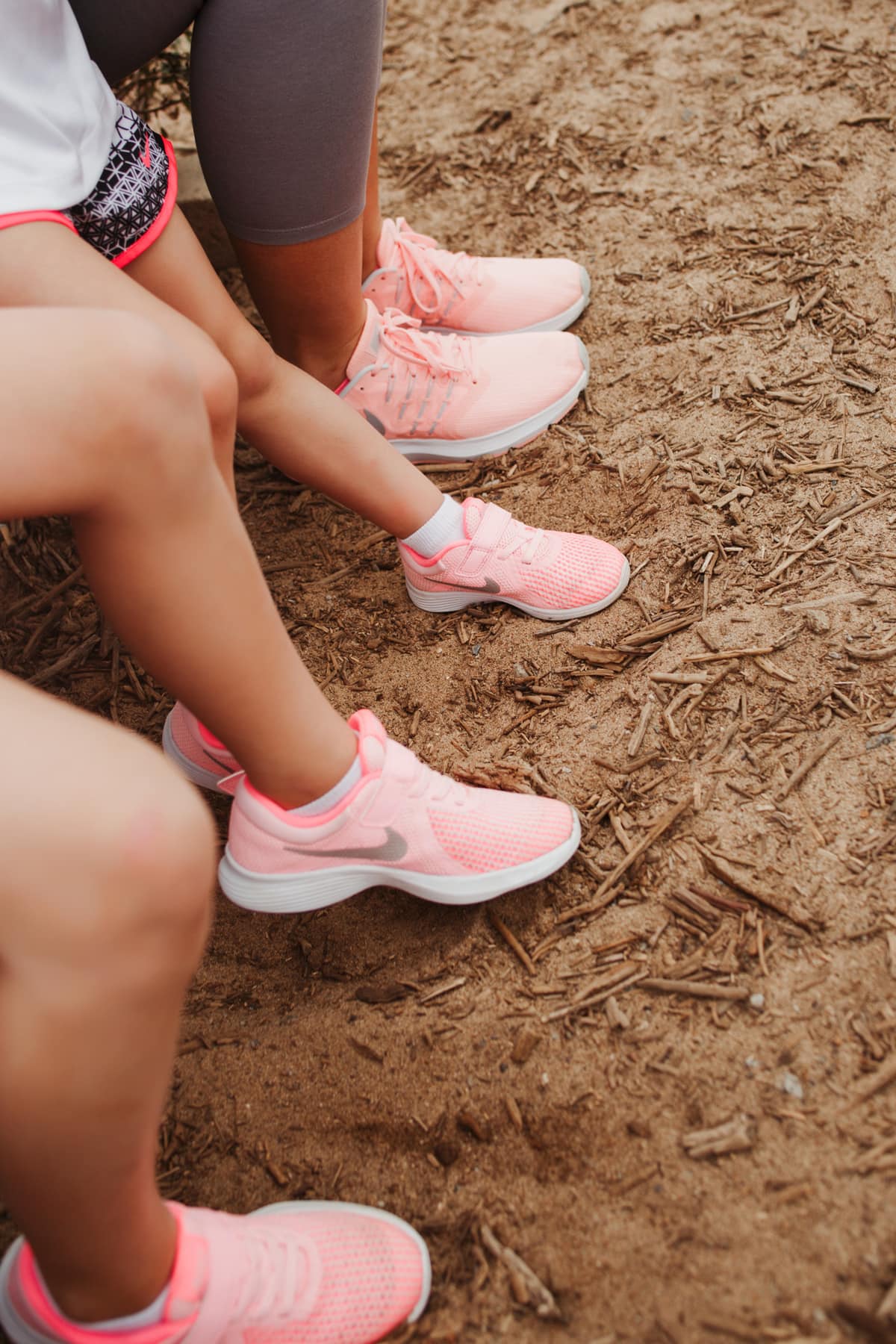 "Match with Mama" is still a thing at our house so it was fun to be able to find pink Nike's for everybody. Well everybody except Neil-I'm sure he was very disappointed. Ha! My Nike Run Swift shoes are super duper comfortable. Like, you'll want to wear them everywhere, because they're that good. Plus the color is a total compliment magnet.
The girl's Nike Revolutions are equally adorable. As a houseful of strong independent women we're huge fans of the easy on and off velcro strap! If "I'll do it myself" is also a common phrase at your house, you neeeeeed these shoes!
Neil loves these basic and affordable basketball shorts. Nothing fancy, just everything a guy wants for the right price. Plus pockets! Even men get excited about pockets, right? Haha!
This Dry-FIT tee comes in 17 colors!! SEVENTEEN! The moisture-wicking fabric works hard to keep your man cool on a warm summer day. And the tag free crewneck keeps him comfortable.
Women's Nike Sportswear Logo Graphic Tank 
Nike Run Swift Women's Running Shoes
Maternity Leggings
Nike Revolution 4 Men's Running Shoes
Men's Nike Layup Shorts
Men's Nike Dri-FIT Tee
Toddler Girl Nike Geometric 10K Dri-FIT Shorts
Girls 4-6x Nike Dri-FIT Tank Top
Nike Revolution 4 Toddler Girls' Sneakers
Girls 7-16 Nike Dri-Fit Training Shorts
Nike Revolution 4 Pre-School Girls' Sneakers
Photos by Arielle Levy
See all of our FAVORITE activewear for the whole family below at prices that will have you planning your next adventure! Tell us in the comments below where you're headed … Maybe we want to go too!