Raise your hand if you still have a few people you need to buy gifts for! *raises hand* Luckily I am the queen of last minute shopping and ALWAYS have deals for you to check everyone off your list. Today we've got the beauty lover in your life COVERED thanks to tarte!
If you've been around for a while, I know you've heard me mention my deep love for tarte cosmetics! Did you know that tarte products are all formulated without parabens PLUS are hypoallergenic, cruelty free, and have vegan collections?? Good for you and good for our earth, WIN/WIN! Plus their products have the best coverage, amazing color payoff AND are currently almost all being offered at a discount! Keep reading for all the deal deets.
THE deal
From Dec 16-18, tarte is offering 25% off everything to help you finish all your holiday shopping! No promo code needed! And if you're overwhelmed by a site-wide coupon, I have all my favorites (and why I love them) to help ease the shopping fatigue!
Three eyeshadow palette set
This tartelette Amazonian clay eyeshadow wardrobe is probably my favorite set this year. It comes with THREE best selling palettes including 27 shades of eyeshadows! This set is a $270 value for only $49!!! The three palettes include any colors you might need, warm shades, neutrals, pinks, mattes AND shimmers! I love the names of these palettes (lil' bloom, lil' toasted, and lil' juicy), they remind me of when Ani was in preschool doing art and the teacher was teaching them about naming their art pieces. Anabelle totally named one of hers "my lil' spicy" haha!!
Makeup brushes
Makeup brushes are always a good idea, even for the makeup lover in your life who seems to have everything. You can never have enough quality tools! Plus the rose gold brush bases look gorgeous on any counter top. This set from tarte is a $126 value for only $35!! 5 professional makeup brushes for $35 is an INSANE deal. Grab them for your teenager, a fun stocking stuffer, traveling, or a fave things exchange!
Blush wardrobe
I have been SO impressed with the Amazonian clay blush from tarte. It lasts all the live-long day (thanks to the Amazonian clay base) and comes in the prettiest shades! The blush authority cheek wardrobe is only $35 (a $171 value!!) and comes with 9 cheek shades including 6 blushes, 2 highlighters and a bronzer. Keep your favorite stack and gift the others, or keep 'em all and never have to buy blush again!
Skincare set
The shape tape skincare set comes with the shape tape moisturizer, stay spray, and base tape hydrating primer! This $63 value is only $35 and is an amazing gift for someone who hasn't invested in products to make their makeup last! The finishing spray is super light and hydrating and has a faint fresh scent that I love. It's so important to provide a base for your makeup that helps it stay all day, and these products do just that!
Lash curler
This curl's best friend lash curler set is SO darling. And the silicone pad and comfortable design won't pinch, pull or break your lashes. One pump of the curler and some big ego mascara is all it takes for va-va-voom lashes! And at only $20, it's the perfect price point for any gift.
Lipstick and lip liner in ONE!
The lippie lingerie is my new favorite tarte product! It's a SUPER creamy pencil for your lips that's a cross between a lipstick and a lip liner. The shape of it makes application and definition SO easy, and IT LASTS!! No really, I had it on during a 5-hour photoshoot with no issues.
My look
Before using the fun new palettes and lip crayon, I always start my makeup routine with a flawless base. I've been using tarte's Foundcealer more and more, which is the dreamboat love child of a foundation and concealer. It's not as full coverage as the shape tape foundation, but more of a medium coverage that is perfect for everyday. It's not too heavy, it's not too light, it's Goldilocks-style juuuuuust right. It creates the perfect base for the rest of your makeup and lasts beautifully!
I always conceal with cult-favorite shape tape under my nose and on my chin for redness and then utilize the creaseless concealer under my eyes. I'm kinda obsessed with this combo and love having different concealers for different parts of my face!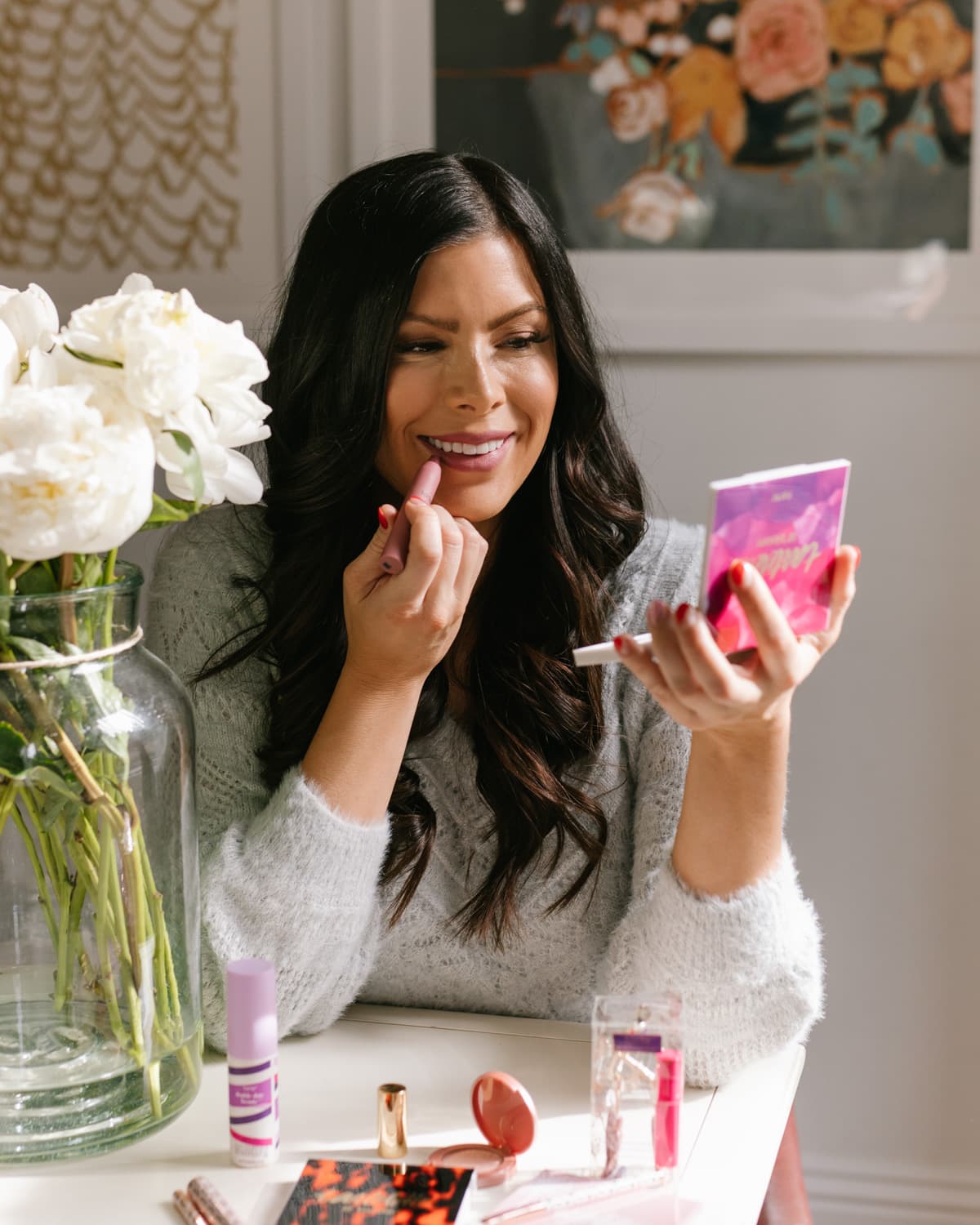 Beauty sponges
These days I never apply makeup without my tarte makeup sponges! They really are superior to any other beauty sponge I've used in the past. I understand these could be fighting words, but truly I've tried it all and THESE are my new go-to (especially with the tarte concealer and foundations!!)
25% off SITEWIDE
This is such a treat to have one last totally inclusive sale to finish your holiday shopping! Buy gifts or stock up for yourself (you can even use the promo on gift sets to save more money!) with 25% off SITE-WIDE at tarte Dec 16-18! And don't forget that in order to get your orders by Christmas, place your orders with express shipping. The last day to order with express shipping for a Dec 24th delivery is Dec 18th. And HOLLA for FREE shipping with this amazing promo!