THIS DRESS. Trust me when I say you will be inviting yourself to every holiday event you hear about this year just so you have an excuse to wear this gorgeous number! It's the perfect holiday dress for your work holiday party, a date night to the symphony or The Nutcracker, or for a fancy meet cute with Santa under the mistletoe!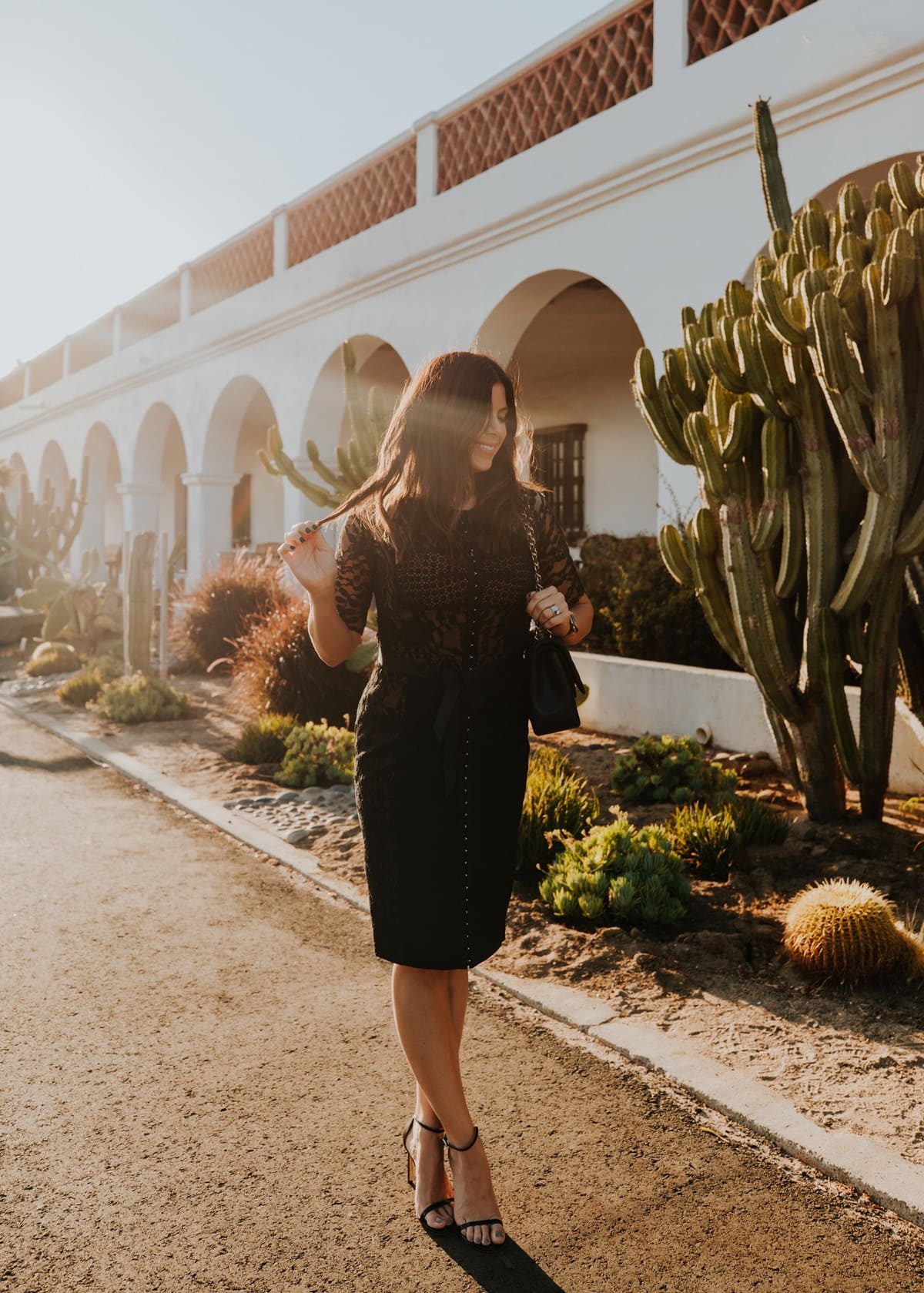 Lace LBD
Could you die? I am so smitten with this party-ready holiday dress! This dress is one of the most highly-rated items on Anthropologie's ENTIRE site. They have carried this Anthro exclusive dress for years and I don't see them discontinuing it anytime soon! It has more than 540 reviews and they are almost all perfect!
All of the colors are so beautiful that I had a super hard time deciding (and I still think the ivory is TO. DIE. FOR.), but I am a total sucker for a little black dress and felt like it would be the most classic. Since the dress is a little bit of a splurge, the black also felt like the best investment piece to keep for a very long time. #allblackforever!
Inclusivity Matters
This dress comes in literally every size. From 00-26 and in every fit from standard to petite to plus! I absolutely love that Anthropologie has become so much more inclusive in their sizing. It's such a flattering dress on all shapes and sizes, so if you have a body and a party to attend, this is the perfect dress for you! And me. And all your girlfriends. The fit was true to size for me and according to all the rave reviews that were true for most people.
The Perfect Slip
I layered the dress with my most favorite slip ever that always saves the day! The silhouette of the dress is very modest, but the magical slip I love combats the sheer so I can wear all the lace dresses that I love. The lace embroidery is seriously so stunning.
Subtle Strappy Sandals
This holiday dress is THE hero piece of this outfit. When you're wearing such a showstopping dress, you don't want shoes or accessories that distract from that. These strappy sandals are so subtle and so flattering they almost disappear into the outfit. They run TTS and are magic at elongating your legs and making your feet look really pretty.
This strappy heel is an investment shoe for sure, but this has been my go-to shoe over and over for YEARS so it is 1 billion percent worth your pennies. I also own them in nude and they get just as much wear!
A Special Occasion Bag
This Chanel bag isn't featured on the blog often because it was a serious splurge and I try to save it for special events and special occasions. It is legit the nicest bag I own and I envision wearing this dress to something worthy of this bag. It is such a classic, but if it's not in your budget, check out my bag guide to see all my favorite splurges and saves!
Dress
Slip
Sandals
Handbag
Pictures by Arielle Levy
Holi-Date Ready Dress Picks
We searched the interwebs and rounded up all the very prettiest holiday dresses and party dresses this year. There are SO many good ones! Shop them below (it might take a second to load so thanks for being patient!).