Express is having an AMAZING deal today! Right now they're having a deal that's kind of the most perfect way to give your wardrobe a little refresh without breaking the bank! Keep reading because I'm sharing some of my FAVORITE pieces with you that I think would be an amazing addition to anyone's closet!
Deal Details
Right now at Express, you can get an extra 50% off clearance, no code needed! That means you can get up to 70% off!! Seriously such a great time to refresh your wardrobe!
Sweater weather just got even better
This Ruffle Sleeve Crew Neck Sweater is the kind of soft I can't even describe in words. This sweater is crazy cozy and super cute too. The detailed ruffle sleeves add a perfect amount of chic flair, and I love how professional it looks as well. Whether you are going into the office or having to "dress up top" for your next Zoom call, this sweater is PER.FEC.TION.
Right now you can get this sweater for only $29.99 (reg $74) at checkout! That's 59% off!! SUCH a steal!
Perfect stiletto boots
You will never, ever not feel confident in these boots. EVER! I swear that they are even cuter in person. And the fact that I walked around in these for an hour my first wear and had no blisters or hurt feet means that they are definitely a win in my book!
Not to mention there are ONLY five-star reviews for these beauties, so if you need more convincing, you can check those out as well. These fit TTS, and come in black or chestnut brown. Usually, just under $100, the black ones are $49, and the chestnut ones are $39.99 in your cart! If you're going to snag them, RUN before your size goes out of stock!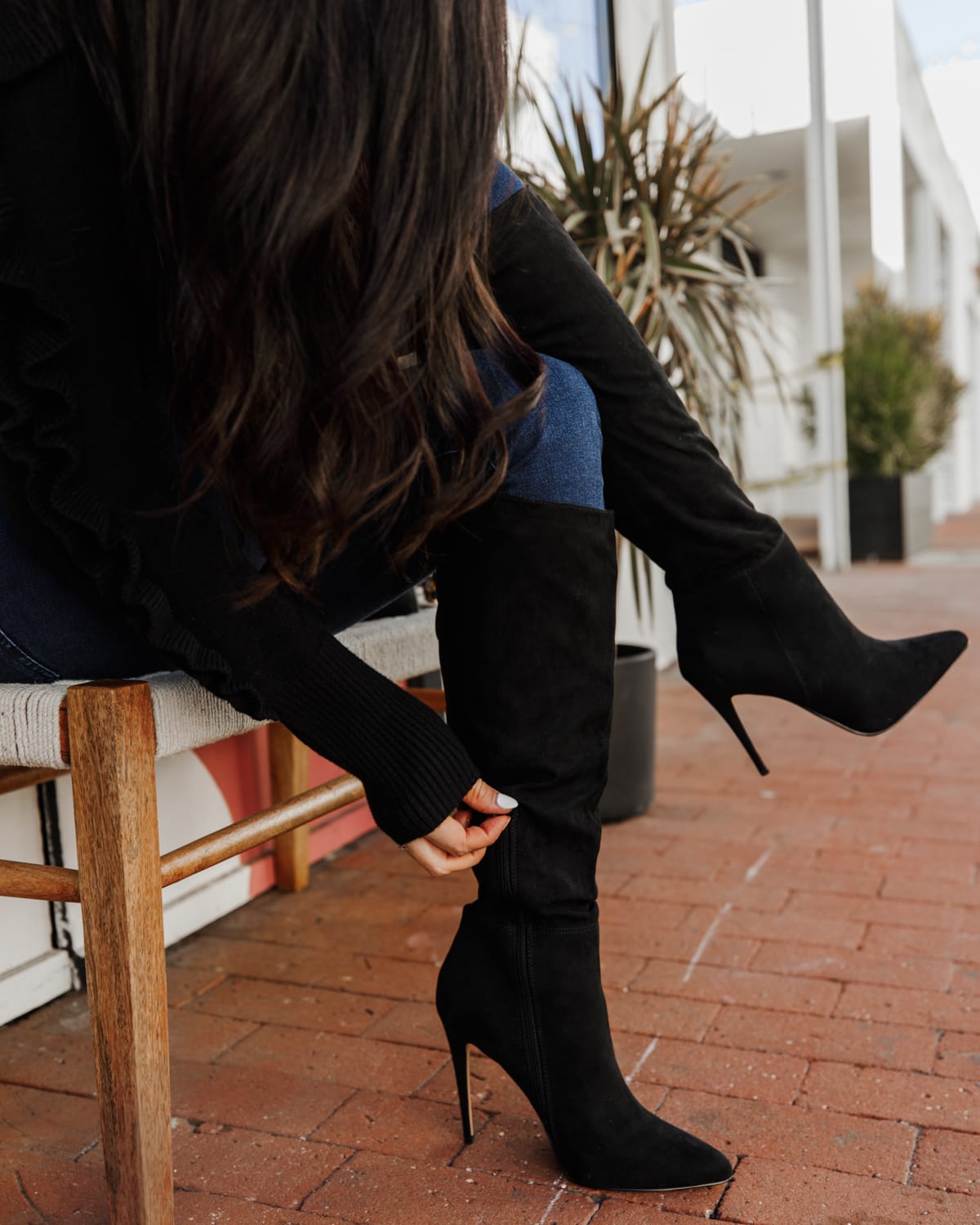 Slip(per) into something more comfortable
These cashmere slippers are IT. Originally $98, they are now just $49 at Express and there are two super pretty colors to choose from. I am not even exaggerating when I tell you that they are BEYOND AMAZING.
These are the #1 slipper in my rotation right now-even more than my designer slippers! Crazy cozy and super soft and that playful little pom detail is cute and fun. The footbed is also padded so they almost have little bounce to them, while the cashmere is totally like a cuddly little hug for your feet.
Express forever
Express can always be counted on for really beautiful clothing and styles, but at very affordable prices. All their items are very classy, classic, and totally timeless. Each and every one of these styles I could have easily purchased ten years ago and they would still look good now and will still look good for many years to come. I absolutely love that about Express. Shop now and save an extra 50% off for up to 70% off clearance, no code needed!! Take a peek at more of my picks below!