This year more than ever, most of us will be spending the holidays at home. If you're like me, no matter where I am for the festivities, I look forward to picking out a cute outfit to celebrate in! But let's be honest, being at home can reeeeeally have an effect on what you choose to wear. It's like, I want to lounge while looking dressed up at the same time, ha. Enter the Express line, polished-meets-cozy! It's literally the perfect marriage between being confident and dressy, and being extremely comfortable at the same time. Today I'm so excited to share some of my FAVORITE pieces with you that I think would be an amazing addition to anyone's wardrobe, especially for the 2020 holiday season!
BIG holiday deals at Express!
Black Friday Sale is on at Express! EVERYTHING is 50% OFF when you shop Express online and in stores. Such a great time to buy your holiday wardrobe, or to cross some gifts off your list. Plus, you can get Free Shipping through November 25th, so don't wait!
Sweater weather just got even better
This Ruffle Sleeve Crew Neck Sweater is the kind of soft I can't even describe in words. This sweater is crazy cozy and super cute too. The detailed ruffle sleeves add a perfect amount of chic flair, and I love how professional it looks as well. Whether you are going into the office or having to "dress up top" for your next Zoom call, this sweater is PER.FEC.TION.
If we're being honest, a comfy cozy crew neck is what winter wardrobe dreams are made of. The fit is so flattering, and the length in the front looks so good both tucked and untucked – whatever fits your style. Like most tops at Express, I feel like it does run a little big, so I would definitely recommend sizing down just one size!
To top it all off, this sweater comes in FOUR different holiday colors, and it is currently 50% OFF making it only $37 (reg $74)! So needless to say, buying all four would be SUCH a steal right now and SUCH a holiday closet WIN.
COZIEST (and most flattering) jeans EVER
Okay – how can JEANS be this comfy AND flattering at the same time? Again, I didn't think it was possible until I tried these from Express. Not only can you bend, stretch, skip, hop, jump, wrap presents, bake, decorate, ALL OF THE ABOVE in these jeans, but they accentuate everything you WANT them to accentuate and nothing you don't. I love that they hold you in, in all the right places, and make your legs look long and slender. And how cute is the raw step hem? These jeans will bring a modern look to ANY outfit and HELLO – you can get them for as low as $44? Sign me up!
Perfect stiletto boots
You will never, ever not feel confident in these boots. EVER! I swear that they are even cuter in person. And the fact that I walked around in these for an hour my first wear and had no blisters or hurt feet means that they are definitely a win in my book!
Not to mention there are ONLY five-star reviews for these beauties, so if you need more convincing, you can check those out as well. These fit TTS, and come in black or chestnut brown. Both colors so perfect for alllll the outfits this time of year! Usually just under $100, these boots are only $49 right now – if you're going to snag them, RUN before your size goes out of stock!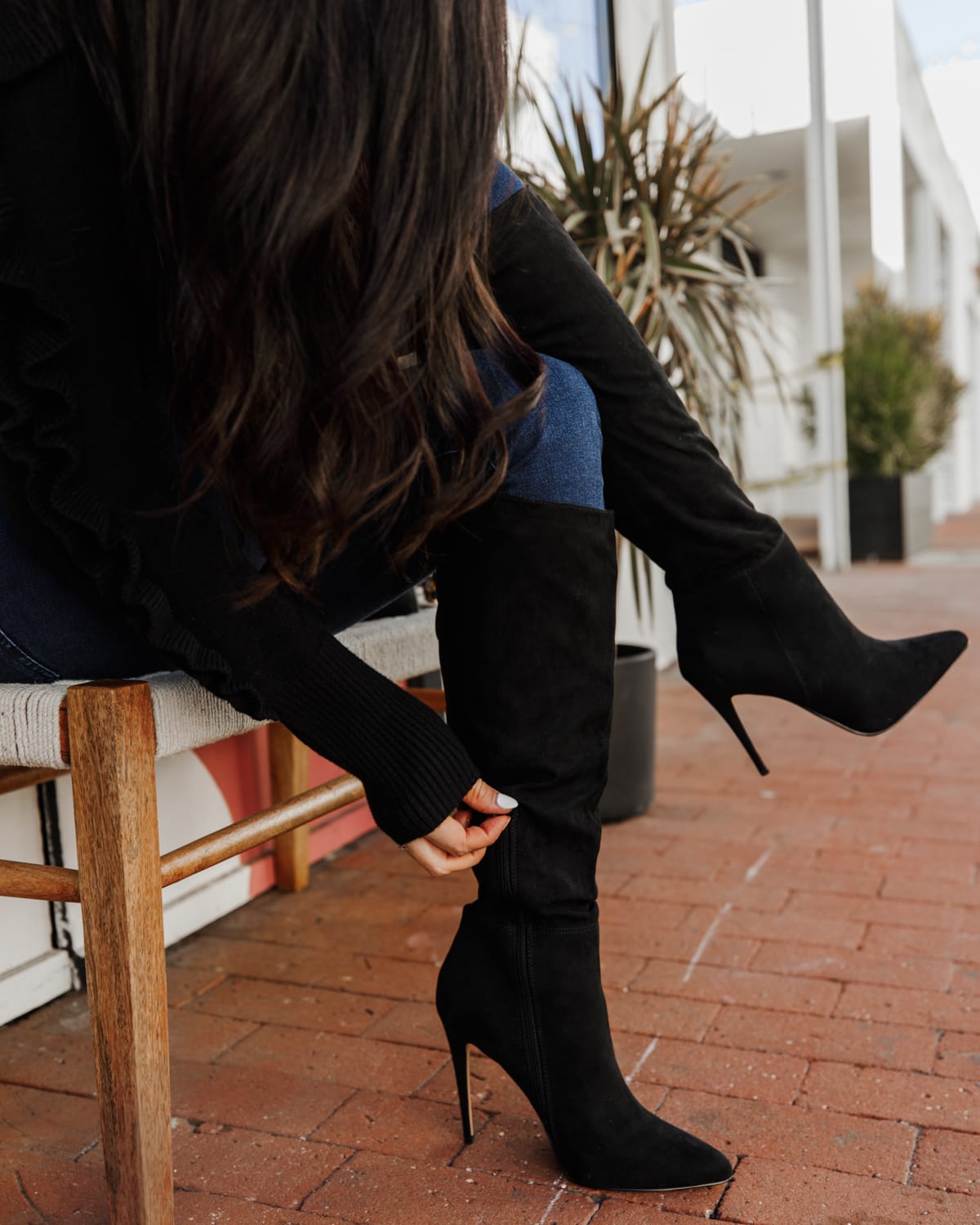 Dress it up with earrings!
An easy way to dress up ANY outfit is to add some statement piece earrings. Express always has really, really fun jewelry to spice up any ensemble for the most incredibly affordable prices. I loved that these were large enough to add a noticeable touch of elegance to the look, but they weren't heavy at ALL like other earrings this size. This was another product with only five-star reviews, AND you can get them on sale for $14.95.
All in all, the moral of the story here is – stay COZY with the Express polished-meets-cozy line, but make it dressy enough for the holidays by simply adding a gorgeous pair of earrings! It's style magic.
Look good AND feel good this holiday season
I'm ending the year on a comfier note, but not any less stylish than I was in January! I would say that's definitely a 2020 win for me, haha. I'm so excited for you to try some of my favorite items, and with everything 50% off right now, there is no better time! You can also find some more of my favorites below.