This deal has a SUPER HIGH SELLOUT RISK! Make sure to sign up for our bestie text list so you know all the hottest deals like this one very first!
Quick Version: Get the Dyson Airwrap refurbished HERE for 33% off!
RUN!! A Mint Arrow FAVE is on sale today, and if you remember last time we posted this sale it was gone SUPER FAST. If you've been searching for the Dyson Airwrap and don't want to buy it refurbished, AND you've been waiting for it to go on sale, the day is HERE. This Airwrap deal has a super-duper high sell-out risk, so you don't want to wait. This would be the PERFECT Mother's Day gift! Keep reading to find out why I love it, how to use it, and all the deal details!
In a hurry? Shop the deal below!

What if ONLY the deals YOU wanted to see were in your inbox before anyone else?! If you want to be in the know and find out the hottest deals tailored just for you, you can join our subscription email here! It's simple, you tell us the deals you want to see and we'll make sure you see them first! 
Dyson Airwrap sale details
You can also get the Dyson Airwrap (refurbished) here for ONLY $399.99 (reg $599.99). So not only is it in stock, but it's $200 off, too!
NOTE: This second option is a refurbished Dyson Airwrap, meaning it's been opened but has gone through a rigorous process to deem it ready for resale. You'll find this note on Dyson's website:
"Refurbished machines have either been previously sold by Dyson and returned, or incurred minor cosmetic damage during handling. Every machine has been rigorously tested by the same engineers who work on our new machines – with genuine Dyson replacement parts used where needed. So when we say they're 'like new', we mean it."
Our experience with refurbished items from Dyson has been flawless. Everything's just. like. new.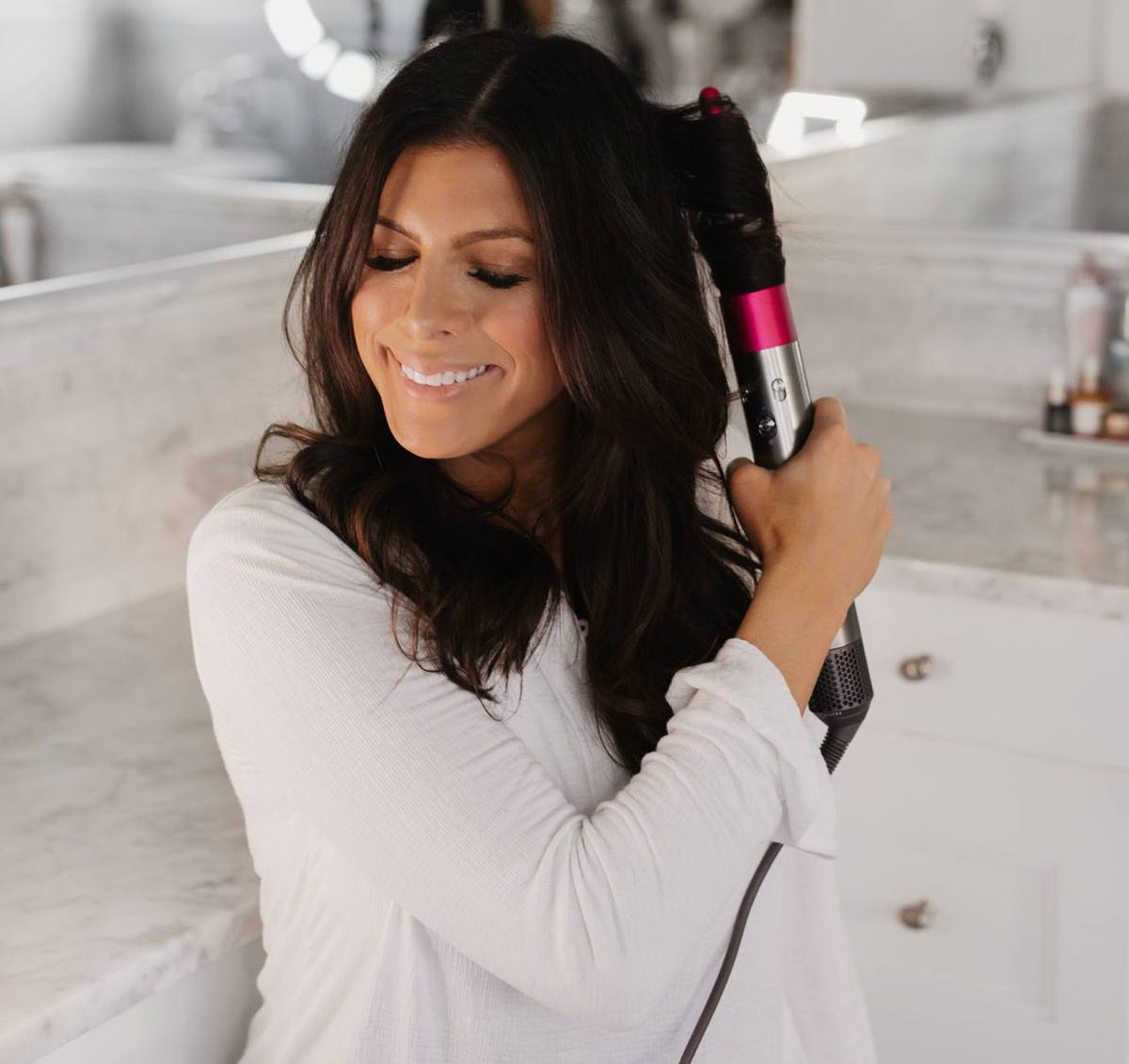 Why do I love the Dyson Airwrap?
Once I finally gave the Dyson Airwrap a spin, I was BLOWN AWAY (ha!) at how magical this little device was. The attachments will round brush dry or curl your hair.
It does take a minute to figure out the curling process, but once I did I was ELATED by how smooth the process was! It really does smooth out your hair while curling each section and gives you crazy good volume as it curls.
One tool to rule them all
The Dyson Airwrap is so good and such a great combo tool for drying, curling, waving, or smoothing your hair! It dries AND styles all in one shot so it's a MAJOR time-saver. It's super quick and super easy and you. will. LOVE it.
Save the hair
It also uses MINIMAL heat to protect your hair. If you're trying to damage control your hair like I am, you'll love using the Dyson Airwrap to dry OR curl your hair.
How to use it
Ever since I first used the Dyson Airwrap I've been in love. It's the easiest way to style my hair start to finish, with the least amount of damage! This set comes with a smoothing brush, curling attachments, a round brush attachment, AND the blow dryer attachment. You're getting SO many options and attachments with this set, it's so worth the investment for this Allure Magazine's Best of Beauty winner for 2020!
I personally like to air dry my hair about 50% to avoid as much heat as possible, BUT with the Dyson Airwrap I can literally rough dry my sopping wet hair with the blow dryer attachment AND finish drying it and curling it at the same time in MINUTES. Wet to styled in no time flat!!
Don't miss this deal!
Everyone's been talking about it, and now's your chance to get it while it's in stock AND on sale! And like I said, this will sell out fast. If you've been dying to get your hands on it, DON'T wait. I have no idea how long it'll be before we see a deal on this again!!