If your purse contents speak volumes about you, what does the variety of items in a diaper bag say?! If my diaper bag could talk it would probably say, "BE PREPARED" (like a Boy Scout!).
As moms we are always going over a million scenarios in our heads when trying to get out the door. Has everyone eaten? Will I need extra undies? WHAT IF IT RAINS?? I like to be prepped for pretty much everything, so my diaper bag is the holy grail of all bags. If you have a kid, don't leave home without one! Here's my diaper bag must haves, from the predictable to the weird!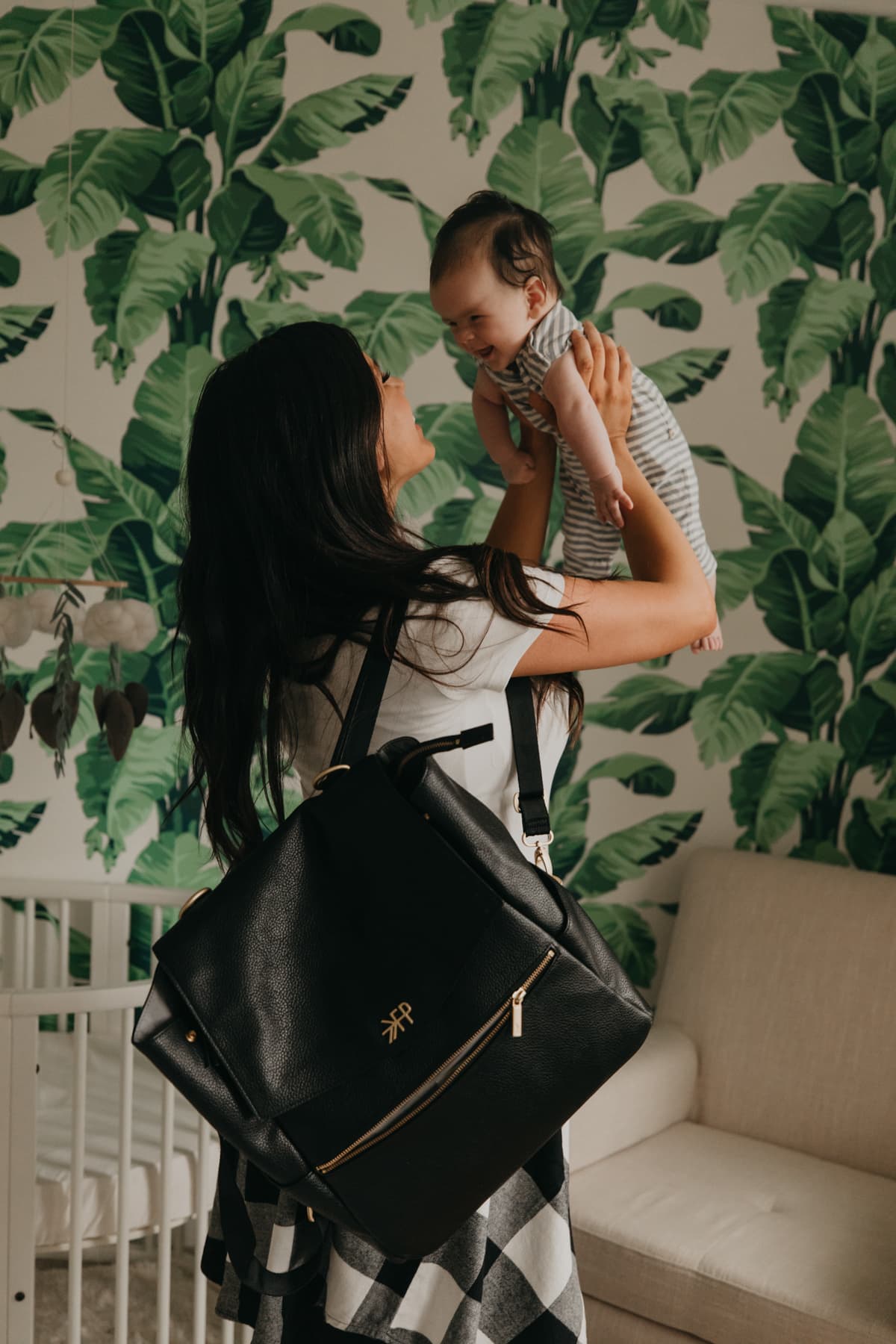 THE diaper bag
This Freshly Picked diaper bag is the ultimate. I chose it because of its sleek design, how lightweight it is, AND that is has a laptop sleeve! It literally checks all the boxes. Also Freshly Picked recently came out with a new minimalist diaper bag and I'm totally eyeing that one as well…
Other diaper bags we've LOVED in the past and still use are our Fawn Design bags and Ju-Ju-Be for their stellar design in lightweightness and functionality. Also, this one is only $70!
Diapers
Even though it's called a "diaper bag," you wouldn't believe how many times I have forgotten the cardinal ingredient: DIAPERS! When I had two in diapers (up until just a couple months ago!!) I always packed two different prints of diapers. Too many times I had 62 of Harry's diapers and NONE of Millie's or vice versa (it's like 10,000 spoons, when all you need is a knife…)! If I have two different prints, I can quickly check to make sure I'm set for both.
I've used so many diaper brands and most of them I've really loved. Right now I've got Honest and Seventh Generation diapers in our house. Cutest prints and I feel like both of these brands make a REALLY good diaper that doesn't leak.
When my babies are newborn I like to have them wear the Pampers Swaddlers because there's nothing like that tell-tale blue line to tell you that your baby peed ha!
Wipes
Wipes are the real MVP of the diaper bag. Blow out? Check. Costco hot dog ketchup everywhere? Double-check. My VERY faves are the Pampers Pure wipes, and Honest wipes come in as a close second because I prefer to use water wipes on my kids!
Changing Pad
A changing pad is SO helpful. Most diaper bags come with one, but if yours didn't, I LOVE Gathre mats for a totally portable and versatile changing pad. Especially nowadays, it's so important to know you have a sanitary place to change your baby's diaper! These are super easy to wipe down and fold up to bring everywhere.
Swaddles
I feel like swaddle blankets are maybe the most multi-functional item in my diaper bag. It's a makeshift burp cloth, nursing cover, sun shield, traditional blanket (duh) to wrap around the baby if it gets chilly, and a swaddle to help baby sleep! I love these and ones from Solly Baby and Saranoni.
Solly Baby Wrap
Having a Solly baby wrap is SO important for me. I love that it squishes down to such a minimal size! I can't fit a traditional carrier in my diaper bag, and you never know when you might need to wear your baby! This one fits easily in my diaper bag and is always on hand for baby-carrying emergencies.
Burp Cloths
Burp cloths are essential for me because I've got some spitty babies! My current favorites are from Amazon, and it's only $12.95 for a 6 pack! They are super absorbent (6 layers of super-soft muslin), easily packable, AND have over 15,400 FIVE star reviews!
Pack the Extra Outfit
I always have an extra outfit for my baby in my diaper bag. Poop, spit up, you name it, there's always a potential for an outfit disaster when babies are involved. Instead of packing an entire outfit, I always opt for a onesie to pack lightly! Switch it to footie pjs if you live somewhere cold.
This is also some of my best advice for traveling with kids: put them in a onesie or cheap pj's just in case they end up with poop everywhere and then you can switch them out easily and toss the onesie without regret. I learned this the hard way with Millie in an airport one time. Bye bye, cute outfit.
Extras
Hand Sanitizer
Travel-sized hand sanitizer is KEY for a diaper bag. I pretty much always have it in my purse too, but I feel like it's even more essential in a diaper bag! I get my favorite one here!
Sunscreen Stick
I like to keep a sunscreen stick on me in case of an impromptu park date or a quick frolic in the sun that would leave my kids UV-exposed. Look for ingredients like zinc or titanium dioxide for extra physical-sunscreen strength for that precious baby skin!
Lipgloss
Lipgloss is always a plus, especially when paired with a hat and big sunglasses to LOOK like I tried, but really I just rolled out of bed.
Aquaphor Baby
Aquaphor Baby has been my favorite diaper rash cream this time around. I love this size (just under 2 oz) because it is travel-friendly and so multi-functional. You never know when diaper rash can sneak up out of nowhere! This stuff is super soothing and your baby won't have to sit in pain if you're out and about.
Wet Wipes
Wet Wipes antibacterial hand wipes because 2020 amiright?! I use these for hands and surfaces to wipe away any residual germs.
High Protein Snack
I always keep a high protein snack in my bag for me AND for my kids! My go-to is a G2G bar (use code MINTARROW to get 15% off), and my kids love these iced oatmeal cookie Z Bars.
Binkies
These binkies are Harry's favorite. CAN'T LEAVE HOME WITHOUT THEM! No one wants to be stuck somewhere without baby's fave binky!
Nursing Pads
While I'm nursing, I always keep spare nursing pads in my diaper bag! There's been so many times that I have just showered and put on a fresh bra, only to totally leak out one side when I'm nursing on the other. Ain't nobody got time for that. Or patience. Or enough fresh bras. Nursing pads to the rescue!
Hair Elastics
Since I am in charge of four heads of long, thick hair, I always keep a few of these lightweight elastics with me. There's no telling when someone is about to eat a bowl of spaghetti and needs their hair outta their face!
Toddler Essentials
Once my babies get a bit older, things I always try to have on hand are:
Diaper Bag
Honest Diapers
Seventh Generation diapers
Pampers Swaddlers
Honest Wipes
Pamper Pure Wipes
Gathre Changing Pad
Swaddle sold out, similar, similar
Burp cloth
Onesie sold out, similar
Solly Baby Wrap
Hand Sanitizer
Sunscreen Stick
Lightweight Elastics
Lipgloss
Nursing pads sold out, similar
Aquaphor diaper cream
Z-bars
G2G bars – use code MINTARROW for 15% off + free shipping
Photos by Arielle Levy
Pack it up!
These are my ABSOLUTE essentials that I try to always keep in my diaper bag! Other diaper bag item ideas I've been known to carry: water bottles, coloring book, and mini toys for emergency entertainment! What are YOUR must-have diaper bag items?!