You can always count on Black Friday to deliver some really amazing tech and electronics deals and this year is no exception! Below we've rounded up some of the very best tech deals to make your life a little easier or a little more fun. I truly think there's something for everyone on your Christmas list with these items. Due to the nature of Black Friday, these deals can go pretty fast. I would grab them ASAP if you're even considering it-the AirPod Pros sold out in a blink this morning! This is the holiday shopping Olympics..we've been training all year for this (thanks quarantine), and now it's time to really shop! Ha!
Kindle Paperwhite
The newest version of the Kindle I'm obsessed with is thinner and lighter than the old version, plus now it's WATERPROOF. Ummm…hi bathtub BFF! I love how easy it is to pack and I'm even more obsessed with how easy it is to read. It seriously reads just like a book, and I love that you can see the text clearly in the dark or in the bright sun! The 8GB option is 35% off and just $84.99 (reg: $130) for Black Friday and would seriously be the perfect gift to any bookworm on your list. If you need more storage the 32GB option is also on sale for 31% off and $109.99-that's a savings of $50 off the retail price of $160.
Frame TV
These frame TV's are ALL THE RAGE. You can display art when the TV isn't on…say whaaaat?! After years of wanting one of these TV's we finally snagged one on Prime Day and this is one of the best deals I've EVER seen on them. You save a full 27% off making it only $947.99 (retail price $1,300)!!! This price is for the 50 inch, but they have options from 32 inches all the way up to 75 inches with great savings in a couple sizes!!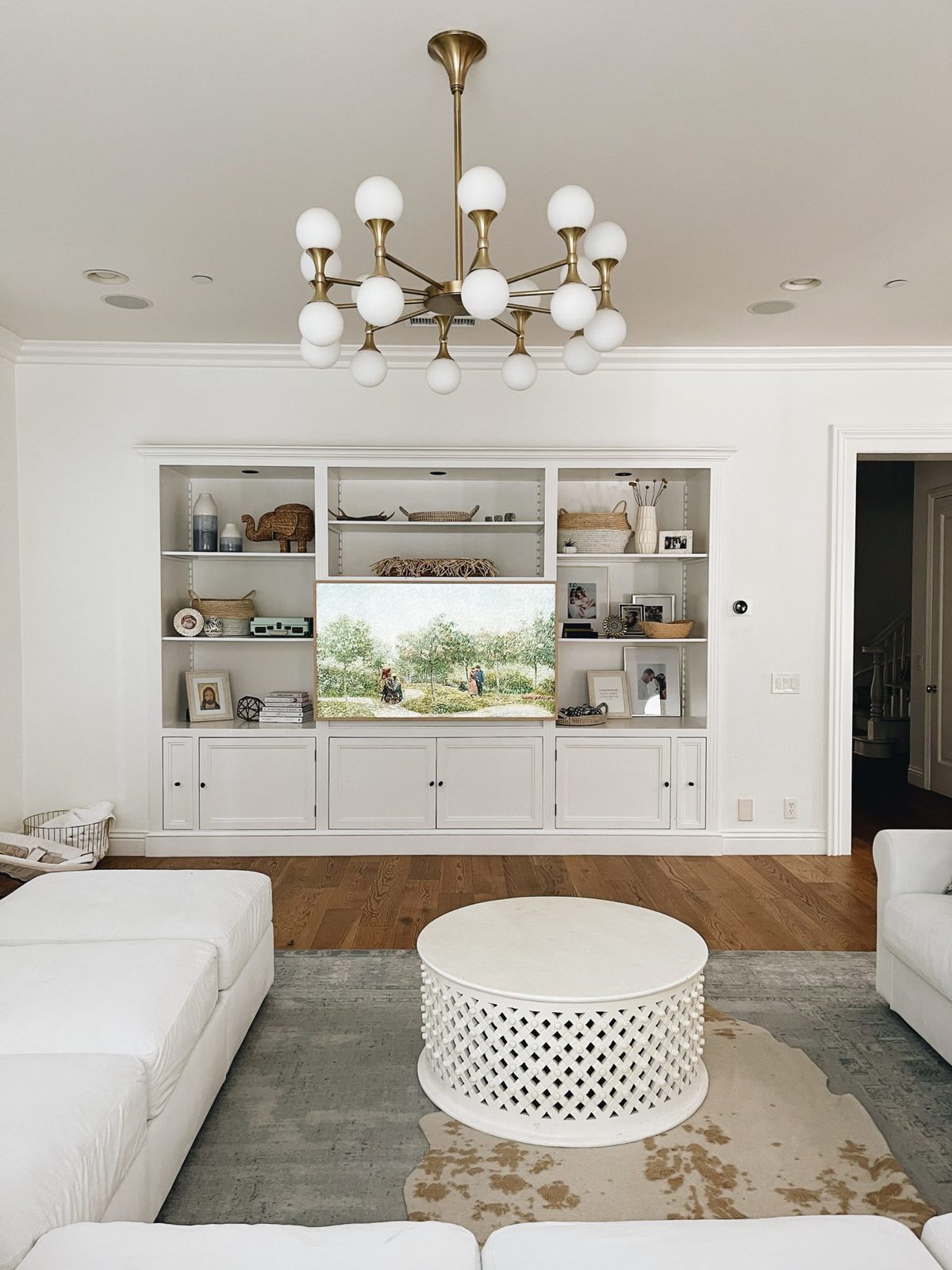 Bluetooth Record Player
This Record Player is such a fun gift to open up Christmas morning and play an old vinyl record on while you celebrate the day, on sale here for $39.99 (reg $70) today only!
Fire TV Stick With Alexa
4K Fire TV Stick With Alexa $29.99 (reg $50) Save 40% off on this fire stick with Alexa voice control! These things are awesome because you can take them with you anywhere. Note: this is in stock on Dec 15, but you can still order it now at this low price!
Amazon Fire tablets
The Fire HD 10 tablet is normally $190, but is 37% off at only $119.99!! This tablet is truly amazing, 30% faster than the older models, and the battery life lasts up to 12 hours! It also comes in FOUR colors and offers either 32gb or 64gb storage capacity.
If you're looking for something for your kids, the Fire HD 8 Kids edition is seriously the best! It comes with a kid-proof (for reals) case and one year FREE of Amazon Kids+. It retails for $140 but is on for Black Friday for $79.99 (43% off!!!) Buy one for each kid (it comes in 3 colors), seriously so worth it!!
Apple Airpods
There's a reason I've included Airpods in multiple gift guides, because you basically can't go wrong with buying a pair for someone or for yourself. Apple Airpods are a must for me! If I have downtime waiting for an appointment or getting my nails done, I like to pop these in and listen to podcasts, church talks, or audiobooks. You really can't beat the crisp sound!
SO excited that you can snag these today for ONLY $149.99, a whopping $49 savings!!! Airpods are super hard to find a deal on, so this is a steal! You can also grab the wired one for 31% off at $109.99 (reg $160)!
Smart Light Switch
This light switch allows you to say "Alexa, turn on the living room lights" and have the lights go on. It's the best thing since the "clap clap" lights came out in the rain 80s!! You can also turn it onto away mode to "keep the sticky bandits at bay while you're away." Or you can automate daily routines too.
This smart light switch that's normally $20 for $13.99!! Over 11,000 rave reviews that makes them 30% off, and lowest price ever!
Act fast
Don't miss these amazing Black Friday tech deals! They make the most perfect holiday gifts, or amazing treat yo'self gifts too! Most of these are super HOT items, so there's a good chance they will sell out pretty quick!!
More Black Friday 2020 deals:
Cyber Monday 2020 Guides
Black Friday 2020 Guides