Elf on the Shelf is cool, but have you met Alexa? She's the #1 Christmas elf in our house this holiday season! Did you know you can even call Santa on the Alexa? Or track him on Christmas Eve? Santa's visit is still a few weeks away so in the meantime we're using the Amazon Echo with Alexa to do all sorts of other holiday tasks. Right now, you can get this Amazon Echo device 30% off for $69.99 – the SAME price as Black Friday!!!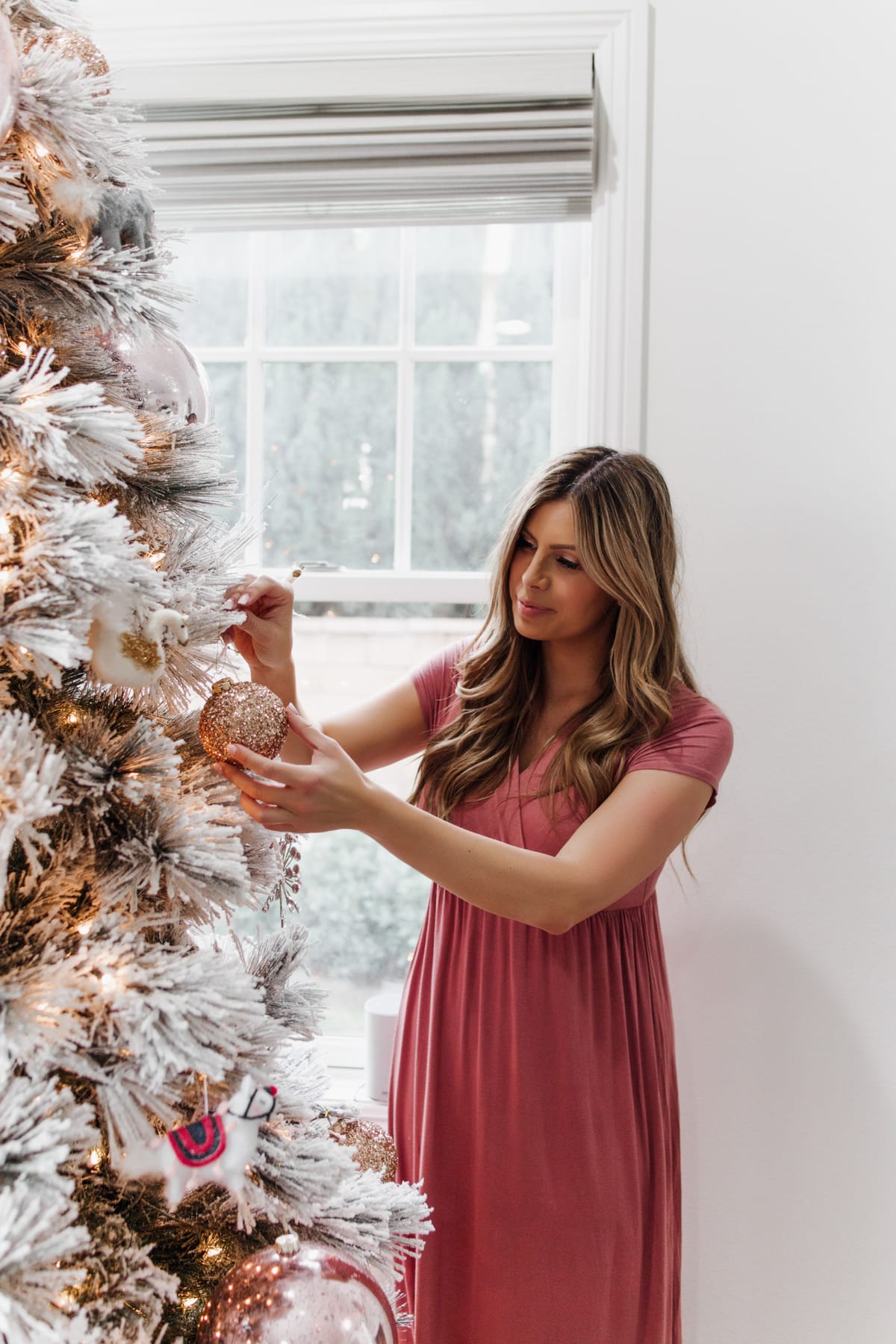 One of our favorite features of the Amazon Echo is the ability to play all our favorite Pandora stations or Amazon Music playlists. We asked Alexa to provide all the holiday jams for us while we decorated our Christmas tree. She'll probably be performing that task A LOT over the next few weeks, because I've got all the heart ears for Christmas music.
We jammed out to tunes that Alexa provided while we decorated our Christmas tree a couple weeks ago, and one of my favorite ways to create an environment that's even more fun for the holidays in my house is asking Alexa to play a station or Christmas album "everywhere." That just means on every Echo device in our house. Gone are the days when you need an old-school intercom system to have music piped into every room in your house! You can set up other groups too, like just the Echo devices downstairs, or just the ones upstairs, etc. You can do this in the settings in your Alexa app in about 10 seconds flat.
Also I'm pretty proud of myself for figuring out how to get all our Christmas trees in the house voice activated!! I used these plugs in all the places where we plug the Christmas trees into the wall, and even set up a group in the Alexa app for those 3 switches to be called "the Christmas trees," so I can say "Alexa, turn the Christmas trees on" and BAM – just like magic – all 3 light right up! It's kind of my favorite trick right now!
Did you know you can ask Alexa to tell your kids a Christmas story too? It's a fun way to get them snuggled up together while you bake Christmas cookies or wrap a present or two, and the stories are super cute.
Or if you want your kids to giggle, ask Alexa to tell a Santa joke.
If you want to create some extra Christmas magic for your kids too, you can ask Alexa "where's Santa?" and first she'll send you some info that you'll have to approve as an adult on the Alexa app, but after that Alexa can update you on how many days till Santa comes to your house, and on Christmas Eve she'll give you updates on how far Santa is and when he's supposed to arrive at your house. Leading up to Christmas she'll give you facts about Santa's sleigh and his reindeer too if you want!
One of my very favorite things I've discovered about Alexa is that she can give you simple service ideas through the Christmas Kindness skill. If you ask Alexa to enable Christmas Kindness, she will give you a suggestion that day for a simple act of service you can perform with your family. You can ask her anytime, "Alexa, ask Christmas Kindness for an idea" and she'll give you another new idea. This has been so helpful as we've participated in our family month of service.
Pink Girls Maxi Dresses
Corrine's Maxi Dress (actually a maternity dress, worn here pregnant)
Alexa Compatible Smart Plugs
​Amazon Echo
Photos by Arielle Levy
Don't forget that this Echo device is 30% off right now (same price as Black Friday!!). Alexa is ready to help you with some holiday tasks that you still need to cross off your list.

​How do you guys like to use Alexa around the holidays?! Share your ideas with us!!