There's just something about getting new bedding that gives you that giddy, new bed, hotel-stay vibe. Getting fresh pillows or linens is one of my favorite (EASY!) ways to revamp my room, especially if I am on a budget! No need to purchase new furniture, just add a pop of color or texture to your bed and it gives your whole room a new feel. Keep reading for all of my favorite ways to give the bedrooms in our home a simple refresh!
Bedspreads
First thing's first, a white detailed bedspread is.my.jam. I love to have something a little more feminine on my bed and offset it with strong furniture to even out the vibe. There's just something about an all-white bed, amiright?! It's also the perfect blank canvas to add colors or styles to fit any whim!
Beddy's
Beddy's is one of my best (not kept) secrets to easy bed making for my kiddos! This one piece, zipper bedding comes with everything you need to make a bed (sheets and comforter), and it's so easy that any child can do it! No more remaking your kid's beds haha! Use code INDEPENDENCE to get 24% off your entire order during the 4th of July sale and the code will be automatically applied at checkout.
Beddy's is a GAME CHANGER when it comes to bunk beds. No longer am I dreading washing the sheets or making the bunk beds, the zipper is SO EASY and always looks perfect.
Throw Pillows & Blankets
I love to accessorize a simple background palette with fun throw pillows and blankets to add personality to any room! It's so inviting, especially in a guest room.
The best part about throw pillows and blankets is that they are an inexpensive way to change up a room! I like to look for fun textures, patterns and colors to bring warmth to a room. It's also an easy way to tie in artwork or other accessories that you want to have be the focal point in the space!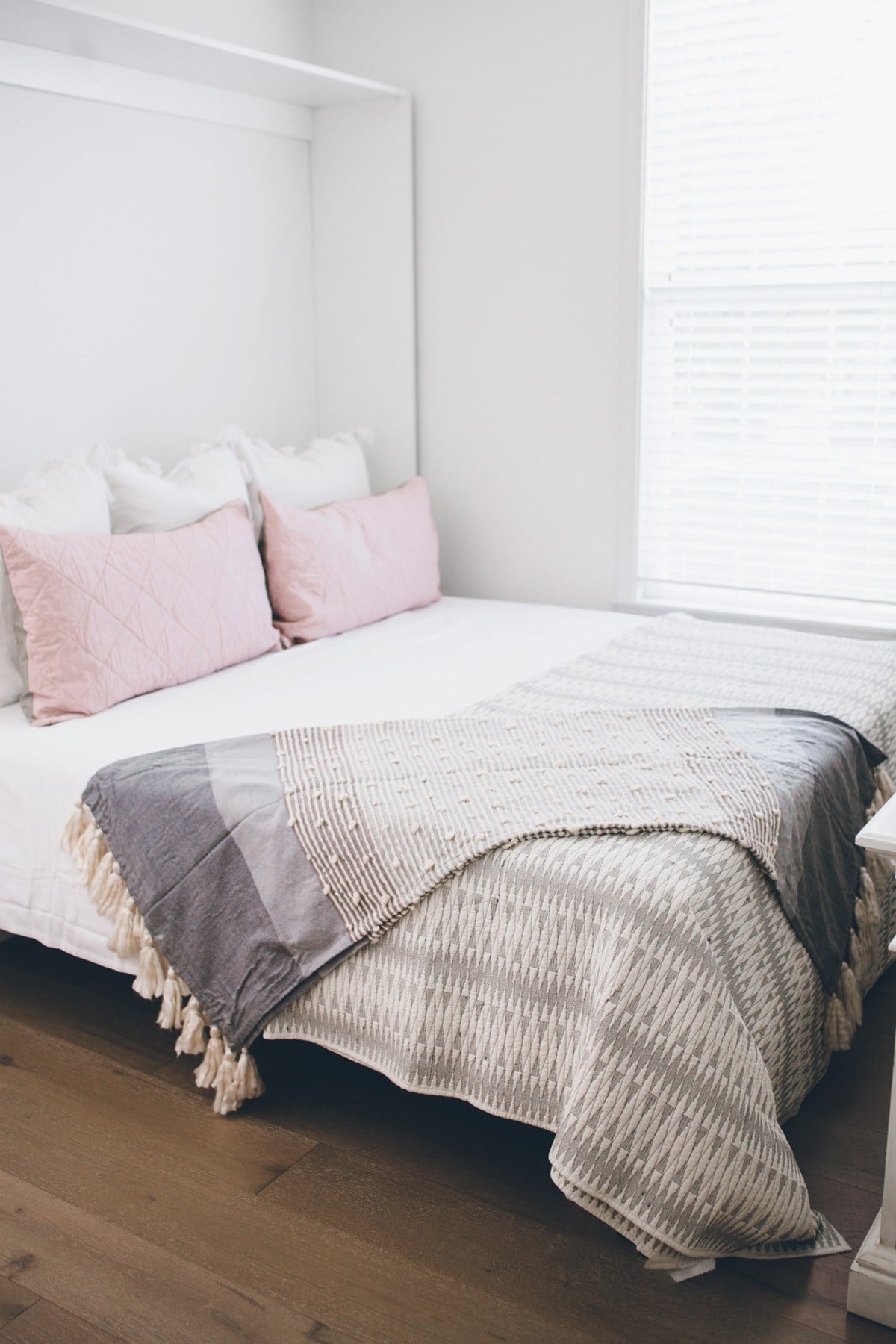 Ugg Throw Blanket
If you're looking for a splurge blanket to add to your space, this UGG Duffield Throw is a fan favorite at our house! It is one of the softest, snuggliest blankets I have EVER owned. It comes in 8 gorgeous colors and truly feels like a cloud!
Sheets
Luxury Sheets
One of my most FAQ is about my favorite sheets. My #1 is Cariloha. These are my very favorite sheets of all time ever. They are so luxurious, easy to wash and make me want to stay in bed all the live-long day!
Best Budget Friendly Sheets
I know that Cariloha sheets are out of some people's budget though, so I found another really great option! These $24-32 sheets (depending on size) are absolutely the next best thing. They have 78,000+ reviews on Amazon and 73% of those are 5-STAR!! These are totally amazing, super soft sheets that are seriously such a bang for your buck.
Stay in bed!
One of my favorite places in my house is my bed, so having it look pretty and be comfortable is priority! My advice when shopping for bed linens and accessories is to start with a blank canvas and add pillows and blankets until the space feels like your own. No need to spend a ton of money, start with a couple pillows you LOVE and build from there! Happy room refreshing!