Our guest bedroom has been bugging me for a while so when it came time to re-do it I was pretty much jumping for joy!!  I knew I wanted to keep the purpose of the room mostly the same.  I wanted to be able to keep a lot of the space for storage and also have it still be a bedroom for when we have guests.  But we don't have guests all the time, which means I wanted to add to its function by making it into an office space as well.  I just didn't know exactly how to do it all haha!  So I turned to my incredibly talented friend Jen and she helped me work with Bloomingdale's to design a great concept for the room that included my big three: storage, sleep and space for an office.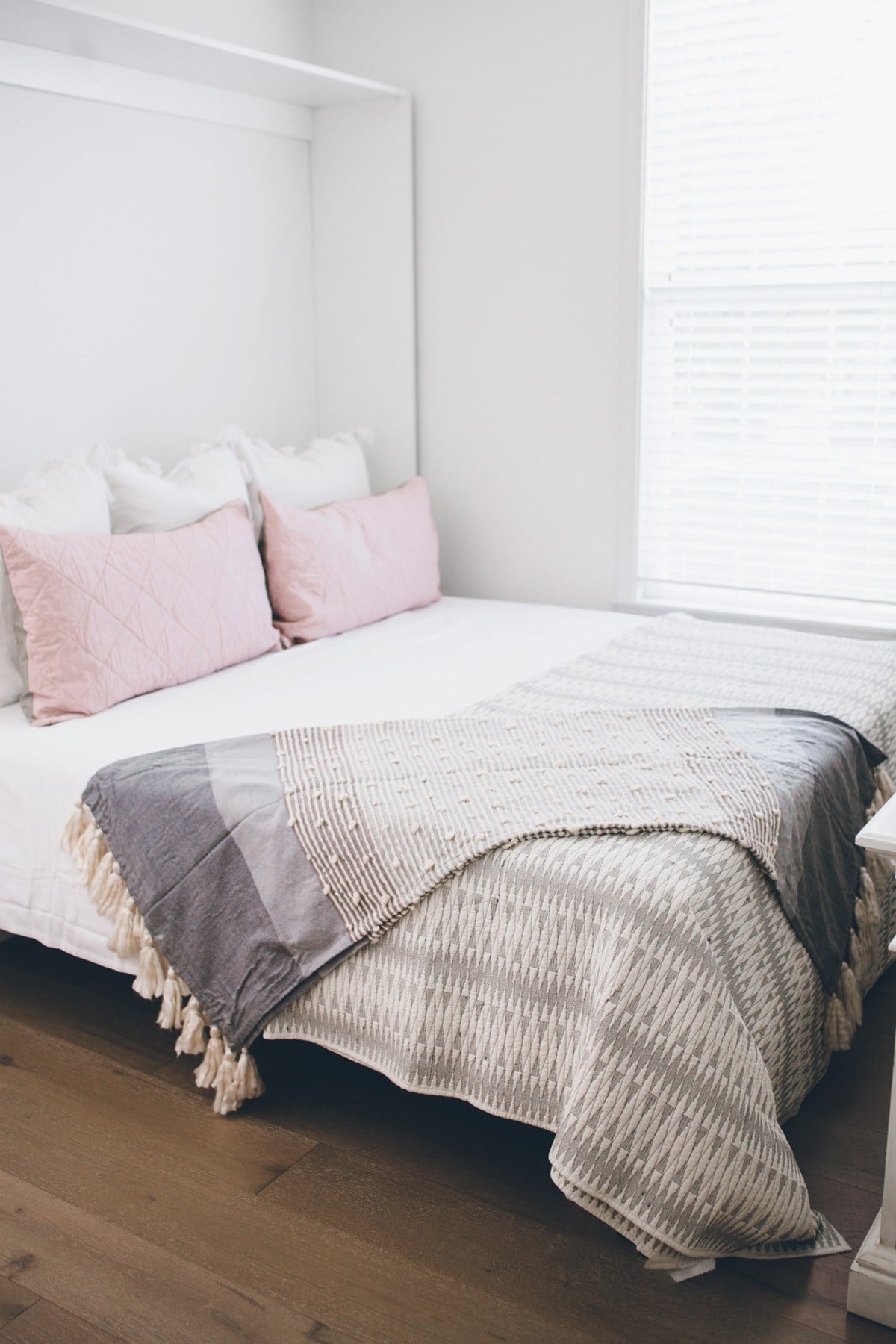 I knew because I wanted it to double as an office when we didn't have guests that we wanted a murphy bed that would fold right up. But I definitely DID NOT want it to be futon quality comfort over there. I mean, we all lived that in college and it was great, but I don't miss it haha!

Have you guys ever heard of the Bed in a Big Brown Box from Bloomingdale's? It's this super amazing concept where you choose the size of the bed you want and like magic, Bloomingdale's does the rest of the work for you. No going into the stores and trying out mattresses and sheets and pillows. In a few weeks, your dreamy bed shows up at your door and when I say dreamy I really mean it. Neil is now jealous of the comfort factor of the guest bed! And it comes with two pillows and all the sheets. It literally couldn't be easier!!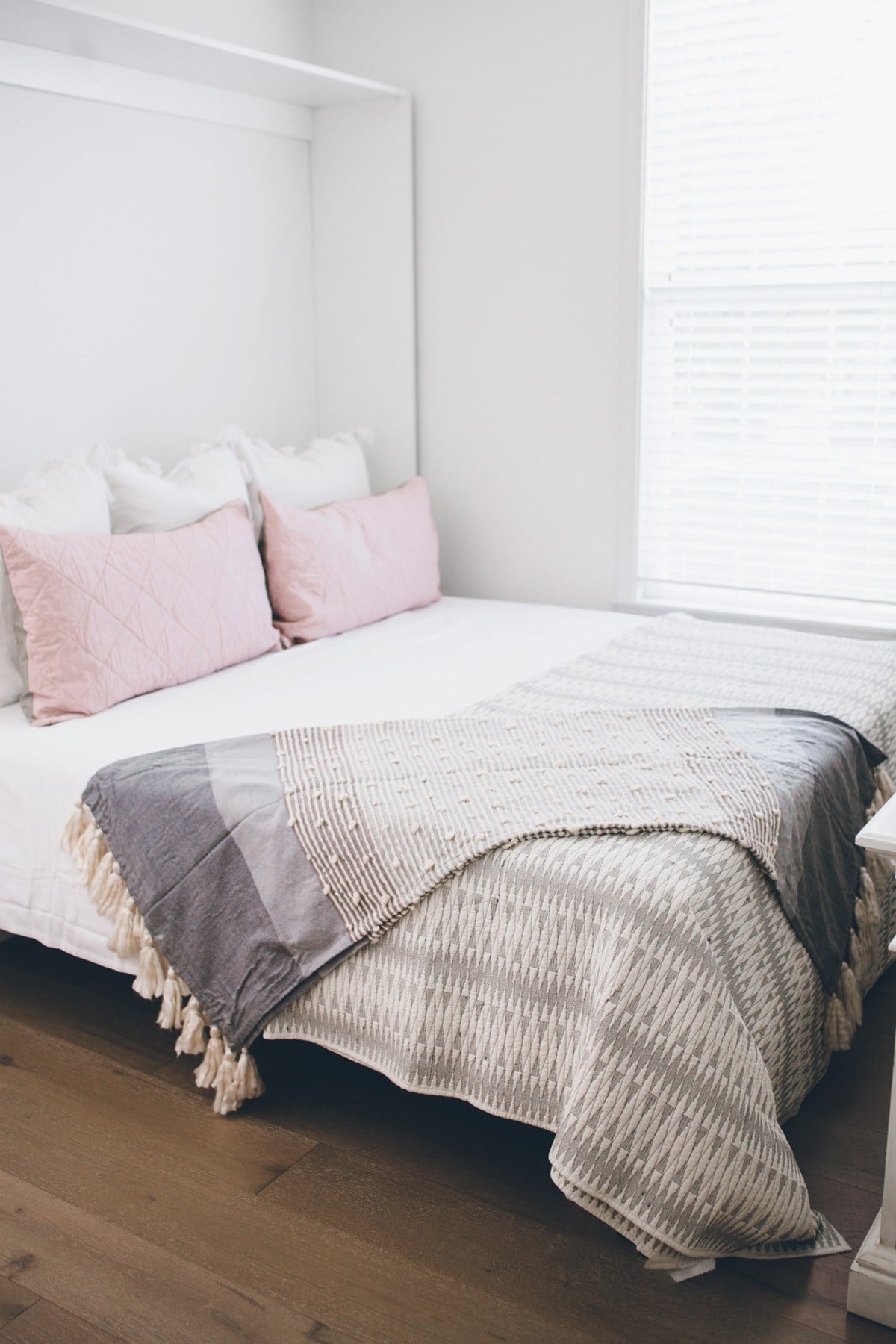 When it came to the decor of the room I wanted to keep it in taste with the rest of the house, which is modern but classic. I've always wanted guests to feel really calm and relaxed and happy when they visit. We found some really fabulous pieces at Bloomingdale's that were beyond what I originally imagined! I'm seriously so excited about how it came together!
Since the bed is the main focus of a guest bedroom I wanted it to be totally inviting. Whether someone's traveled 12 minutes to come stay with us or 12 hours. This textured king coverlet is perfect because it's pure cotton and has the waffle texture that makes it so cozy and comfy!
We added this quilt at the end of the bed to give some variety to the room. The pattern on this is inspired by 1920's art deco which I think is so totally cool. But also, if you're anything like me you're always cold which means I love having an extra blanket on hand.
I think this throw might actually be my favorite part of the room! I mean, how fun is it? I love the tassels and the pom stitching. So modern and the prettiest color!
You guys know how much I love pillows. I don't profess to be an interior design expert (ha!) but I do truly believe pillows can make or break a look.
I love these ivory shams because tassels! Obviously!! They reminded me of something you could find while traveling in Morocco and I love the dimension these shams bring to the look of the bedding.
These rose shams fit right over the pillows provided with your bed in a box and because they're quilted, they just add one more layer to the true meaning of cozy. They have a really pretty pattern to them. It's enough to create more texture to the bedding, but not so overwhelming that it makes everything look busy or messy.
I'm so happy with how the bedding turned out for this guest room and I can't wait to get to decorating the "office" portion. Eventually haha! Bloomingdale's really does have such a great selection of home decor that fits anyone's taste from modern to classic to everything in between. Desk accessories, furniture, bedding, kitchenware, even dorm supplies! If you can think of adding it to your home, they've definitely got it!
Ivory euro shams
Rose king shams
Textured king coverlet
Loire king quilt
Throw blanket
Bed in a big brown box
Here's a little roundup we did of our very favorite home items from Bloomingdales right now: